Are you attending a wedding and on the hunt for the perfect dress? Look no further! In this blog post, we'll explore the world of blue wedding guest dresses and provide you with some fabulous options to wow the crowd. From navy to baby blue, there's a shade of blue for everyone. So, let's dive in and find the perfect dress for you!
Why Blue?
Blue is a versatile color that can be both calming and captivating. It's a color that represents trust, loyalty, and sincerity. Wearing blue to a wedding can not only make you look stunning, but it can also symbolize your support and love for the couple. Plus, blue complements a variety of skin tones and can be dressed up or down depending on the formality of the event.
Navy blue wedding guest dresses exude elegance and sophistication. If you're attending a formal evening wedding, a floor-length navy gown with delicate lace or embroidered details will have you feeling like royalty. For a more casual beach or outdoor wedding, opt for a navy midi dress with a flowy silhouette. Pair it with some strappy sandals, and you'll be ready to dance the night away!
Navy Blue Ruffled Lace-Up Maxi Dress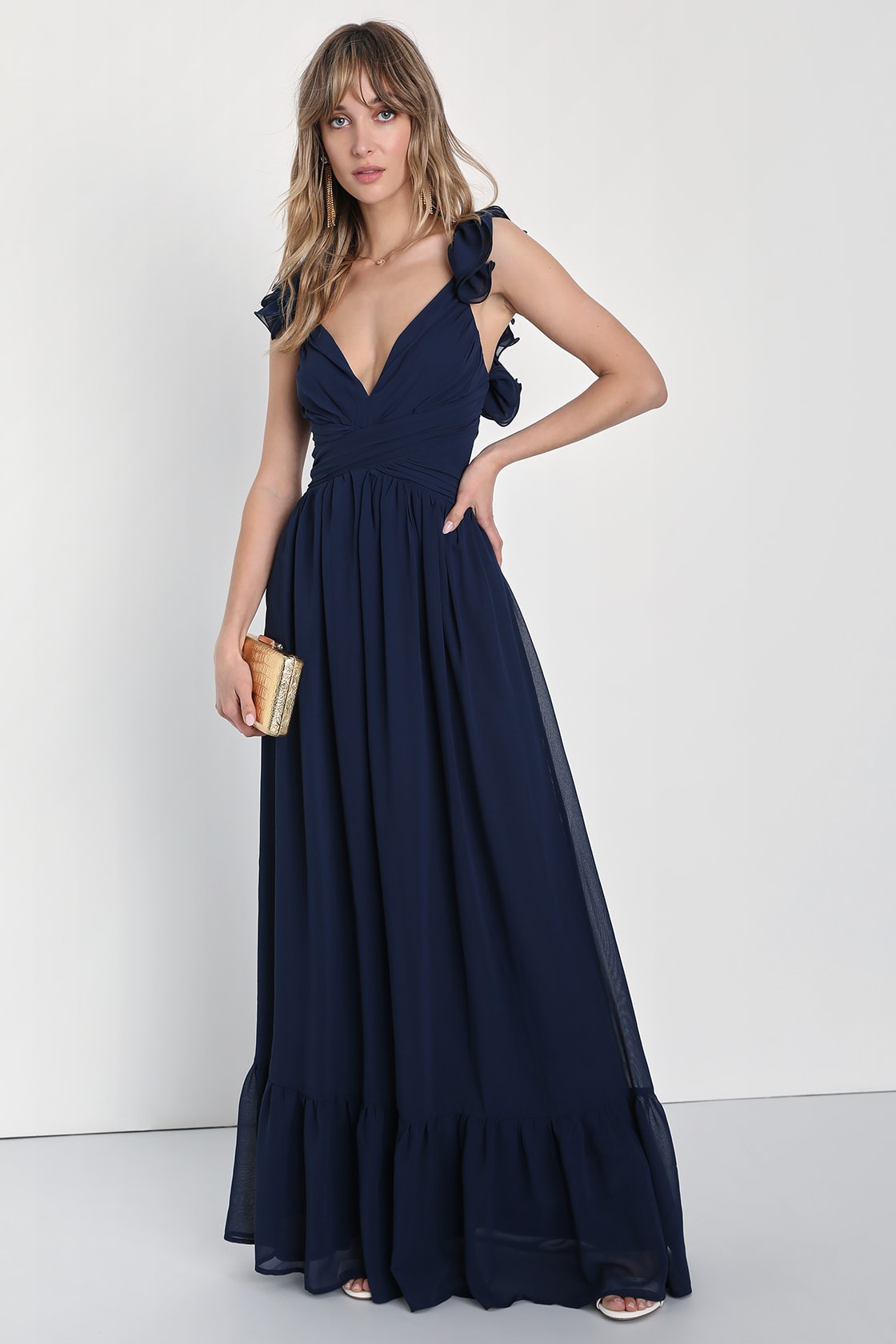 Navy Blue Tie-Strap A-Line Midi Dress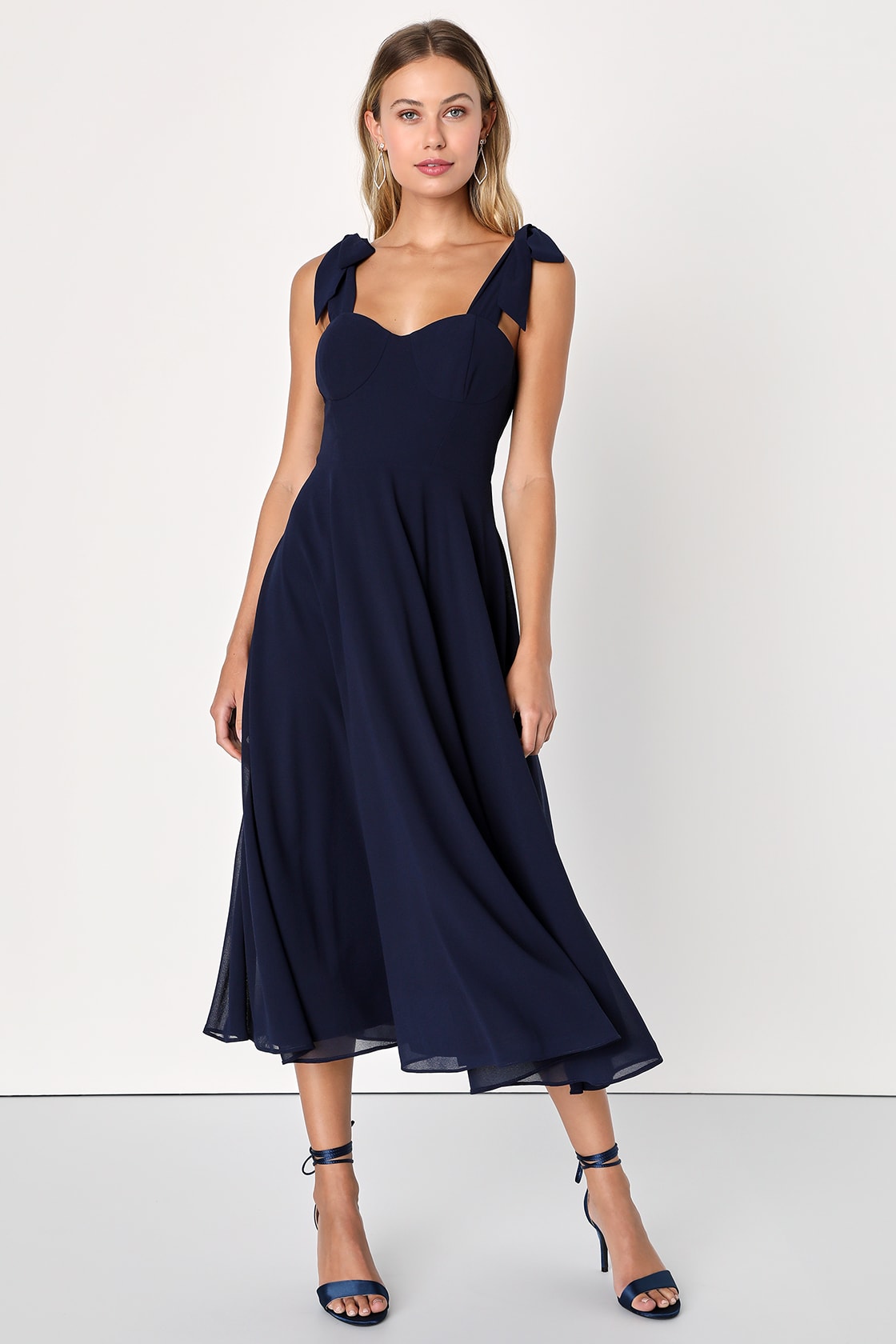 Midnight Blue Off-the-Shoulder Midi Dress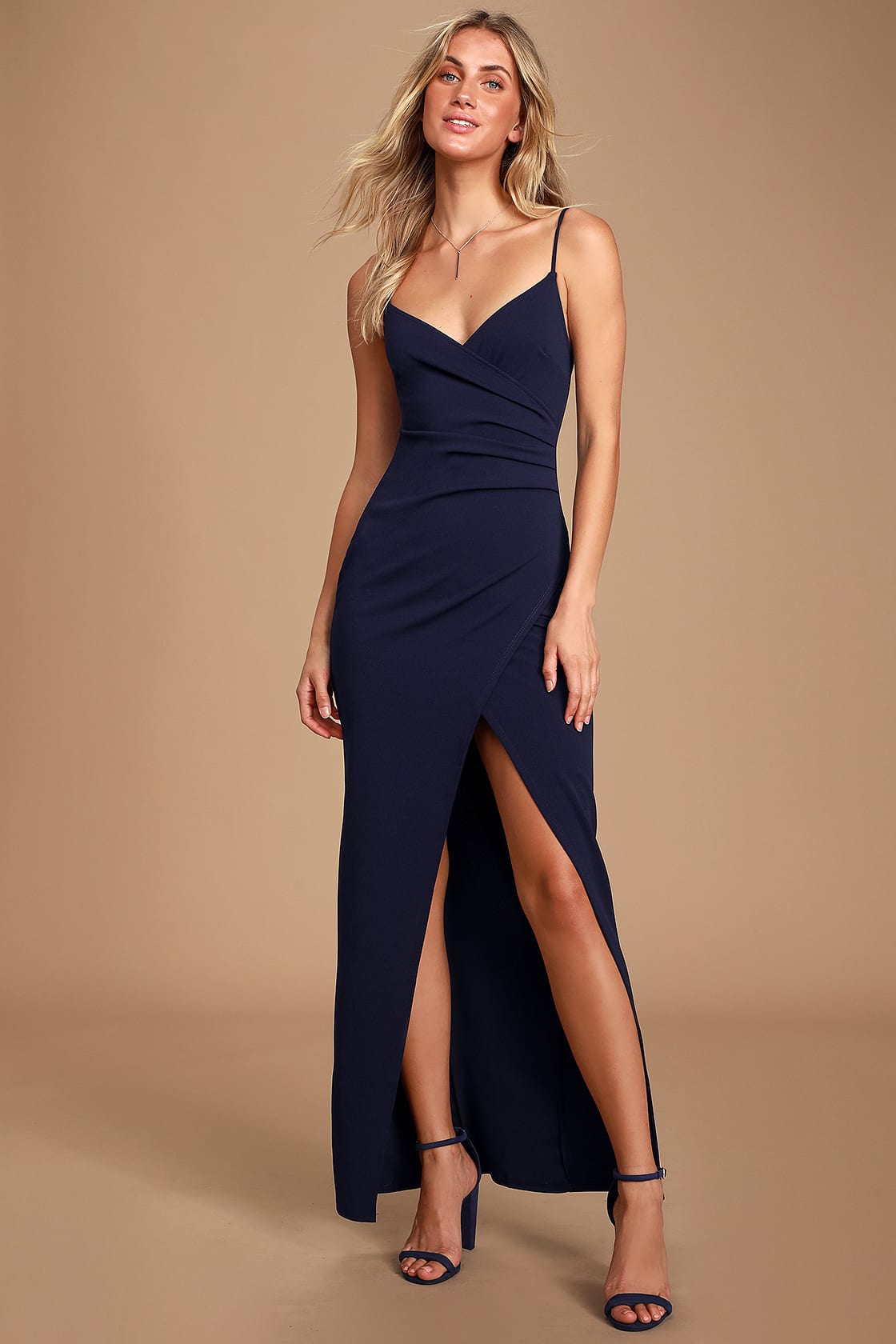 Navy Satin Cowl Back Midi Slip Dress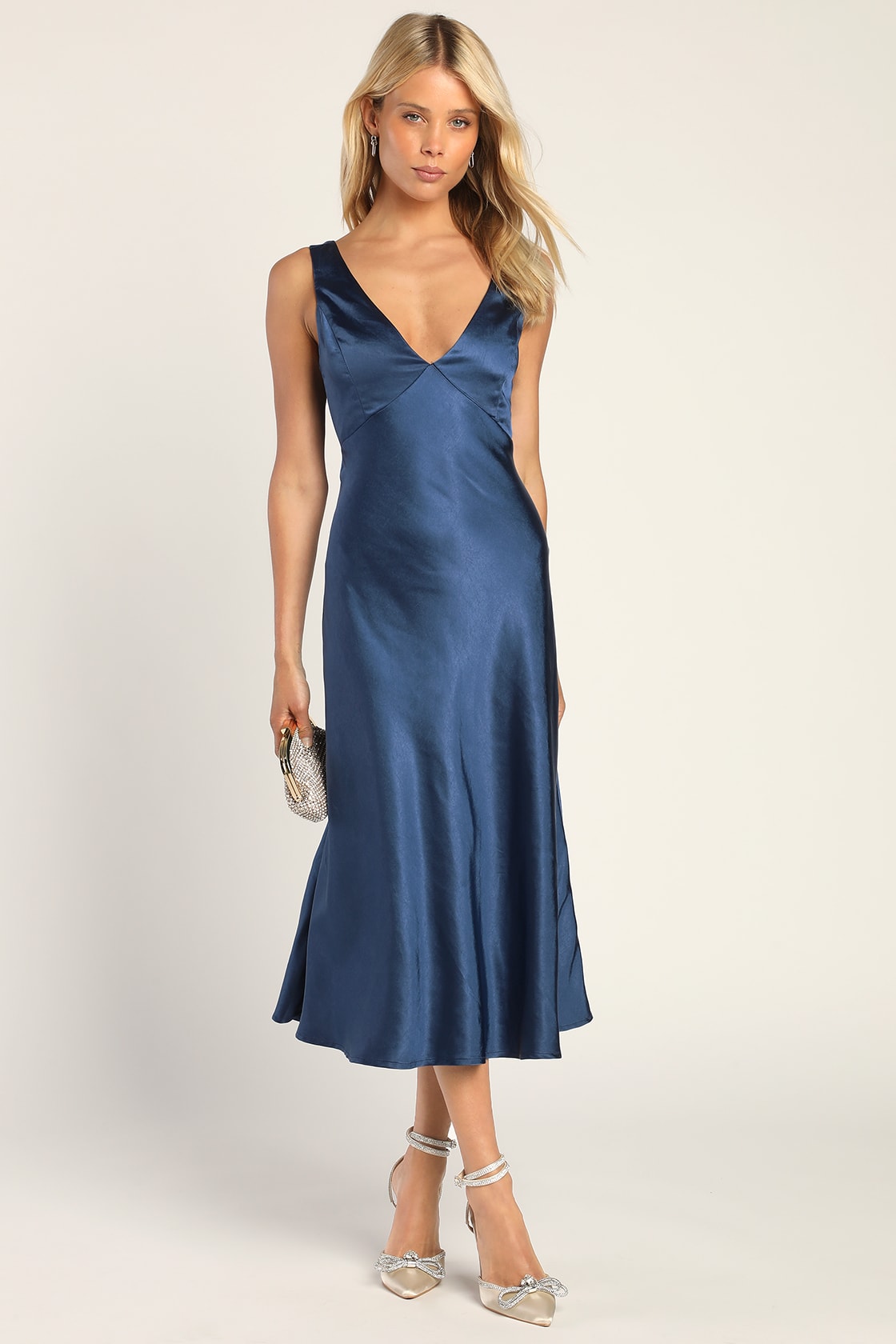 Navy Blue Crochet Lace Midi Dress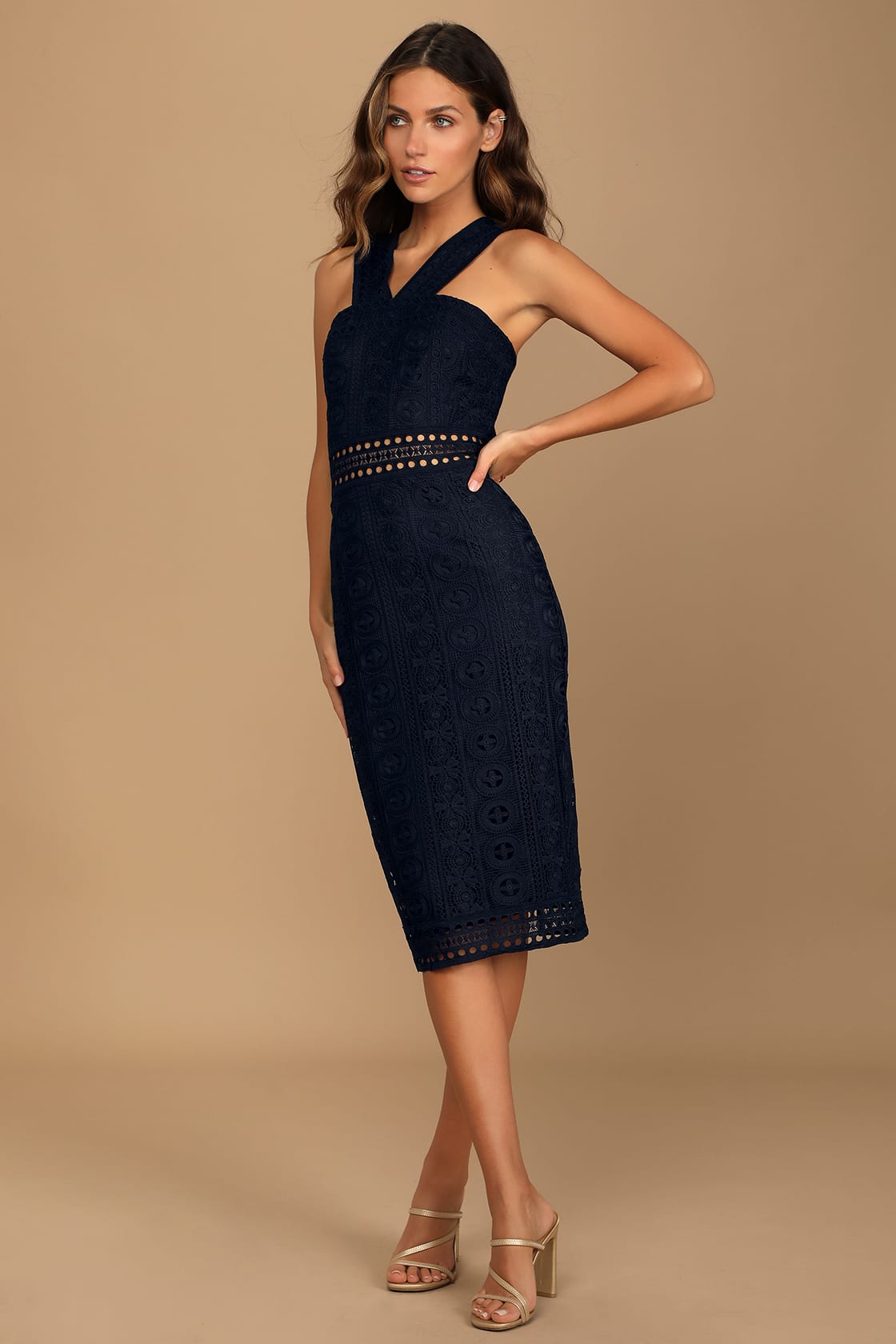 Dusty Blue
Dusty blue is a muted, calming shade of blue that is perfect for a relaxed and romantic wedding. A dusty blue wedding dress is perfect for an outdoor wedding or beach ceremony. A simple and delicate chiffon, A-line dress with lace or tulle details is the perfect choice for a bohemian or beach wedding. Pair it with simple accessories like a necklace, earrings, and sandals for a chic, yet understated look.
Granite Blue Lace-Up High-Low Maxi Dress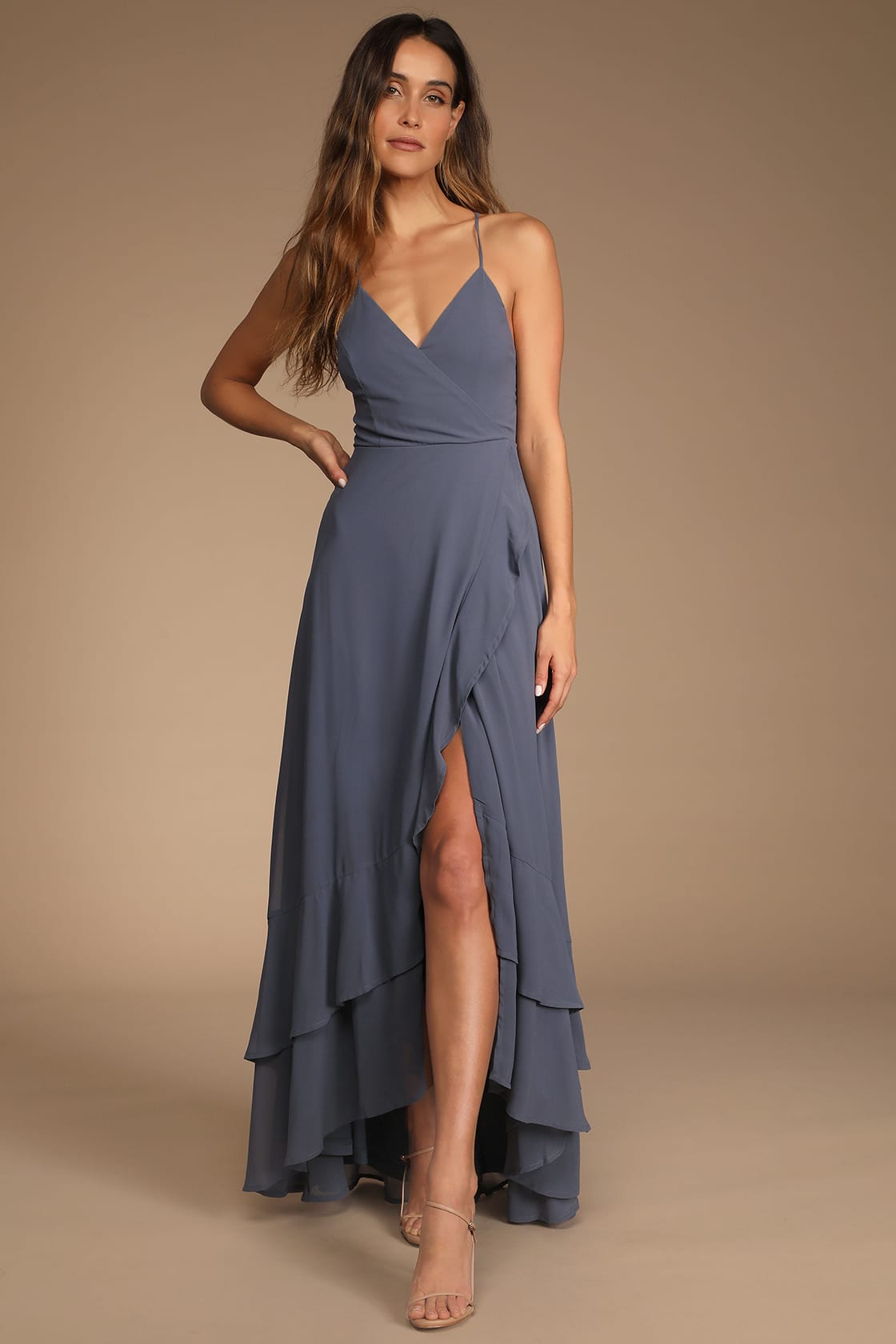 Dusty Blue Floral Print Two-Piece Maxi Dress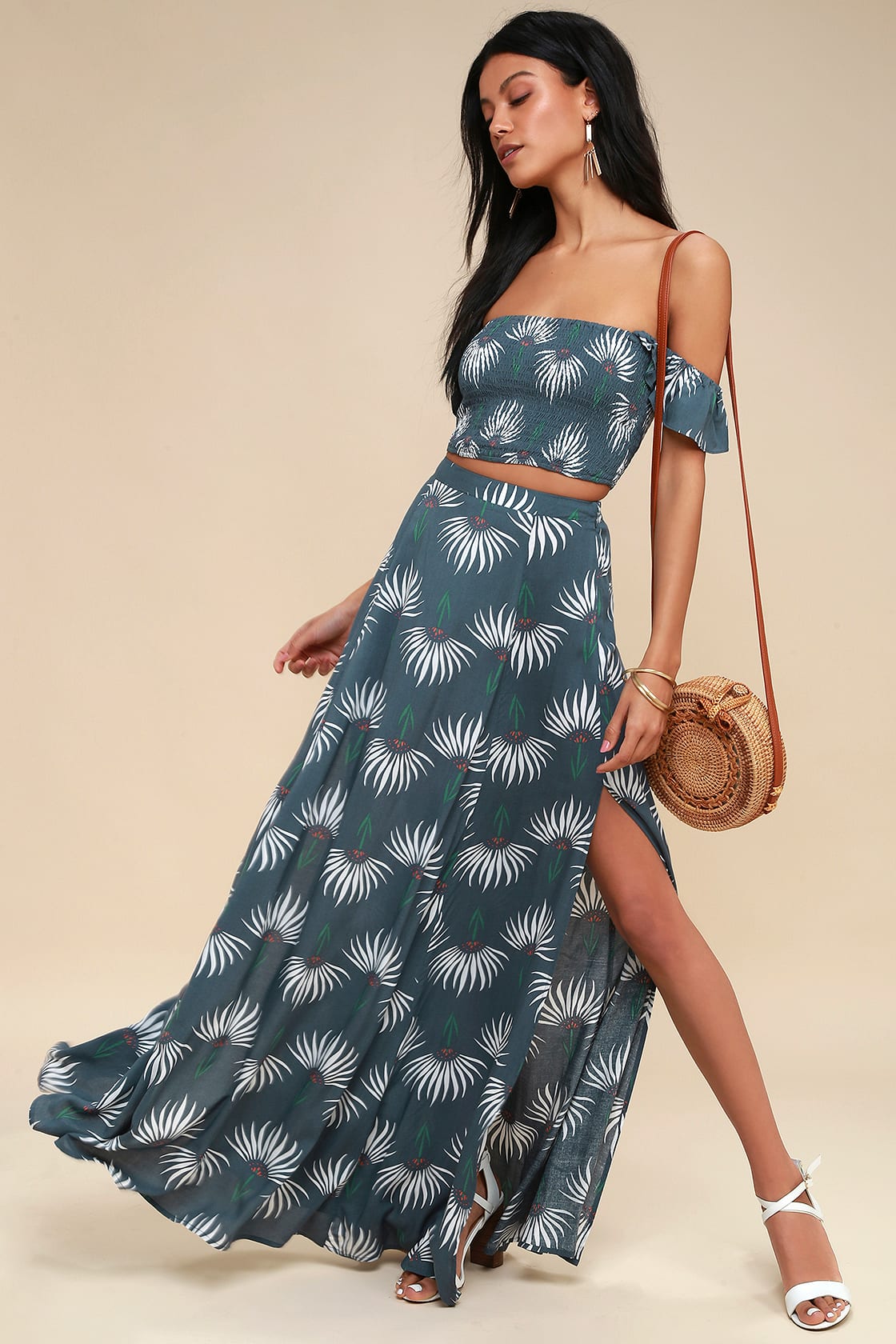 Blue Floral Printed
A blue floral printed dress is a lovely choice for a garden wedding or an outdoor wedding with a rustic theme. With a blue floral printed dress, you can accentuate your feminine side while keeping it elegant and chic. Opt for a maxi dress with a fitted waist and a flowy skirt. A dress with a small or large floral print will give you a refreshing and whimsical look. Dress it up with bold jewelry, high heels, and a cute clutch.
Navy Blue Floral Print Tulip Skirt Midi Dress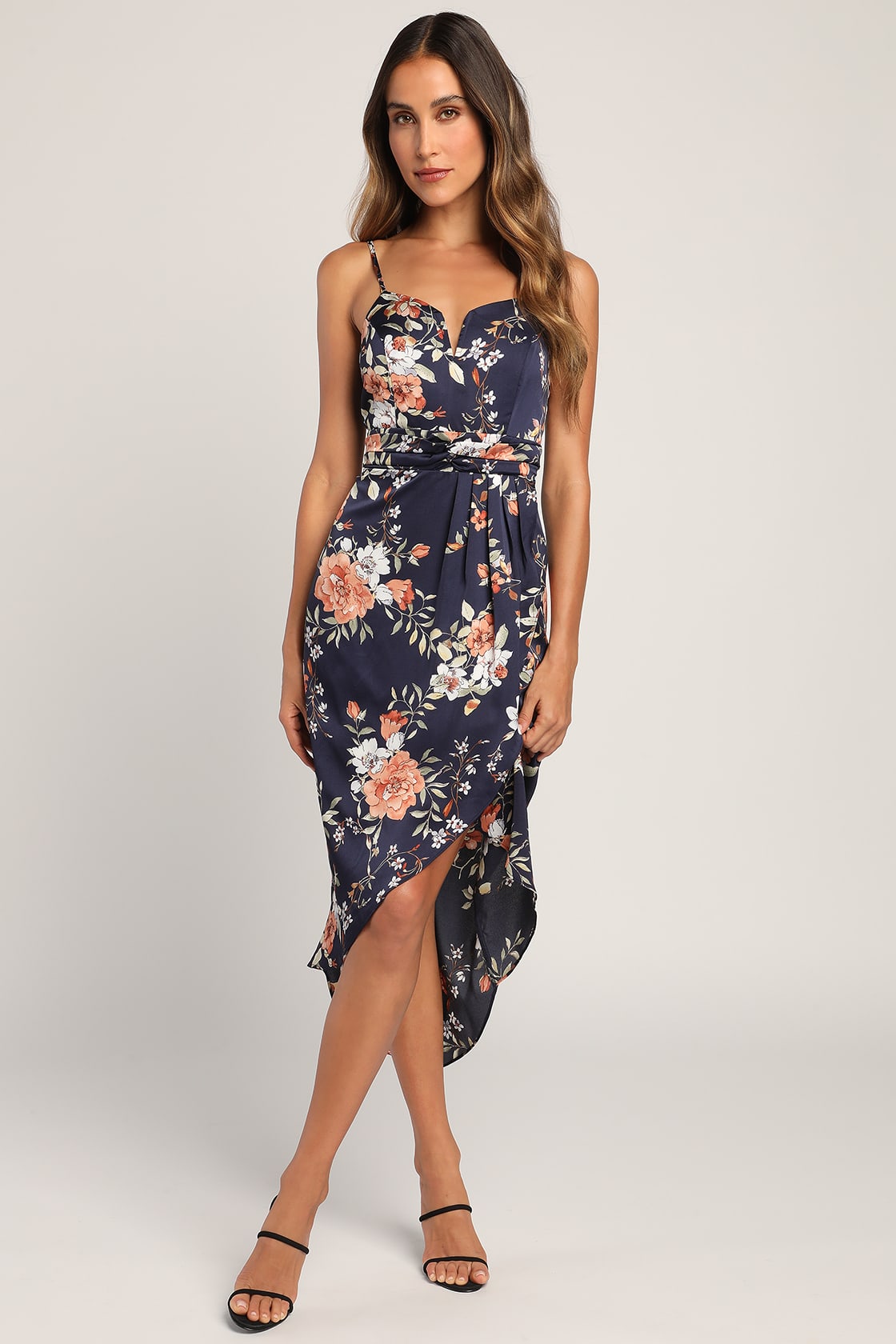 Navy Blue Lace Ruffled Tiered Sleeveless Maxi Dress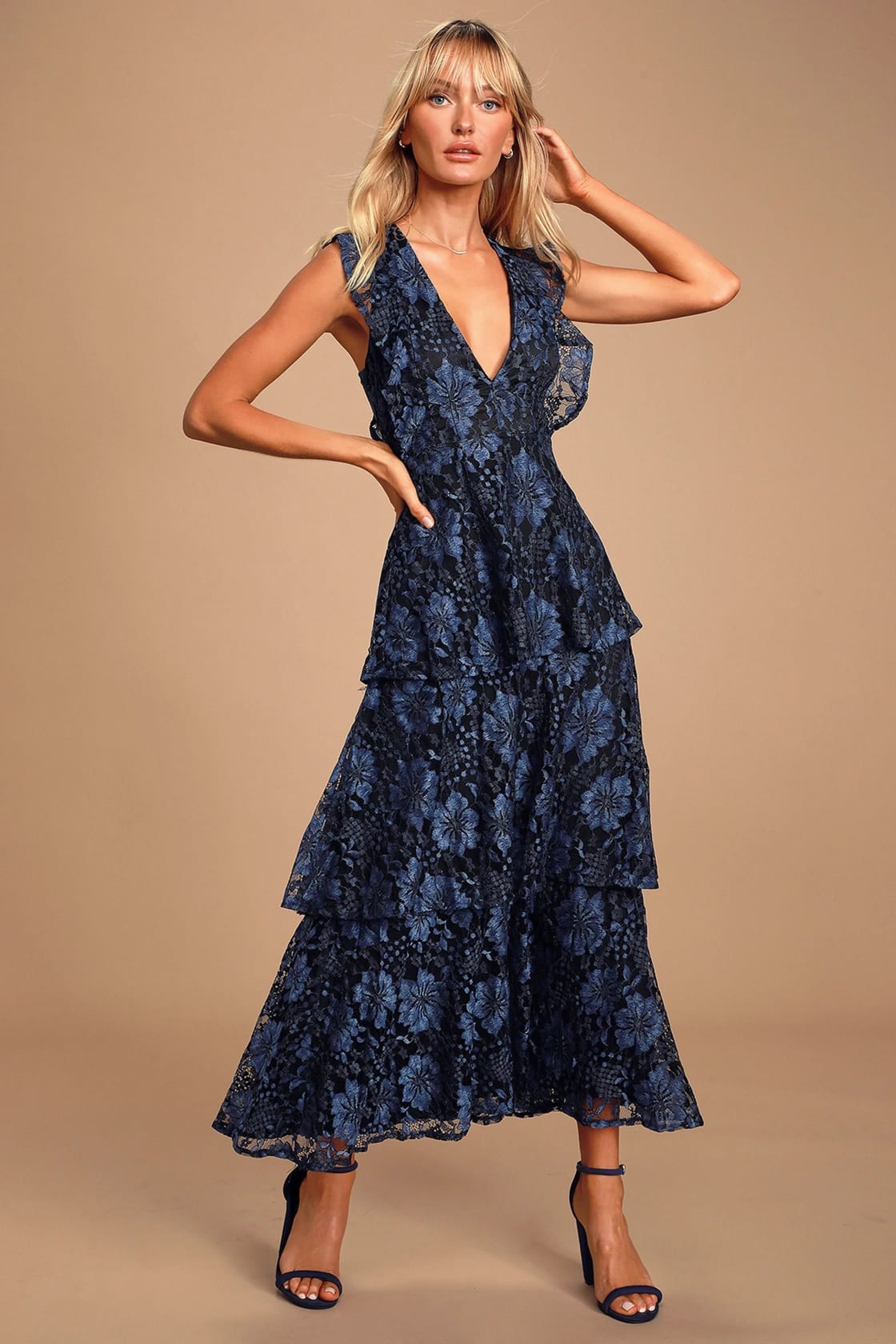 Royal Blue
Royal blue is a bold and striking blue shade that can make a big statement at any wedding event. You'll stand out at the wedding reception with a royal blue cocktail or maxi dress with a fitted silhouette. A fitted dress with a slit on one side or a deep v-neckline can add a touch of sexiness to your outfit. Keep the accessories simple with silver or gold high heels and a clutch with minimal decorations.
Royal Blue Halter Ruffled Mini Dress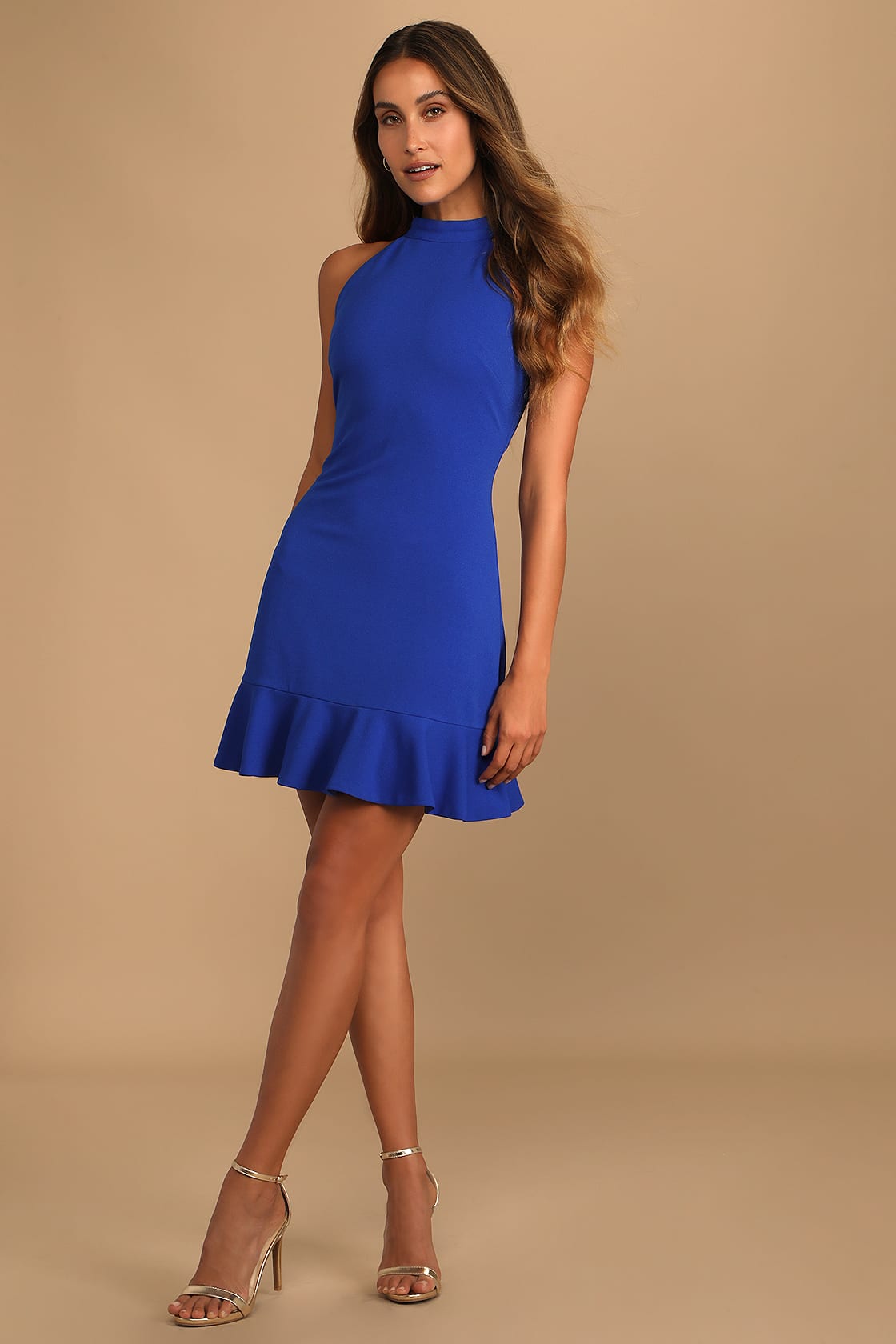 Cobalt Blue Tiered Bustier Midi Dress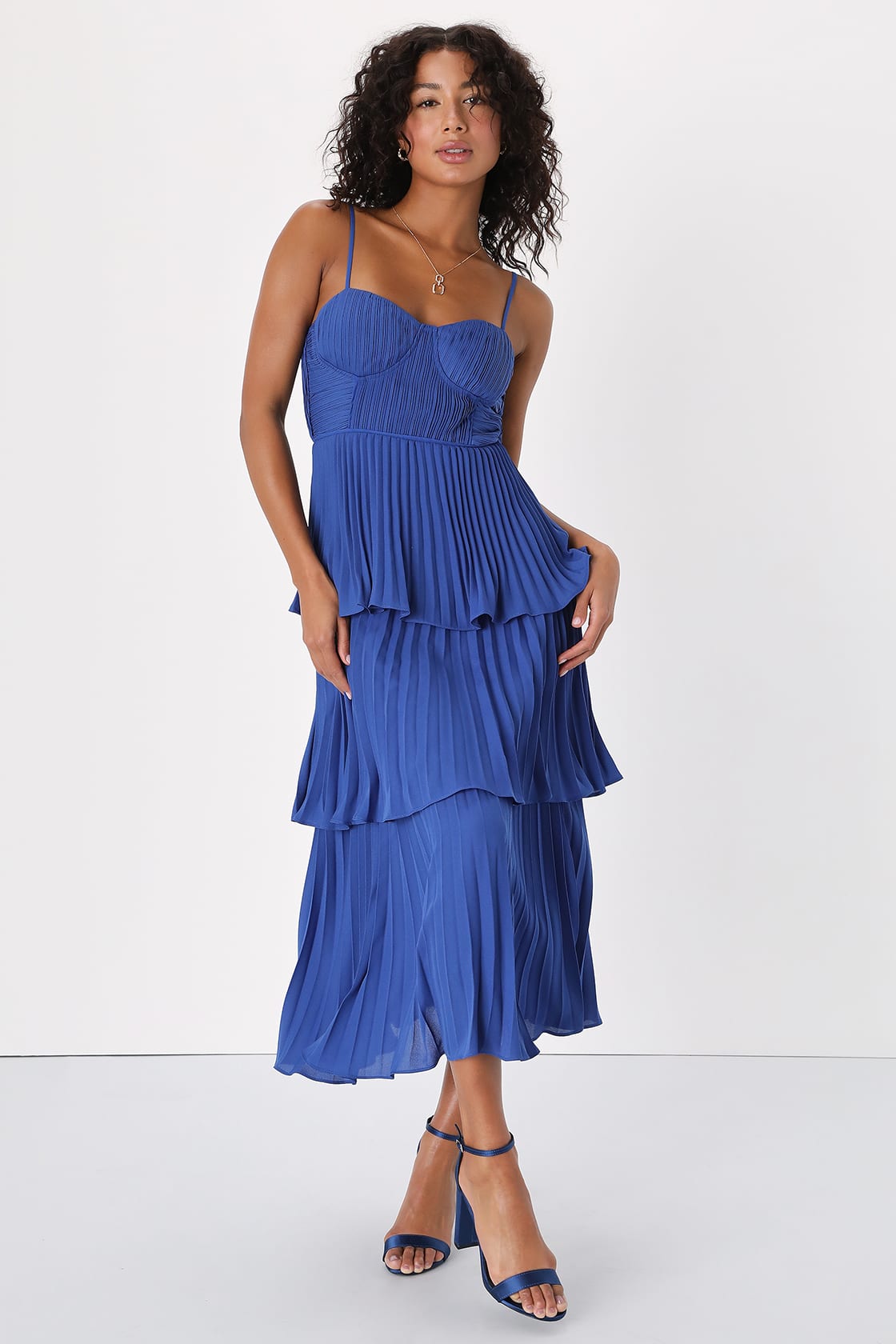 Cobalt Blue Satin Tiered Tie-Back Midi Dress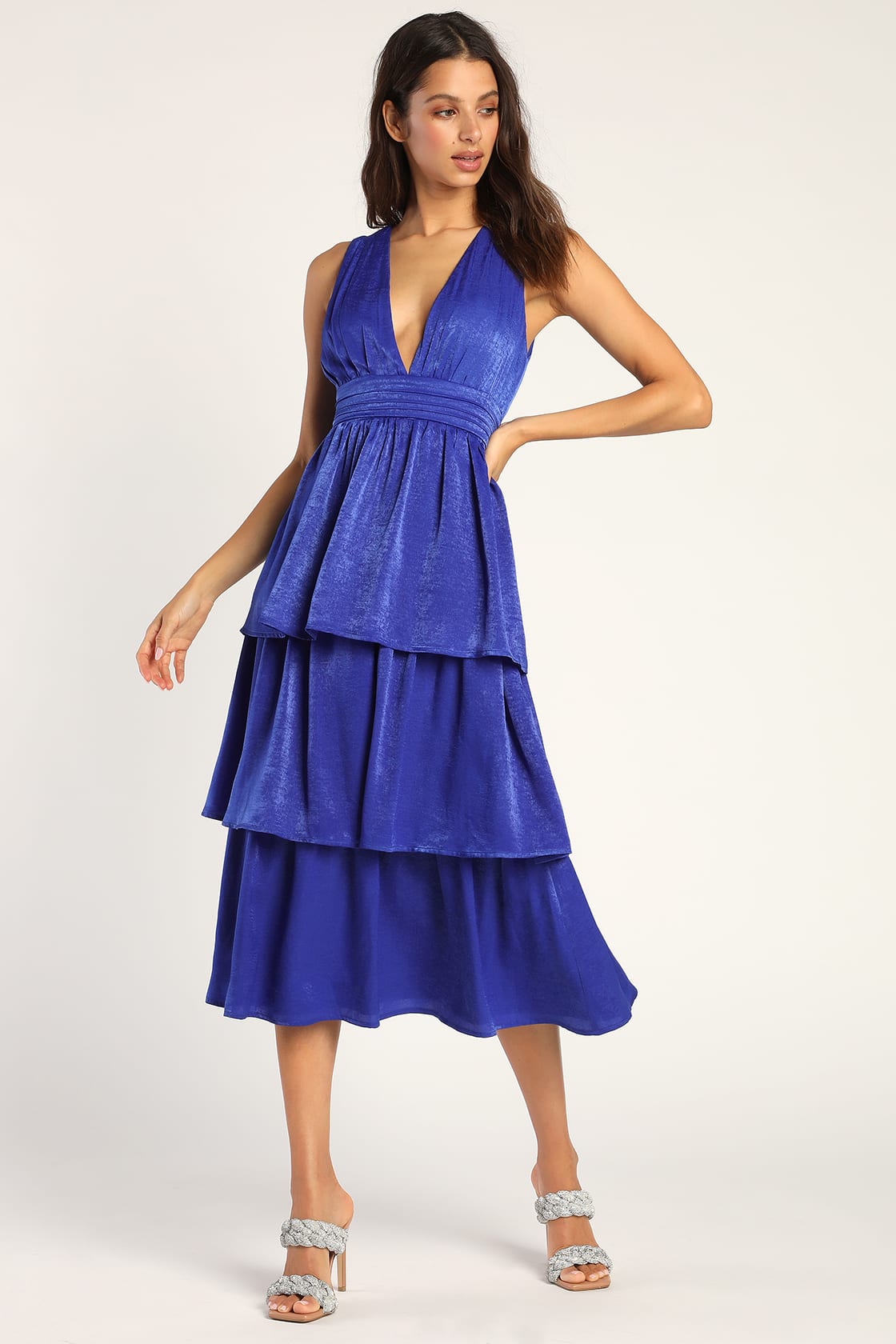 Baby Blues and Pastels
For a more delicate and feminine look, consider baby blue or pastel shades. These soft hues are perfect for spring and summer weddings when everything is in full bloom. Choose a baby blue A-line dress with floral prints or opt for a pastel blue chiffon maxi dress for a breezy and romantic vibe. Don't forget to accessorize with delicate silver or pearl jewelry to complete the look.
Slate Blue Floral Jacquard Satin Midi Dress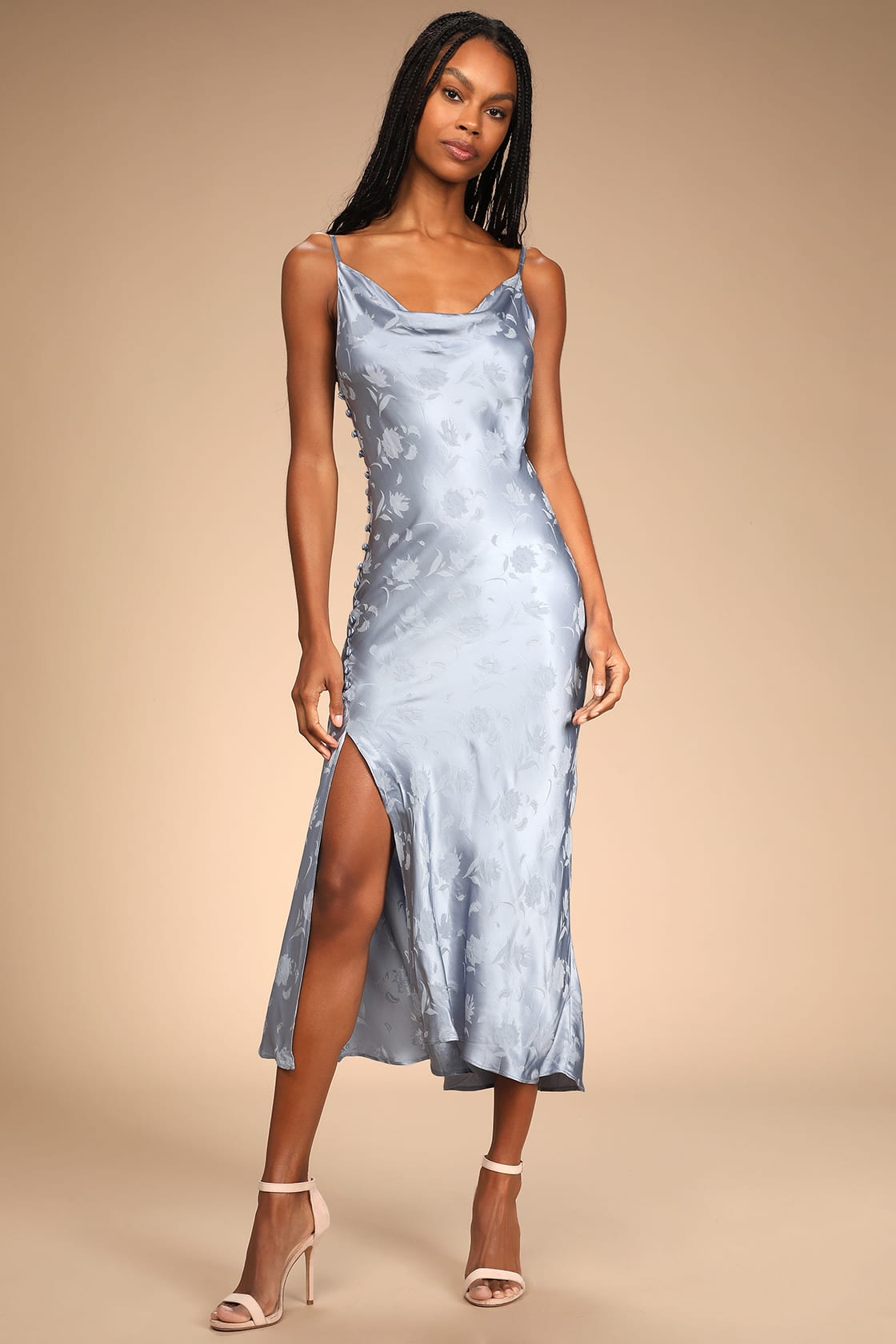 Light Blue Bow Backless Halter Maxi Dress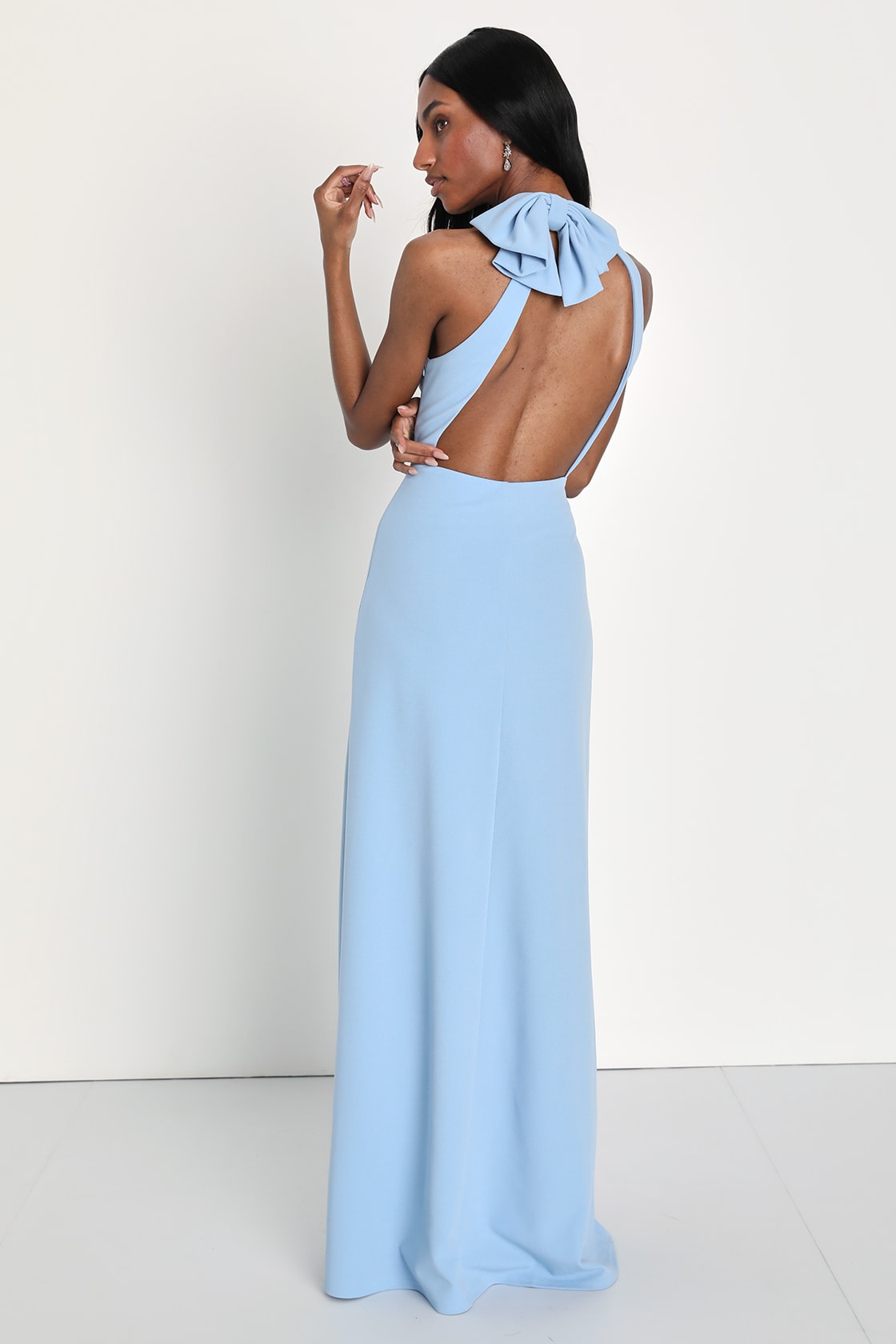 Electric Blue Statement
If you're feeling bold and want to make a statement, an electric blue wedding guest dress is the way to go! Vibrant and eye-catching, this shade of blue will surely turn heads. Opt for a body-hugging cocktail dress with a plunging neckline and statement sleeves for a modern and chic look. Pair it with metallic heels and a bold clutch to let your dress do all the talking.
Mix and Match
Blue wedding guest dresses can be mixed and matched with various accessories to create different looks. For a classic and timeless style, pair a blue dress with nude pumps and pearl jewelry. If you're looking for a more glamorous look, go for silver or gold accessories and a statement clutch. Don't be afraid to experiment with different combinations to find your unique style!

Tips for Choosing the Perfect Blue Dress
Consider the wedding theme and dress code: Make sure your dress aligns with the formality and theme of the wedding.

Dress for the season: Opt for lighter fabrics like chiffon for summertime weddings, and heavier fabrics like velvet for winter weddings.

Stay true to your personal style: Choose a dress that makes you feel confident and comfortable. It's important to feel like yourself while celebrating the couple's special day.
In Conclusion
Blue wedding guest dresses are a fabulous choice for any wedding occasion. Whether you prefer navy elegance, soft pastels, or bold statements, there's a blue dress out there waiting for you. Remember to choose a dress that suits your style, flatters your figure, and makes you feel like the best-dressed guest in the room. Get ready to steal the spotlight and make lasting memories at your next wedding event!
F.A.Q
Can I wear a blue dress as a wedding guest?
es, you can definitely wear a blue dress as a wedding guest. Blue is a versatile and popular color choice for wedding attire. However, it's important to consider the specific shade of blue and the dress code of the wedding. For example, lighter shades of blue like baby blue or pastel blue are well-suited for daytime or beach weddings, while navy blue or royal blue can be more appropriate for evening or formal weddings. Be sure to check the dress code if specified by the couple to ensure your attire aligns with their expectations.
What styles of dresses are suitable for a wedding guest?
The style of dress suitable for a wedding guest can vary depending on the formality of the event. For a formal or black-tie wedding, consider a floor-length gown in a rich shade of blue. For a semi-formal or cocktail attire wedding, a knee-length or midi dress in a vibrant blue hue can be a great choice. Additionally, consider the season, venue, and personal style when selecting your dress. Don't forget to accessorize your dress accordingly to complete your look.
Are there any specific design considerations for blue wedding guest dresses?
When choosing a blue dress for a wedding guest, consider the design elements that will flatter your body type and complement your personal style. For example, an A-line or empire waist dress can be flattering for various body shapes, while a fit-and-flare or wrap dress can accentuate the waist. Additionally, consider the neckline, sleeve length, and fabric of the dress to find a style that you feel comfortable and confident in. Remember to select accessories and shoes that complement the design of your dress.
What accessories should I pair with a blue dress?
When accessorizing a blue dress for a wedding, consider complementary shades and styles. Neutral accessories like nude or metallic heels, a matching clutch, or silver/gold jewelry can complement a blue dress nicely. For a pop of color, you can also consider adding accessories in shades that work well with blue, such as coral, blush, or even deeper shades like burgundy or emerald green. The key is to balance the overall look by choosing accessories that enhance and elevate your blue dress.
How good do you think this post was? Click on a star to rate it!