Are you attending a wedding and on the hunt for the most fabulous red dress to dazzle in? Well, look no further because we've got you covered! Red is the kind of color that demands attention and will make you the star of the show. People won't be able to take their eyes off you! In this blog post, we're going to delve into the world of red wedding guest dresses and explore the absolute crème de la crème styles that are guaranteed to turn heads and leave a lasting impression. So, get ready to slay the wedding game with these jaw-dropping red dress options! Let's dive in, shall we?
1. A-Line Red Dress
An A-line red dress is a classic choice that suits almost every body type. This style is fitted at the top and gradually flares out from the waist, creating a flattering and elegant silhouette. Whether it's a knee-length or floor-length dress, the A-line style will make you look effortlessly chic and sophisticated.
Burgundy Butterfly Lace-Up Midi Dress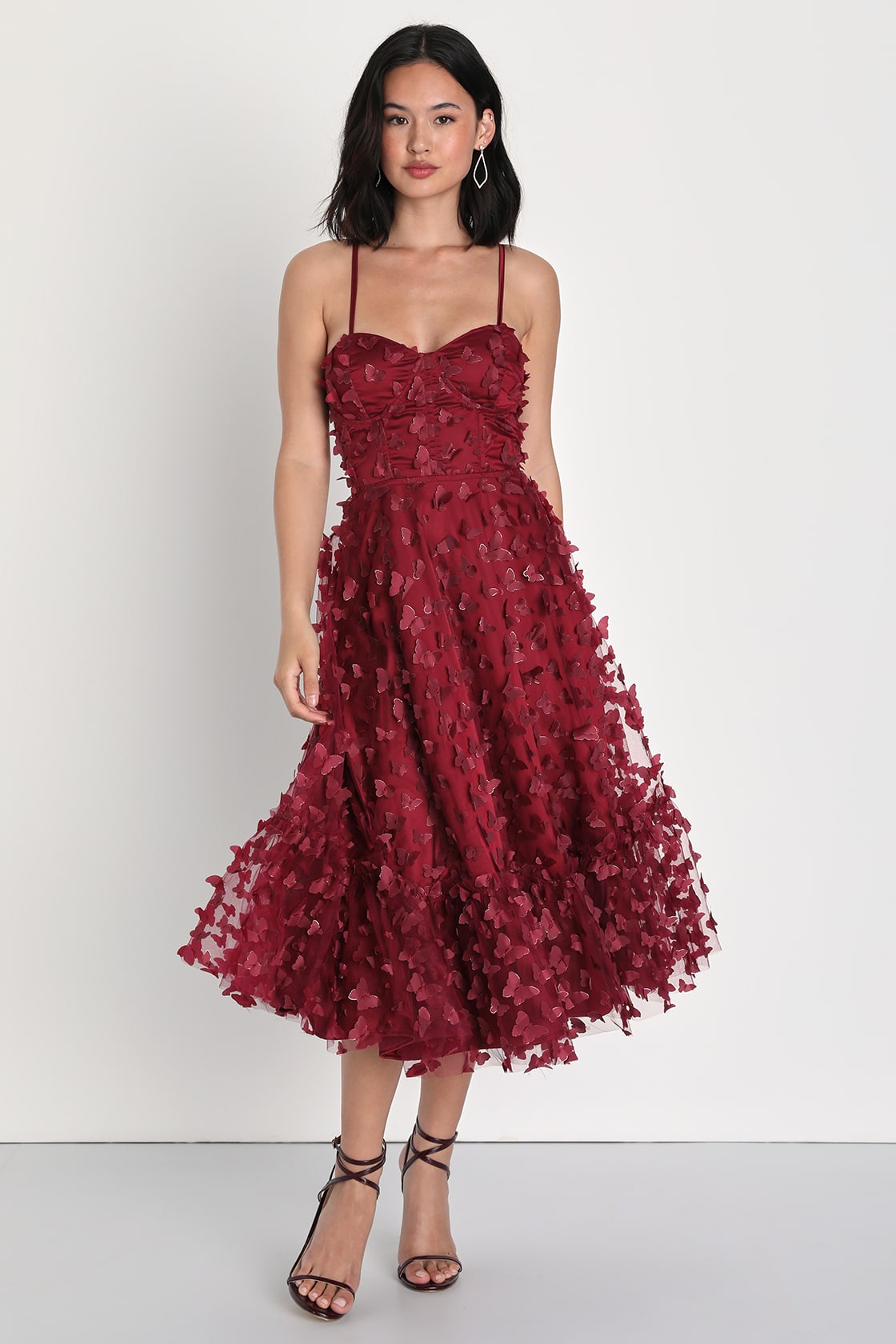 2. Wrap Red Dress
A wrap red dress is a versatile and timeless option for a wedding. The wrap style accentuates your curves and is perfect for creating an hourglass figure. This style is not only fashionable but also comfortable to wear, allowing you to dance the night away without any restrictions.
Sun Rust Red Tropical Print Wrap Midi Dress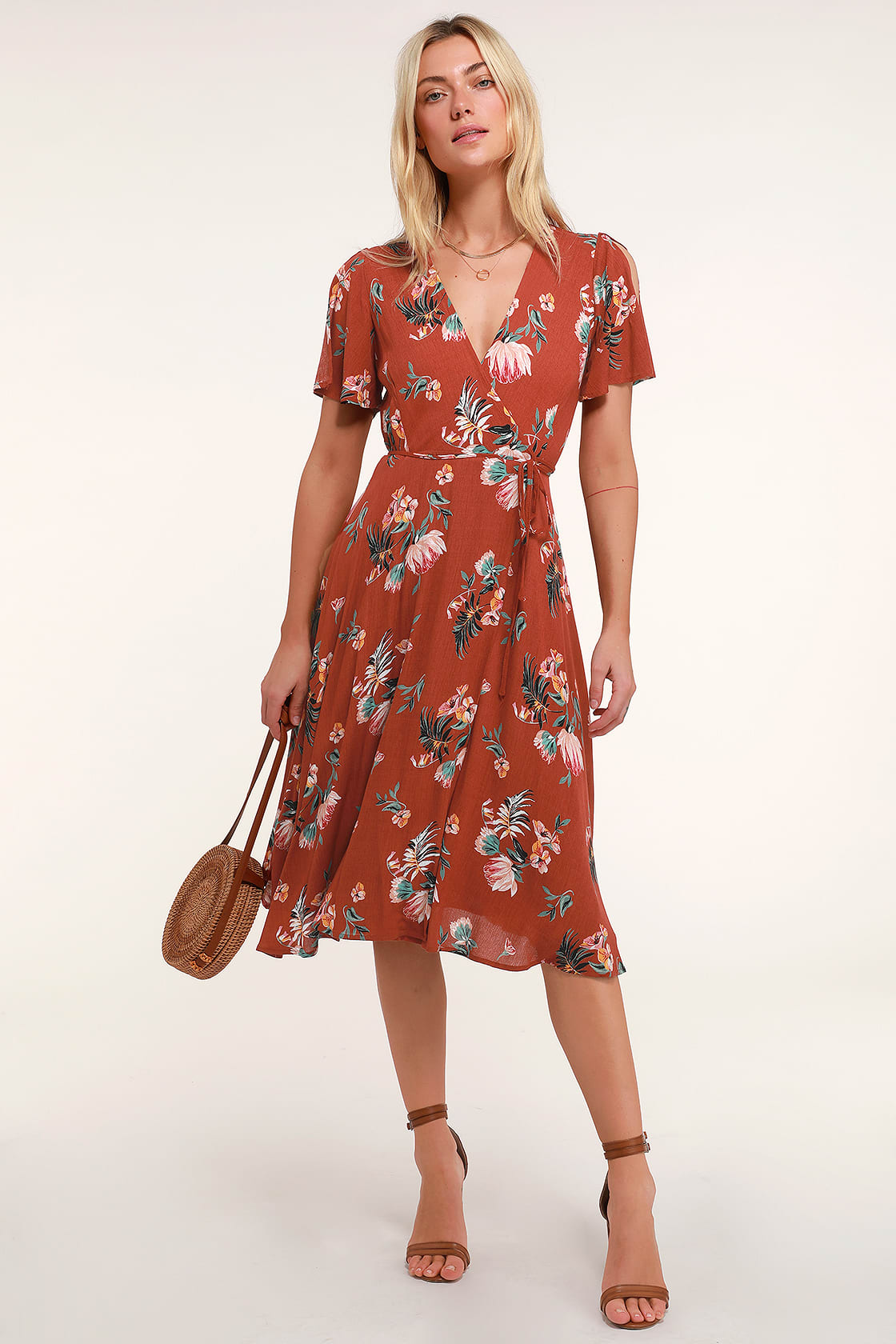 Burgundy Floral Jacquard Wrap Midi Dress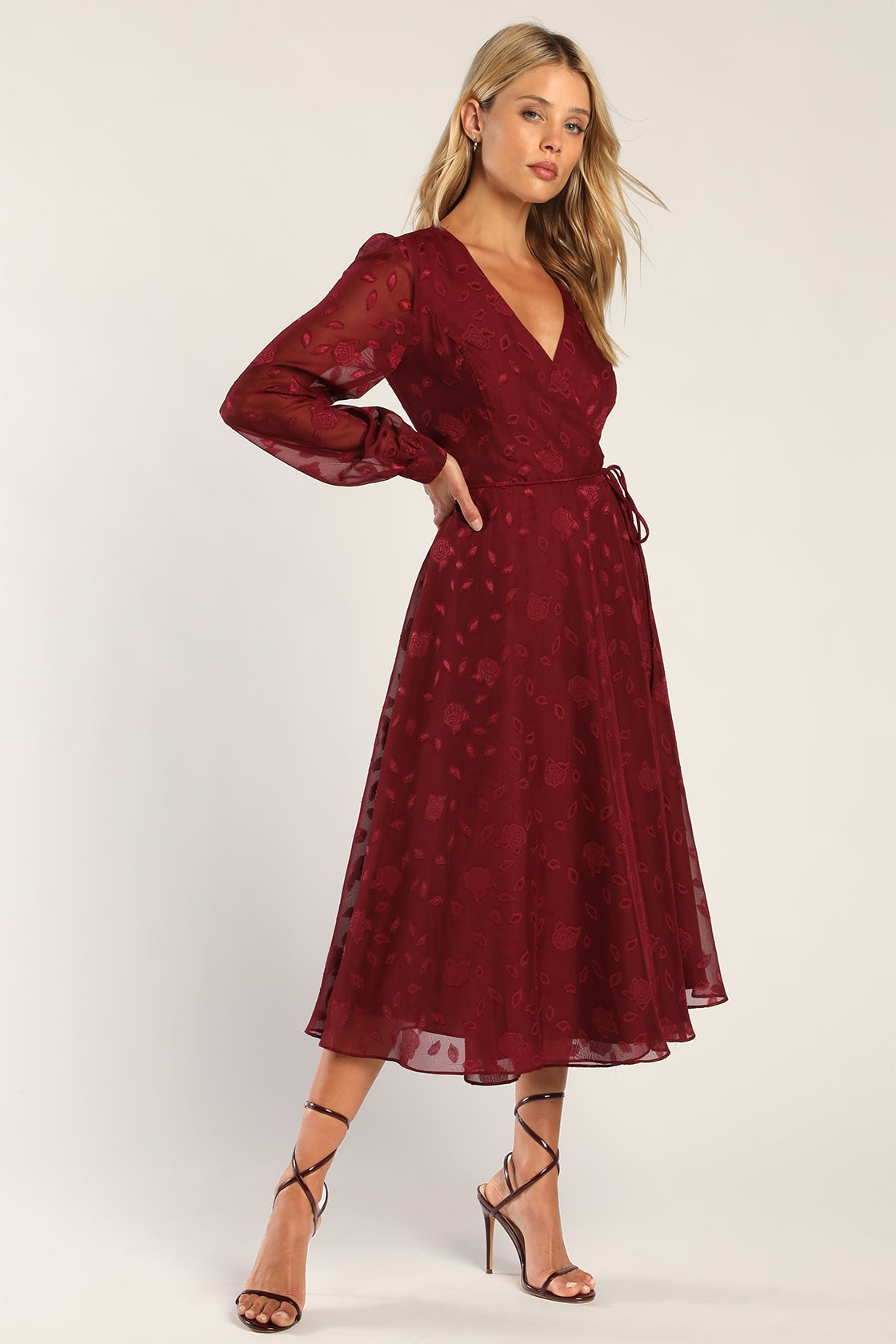 3. Off-Shoulder Red Dress
If you want to show off your shoulders and create a romantic and feminine look, an off-shoulder red dress is the way to go. This style adds an element of elegance and can be paired with statement jewelry to complete the ensemble. Whether it's a short or long dress, the off-shoulder style is guaranteed to turn heads.
Burgundy Off-The-Shoulder Twist-Front Maxi Dress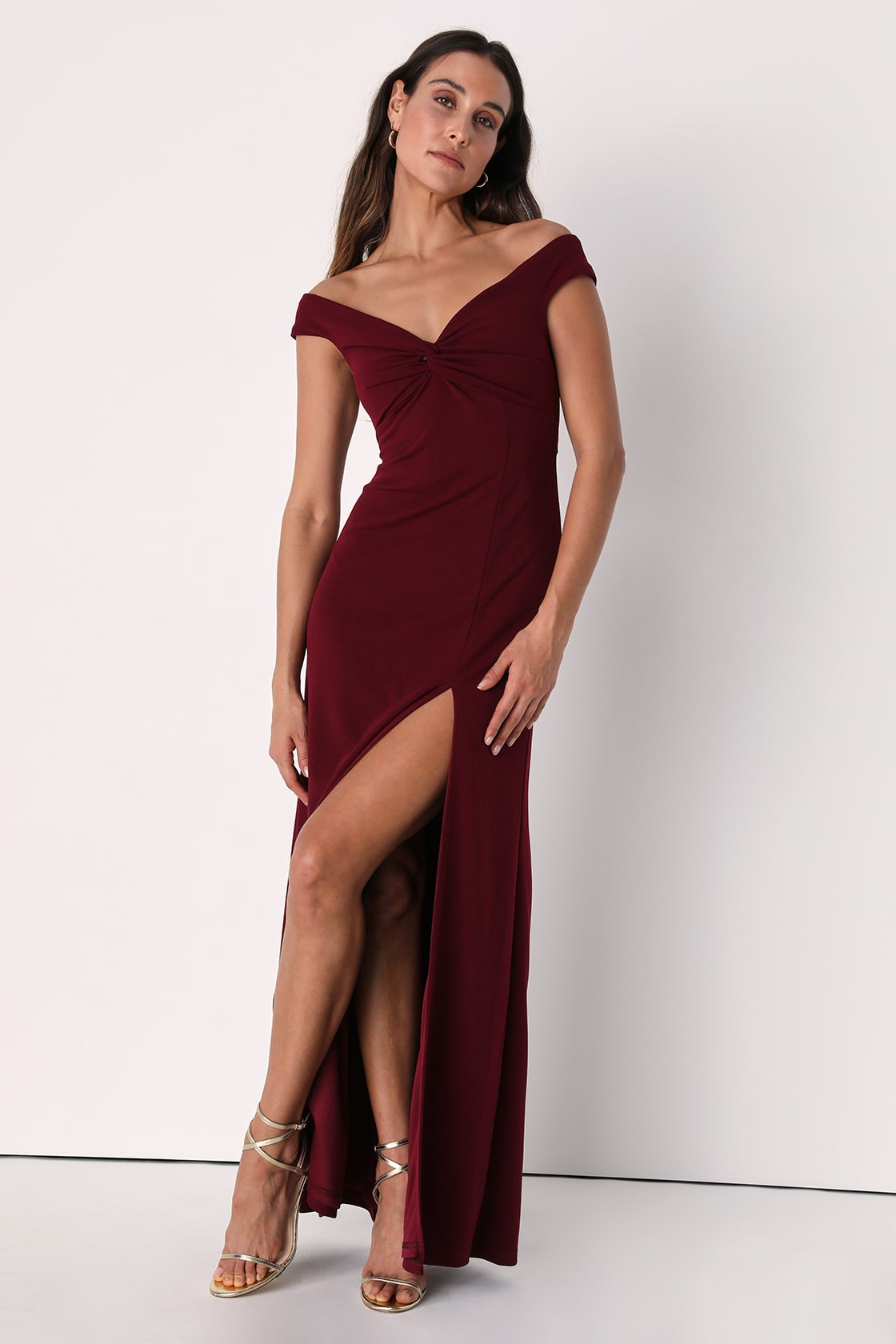 4. Lace Red Dress
Lace is a material that never goes out of style, and a lace red dress is a perfect choice for a wedding guest. Whether it's a full lace dress or one with lace accents, this style adds an element of sophistication and elegance to any outfit. Pair it with high heels and minimal accessories to let the lace take center stage.
Burgundy Long Sleeve Lace Maxi Dress
Burgundy Floral Mesh Lace Trumpet Midi Dress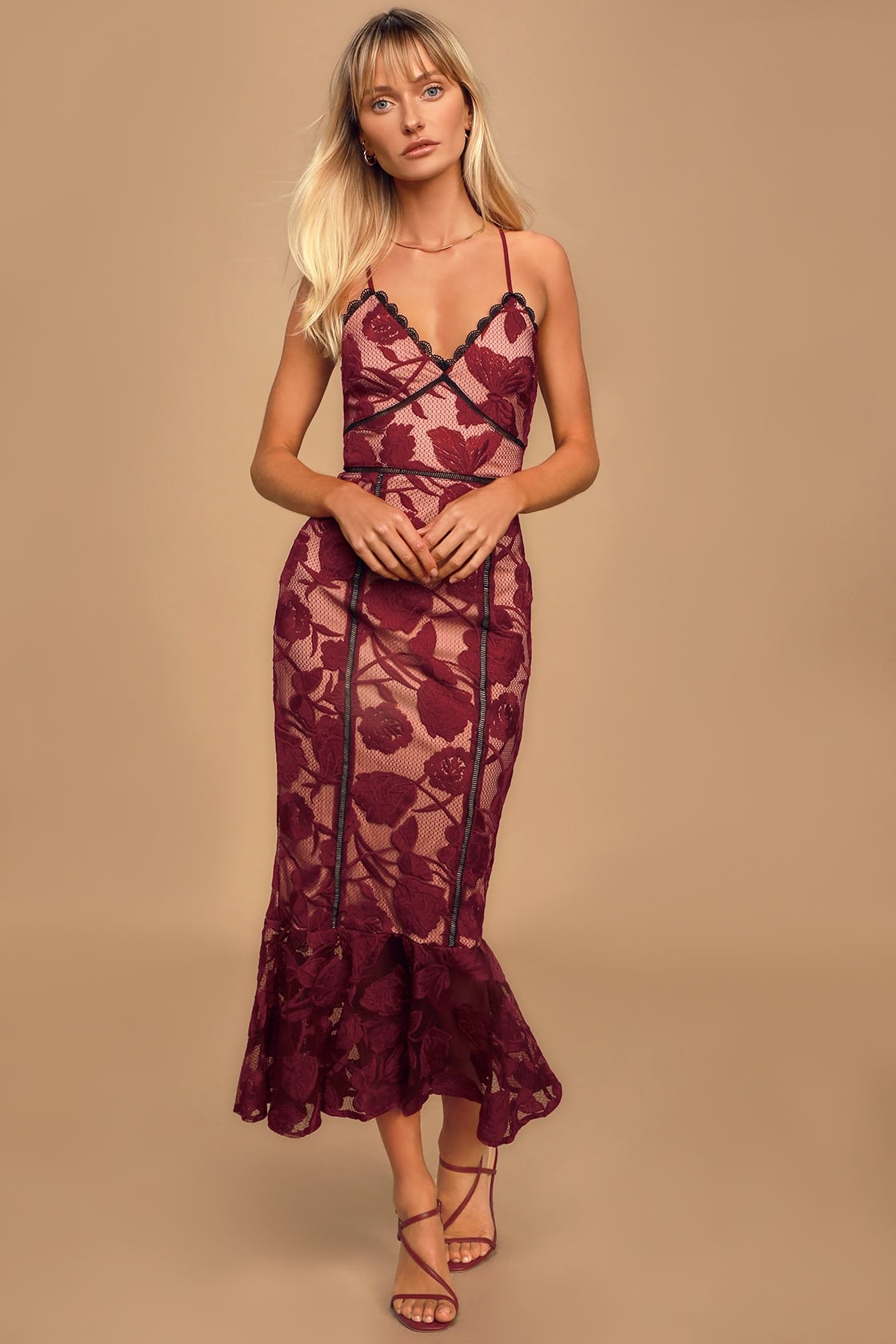 5. Maxi Red Dress
A maxi red dress is perfect if you prefer a more dramatic and glamorous look. This style is ideal for formal weddings, as it exudes elegance and grace. A flowing, floor-length dress in a vibrant shade of red will make you feel like a true vision as you walk into the wedding venue.
Burgundy Tulle Backless Maxi Dress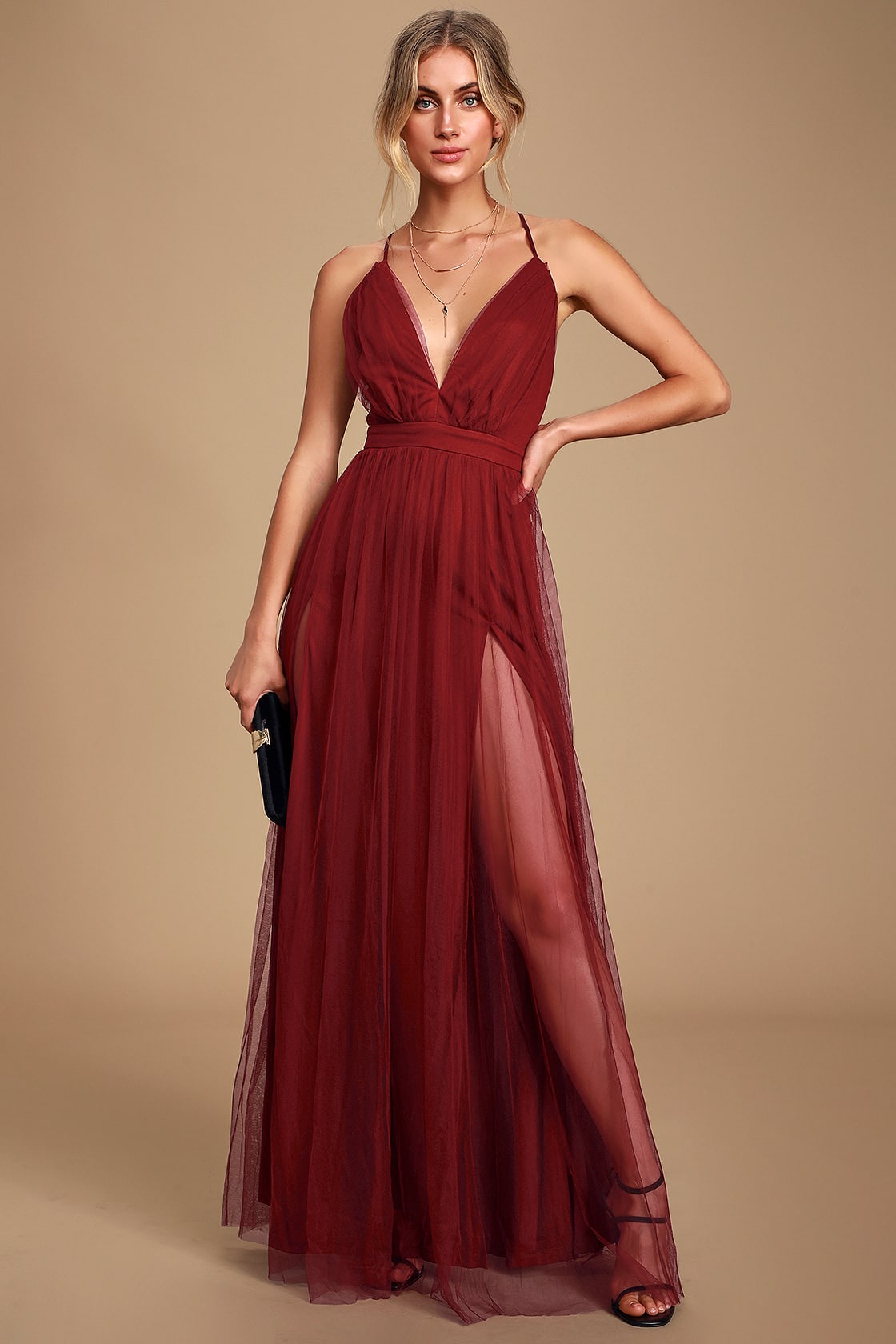 Burgundy Backless Lace-Up Maxi Dress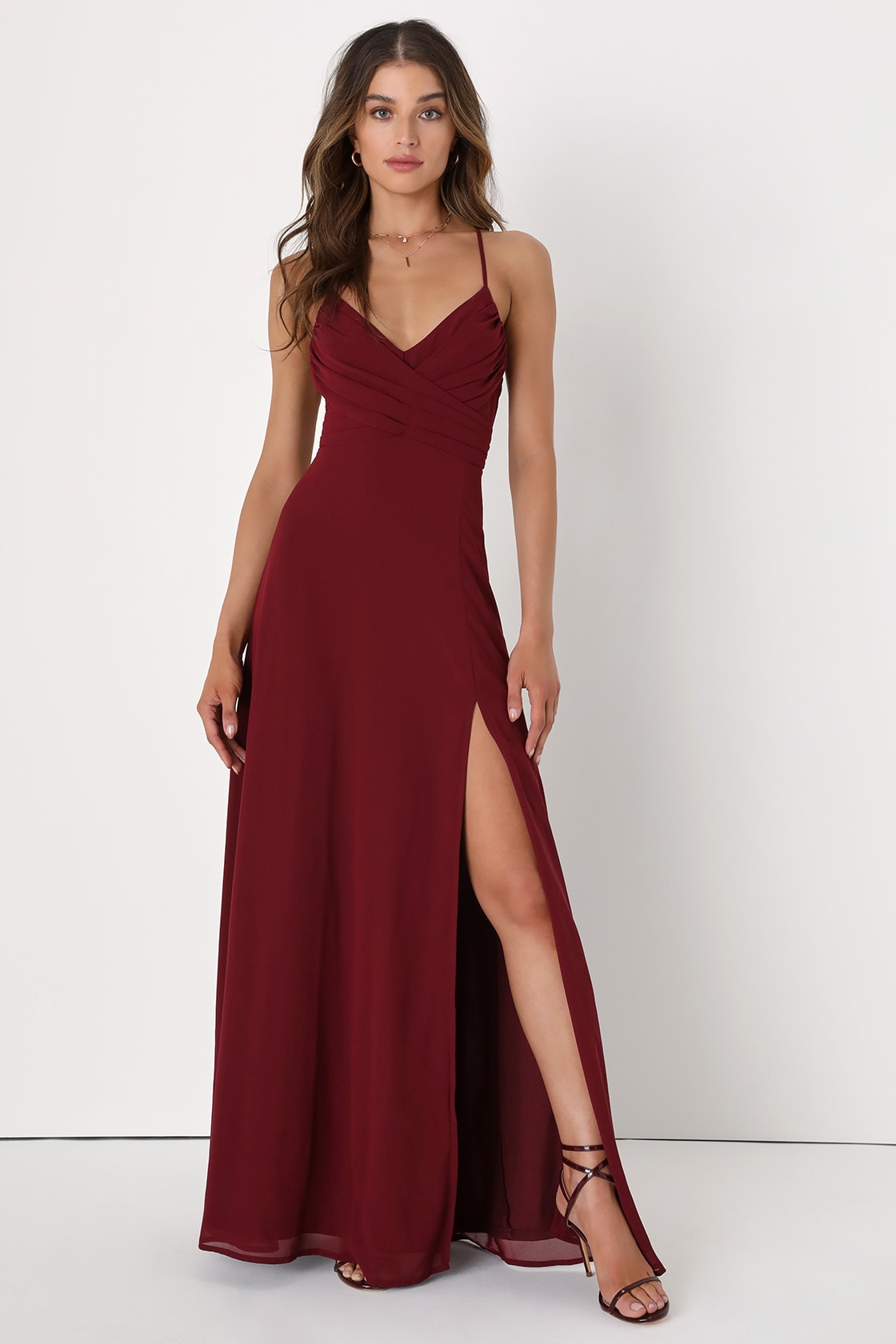 6. High-Low Red Dress
For a modern and trendy look, consider a high-low red dress. This style features a shorter front hem and a longer back hem, creating a beautiful and unique silhouette. Whether it's a strapless or halter-neck design, a high-low dress is perfect for showing off your legs while still maintaining an elegant and formal appearance.
7. Sheath Red Dress
A sheath red dress is a more fitted and tailored option for a wedding guest. This style hugs your curves and creates a sleek and sophisticated look. If you prefer a more understated yet elegant outfit, a sheath dress in a deep shade of red will make a timeless and stylish choice.
8. Floral Red Dress
If you want to add a touch of playfulness and femininity to your wedding guest outfit, consider a floral red dress. Floral patterns can range from subtle to bold, allowing you to choose a design that suits your personal style. Pair it with minimal accessories and let the floral print shine.
Red Floral Print Chiffon Maxi Dress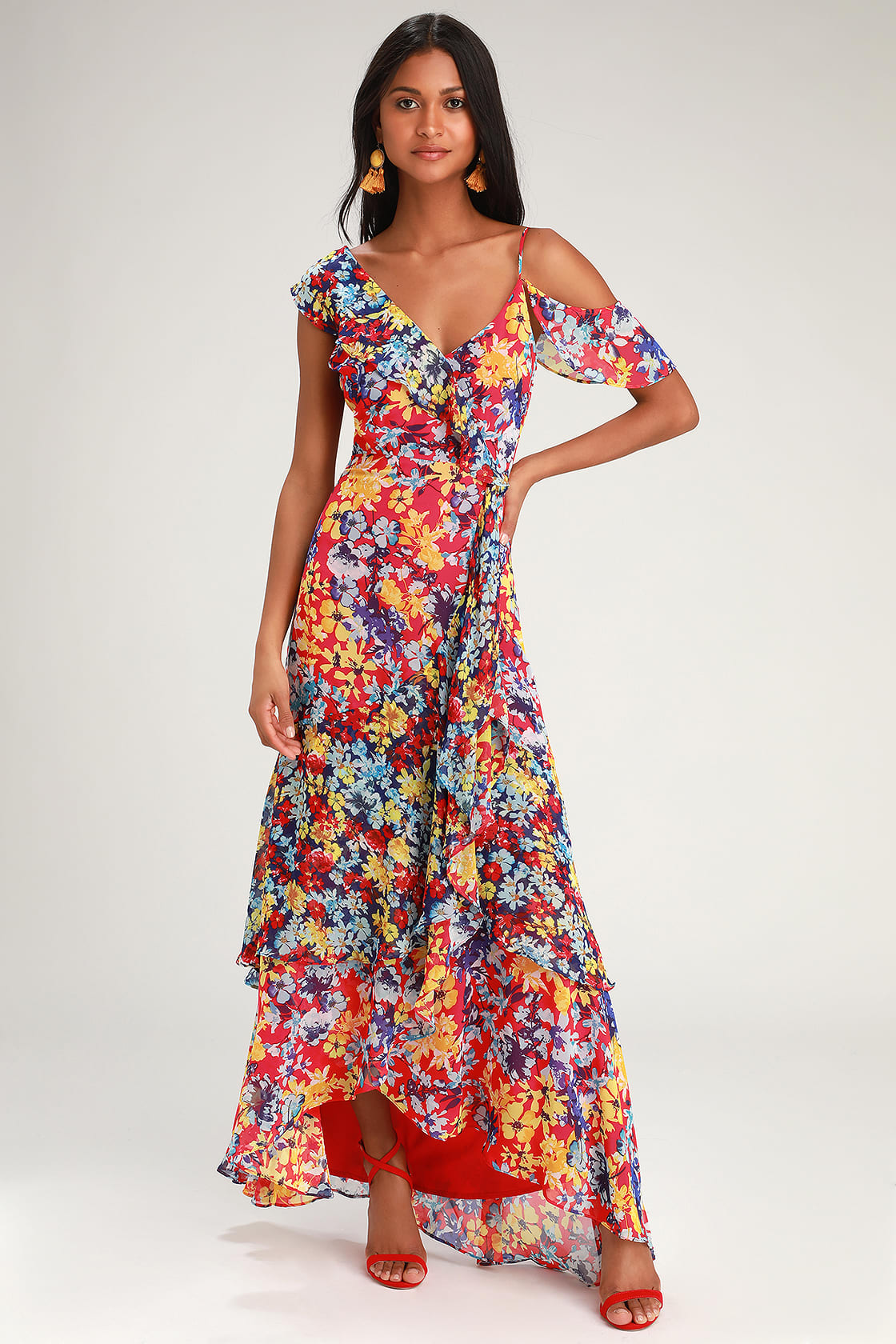 Red Orange Floral Print Ruffle Midi Dress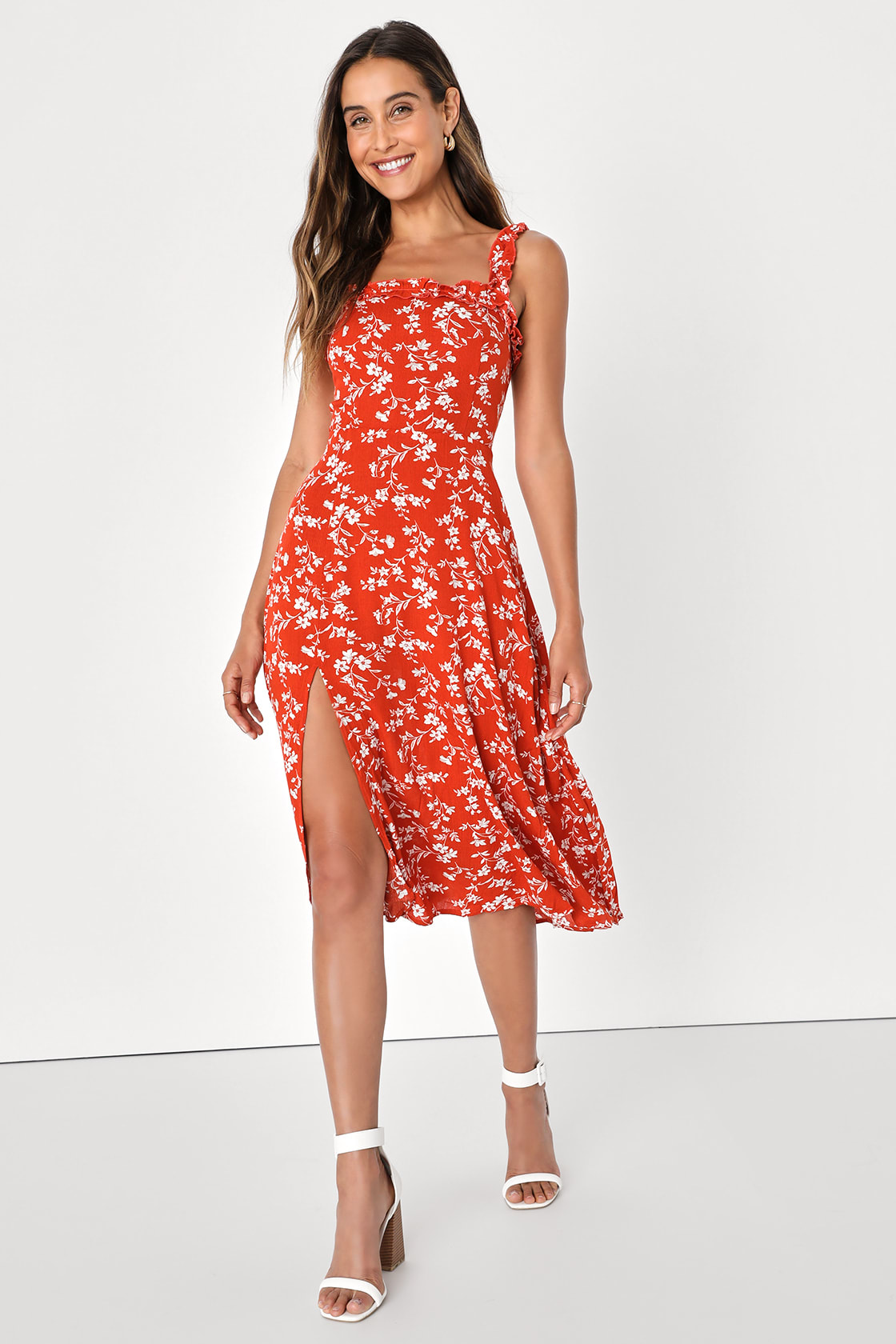 9. Halter Neck Red Dress
A halter neck red dress is perfect for showcasing your shoulders and neckline. This style offers a unique and fashion-forward look, and it can be paired with bold accessories to complete the ensemble. Whether it's a flowy maxi dress or a fitted knee-length dress, a halter neck style is sure to make a statement.
Red Asymmetrical Cutout Halter Maxi Dress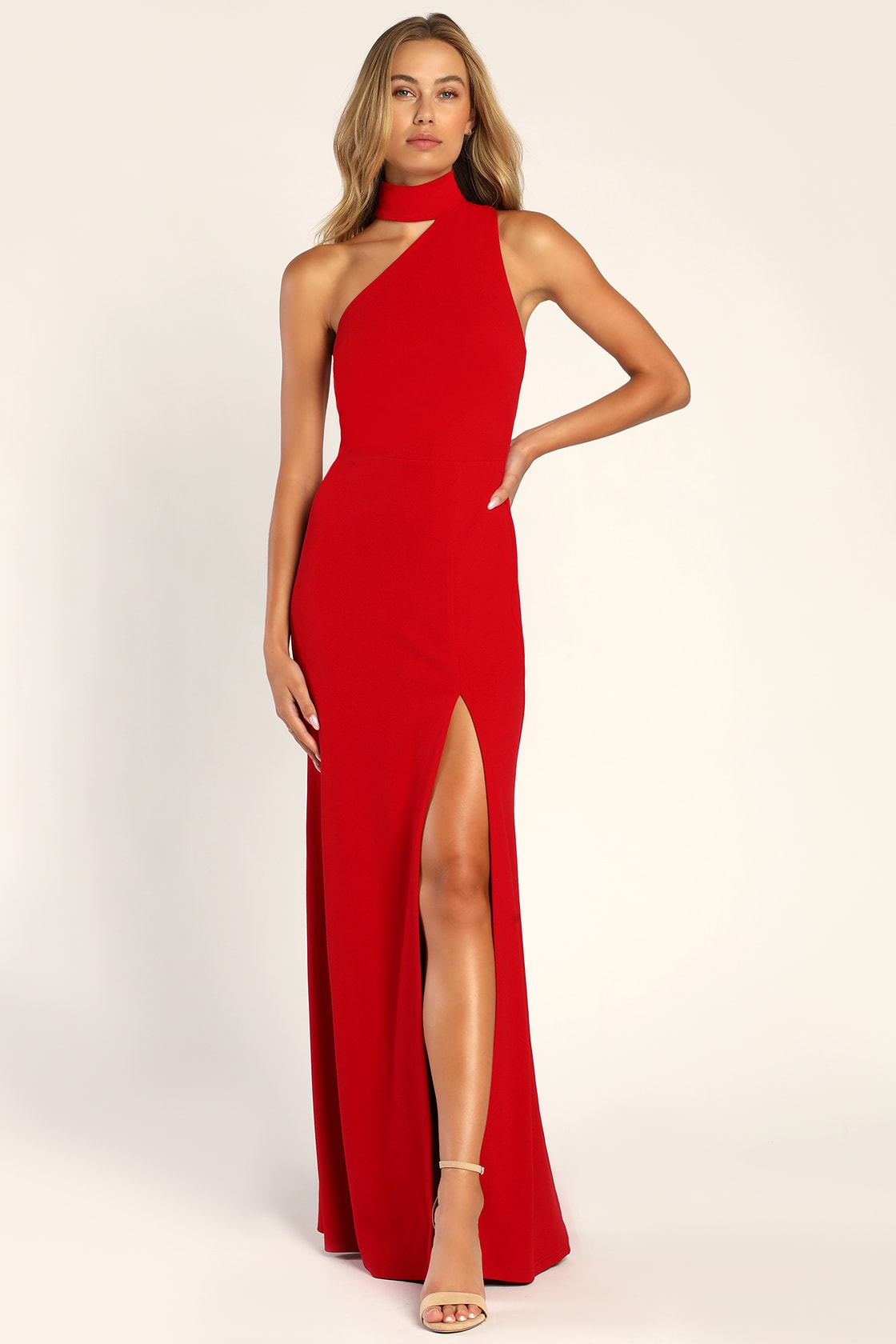 Wine Red Floral Print Clip Dot Maxi Dress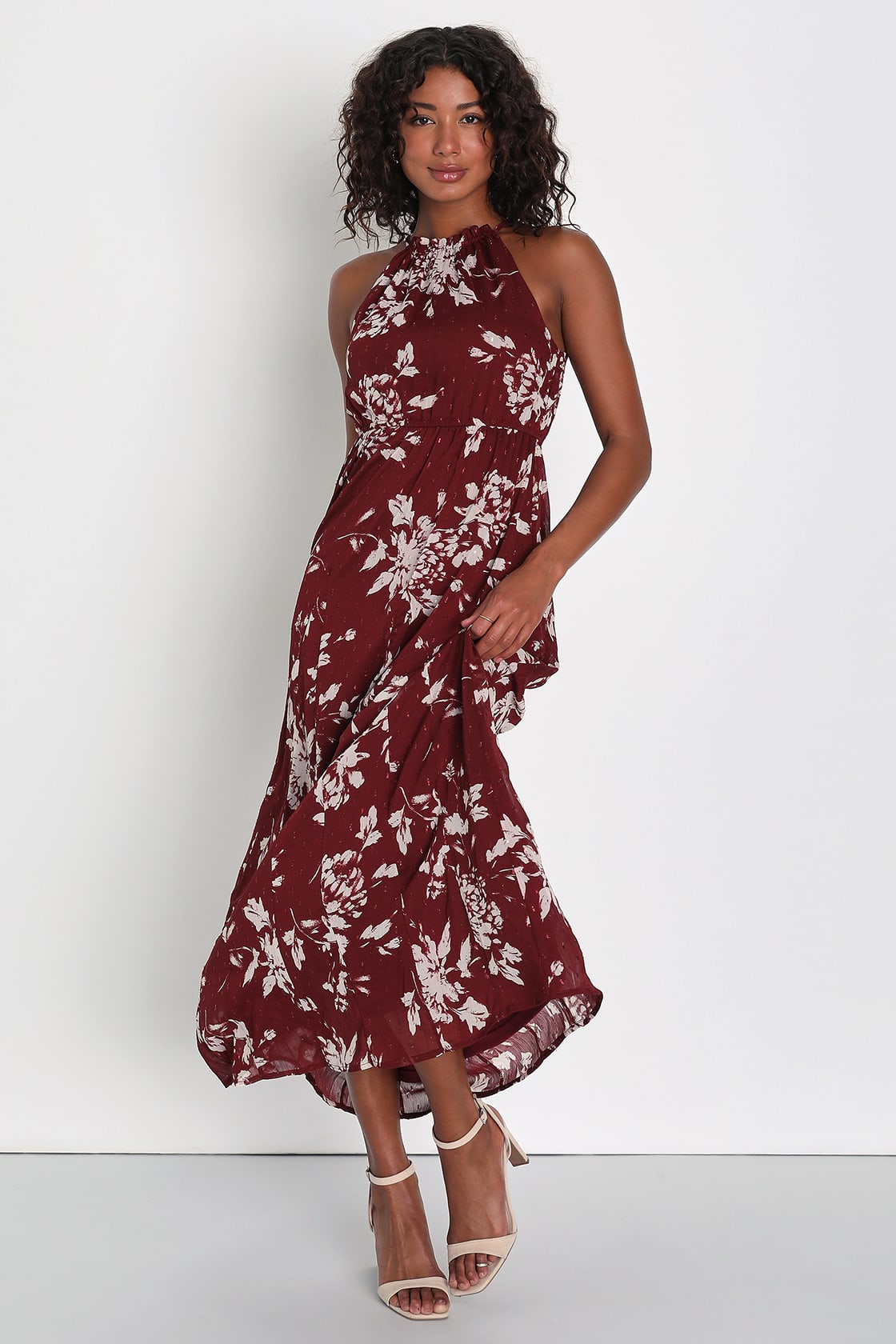 10. One-Shoulder Red Dress
For a modern and asymmetrical look, consider a one-shoulder red dress. This style is perfect for those who want to make a bold and fashionable statement. The one-shoulder design adds interest to your outfit, and the vibrant red color will ensure that you are the center of attention.
Burgundy One-Shoulder Maxi Dress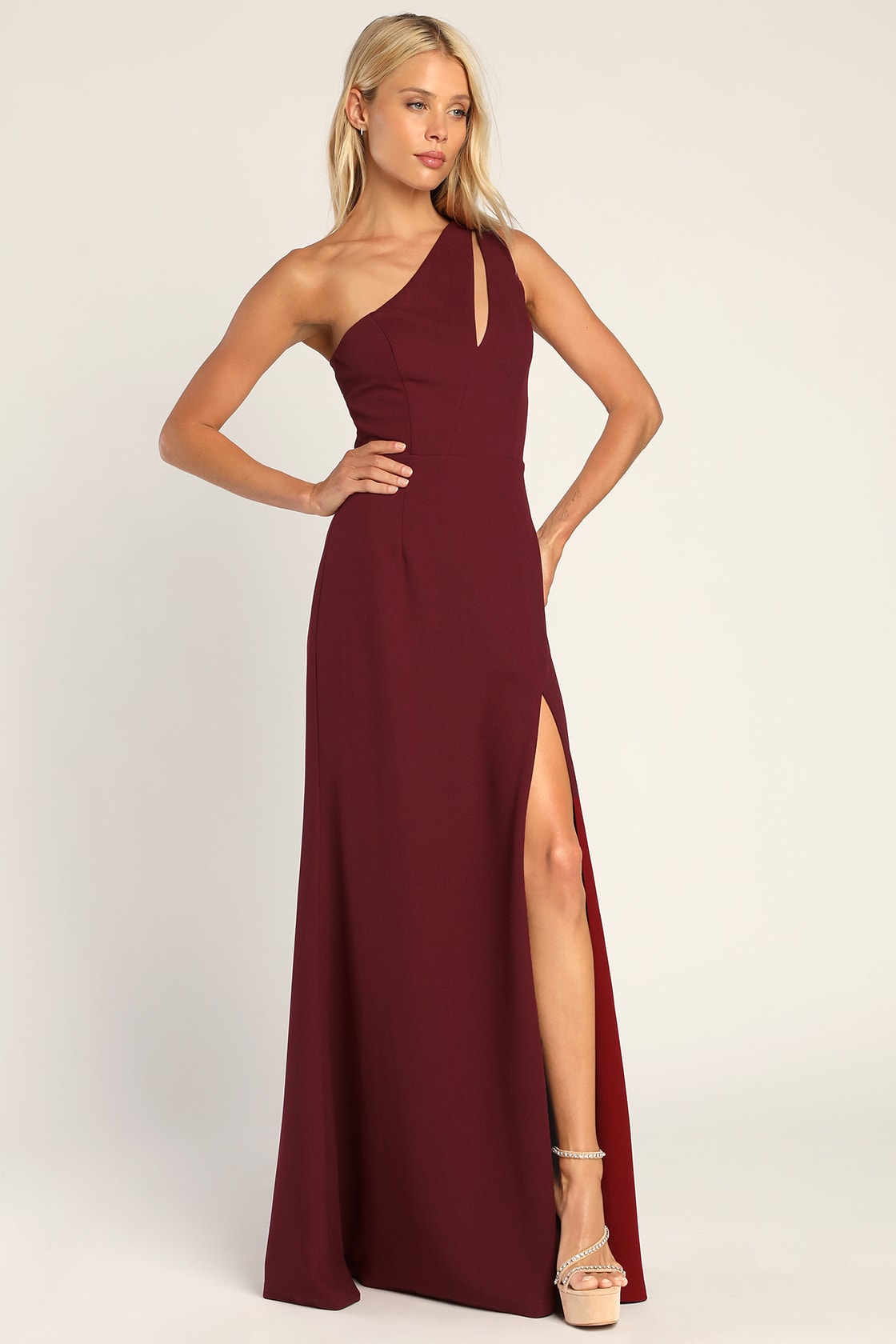 In conclusion, when it comes to choosing a red dress for a wedding, there are numerous styles and options to consider. These top red wedding guest dress styles – A-line, wrap, off-shoulder, lace, maxi, high-low, sheath, floral, halter neck, and one-shoulder – are all guaranteed to make a lasting impression and help you look stylish and confident on the big day.

F.A.Q
Can you wear a red dress to a wedding as a guest?
Yes, you can definitely wear a red dress to a wedding as a guest. However, it's important to choose a dress that is tasteful and elegant, and make sure it doesn't clash with the couple's wedding colors or cultural traditions.
What style of red dress is appropriate for a wedding guest?
There isn't one specific style of red dress that is appropriate for a wedding guest – it can depend on factors such as the dress code, venue, and time of day for the wedding. However, in general, a knee-length or midi dress is a safe and stylish choice that is appropriate for most weddings. Additionally, it's important to choose a dress that is comfortable and easy to move around in, as you will likely be socializing and dancing at the wedding reception.
What shoes go well with a red wedding guest dress?
When it comes to shoes, there are a few different options that can look great with a red wedding guest dress. Nude or metallic heels can be a chic and classic choice, while bold and colorful shoes can add a fun and playful touch to the outfit. It's important to choose shoes that are comfortable and easy to walk in, especially if the wedding is outdoors or involves a lot of dancing.
How good do you think this post was? Click on a star to rate it!