Sage green wedding dress is a great choice for you if you're looking to go with a more classic look. What's better than taking something old and making it new again? Sage green has been around since the ancient times, but it hasn't lost its charm one bit.
Sage green is a versatile color that can be used in lots of different ways in your wedding day style because of how neutral it is. It's not going to clash with any other colors or make anyone feel awkward around you because they aren't wearing something similar (like red). If you have an idea of what kind of theme you want for your wedding, sage green might be worth considering as one of your main colors!
Here are some sage green wedding dresses we love:
Strapless
Strapless sage green wedding dresses are a beautiful and unique option for brides seeking a fresh and modern look on their big day. The sage green color provides a soft and elegant look, while the strapless style adds a touch of glamour. These dresses are perfect for outdoor or spring weddings and are a great alternative to traditional white or ivory gowns.
They can be styled in various ways, making it easy for the bride to personalize her look. Whether it's a simple, elegant dress or a more intricate design, a strapless sage green wedding dress is sure to make any bride feel beautiful and special on her wedding day.
Lace & Beads exclusive off-the-shoulder tulle tiered maxi dress in sage green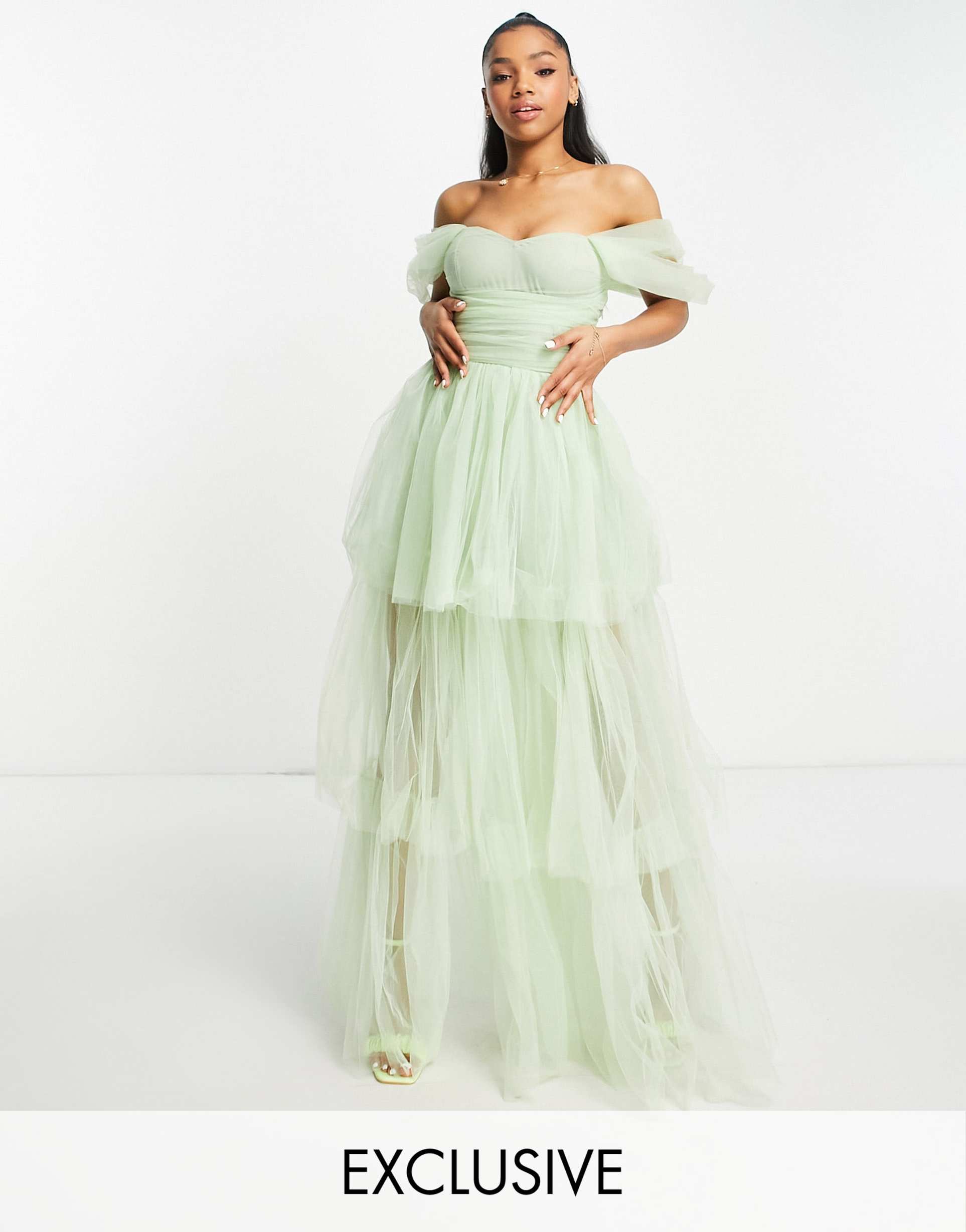 Sage Green Princess Tied Straps A-line Tulle Wedding Dress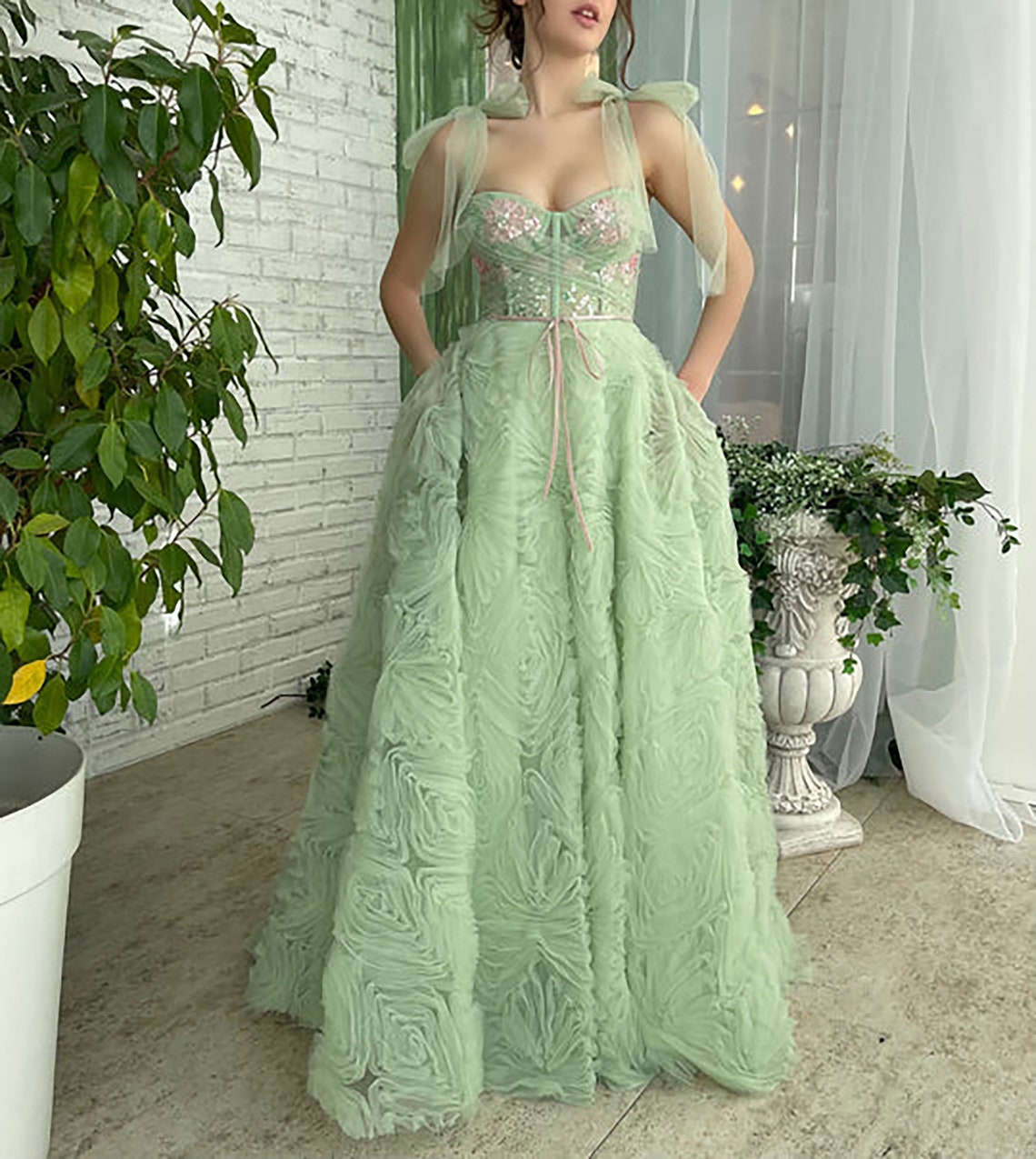 Sage Pleated Drape Tulle Wedding Dress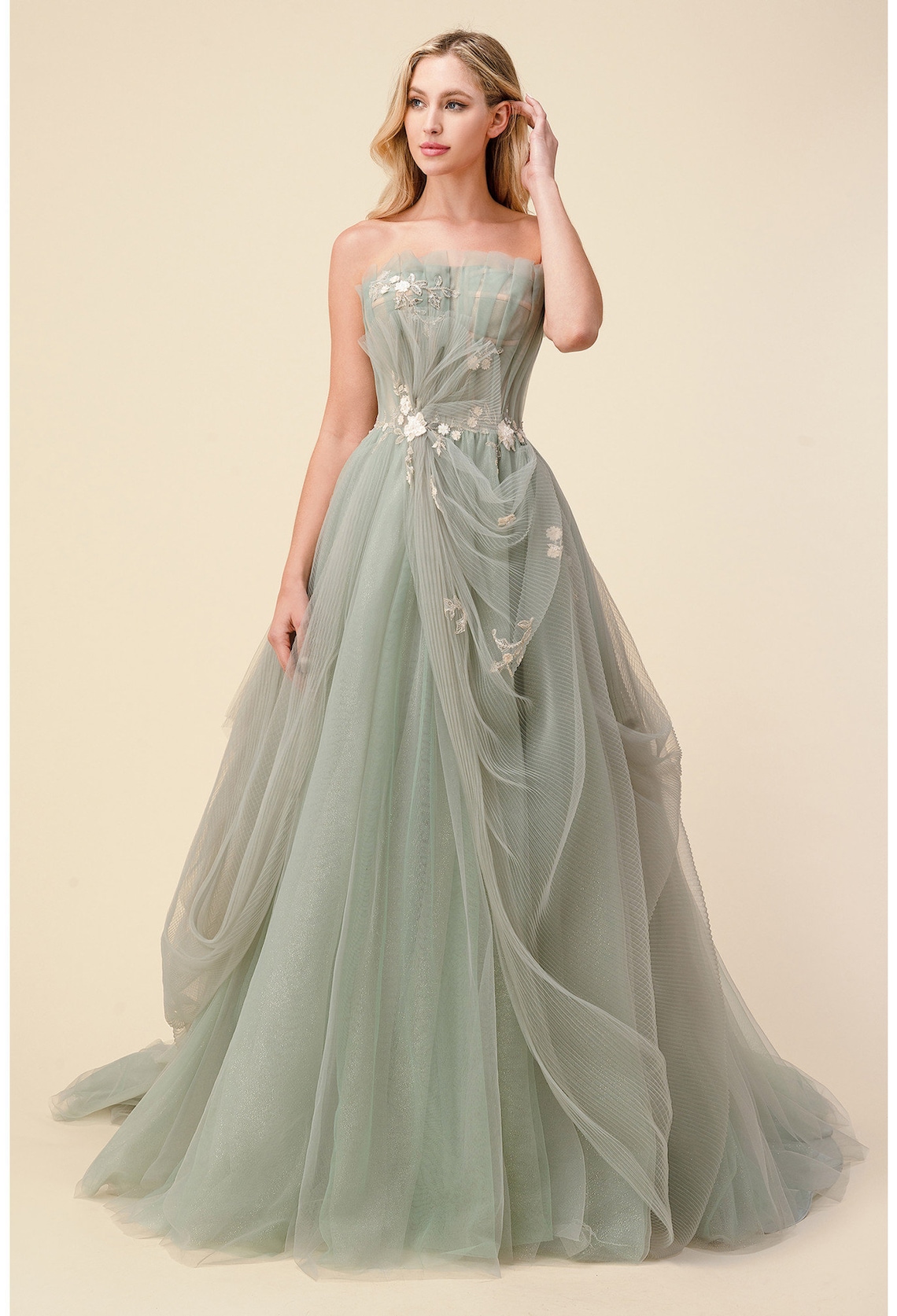 Long Sleeves
Long sleeves sage green wedding gowns are a stunning choice for brides who want to incorporate a unique and stylish touch to their special day. The sage green color adds a touch of nature and earthiness, while the long sleeves provide a modest and elegant look.
Whether paired with delicate lace detailing or a simple and sleek silhouette, this dress is sure to make a statement. The versatility of the sage green shade makes it easy to pair with a variety of styles and accessories, ensuring a one-of-a-kind look for the big day.
Sage Green Puff Sleeve wedding dress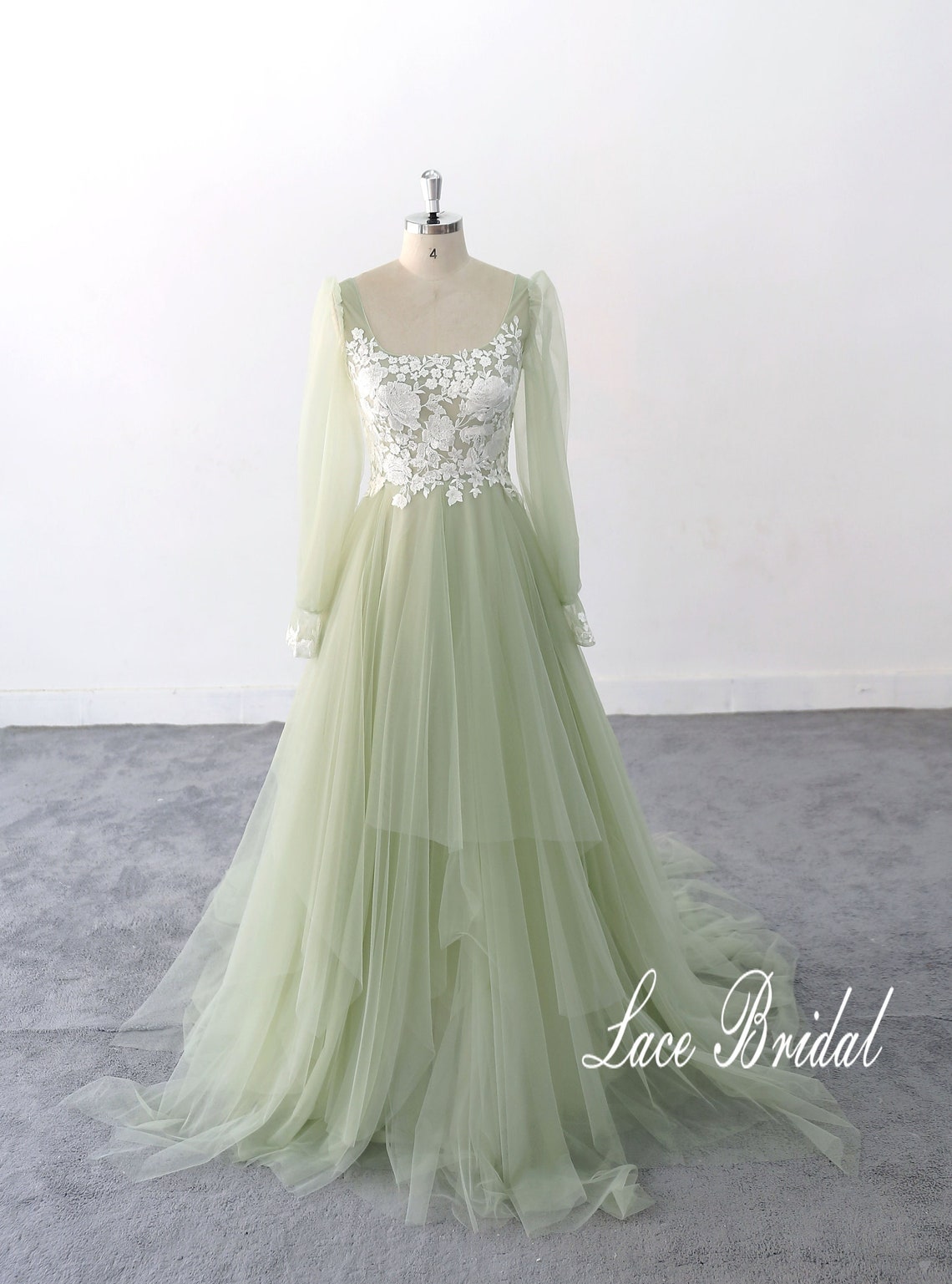 Deep V Ombre Sage Green Bridal Dress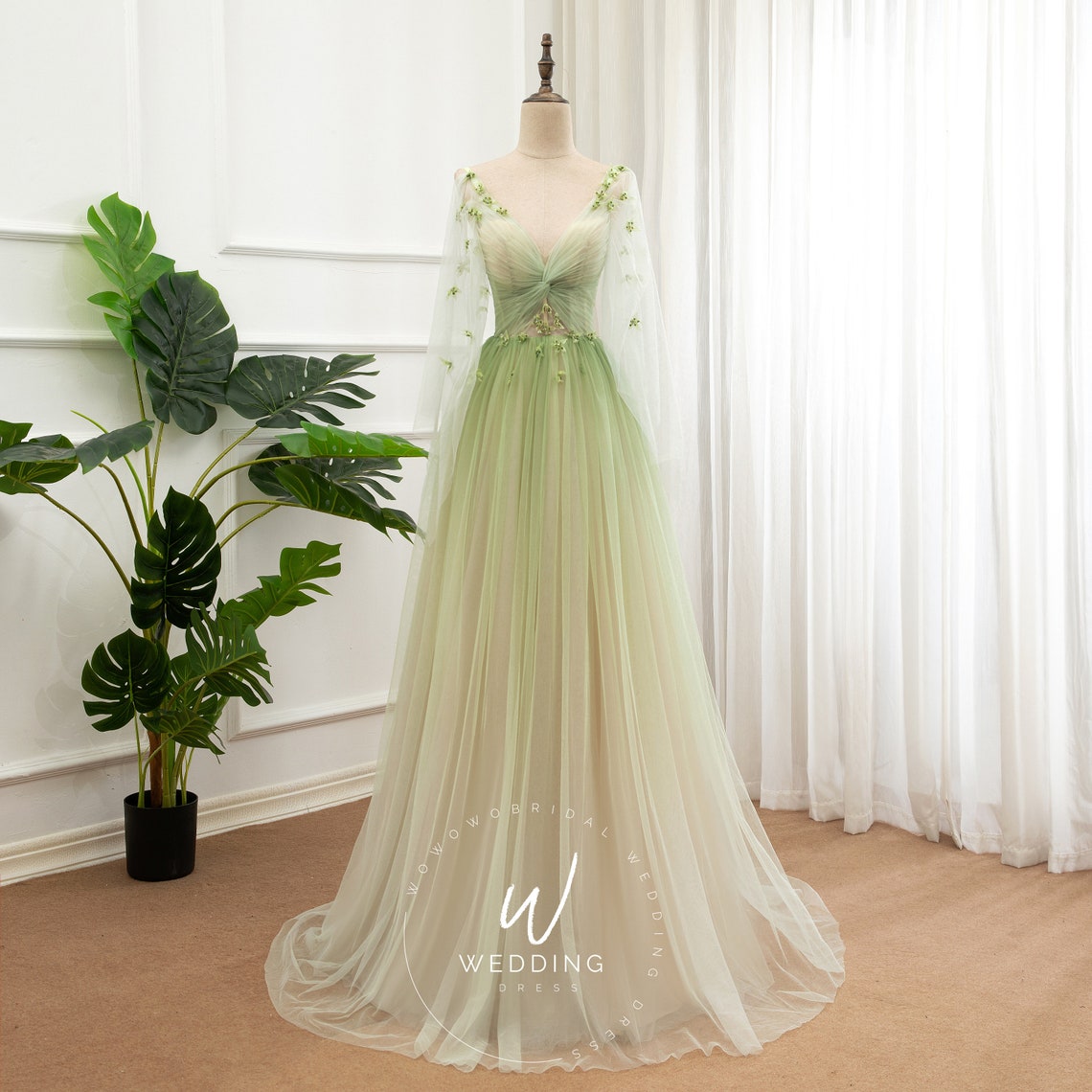 Ball Gown
Sage green ball gown bridal dresses are a beautiful option for brides looking for a classic and elegant look. The rich, earthy shade of sage green adds a touch of sophistication, while the full skirt and fitted bodice of the ball gown silhouette create a fairytale feel.
Perfect for grand venues and traditional ceremonies, this style is versatile and timeless, making it a popular choice for brides of all ages. Whether accented with sparkling beading or delicate lace, a sage green ball gown bridal dress is sure to make a statement and leave a lasting impression on your special day.
Pastel mint green floral lace flutter sleeve ball gown wedding dress with court train & glitter tulle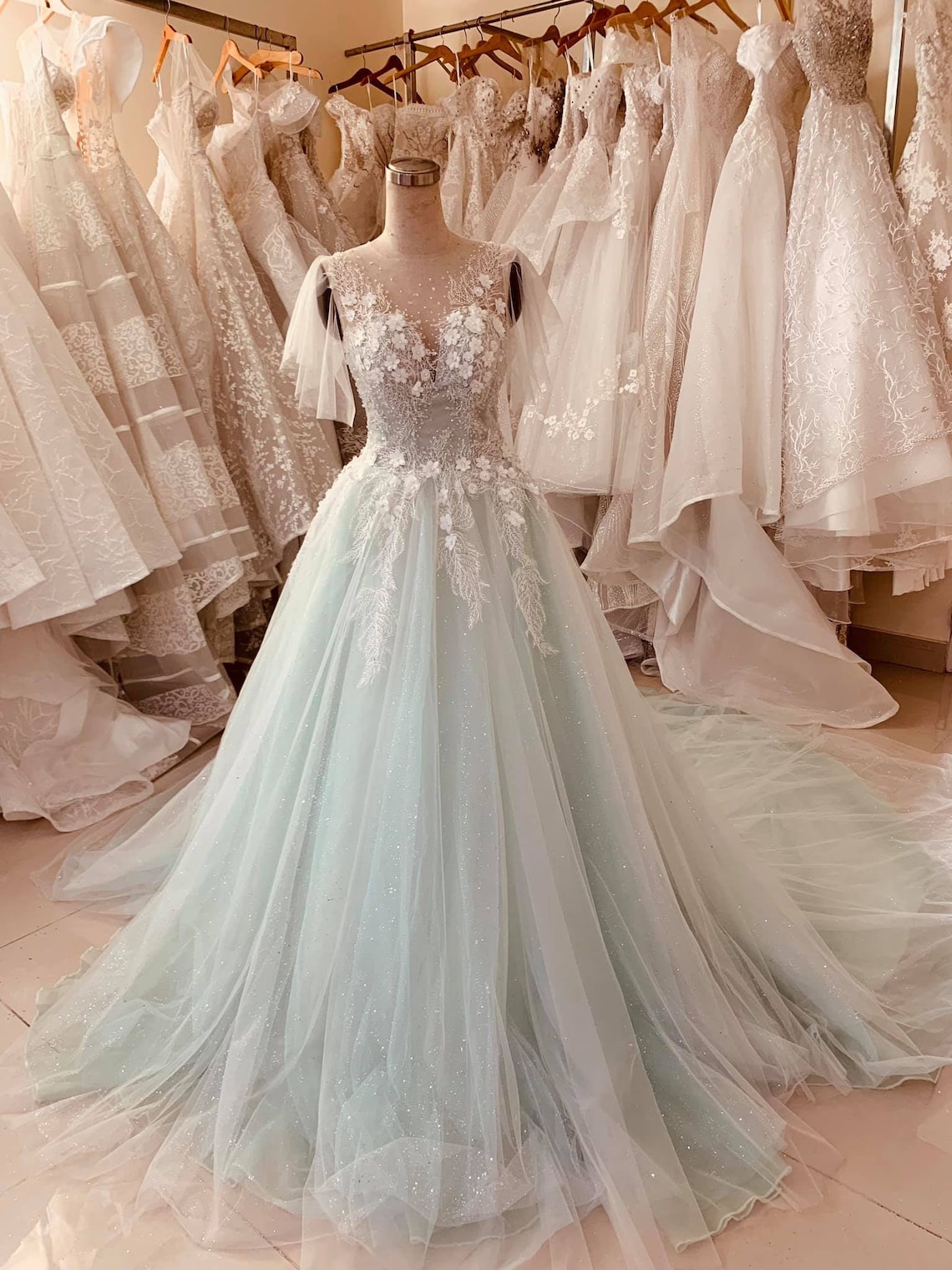 bohemian sage green and white lace wedding dress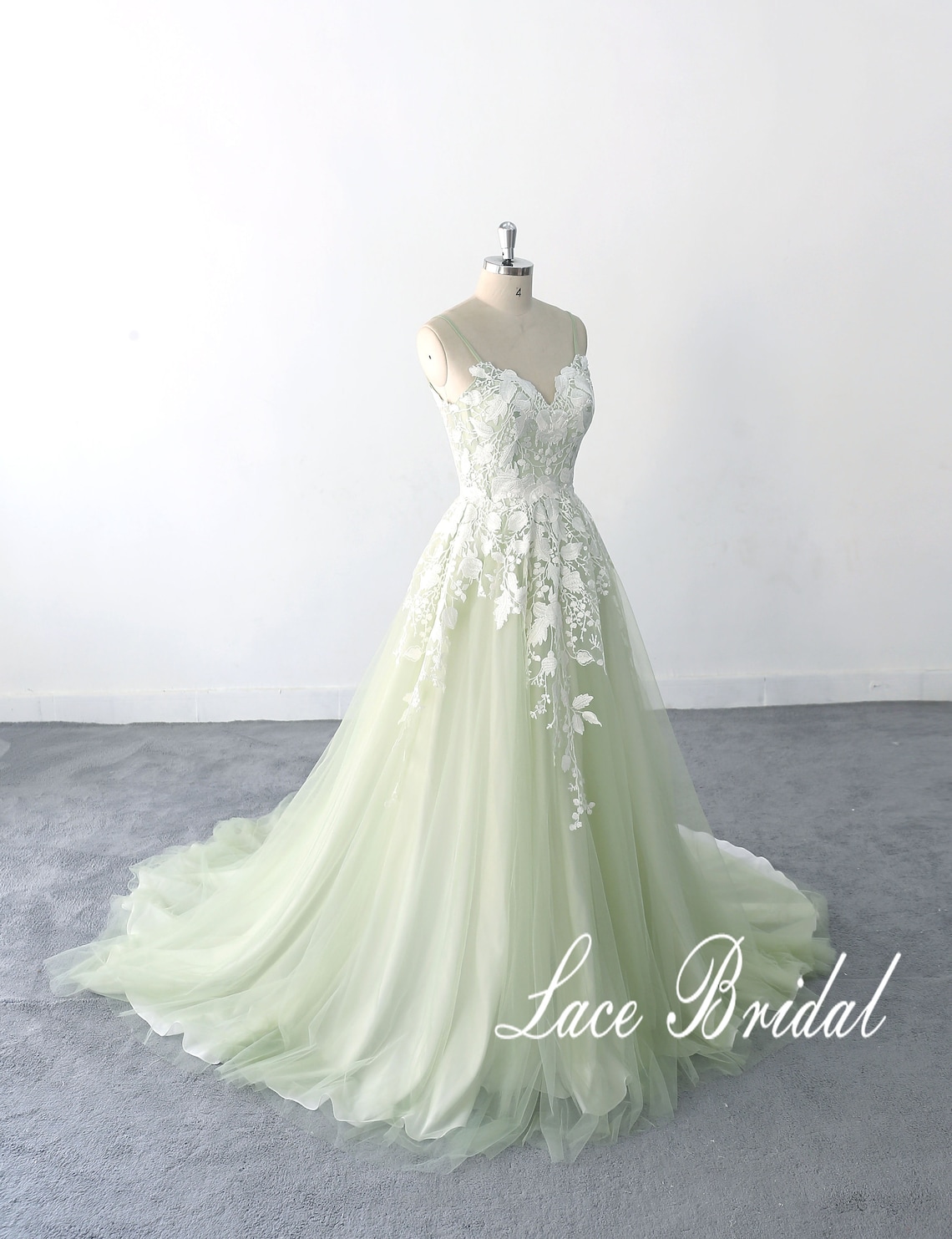 Green Ruffled Flounces Wedding Dress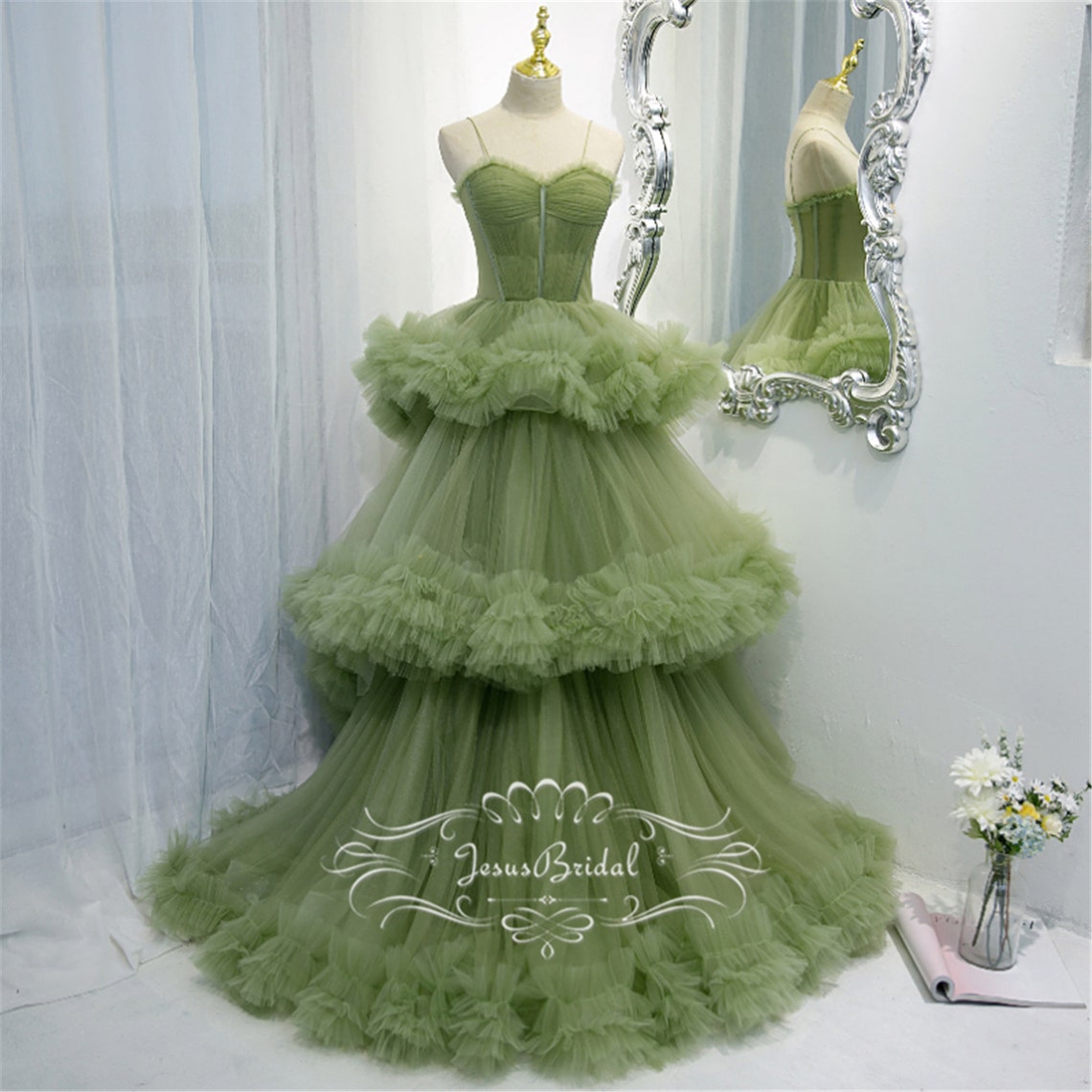 Dusty Sage Ball Gown Wedding Dress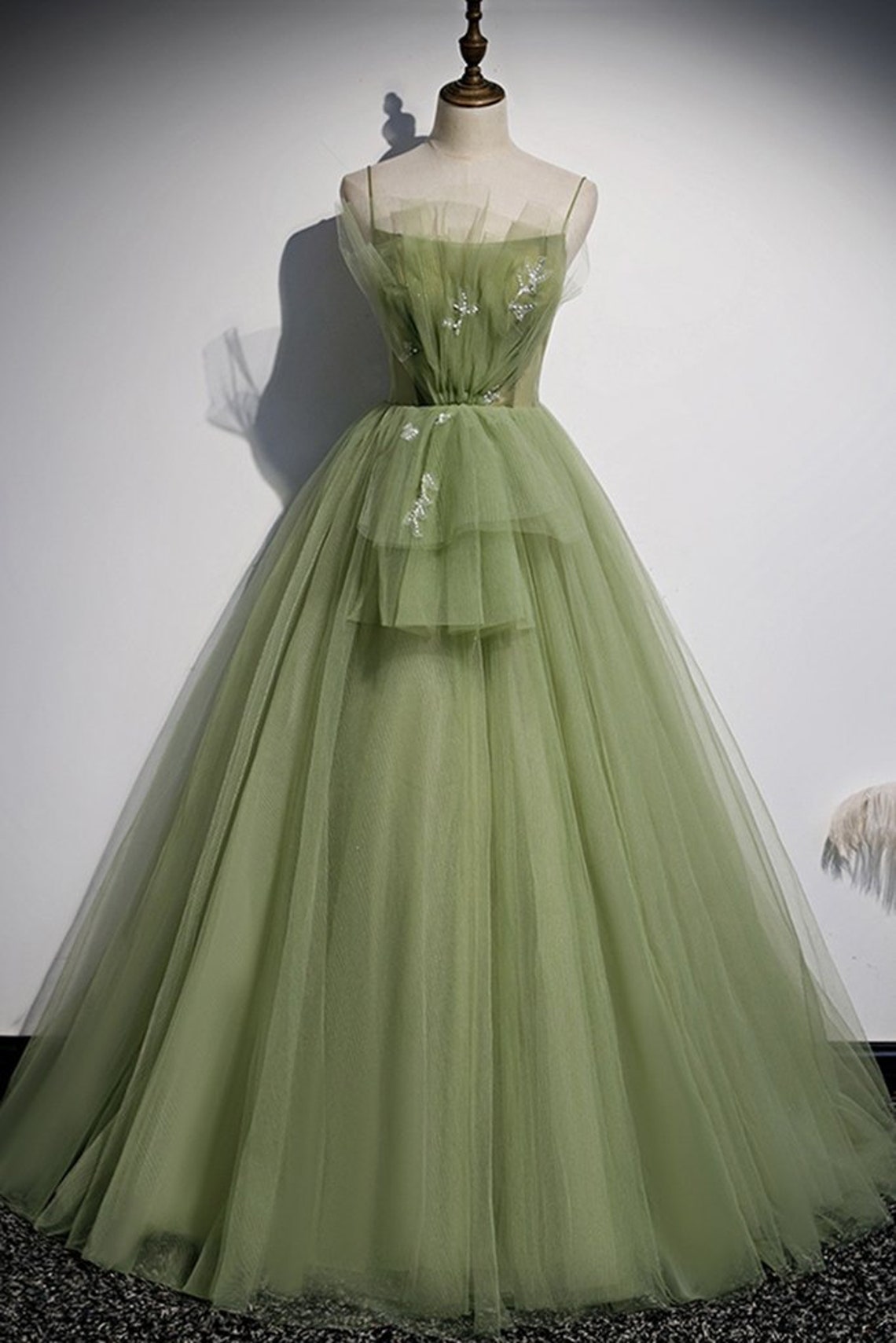 Bohemian
Bohemian sage green wedding dresses are a perfect fit for brides who want a relaxed, natural and romantic look for their big day. The soft and earthy shade of sage green adds a touch of bohemian charm, while flowy silhouettes, such as A-line, slip or empire waist, evoke a carefree and bohemian vibe.
This style is often paired with natural fabrics like linen, cotton, or lace, as well as unique embellishments like tassels, fringe or embroidery. Whether outdoor or indoor, a bohemian sage green wedding dress is a beautiful and comfortable choice for brides who want to express their personal style.
Sage Green and white wedding dress
Sage Green wedding dress and white lace floral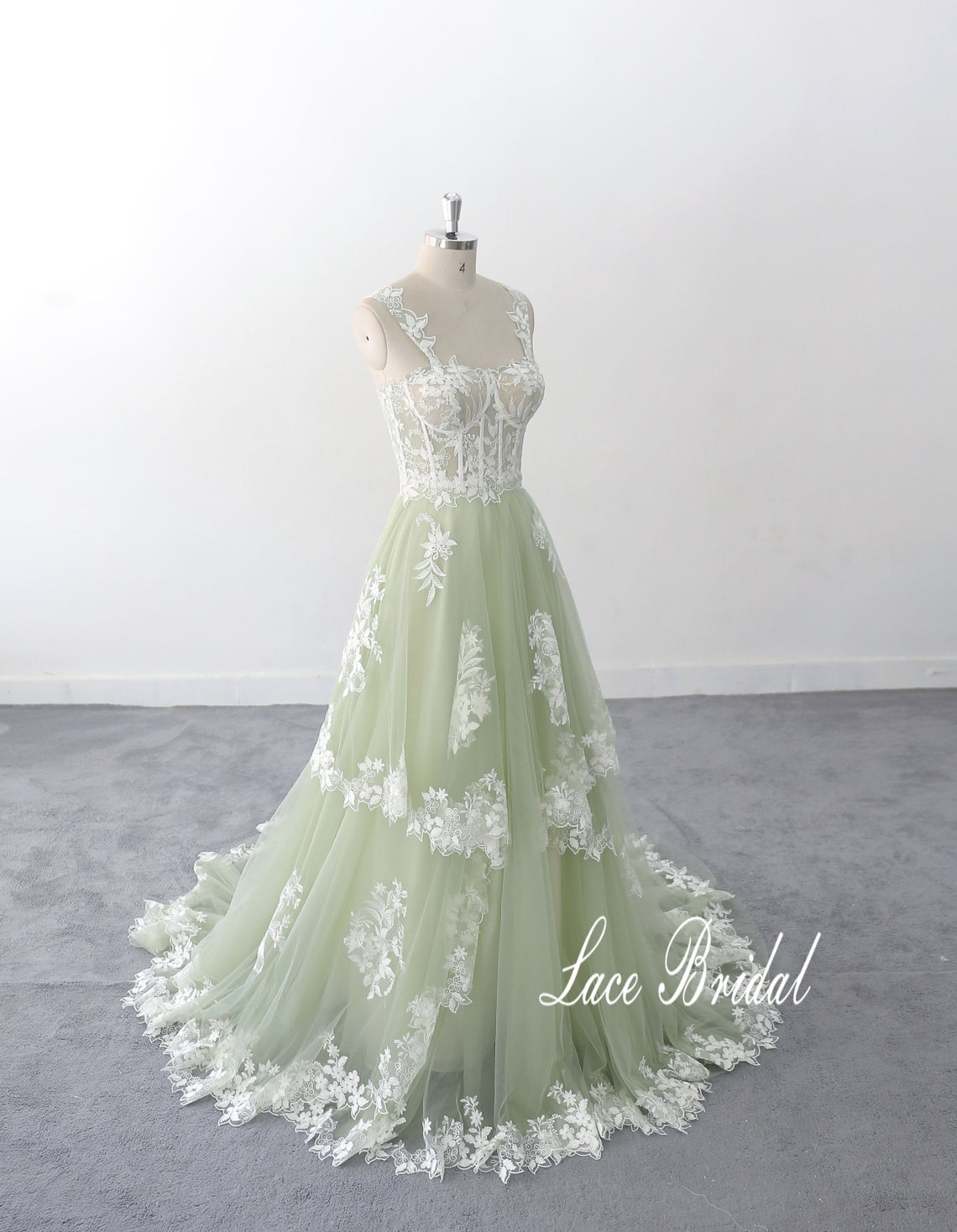 Sage Green Spaghetti Strap Wedding Dress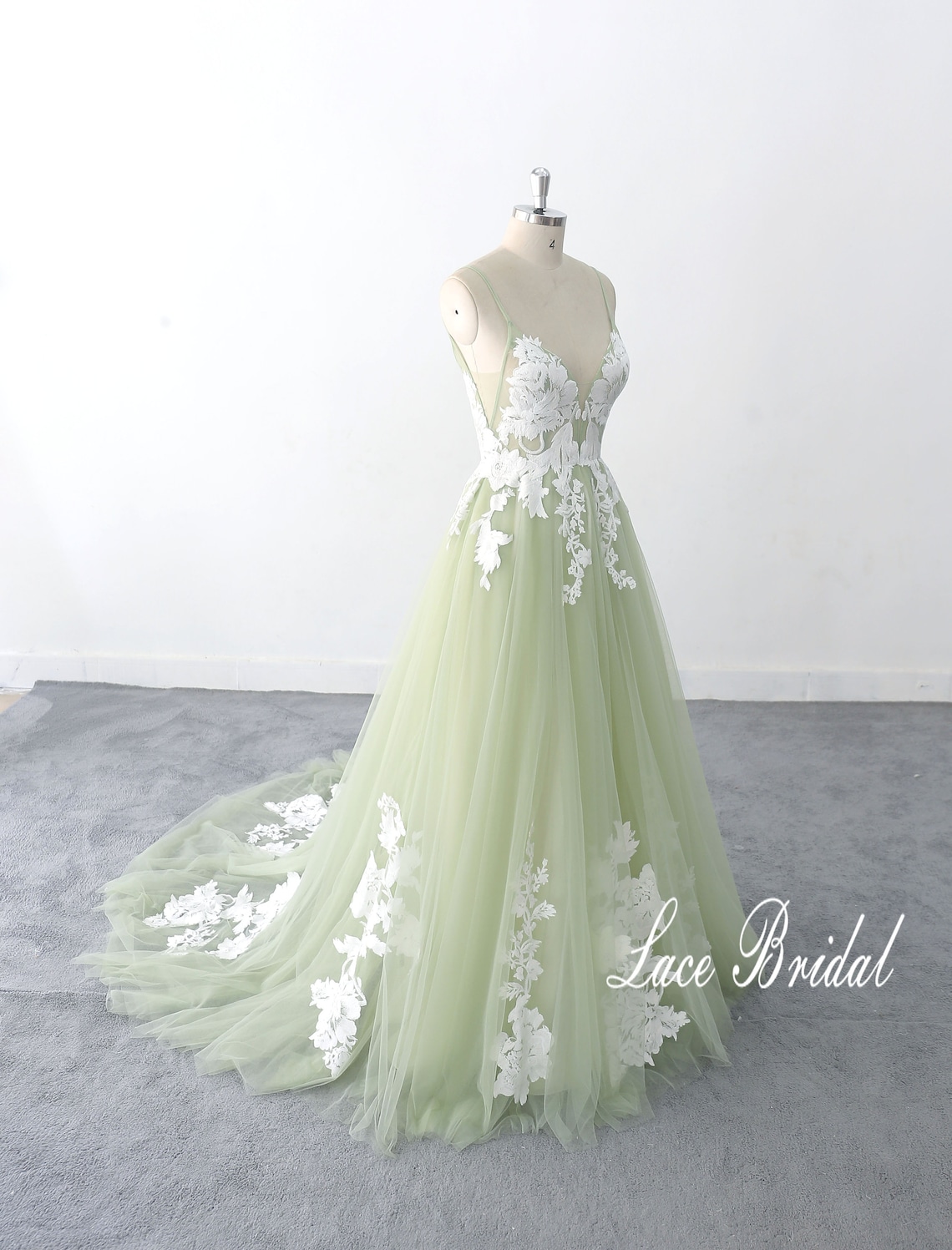 sage aline tulle lace wedding dress with deep v neckline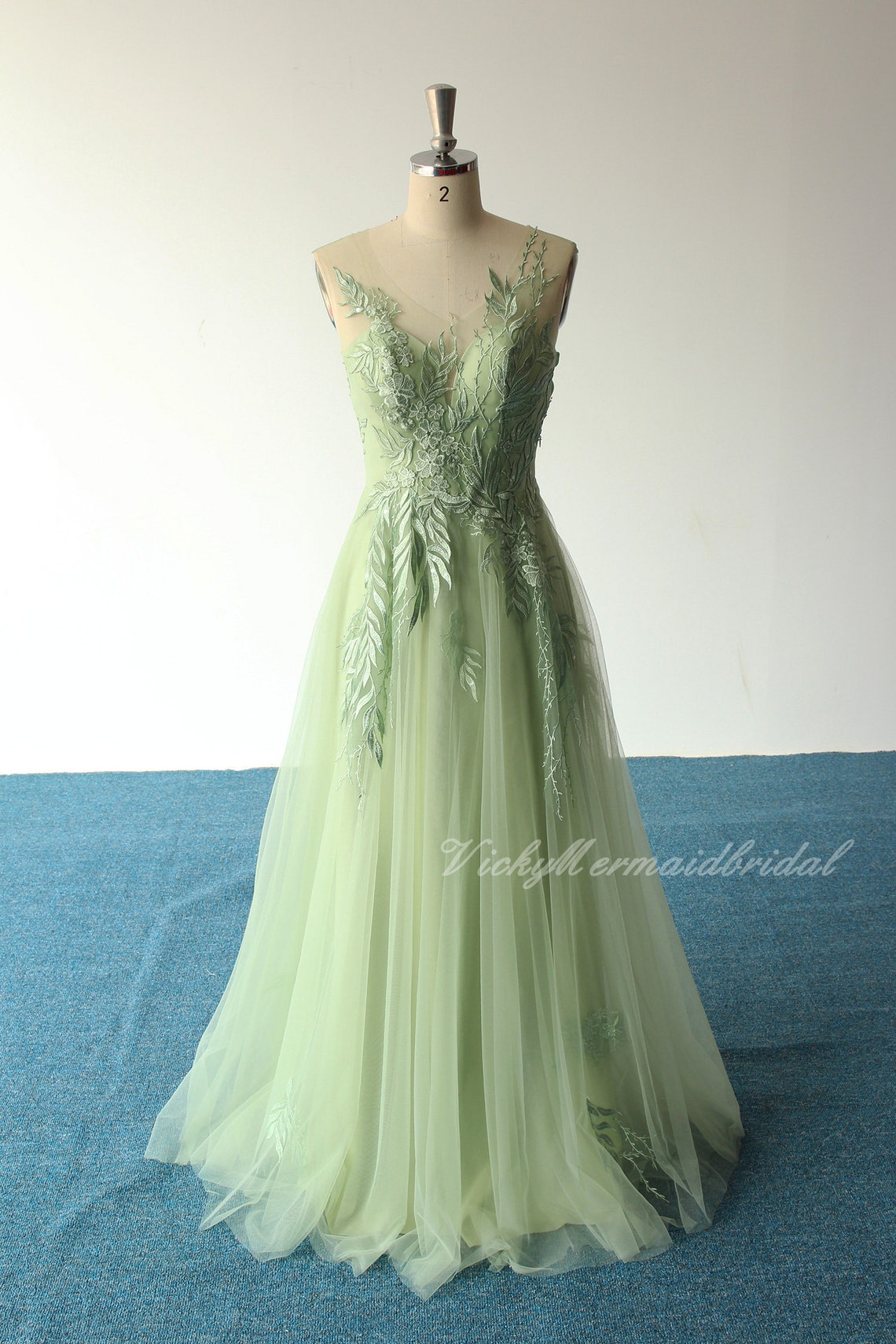 How good do you think this post was? Click on a star to rate it!