Choosing the perfect bridesmaid dresses is one of the most significant decisions that a bride has to make during the wedding planning process. The dresses should complement the bride's gown while making the bridesmaids look amazing in their own right. Royal blue is one of the most popular colors for bridesmaid dresses today. It's a deep and luxurious color that fits perfectly with most themes and settings. This post takes an in-depth look at the most popular styles of royal blue bridesmaid dresses.
The Allure of Royal Blue
Royal blue, a shade reminiscent of the deep blue sea and a cloudless sky, has long been associated with nobility and high status. This color evokes a sense of grandeur and adds a touch of extravagance to any setting. Its rich and vibrant tone complements a wide array of complexions, making it suitable for bridesmaids of all skin tones.
More than just a fashionable color, royal blue is also a symbol of loyalty, trust, and wisdom. It captures the essence of everlasting love, making it a perfect choice for weddings. By dressing your bridesmaids in royal blue, you are not only showcasing their beauty but also enveloping them in a sense of poise and confidence on your special day.
Versatility and Adaptability
One of the most remarkable aspects of royal blue bridesmaid dresses is their versatility. This color effortlessly adapts to various wedding themes, whether it's a garden wedding or a sophisticated black-tie affair. Royal blue can complement a range of hues, such as silver, gold, or even red, allowing you to curate a stunning color palette that harmonizes with your overall wedding aesthetic.
Moreover, royal blue is suitable for any season. Its cool and calming undertones make it an excellent choice for summer weddings, while the richness in its shade adds warmth and depth to winter ceremonies. With royal blue bridesmaid dresses, you can achieve a consistent and cohesive look year-round.
A-line Dresses
A-line dresses are versatile and look good on most body types. They are fitted at the top and flare out from the waist, forming an A-shape. A-line dresses can be long or short and have various necklines, from V-neck to sweetheart. An A-line dress in royal blue is ideal for a classic wedding ceremony. The dress usually has an elegant flowy design and features simple details that accentuate the waist.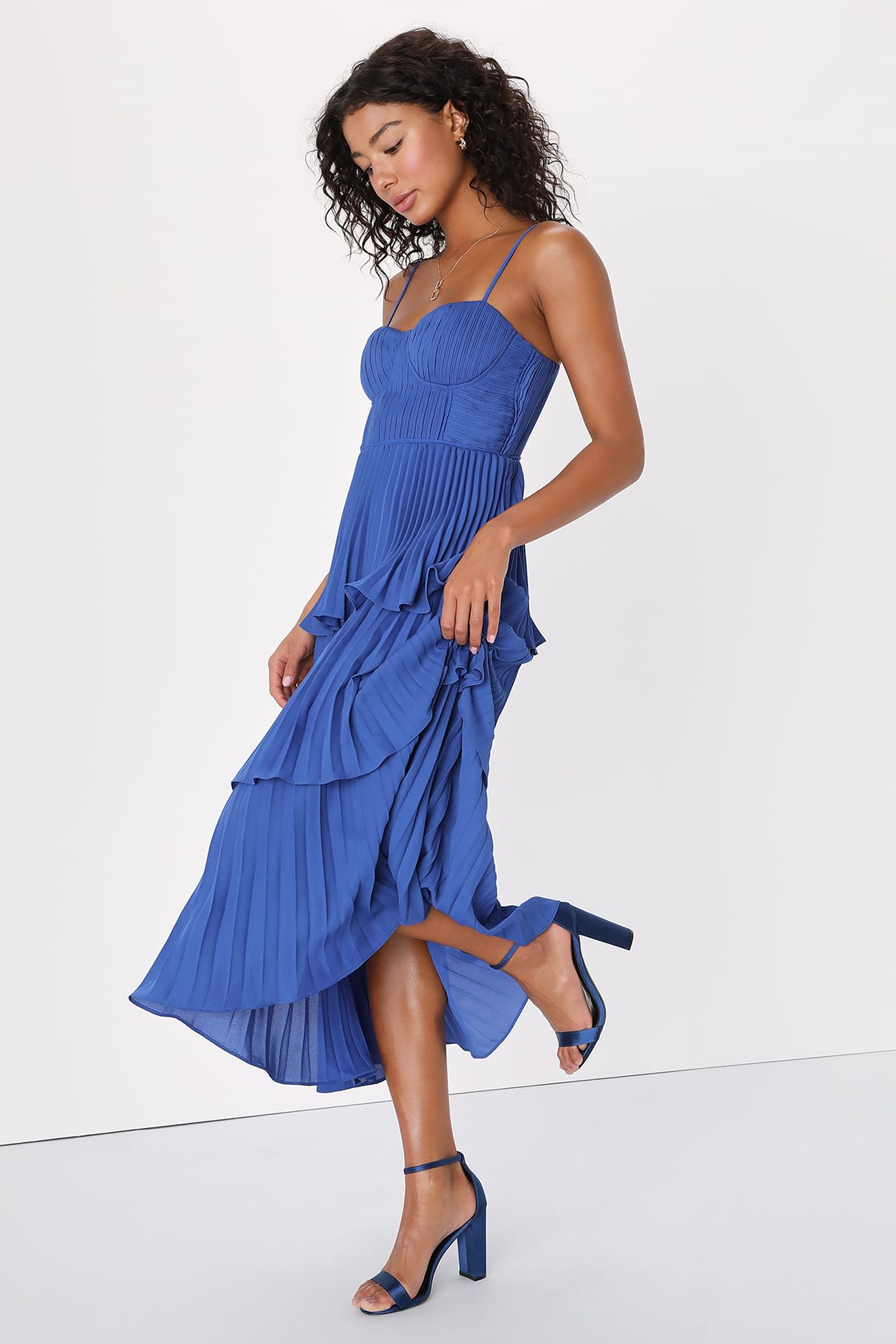 Strapless Dresses
Strapless dresses are perfect for weddings held during the summer months or in warm destinations. These dresses expose the shoulders and arms, and they come in different lengths and designs. A strapless royal blue bridesmaid dress can be long and flowy or short and sassy. Adorned with sequins or lace, these dresses can be dressed up or down and can be worn with statement jewelry, hair accessories, and high heels.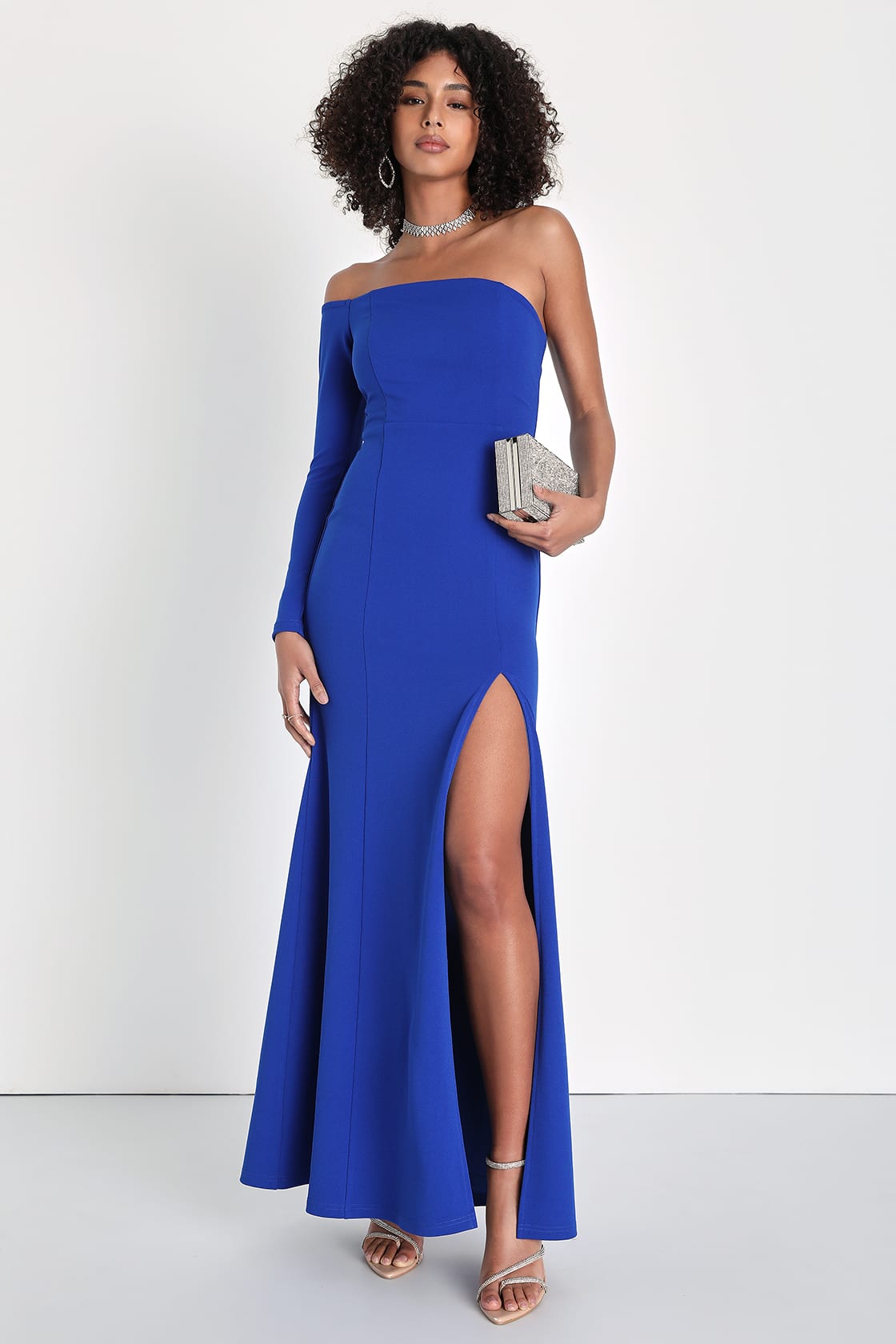 Midi Dresses
Midi dresses are a perfect choice for bridesmaids who want a dress that falls between short and long. These dresses typically hit just below the knee or mid-calf, creating a sophisticated and timeless look. Midi dresses in royal blue offer a classic and elegant style that can be suitable for both formal and semi-formal wedding ceremonies.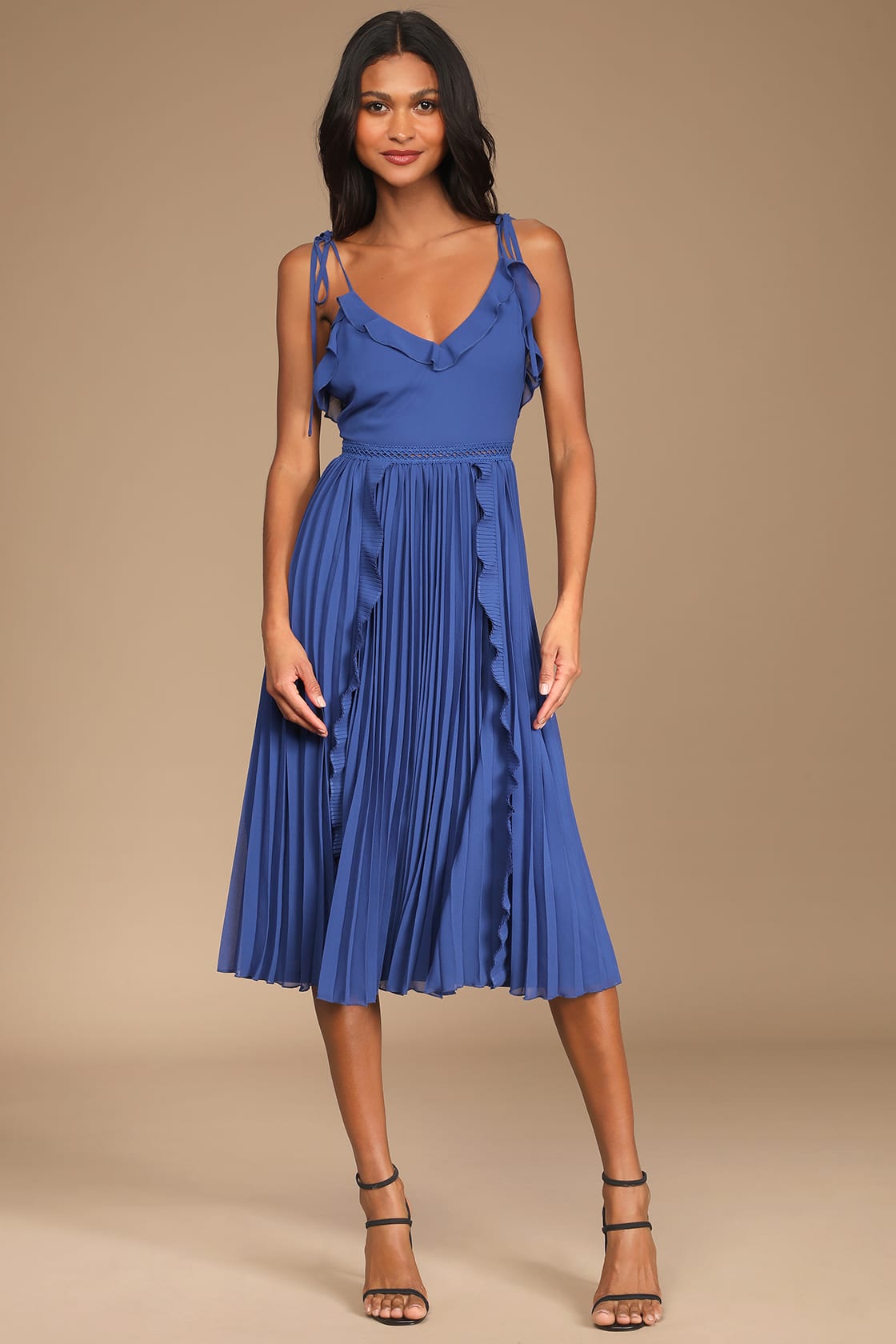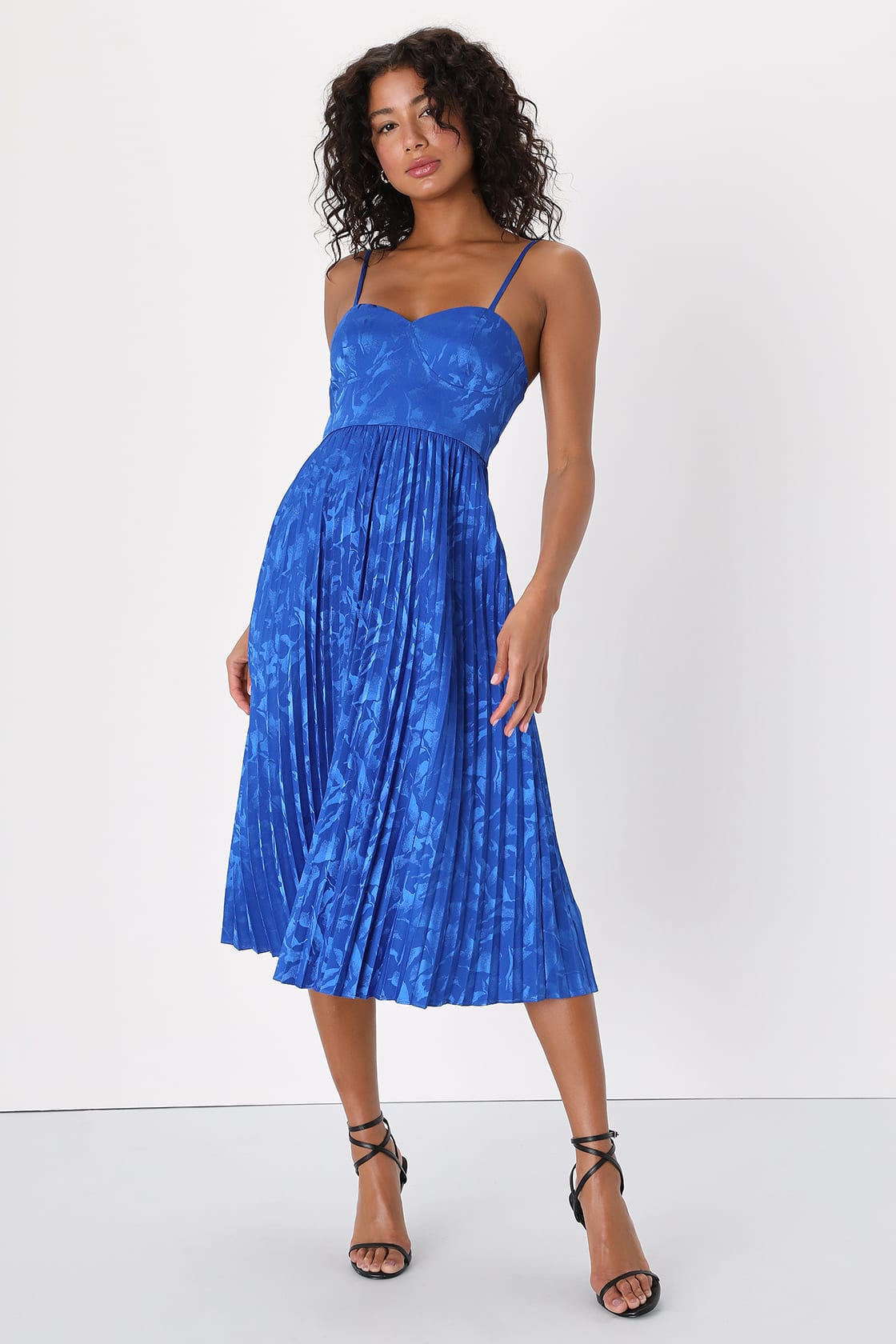 Satin Dresses
Satin dresses exude elegance and glamour, making them a popular choice for formal weddings. The smooth and shiny fabric catches the light beautifully, adding a touch of luxury to any bridesmaid ensemble. Satin dresses in royal blue create a sophisticated and refined look that is sure to make bridesmaids feel like royalty.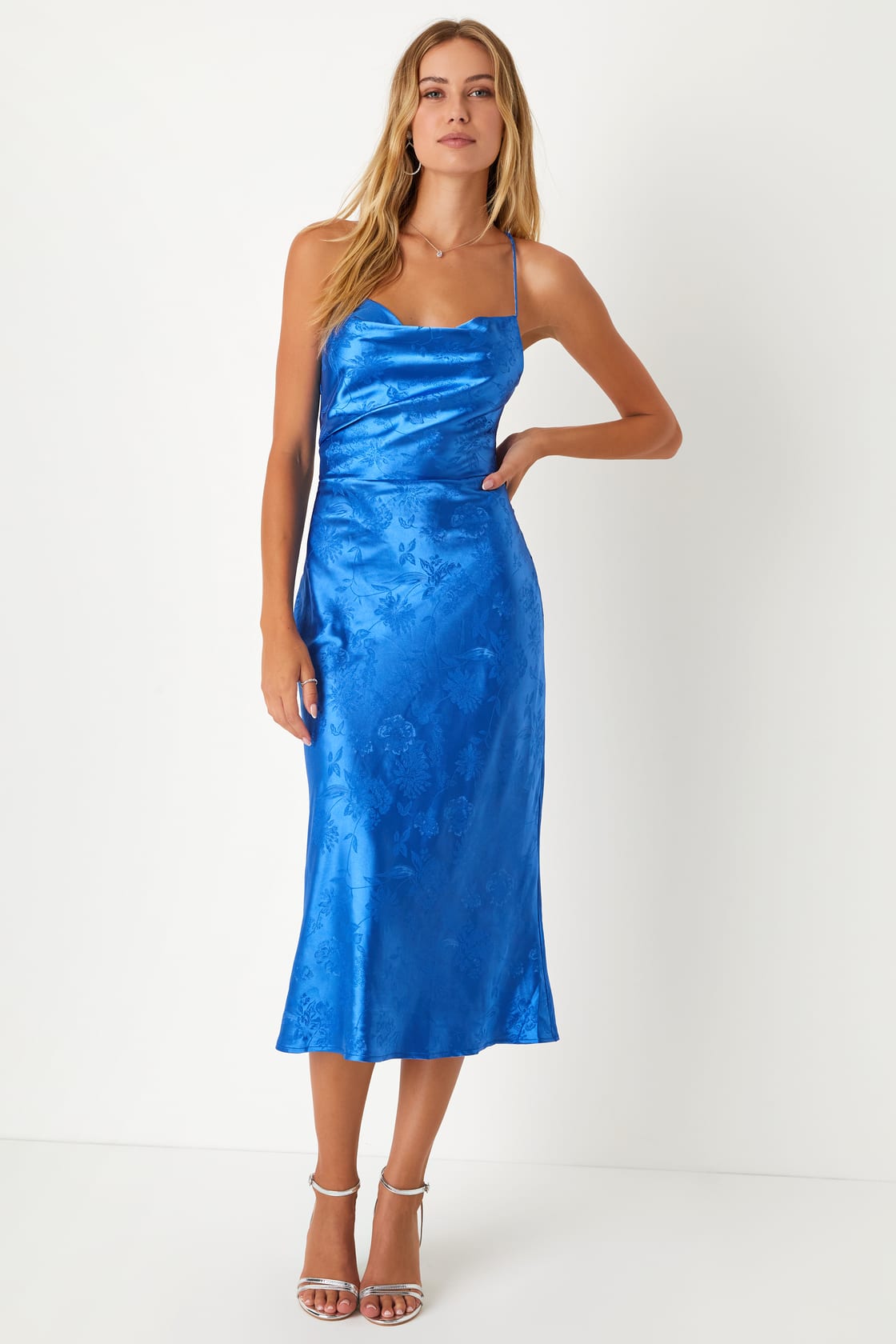 High-Low Dresses
A high-low dress is a modern and trendy style that is perfect for bridesmaids who want to show off their shoes. It's a dress that has a short skirt at the front and a longer one at the back. High-low dresses are perfect for outdoor weddings held in gardens or on the beach. The style in royal blue can have a simple or ornate design. It can be strapless or have short or long sleeves. These dresses are perfect for a fun and flirty look.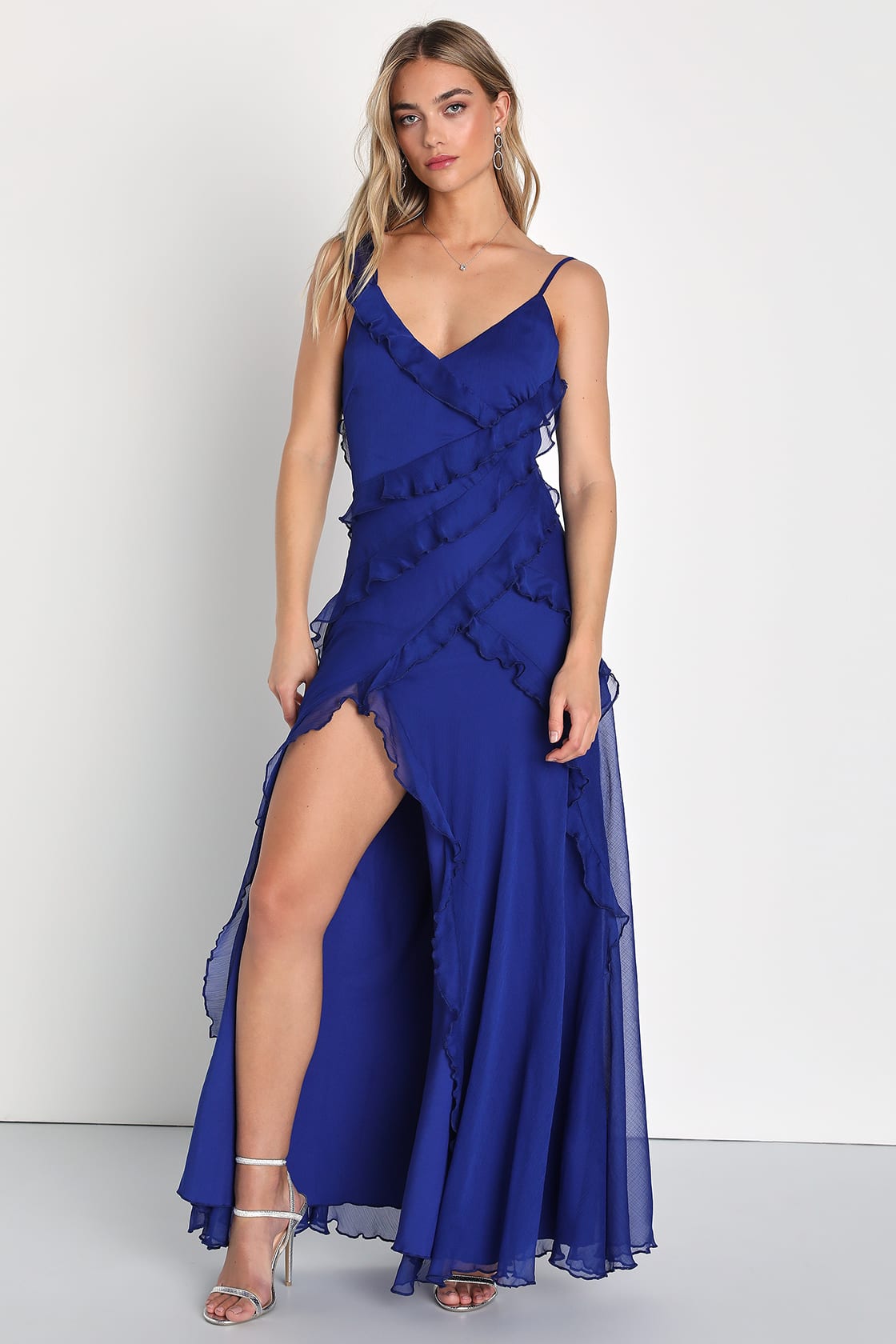 Timeless Elegance
Royal blue bridesmaid dresses epitomize timeless elegance. This classic color transcends trends and fashion cycles, ensuring that your bridal party looks effortlessly stylish and sophisticated for years to come. Royal blue exudes a sense of refinement and sophistication that stands the test of time.
From a design perspective, royal blue works well with various dress styles, including A-line, sheath, or ball gown. It flatters different body shapes and sizes, allowing each bridesmaid to showcase their individuality and feel comfortable throughout the celebrations. The versatility of royal blue ensures that its timeless elegance does not compromise personal style and uniqueness.
To enhance the enchanting allure of royal blue bridesmaid dresses, consider accessorizing with delicate gold or silver jewelry, such as bracelets or earrings. These accents will enhance the regal ambiance and highlight the beauty of the color even further.

Conclusion
Choosing royal blue bridesmaid dresses showcases your impeccable taste and attention to detail. The timeless elegance, adaptability, and versatility of this hue make it an exceptional choice for any bridal party. Its deep and captivating shade adds an element of grandeur and luxury, ensuring that your bridesmaids feel like royalty on your special day.
Whether your wedding is a classic affair or a modern celebration, royal blue bridesmaid dresses are sure to make a stunning statement. Embark on this journey of elegance and sophistication by providing your bridesmaids with an unforgettable and timeless ensemble that will forever be remembered as a true symbol of style and grace.
How good do you think this post was? Click on a star to rate it!