As wedding traditions continue to evolve, more and more brides are opting for non-traditional wedding dresses. One trend that has emerged in recent years is the use of red and white wedding dresses. In this blog post, we will explore the history and symbolism behind these colors, as well as some tips for choosing the perfect red and white wedding dress.
The History of Red and White Wedding Dresses
Traditionally, white has been the color of choice for wedding dresses in Western cultures. This tradition dates back to the Victorian era, when Queen Victoria wore a white wedding dress for her marriage to Prince Albert in 1840. Prior to this, brides would typically wear their best dress, regardless of color.
Red, on the other hand, has a long history of being associated with love and passion in many cultures. In China, for example, red is the color of happiness and good fortune, and is often worn by brides on their wedding day. In India, red is also a popular color for wedding attire, symbolizing fertility and prosperity.
Combining red and white in a wedding dress is a more recent trend, but one that has gained popularity in recent years. This combination of colors can be seen as a way to blend traditional and modern elements, and can also add a touch of drama and romance to a wedding.
Symbolism of Red and White Wedding Dresses
Red and white wedding dresses can have different meanings depending on the culture and context in which they are worn. In Western cultures, white is often associated with purity and innocence, while red is seen as a bold and passionate color. Combining these two colors in a wedding dress can symbolize the merging of two different personalities and the creation of a new, harmonious union.
In Chinese culture, red is the color of luck and happiness, and is often worn at weddings to bring good fortune to the couple. The combination of red and white can also symbolize the balance between yin and yang, or the masculine and feminine energies that come together in a marriage.
Tips for Choosing a Red and White Wedding Dress
If you are considering a red and white wedding dress, there are a few things to keep in mind. First, think about the overall theme and style of your wedding. A red and white dress can work well for a romantic, vintage-inspired wedding, but may not be the best choice for a modern, minimalist wedding.
Consider the shade of red you want to incorporate into your dress. Bright, bold reds can make a statement, while darker shades of red can add a touch of elegance and sophistication. You may also want to think about incorporating other colors or embellishments into your dress, such as gold or silver accents, to add some extra sparkle and shine.
Finally, don't be afraid to try on a variety of styles and silhouettes. A red and white wedding dress can work well in a ballgown, mermaid, or A-line style, depending on your personal preferences and body type.
Red and White Wedding Dress Styles
If you're looking for a unique and beautiful red and white wedding dress, there are plenty of options available. Here are some of our favorites:
White and Red with Gray Strapless Sweetheart Wedding Dress
This strapless sweetheart wedding dress combines white and red with a touch of gray. The white strapless top is paired with a flowing red tulle skirt, creating a beautiful contrast. The gray accent adds a subtle touch of elegance to this stunning bridal gown.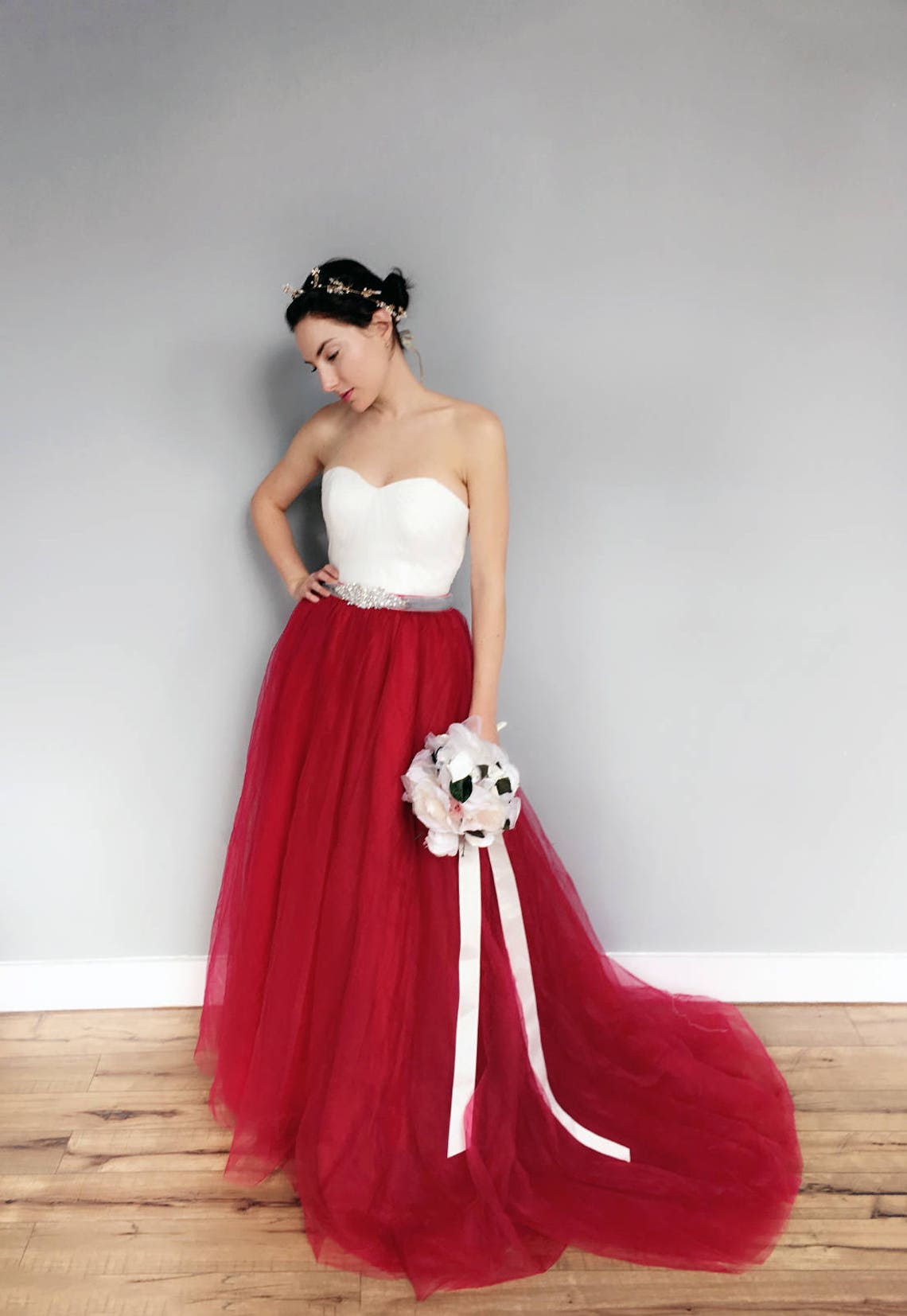 Red and White Ombre Tulle Ball Gown
Luxurious princess wedding dresses in red and ivory featuring a sweetheart neckline, tiered design, and a sweeping train. The dress is secured with a zip back closure, making it easy to wear and comfortable for the bride.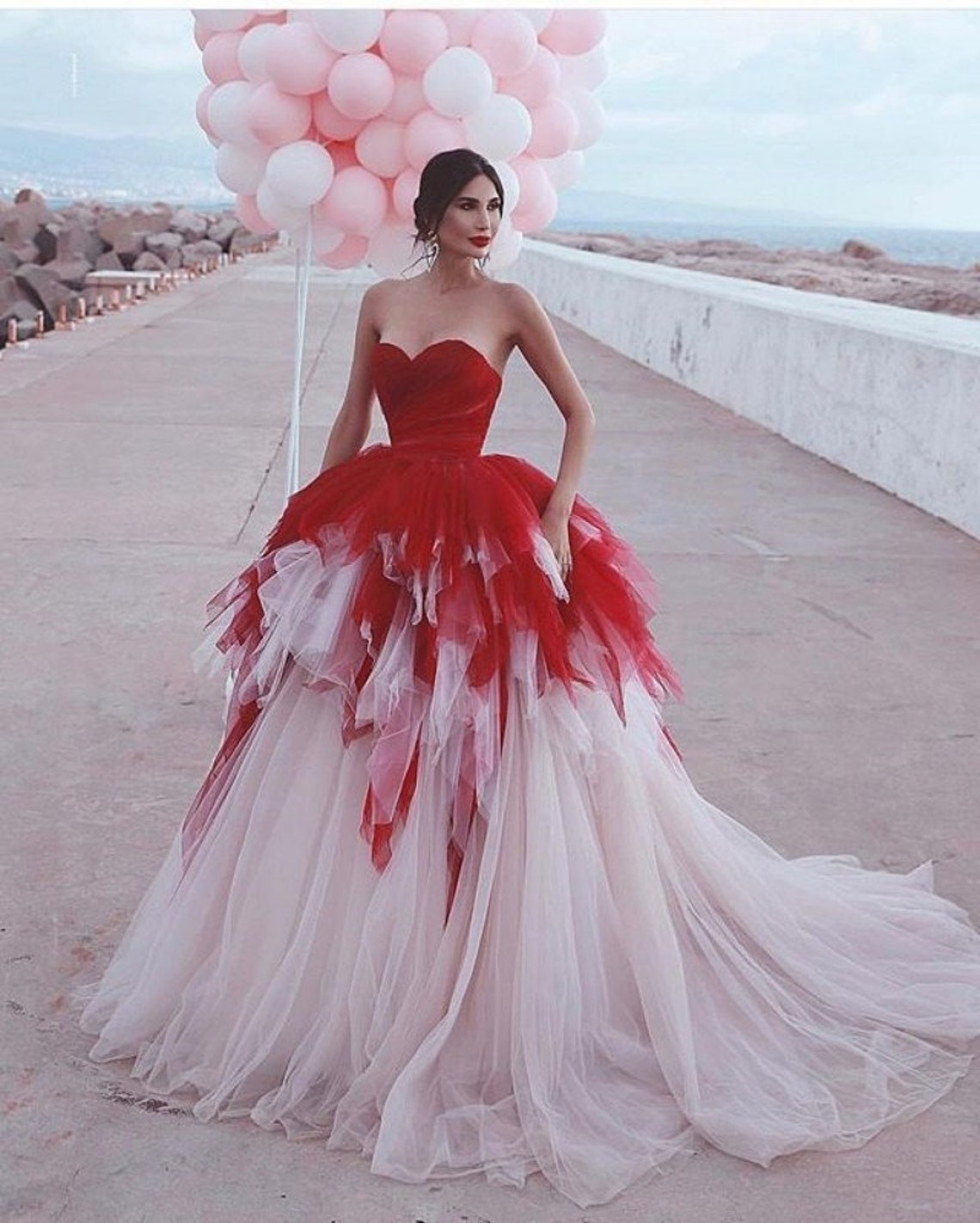 Mermaid Wedding Dress with Red Lace
This bridal gown is a stunning combination of red lace and ivory tulle. The dress features a strapless sweetheart neckline and a fit and flare mermaid skirt with a beautiful train. The elegant red and white design is sure to make the bride feel beautiful on her special day.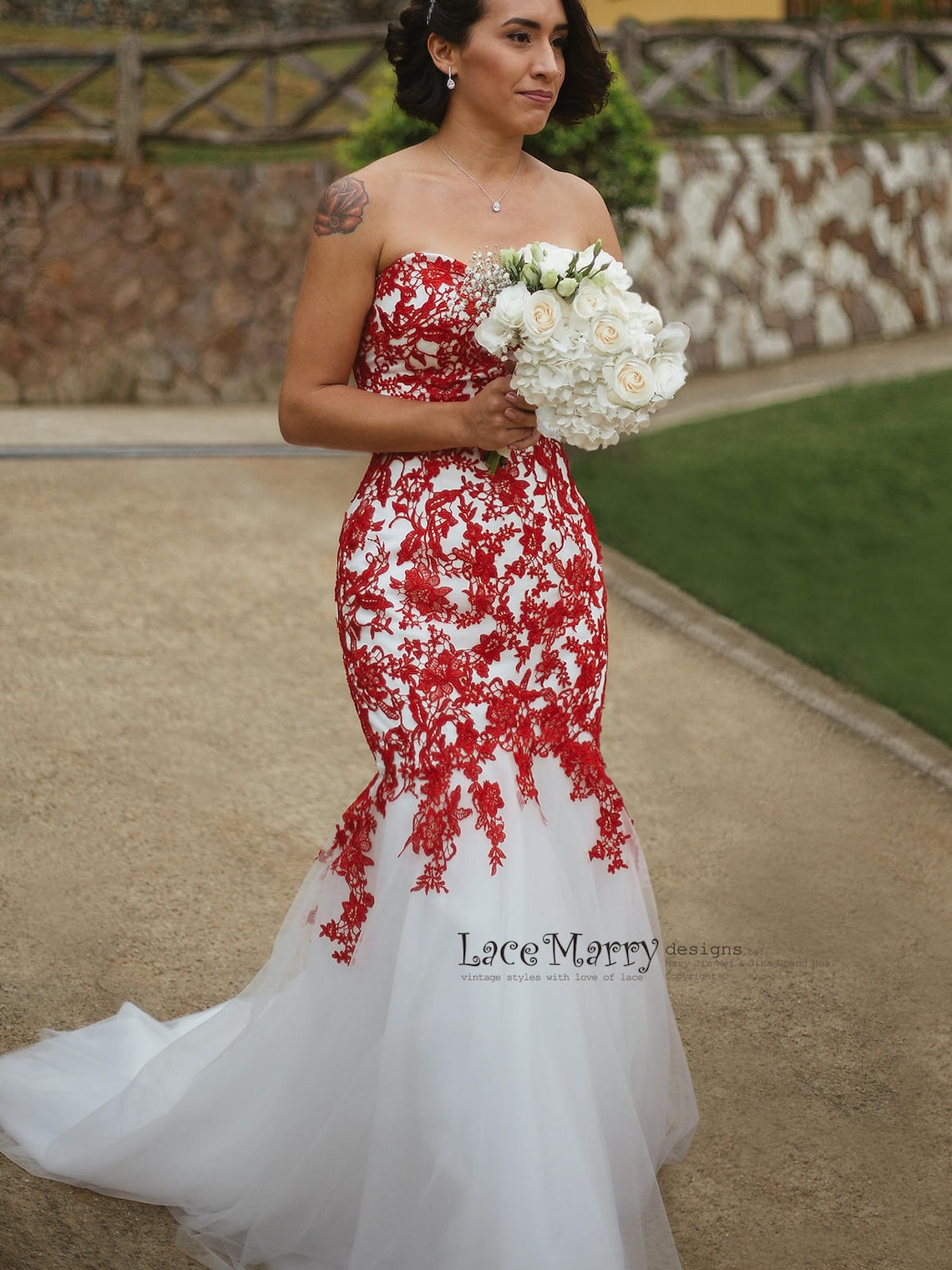 Red and White Strapless Ball Gown
This bridal gown features a beautiful combination of red and white, with a long train that adds a touch of elegance. The strapless design and ball gown silhouette create a classic and timeless look for the bride on her special day.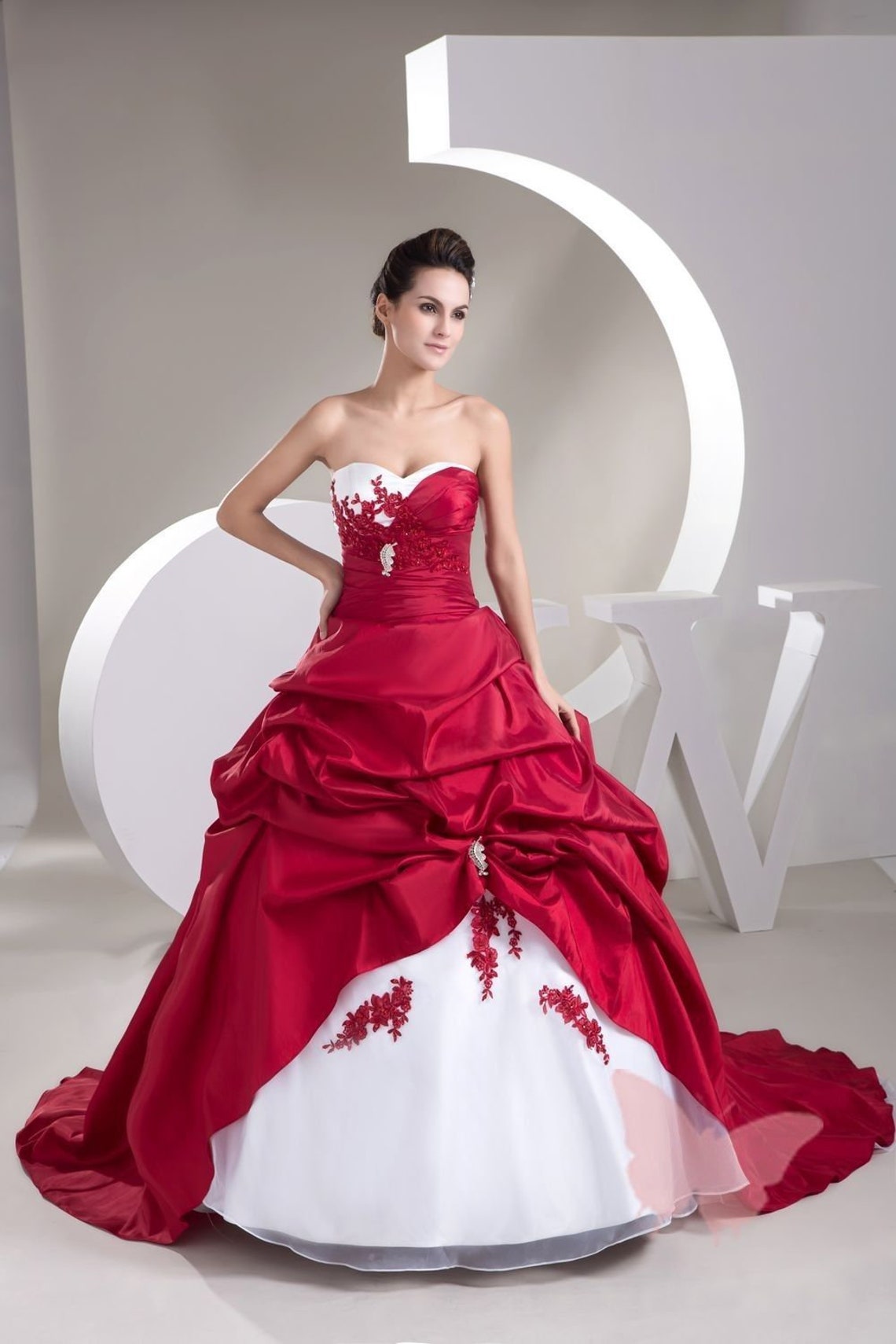 3D Floral Lace Applique Dress
This wedding dress is a stunning ball gown featuring 3D floral lace appliques. The intricate details of the lace create a beautiful and unique texture, making this dress a standout choice for any bride.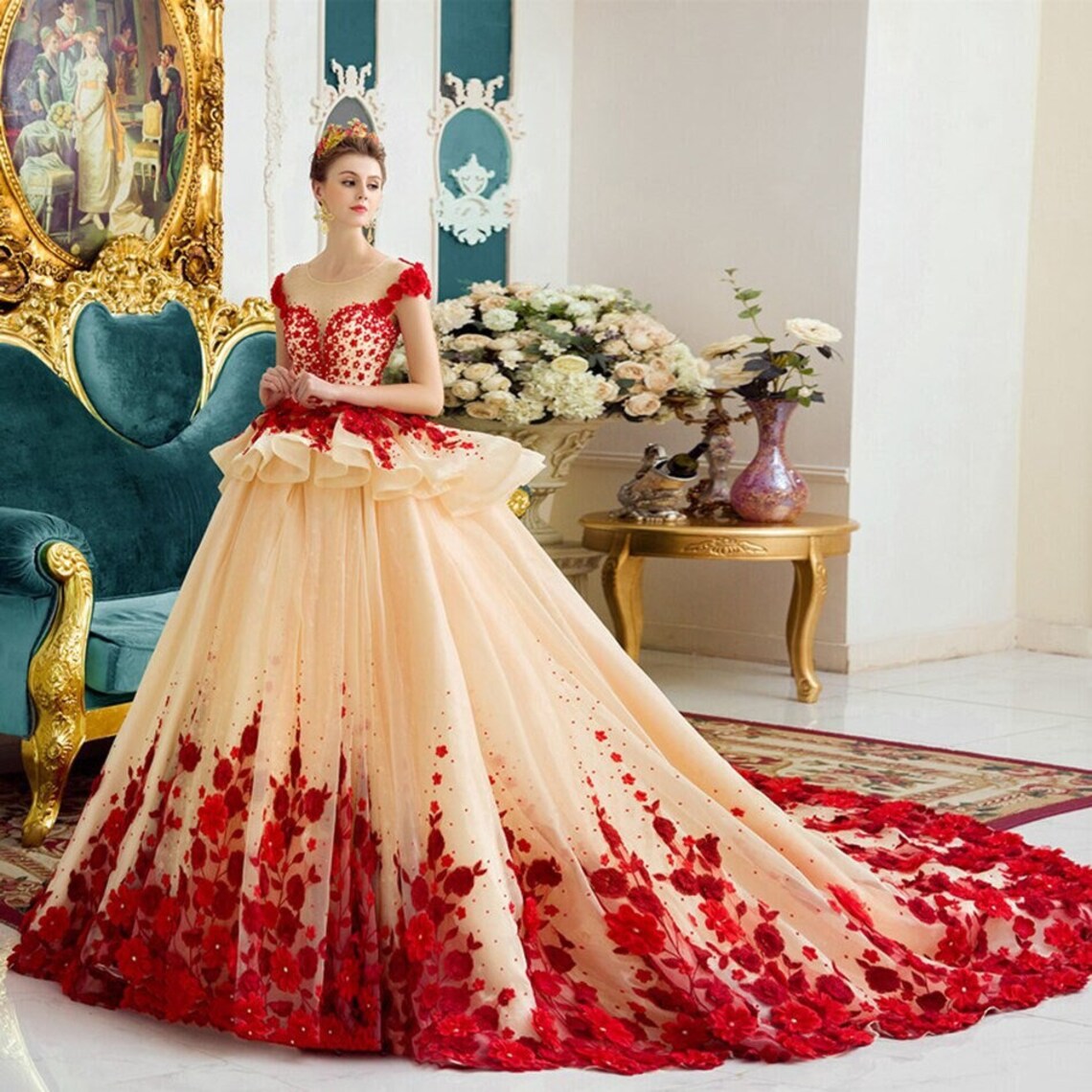 Off the Shoulder Ball Gown
This red ball gown wedding dress is fit for a princess, with a puffy silhouette and off-shoulder neckline. The dress is adorned with beautiful white beading, adding a touch of elegance and sparkle to the overall design.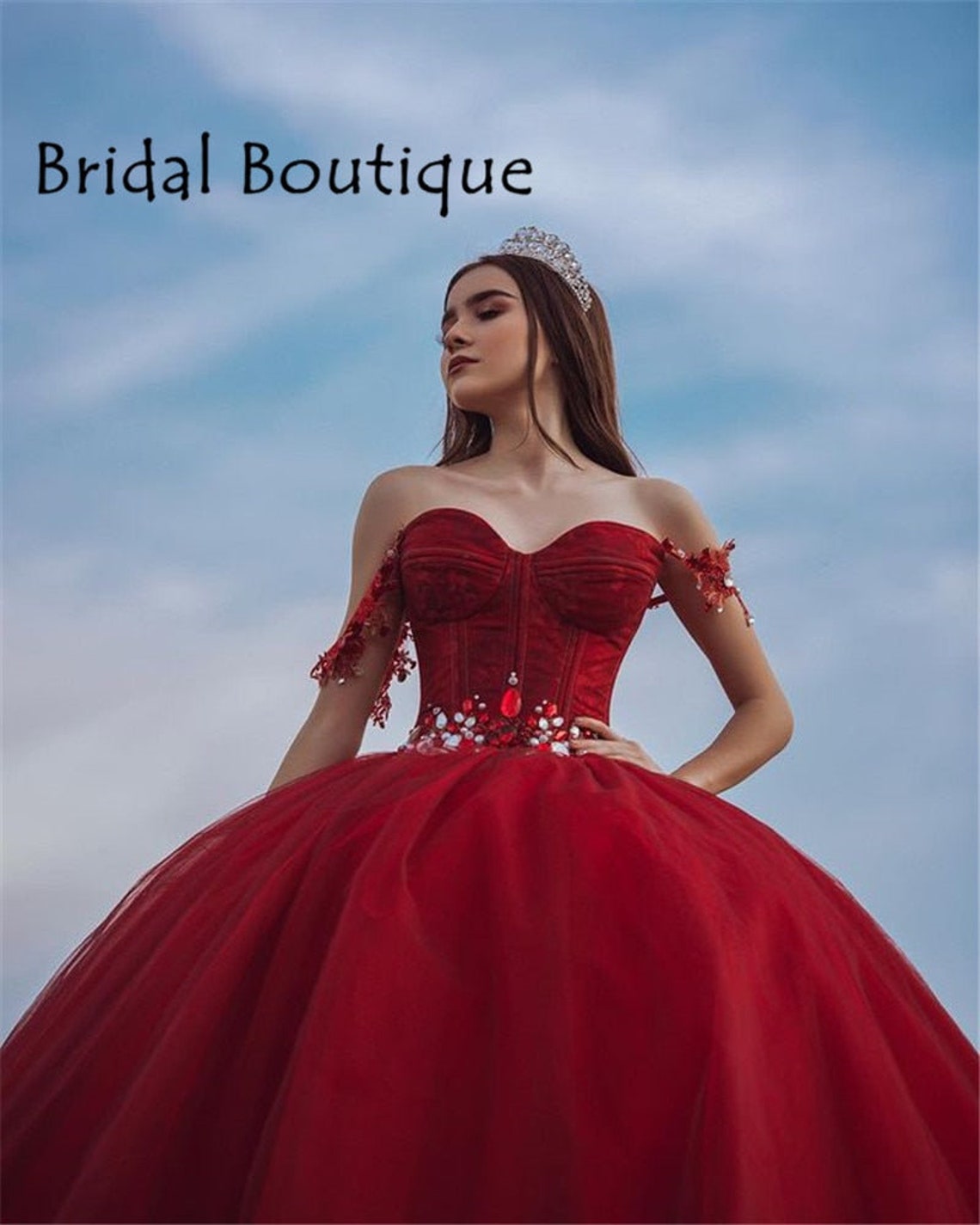 Painting the Roses Red Wedding Gown
This wedding gown is inspired by the whimsical world of Wonderland, featuring a playful 'Painting the Roses Red' design. The dress has a fairy-like quality and is perfect for a magical and enchanting wedding celebration. Whether it's a Halloween wedding or a fairy tale-themed event, this gown is sure to make the bride feel like a true queen.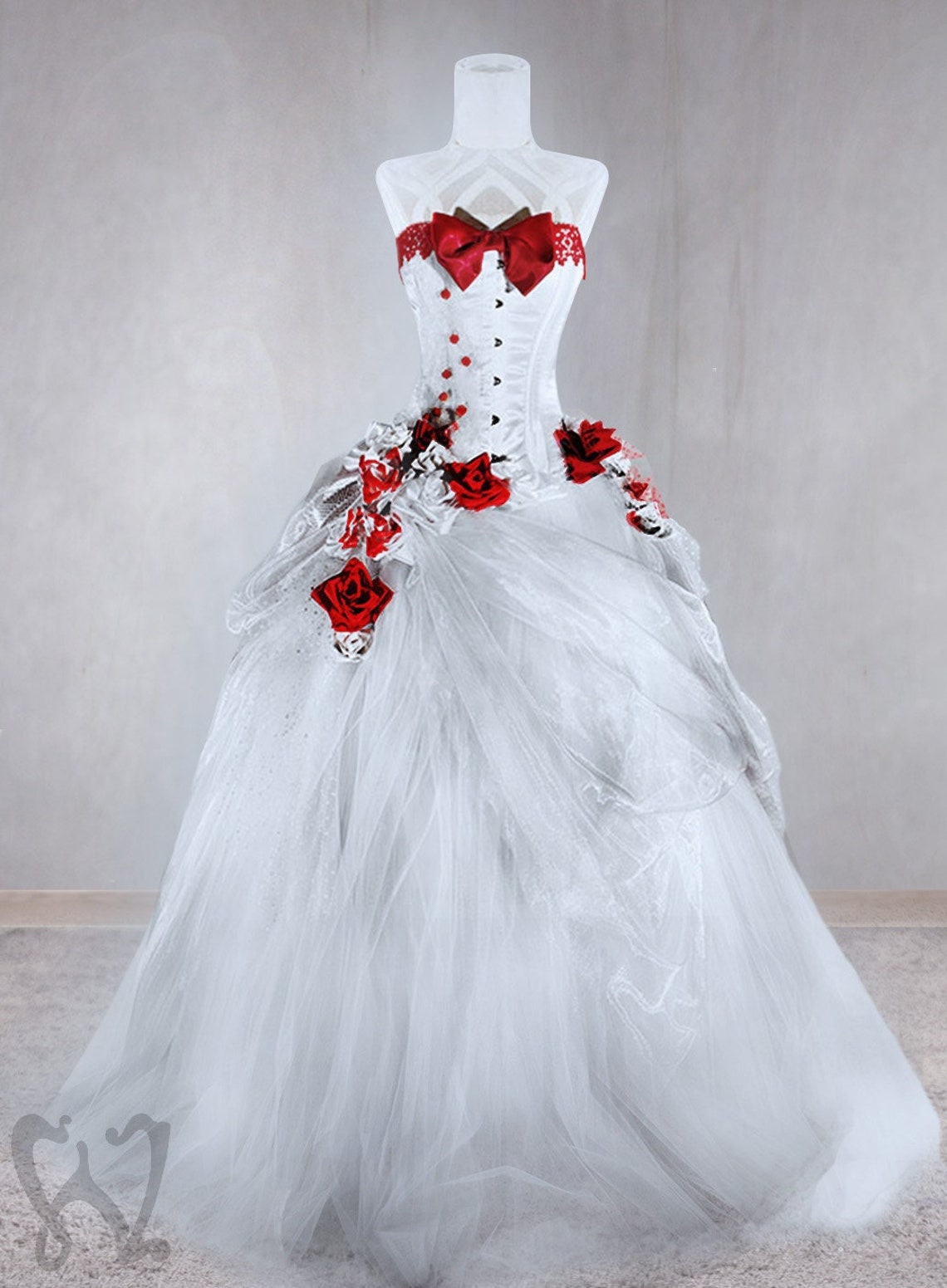 White Bridal Gown With Red Roses 3D Flowers
This bridal gown is a romantic and unique choice, featuring white fabric adorned with 3D red rose flowers. The dress has a maxi skirt, creating a flowing and elegant silhouette. It's perfect for a casual or romantic wedding celebration, and can even be worn in multiple ways to suit the bride's preferences.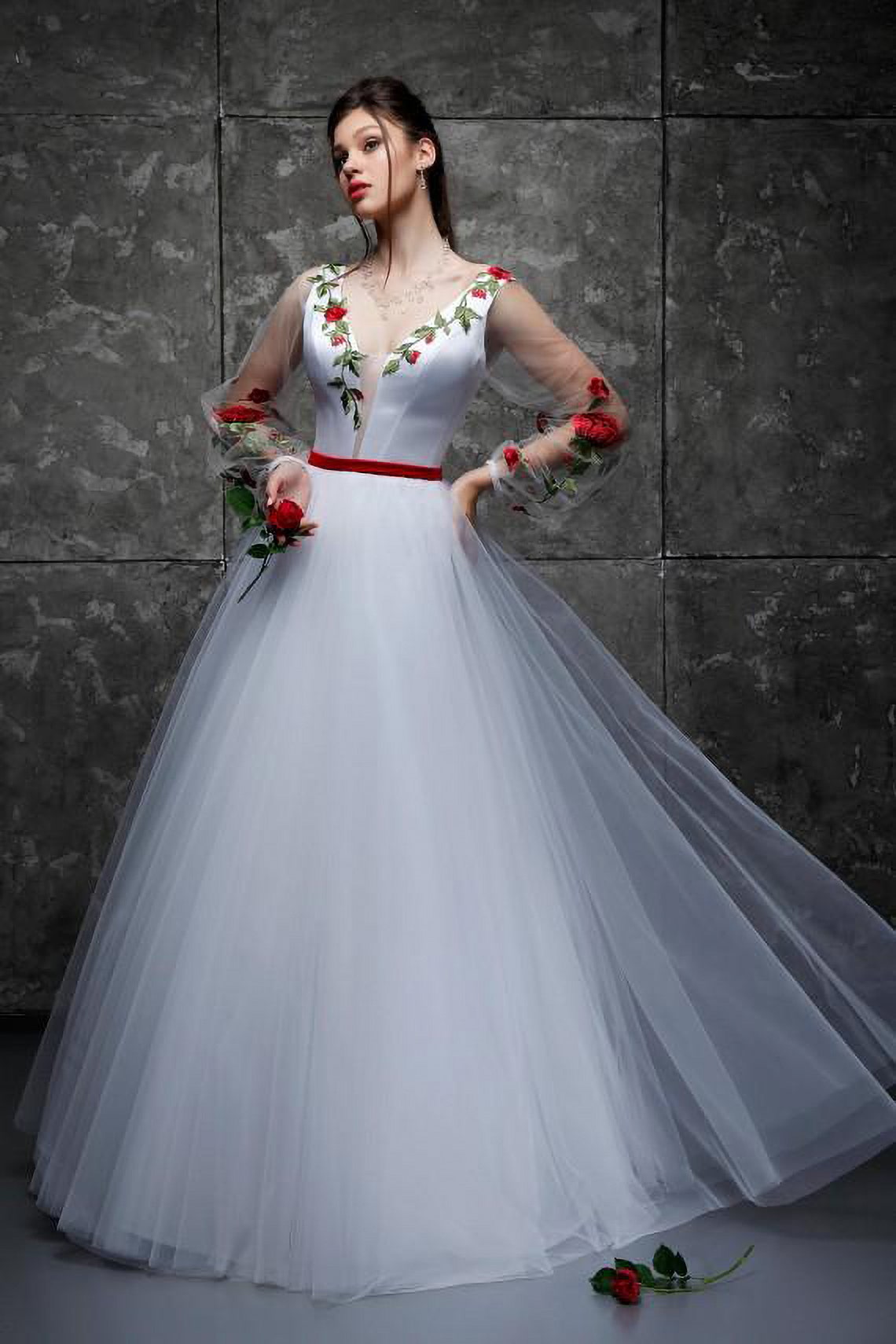 Modern Ruffle Ombre Red Dress
This bridal gown is a luxurious and modern choice, featuring a unique design with ruffled ombre detailing in shades of red and ivory. The dress is sleeveless and strapless, creating a sleek and sophisticated look. The full A-line silhouette and train add a touch of elegance, while the open back design adds a hint of sexiness.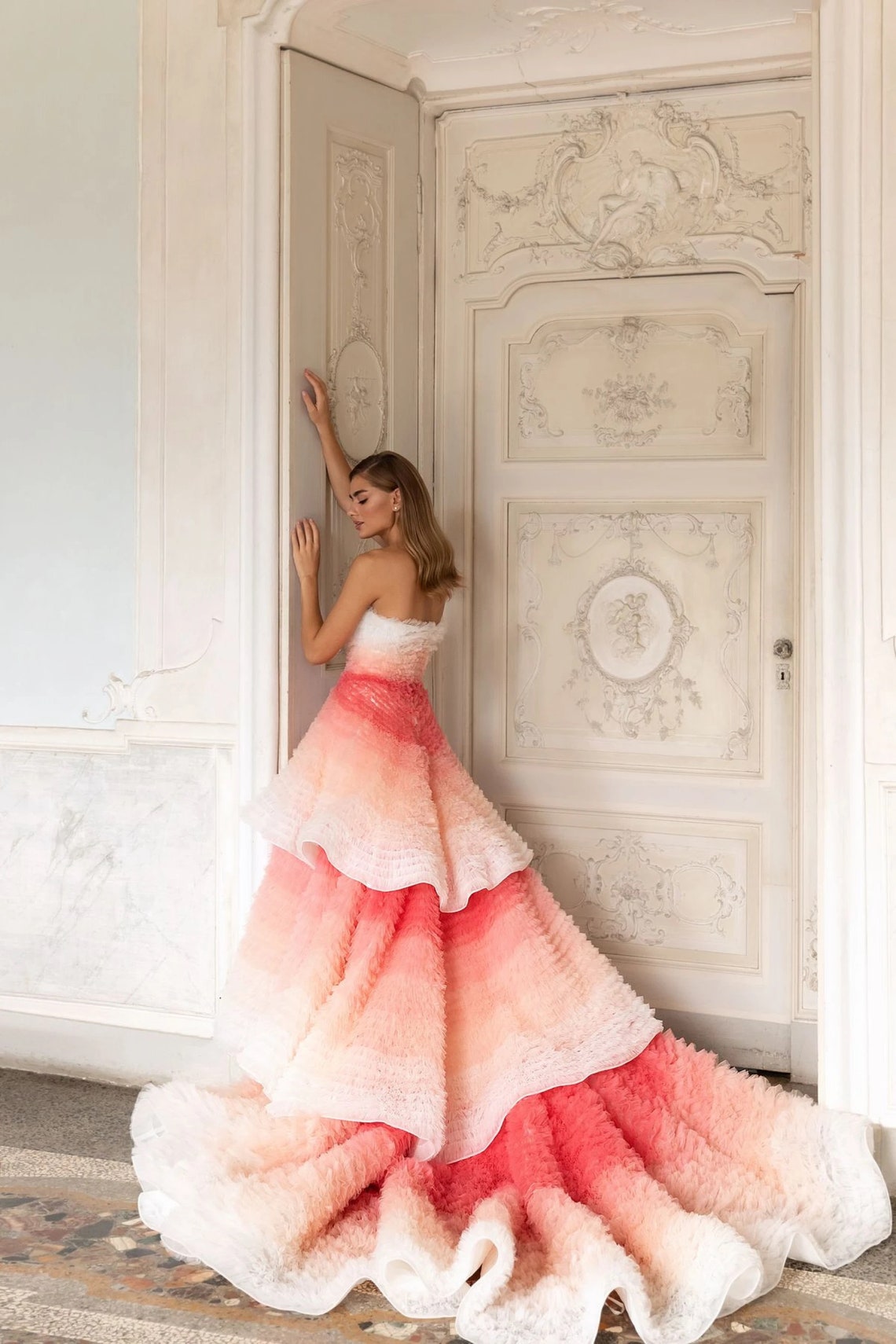 In conclusion, red and white wedding dresses are a beautiful and unique choice for brides who want to add some color and personality to their wedding day look. Whether you choose a bold, statement-making dress or a more subtle and elegant design, a red and white wedding dress can help you express your individuality and create a memorable wedding day.
How good do you think this post was? Click on a star to rate it!