If you're looking for a romantic yet unique color palette, purple and blue might be the best choice. The combination is bold, but it's also elegant in its own way—it's sophisticated enough to stand out at a black tie wedding reception or an outdoor garden party. Purple and blue can help you create a cohesive look throughout your wedding day that will bring your whole vision together!
If you're having a blue and purple wedding, it's important to make sure that your decorating scheme is balanced. For example, if the bride wears a dress with bold blue accents, she should consider wearing something on her head—a veil or hat—that's more neutral or white. This will help to balance out the contrast of the two colors in her outfit and create a cohesive look. Similarly, if you're using blue as an accent color in your wedding reception decorating scheme (such as by choosing a few pieces of artwork), use other neutral hues as well so that nothing stands out too much from everything else on its own.
If you're planning a summer wedding and want to keep things cool and breezy, then try pairing light blue with greenery. This color combination is perfect for any nuptials held outdoors in the warmer months. For an elegant look that won't be out of place at a winter wedding, opt for dark grays mixed with sparkling silver or gold details.
Purple + Blue Wedding Colors
Purple and blue are both popular wedding colors. They create a modern and trendy look, making them good choices for your big day. Purple is also an elegant color that can evoke feelings of luxury, mystery and royalty–so if you want to make a statement with your wedding theme, this is the way to go!
When paired with metallic accents like silver or gold–which have been trending lately–purple + blue create an enchanting atmosphere that will transport guests back in time.
Purple + Blue Wedding Bouquets
Whether your bouquet is a mix of both colors or dominated by one, the best way to incorporate purple and blue into your wedding flowers is to use them together in equal parts.
If you want to create a bouquet that has more than one color, try pairing lavender with hydrangeas or irises (or both), and then add pops of white or green for contrast. This will help keep things from getting too overwhelming if there are too many shades of purple at once!
You can also choose to go with all-artificial flowers if you're worried about having fresh flowers last long enough for your event–a combination like this will still look gorgeous on its own!
Galaxy Blue Orchid Calla Bridal or Bridesmaid Bouquet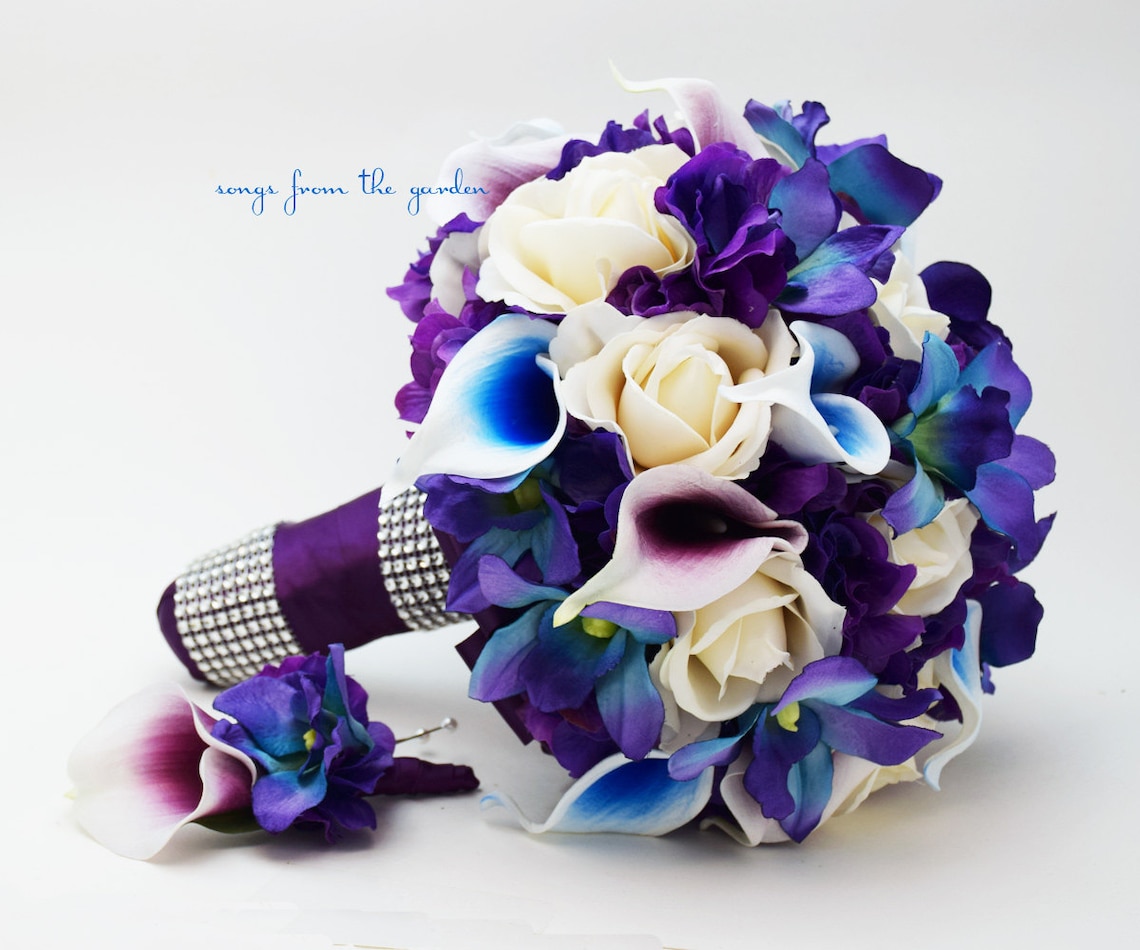 Dusty Blue and Lavender Wedding Bouquet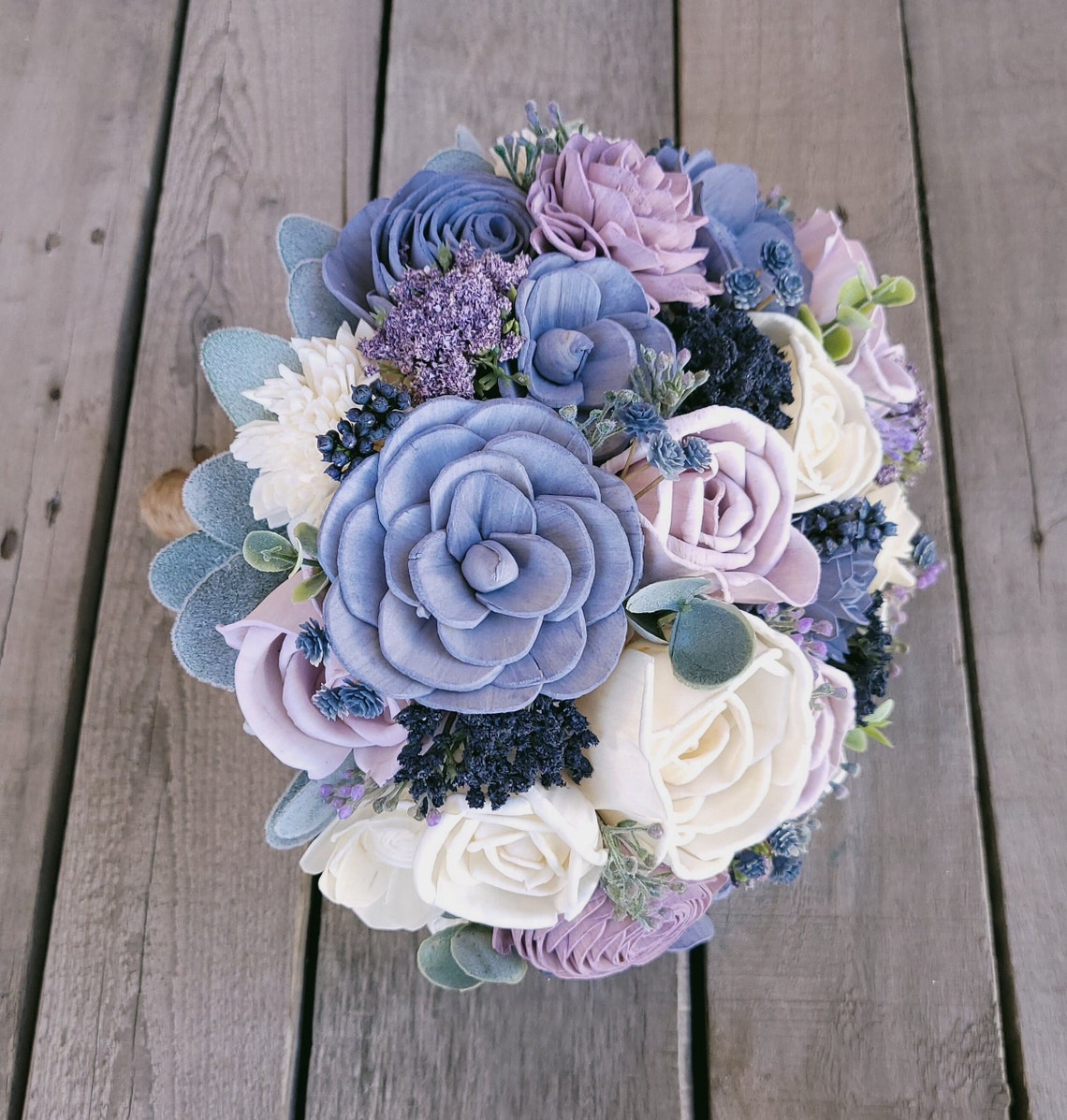 Blue Purple Orchids Callas Roses Wedding Bouquets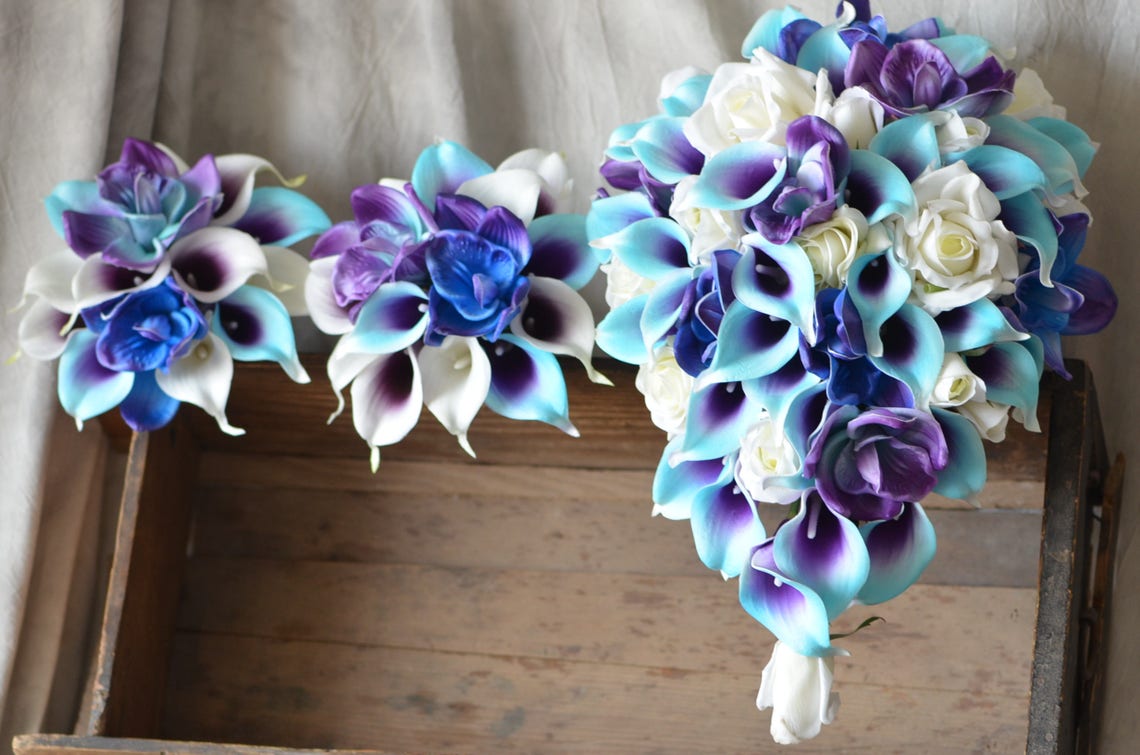 Purple + Blue Wedding Invitations
Purple and blue are both colors that are easy to pair with other shades in your wedding palette. The combination of these two shades can create a sleek and modern look, which makes them ideal for minimalist-inspired designs.
If you want to create an elegant invitation design, consider using calligraphy or typography styles that feature either gradient effects or color blocking to highlight both colors. You could also use embellishments such as rhinestones, ribbons or foil printing on your invitation suite–this will add extra glamor without making the invitation feel too busy or cluttered!
Glass or Acrylic Purple Wedding Invitations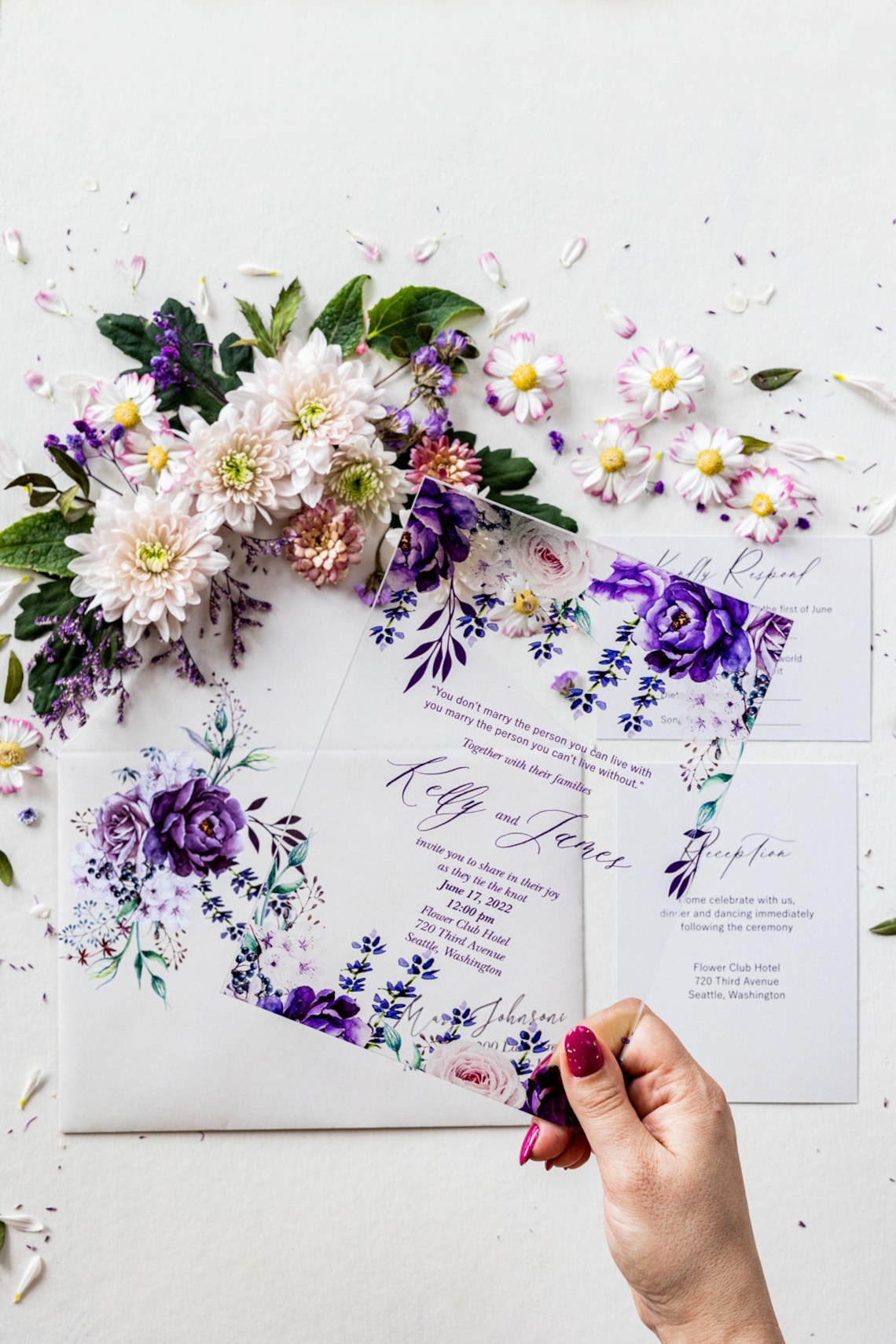 Blue & Purple Wedding Invitation Template Printable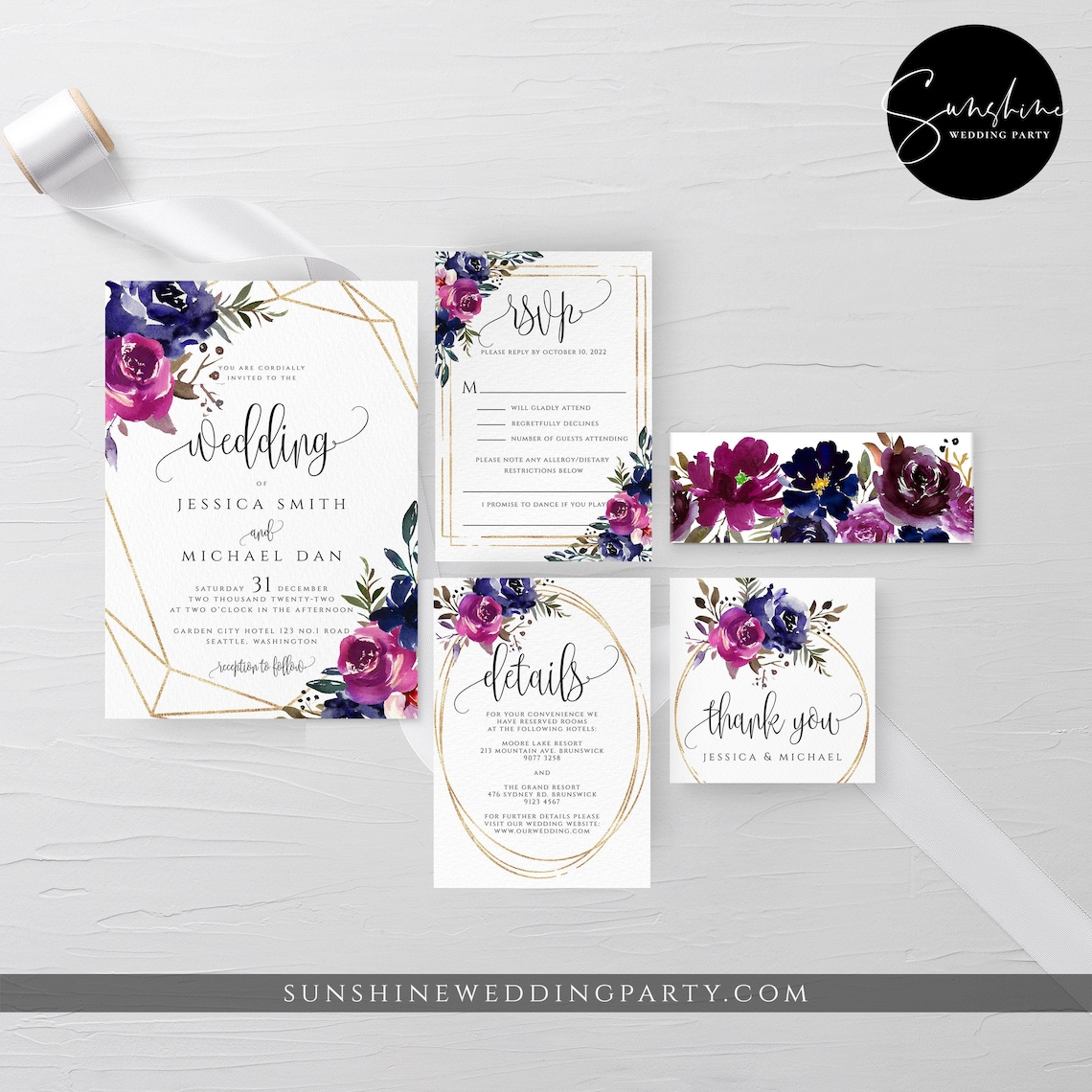 Navy and Purple Gold Floral Wedding Invitation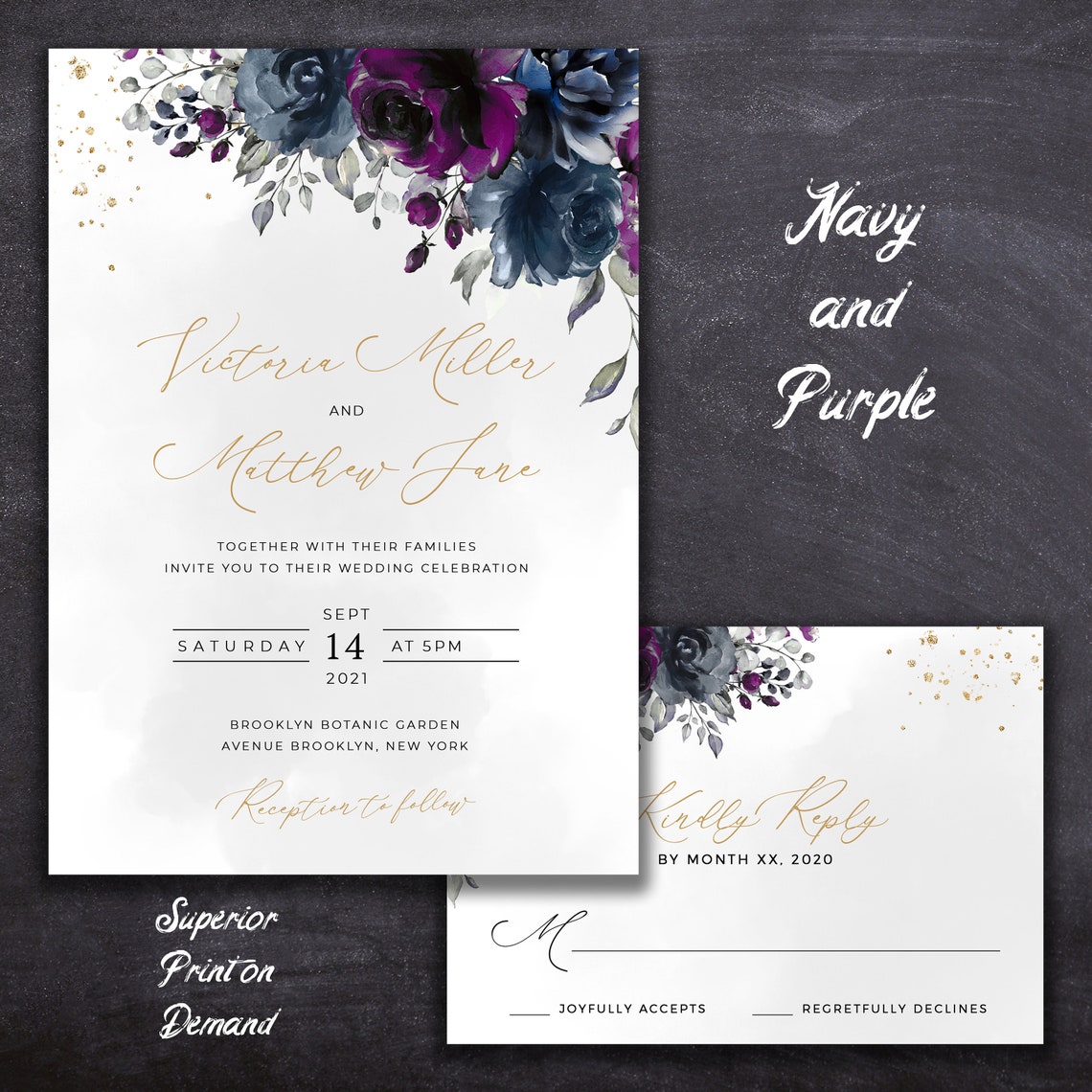 Purple + Blue Wedding Signs
Purple and blue are great colors for a wedding sign. You can use both colors in a coordinated design or feature one color with accents of the other. Playful fonts or calligraphy can add a personal touch to directional signs, welcome signs and seating charts (or photo booth signs).
Purple and blue make for perfect pops of color in any decor!
Purple Blush Navy Welcome Wedding Sign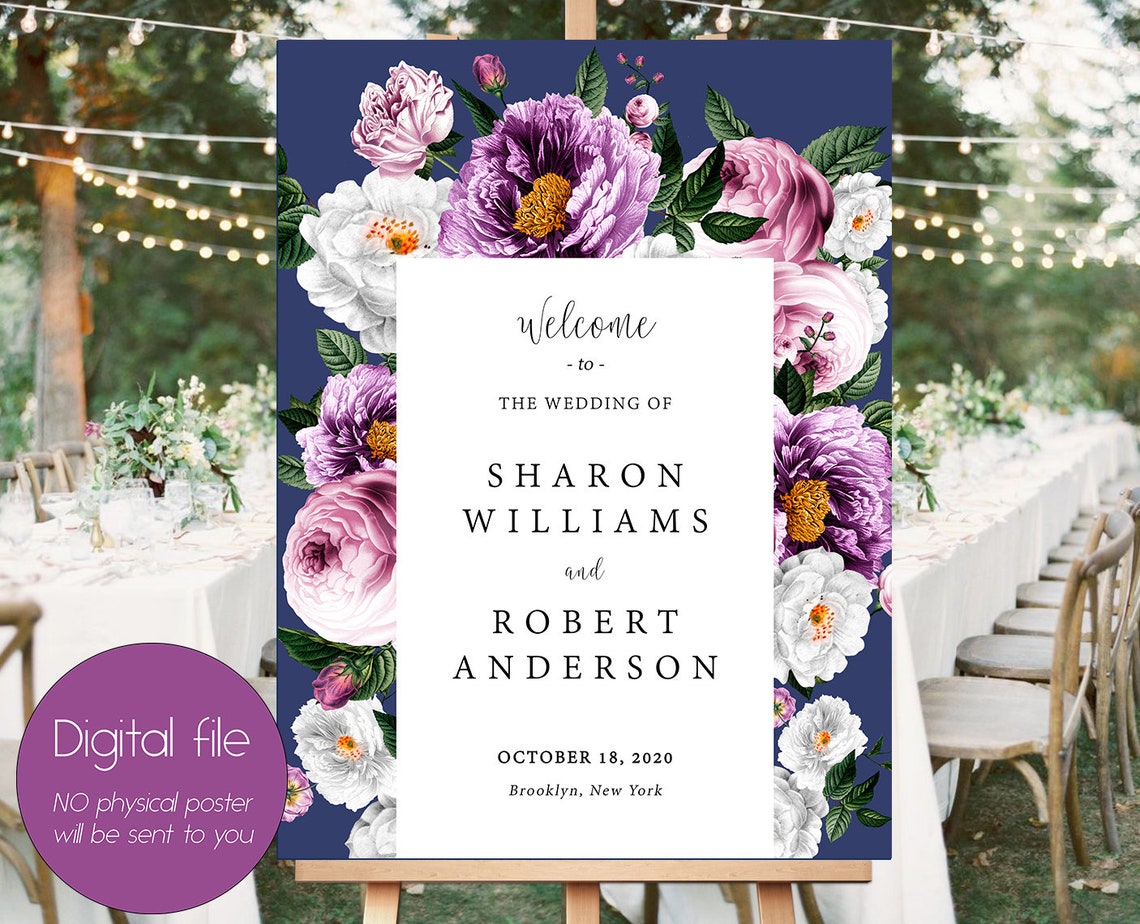 Navy Lilac Floral Editable Wedding Welcome Sign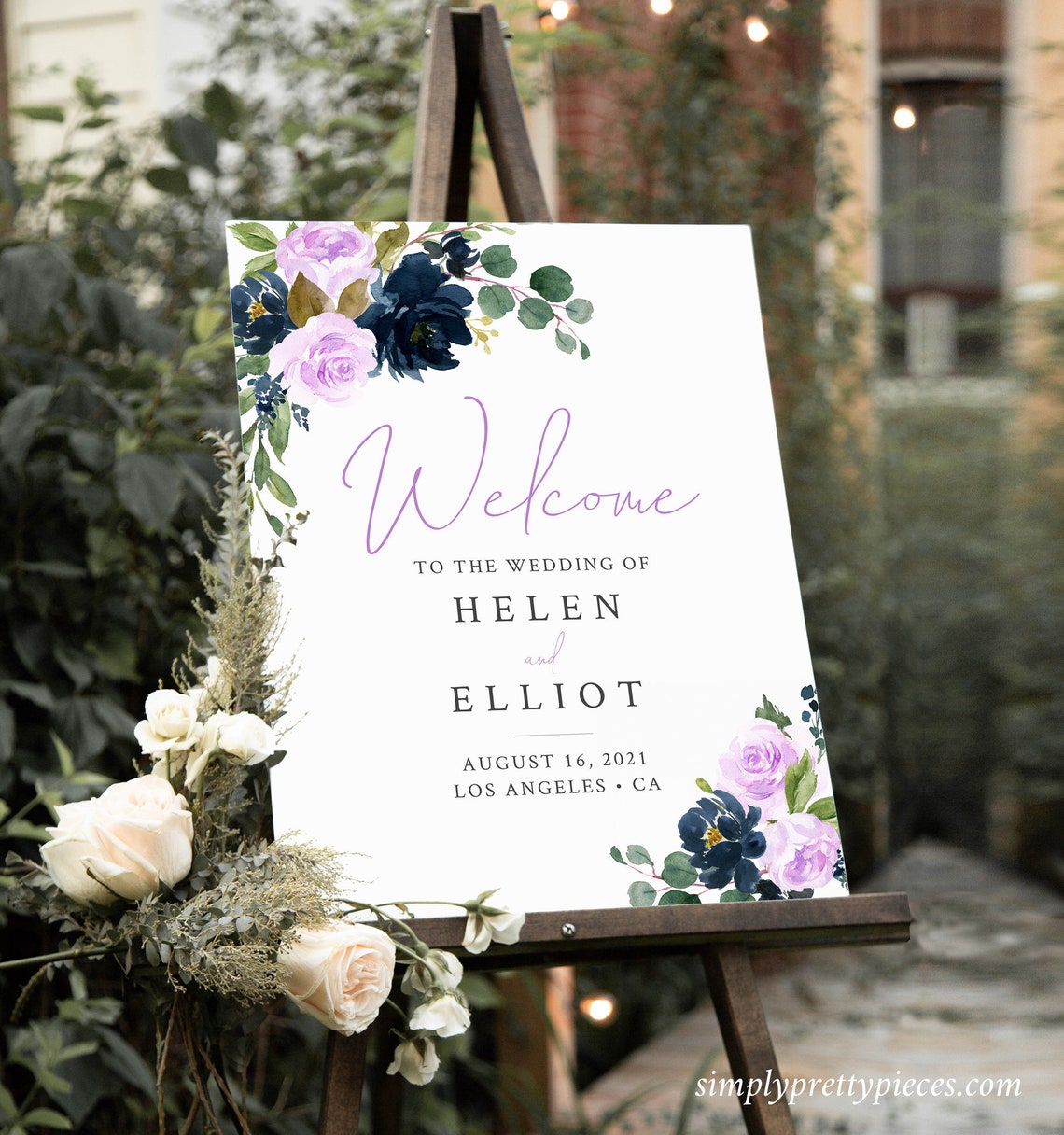 Purple Floral Bridal Shower Welcome Sign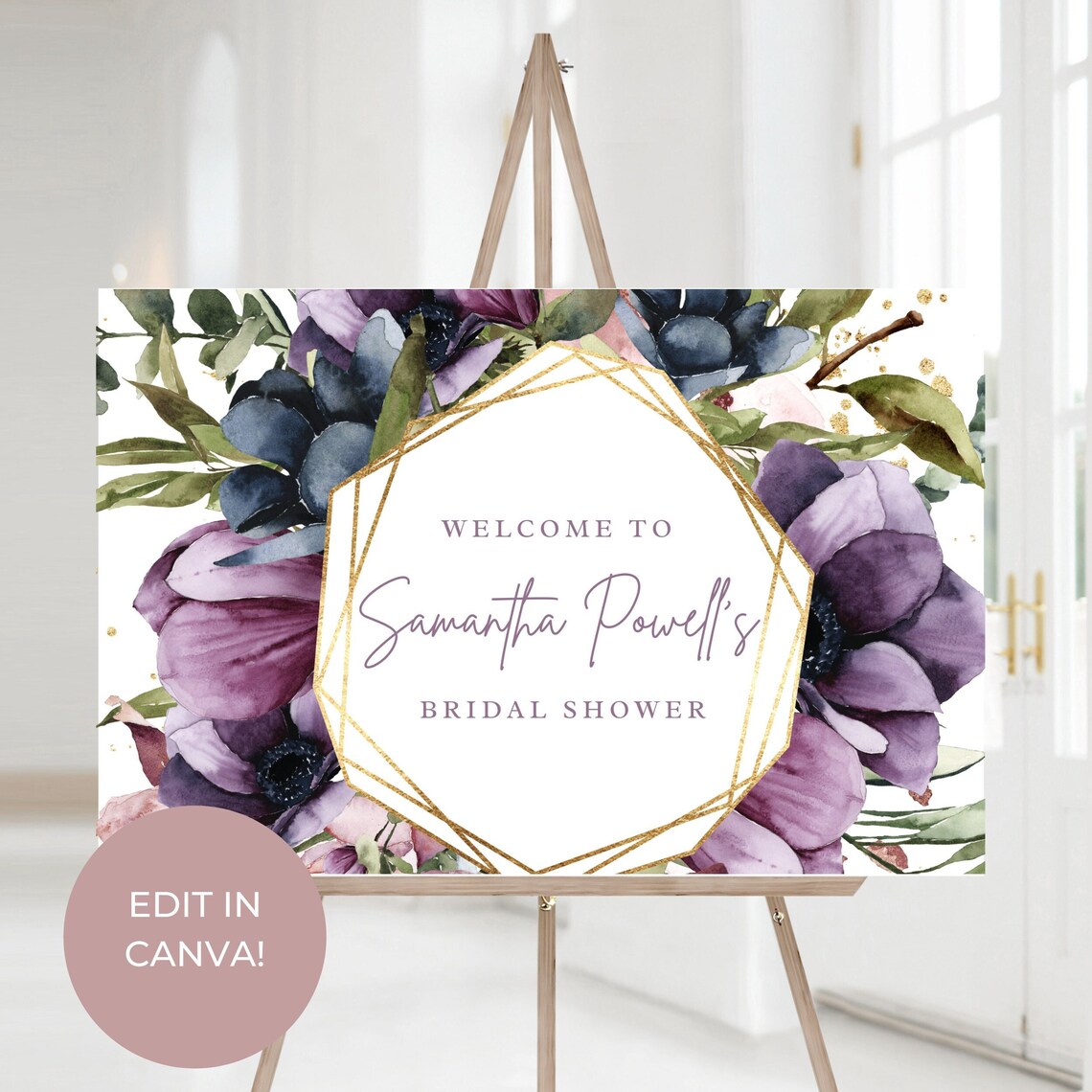 Purple + Blue Wedding Garters
A purple and blue wedding garter is a fun way to incorporate these colors into your bridal look. The garters can feature either color or a combination of both, depending on what you prefer. You can embellish them with bows, lace or flowers in coordinating colors for added flair!
If you're looking for something playful and fun for the bride to wear during her wedding ceremony, consider using one of these two-toned garters as an accessory choice. They're also great keepsakes for the bride after the wedding is over–she'll definitely want something special from her big day!
Royal Blue Purple Black Wedding Garter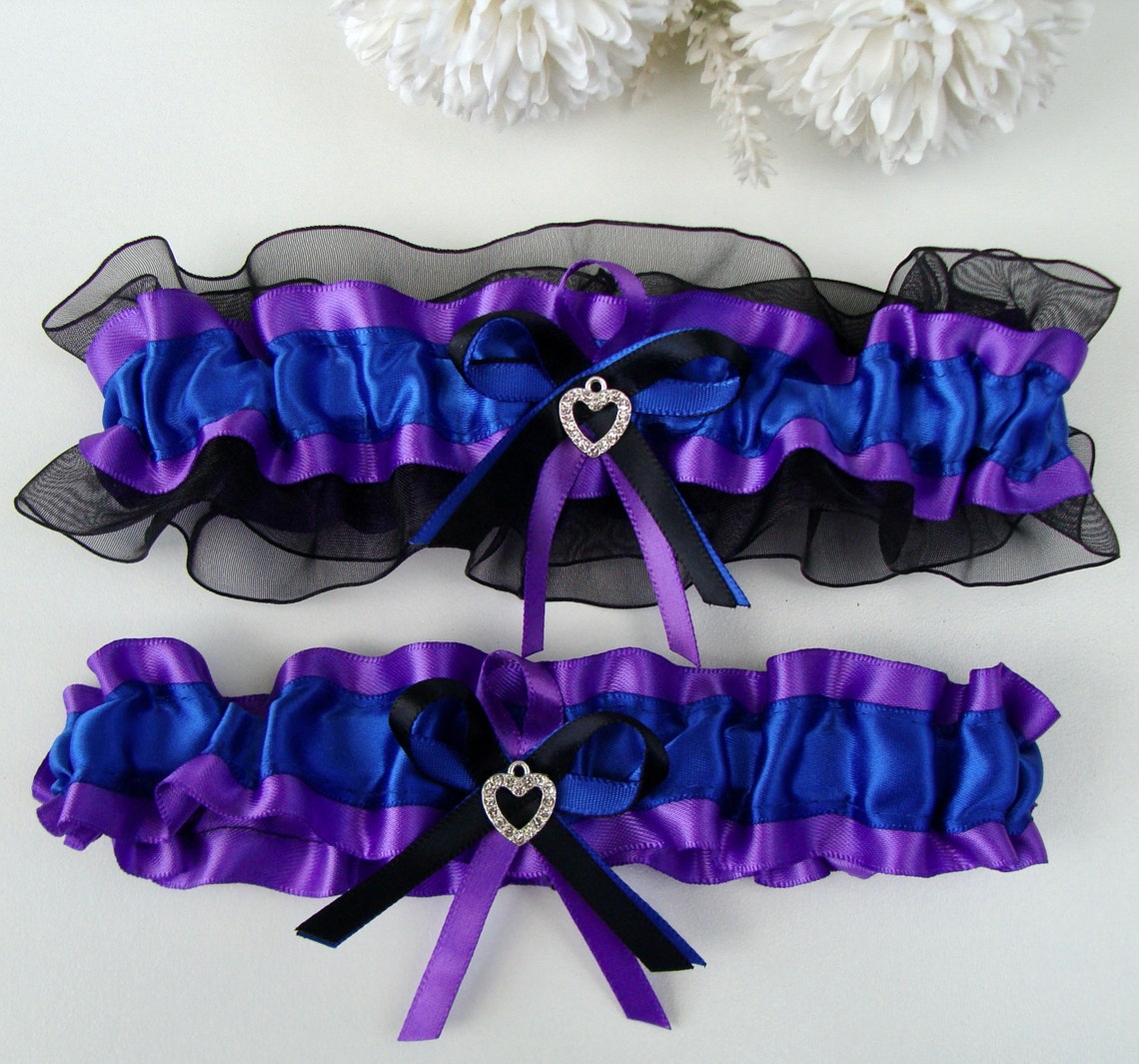 New Royal Blue Purple Wedding Garters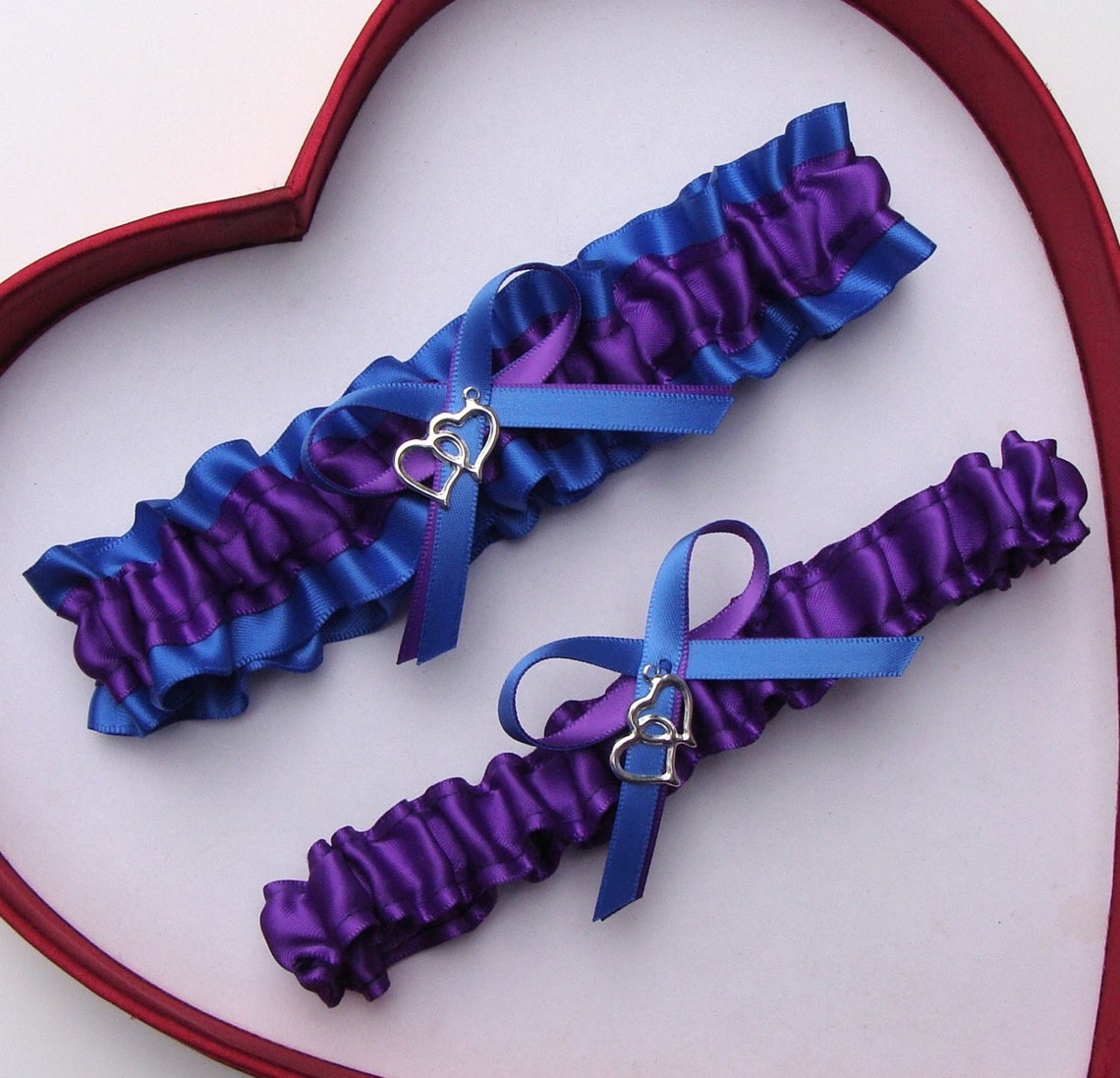 Purple + Blue Wedding Bands
If you're looking to add a unique and modern look, purple and blue wedding bands are the perfect way to do it. You can feature inlaid gemstones in shades of purple or blue, or create rings with colored metals like titanium or tungsten. This color combination is also a great way to add some pop of color to your wedding day look!
6mm-4mm Rose Gold Tungsten Outer Space Ring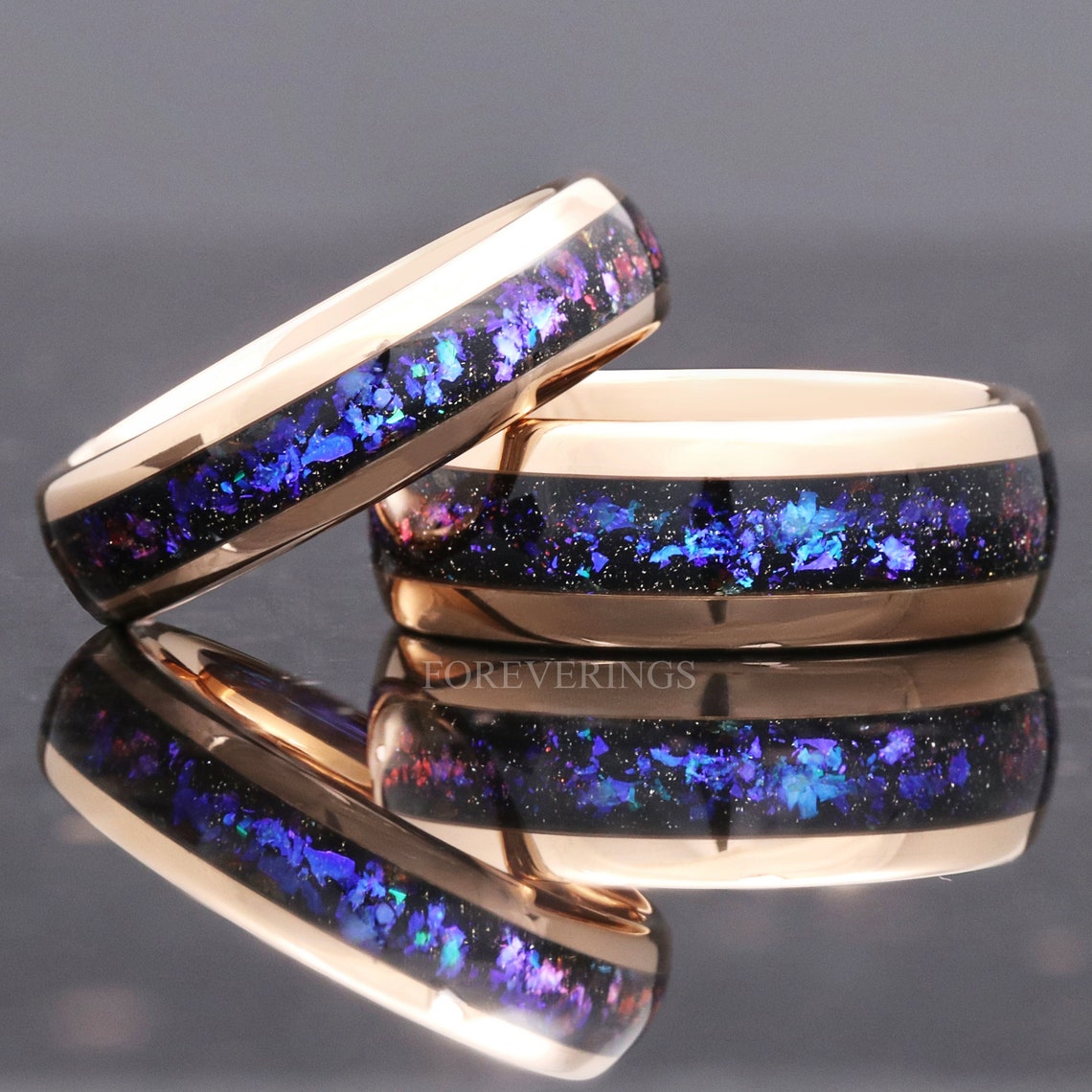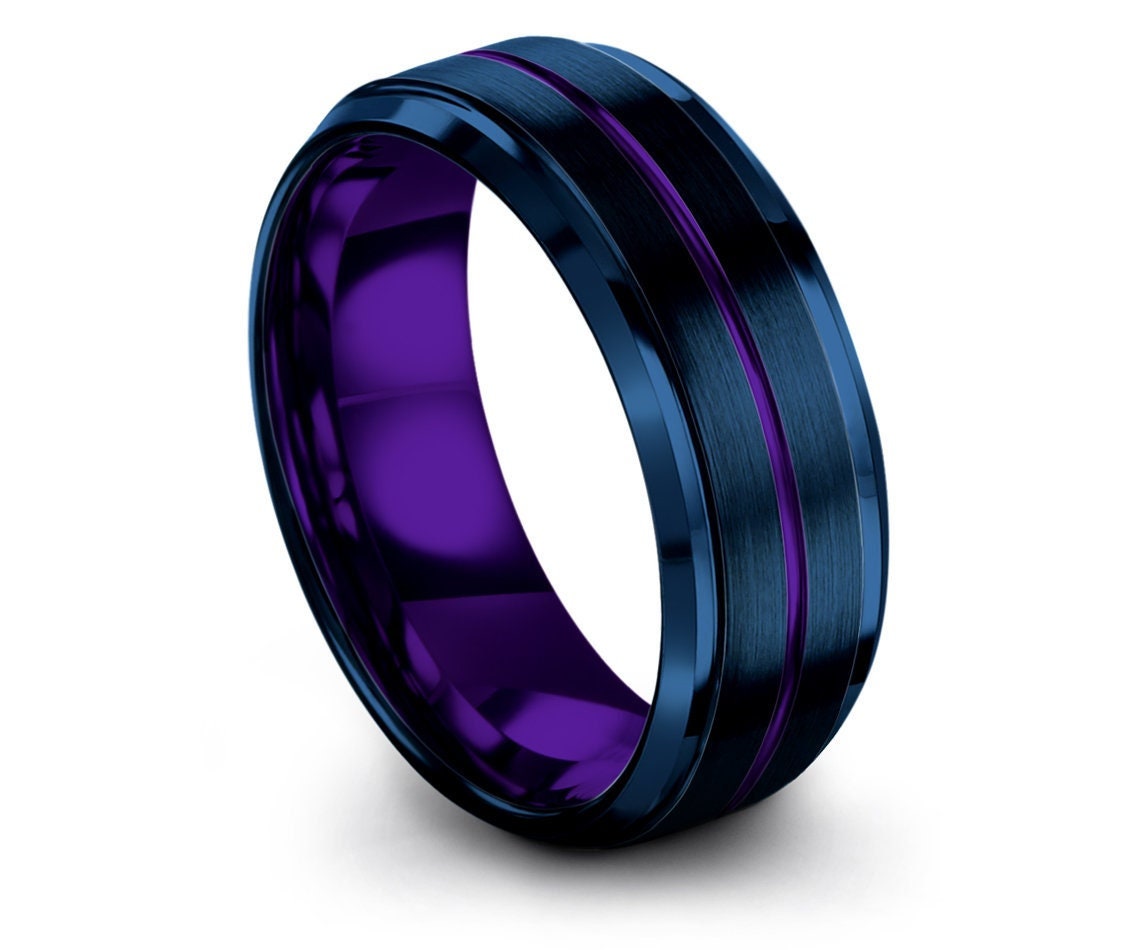 Tungsten Blue Purple Opal Amethyst Inlay Ring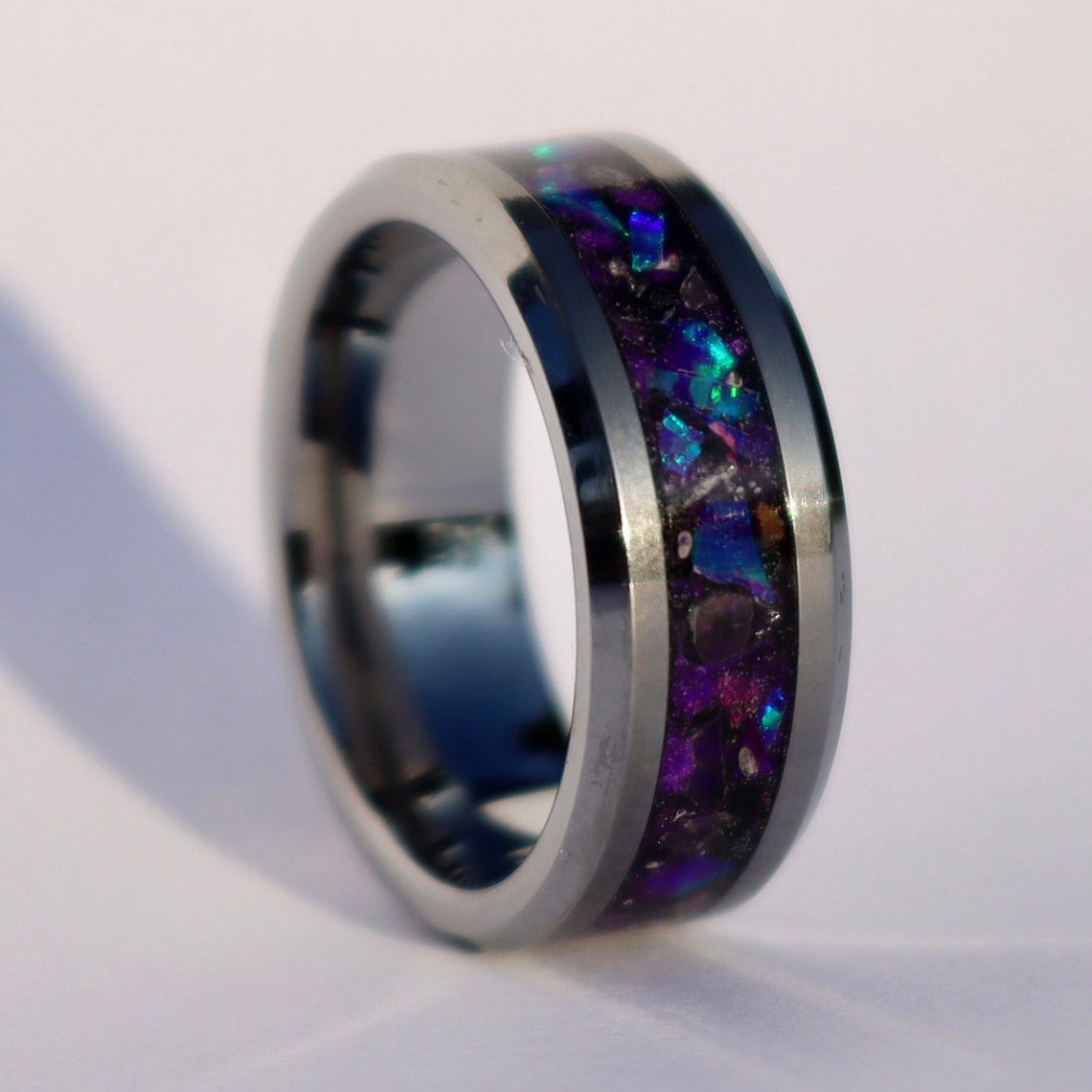 Purple + Blue Wedding Decor
Purple and blue are perfect colors for adding a pop of color to your wedding ceremony and reception spaces. The purple color palette can be used in various ways, from floral arrangements to table linens and even bridesmaid dresses!
Blue is a great option for incorporating into your decor because it's one of the most popular colors in weddings today–it's also an easy way to add some variety without straying too far from traditional themes or styles.
purple blue wedding decor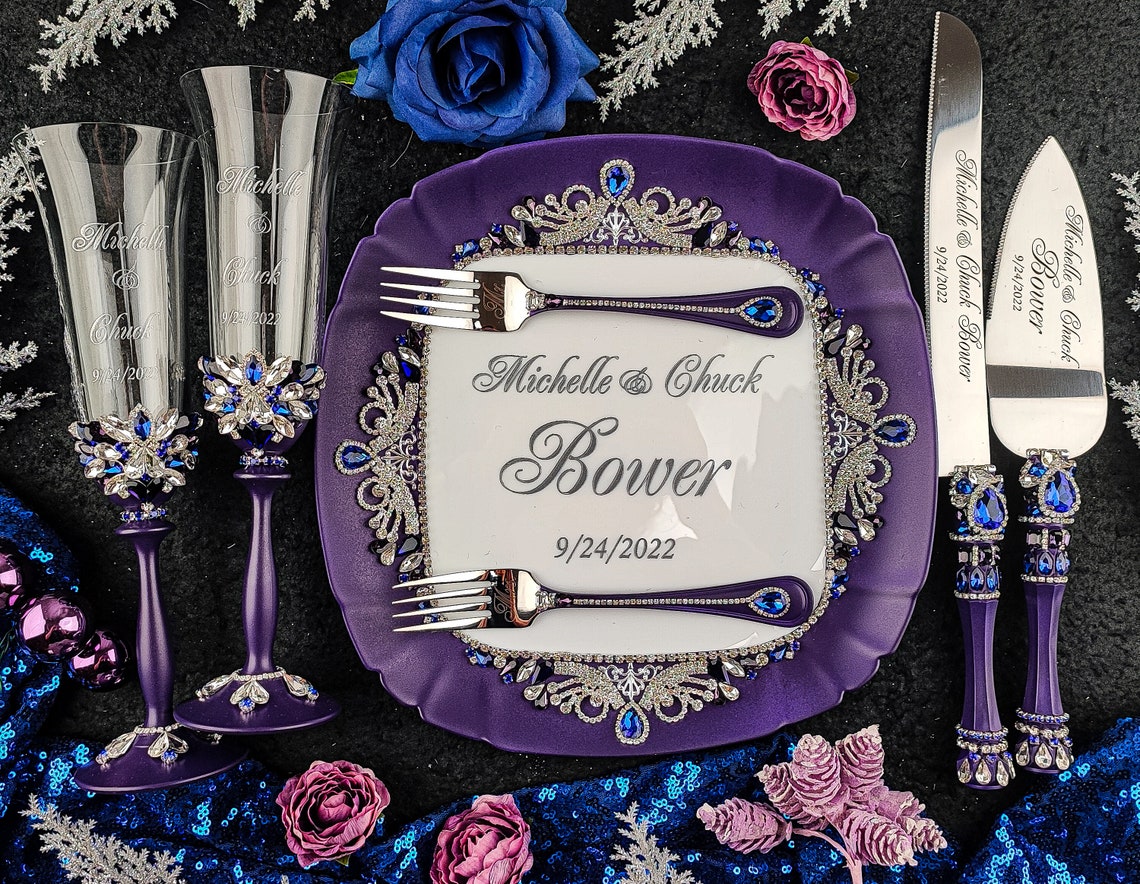 Purple and turquoise Set weddings Personalized Guests book wedding Wedding garters Pillow ring bearer Basket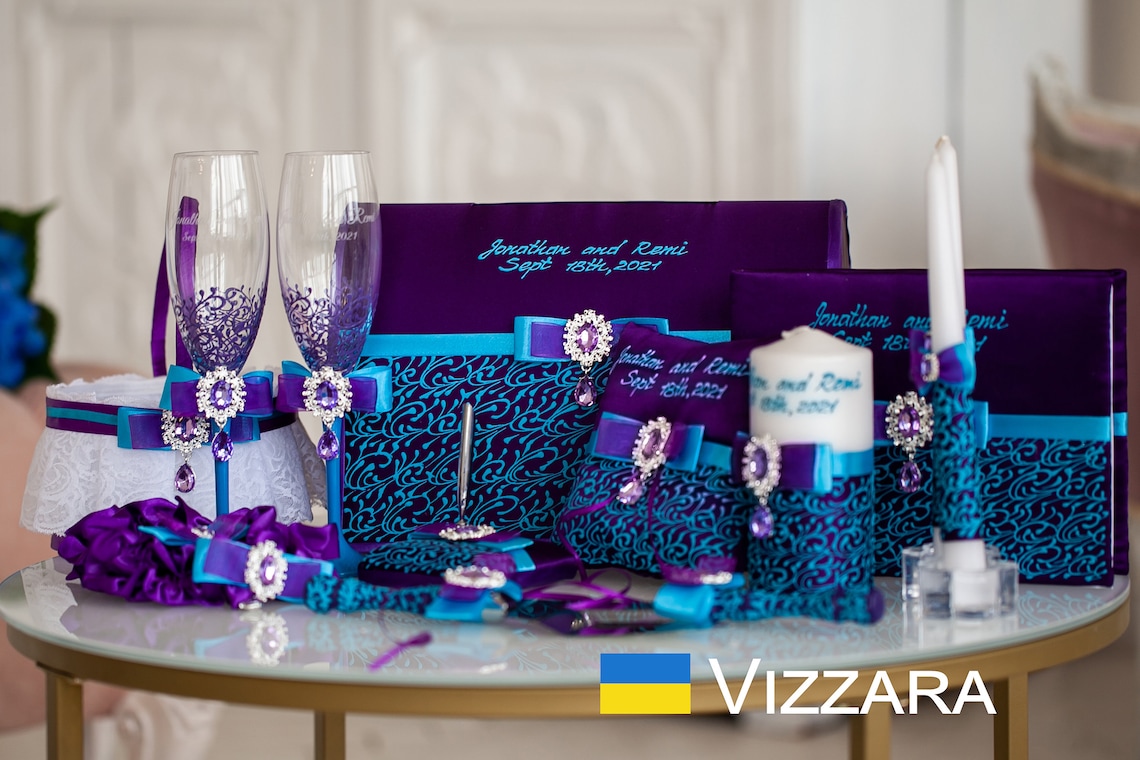 As you can see, purple and blue are great colors for weddings. They're beautiful, fun to wear and perfect for any season! If you're looking for more colors or a different combination of colors, check out our other articles on wedding color palettes.
How good do you think this post was? Click on a star to rate it!