In our previous article, we discussed the importance of choosing colors that work well with your skin tone and hair color. If you're planning a wedding and don't know where to start, we've got some suggestions for common color schemes that work well for weddings.
My favorite one is pink and navy blue. This combination has been popular for years because it goes back to the days of old Hollywood glamour when women would wear pink dresses on their honeymoon or during baby showers! It's also more subdued than other bridal colors so if you want something more subtle, this is a good option.
Pink + Blue Wedding Colors
Blush Pink + Light Blue
This color combination creates a soft and romantic ambiance. Incorporate metallic accents, such as silver or rose gold, to add a touch of glamour to the color scheme. Use this color combination in your floral arrangements and table decor for a cohesive look.
Blush pink and navy is a sophisticated and elegant color combination that can be used for your wedding day. This look will create a timeless aesthetic, so you can feel confident that your photos will look great in 20 years.
To keep the look cohesive, consider having the bridesmaids' dresses in blush pink while having the groomsmen wear navy suits with gold accents on their ties or lapels. If you want to add some warmth to this scheme, consider adding some natural touches like flowers or greenery around your venue as well as candles during dinner service (or even during cocktail hour).
Blush Pink + Ice Blue
If you're planning on a wintery wedding, blush pink and ice blue are the perfect colors to incorporate into your color scheme. This combination creates a dreamy and ethereal feel that is perfect for this season.
To enhance this theme even further, use crystal or icy accents throughout your decor–such as snowflakes or icicles–to help bring out the winter vibe even more! You can also use these two colors in floral arrangements or table decor for a cohesive look that will leave guests in awe of how beautiful it all looks together!
Dusty Blue + Dusty Rose
Dusty blue and dusty rose are perfect for a vintage or romantic wedding. This color combination is great for couples who want to create an elegant atmosphere without being too traditional.
For example, if you're planning on having your wedding at a historic mansion, consider incorporating antique-inspired elements such as lace or pearls into the decor to enhance this theme. You can also use these colors in your wedding invitations and cake decor so they match perfectly with your flowers and venue!
This color combination creates a bold and modern look. Incorporate geometric or graphic elements to enhance the theme, such as circles or triangles. Use this color combination in your wedding favors and signage for a cohesive look.
Pink + Blue Wedding Bouquets
Your bouquet is one of the first things guests will see, so it's important to make sure that it looks amazing! The best way to do this is by incorporating both pink and blue flowers into your bouquet. You can also use seasonal flowers that complement your color scheme and wedding theme. If you have a specific vision for what type of look you want, consider adding greenery or white accents to add depth and texture to your bouquet.
Slate Blue, Blush, and Light Pink Sola Wood Flower Bouquet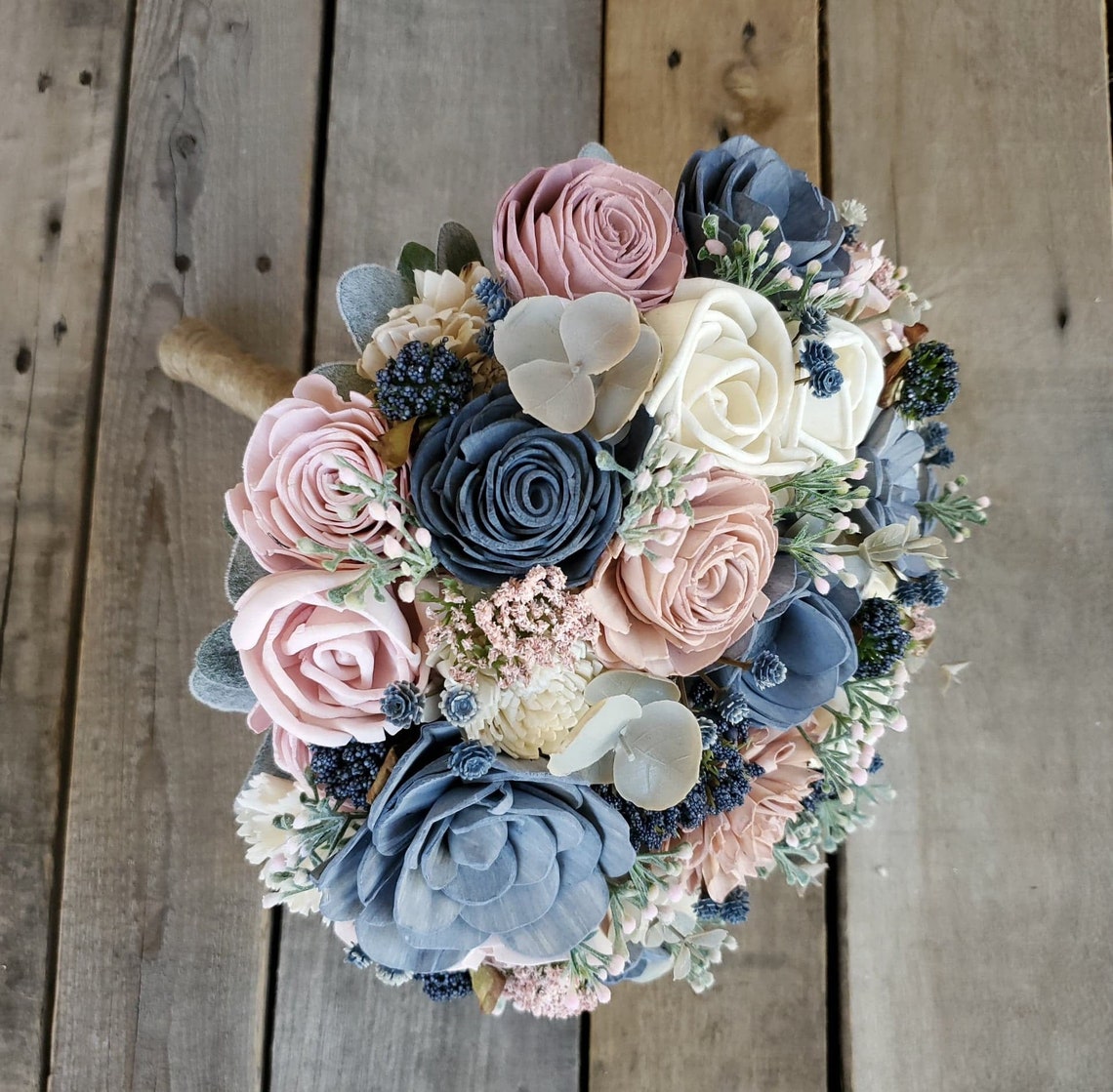 Navy blue Blush pink rose gold wedding brooch bouquet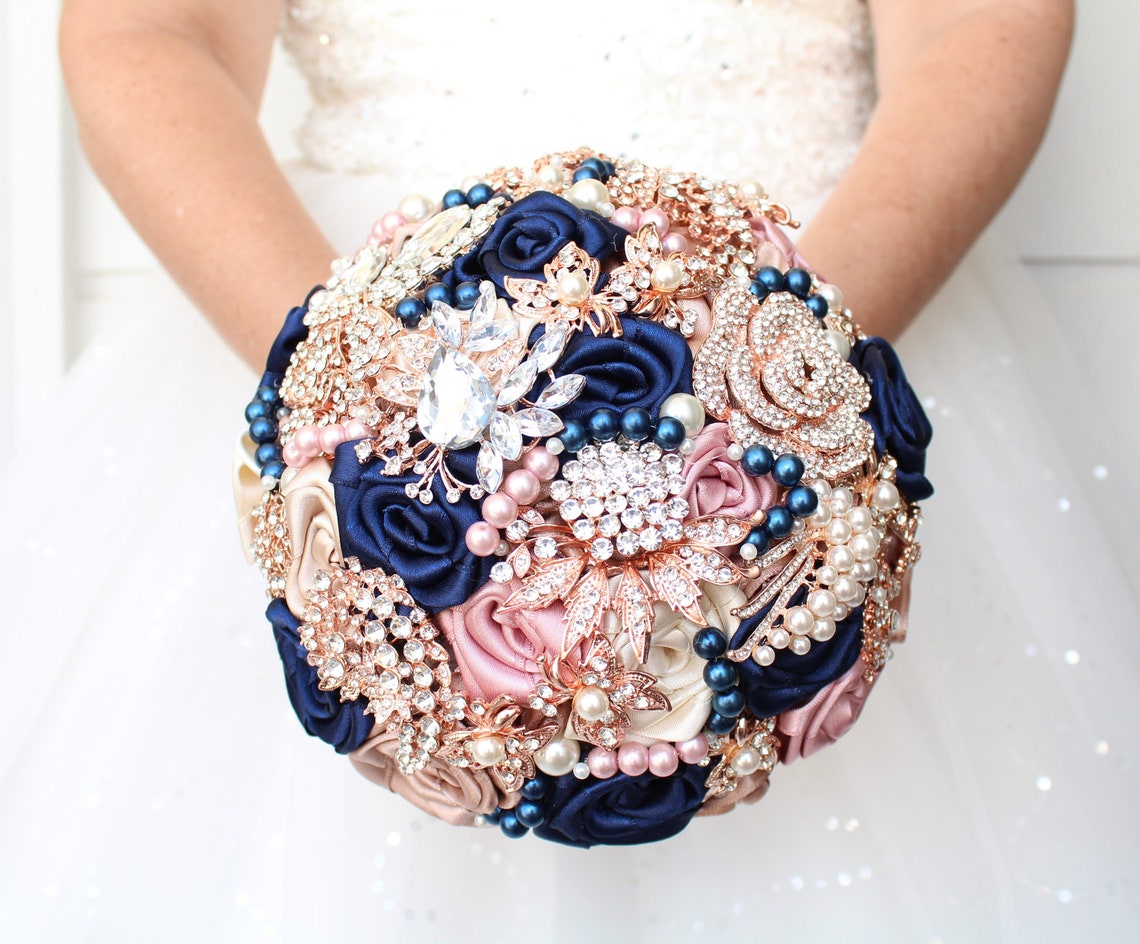 Dusty blue and dusty pink wedding bouquet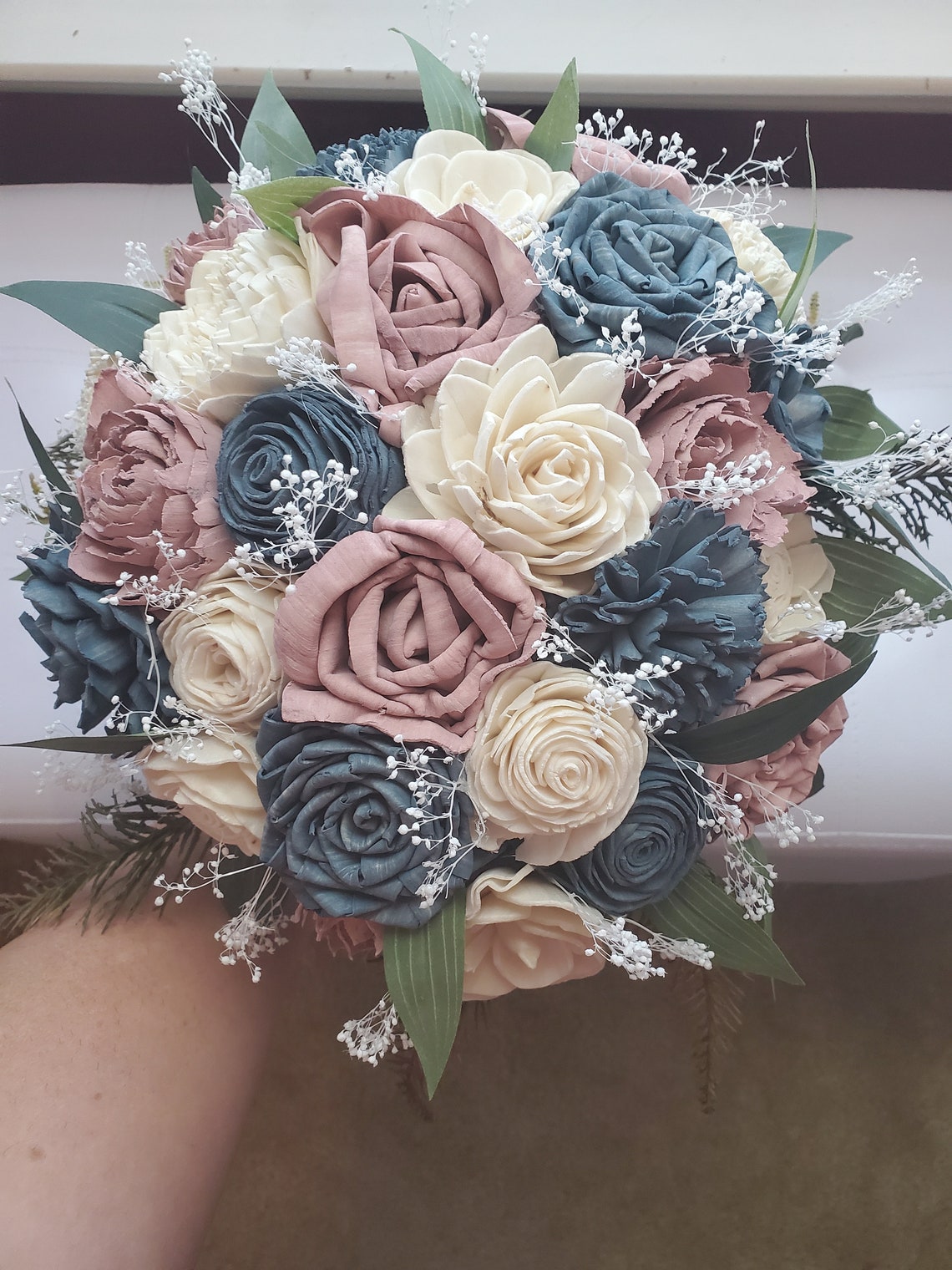 Pink + Blue Wedding Invitations
One of the best ways to incorporate your chosen pink and blue color combination into your wedding invitations is by choosing a design that incorporates both colors. For example, if you are using a soft pastel shade of pink for the main color, consider using complementary shades of blue in accents such as ribbon or envelope liners.
You can also use metallic or foil accents on some elements such as lettering or bows for an added touch of glamour!
Elegant Velvet Pocket Light blue Modern Arch Acrylic Wedding Invitations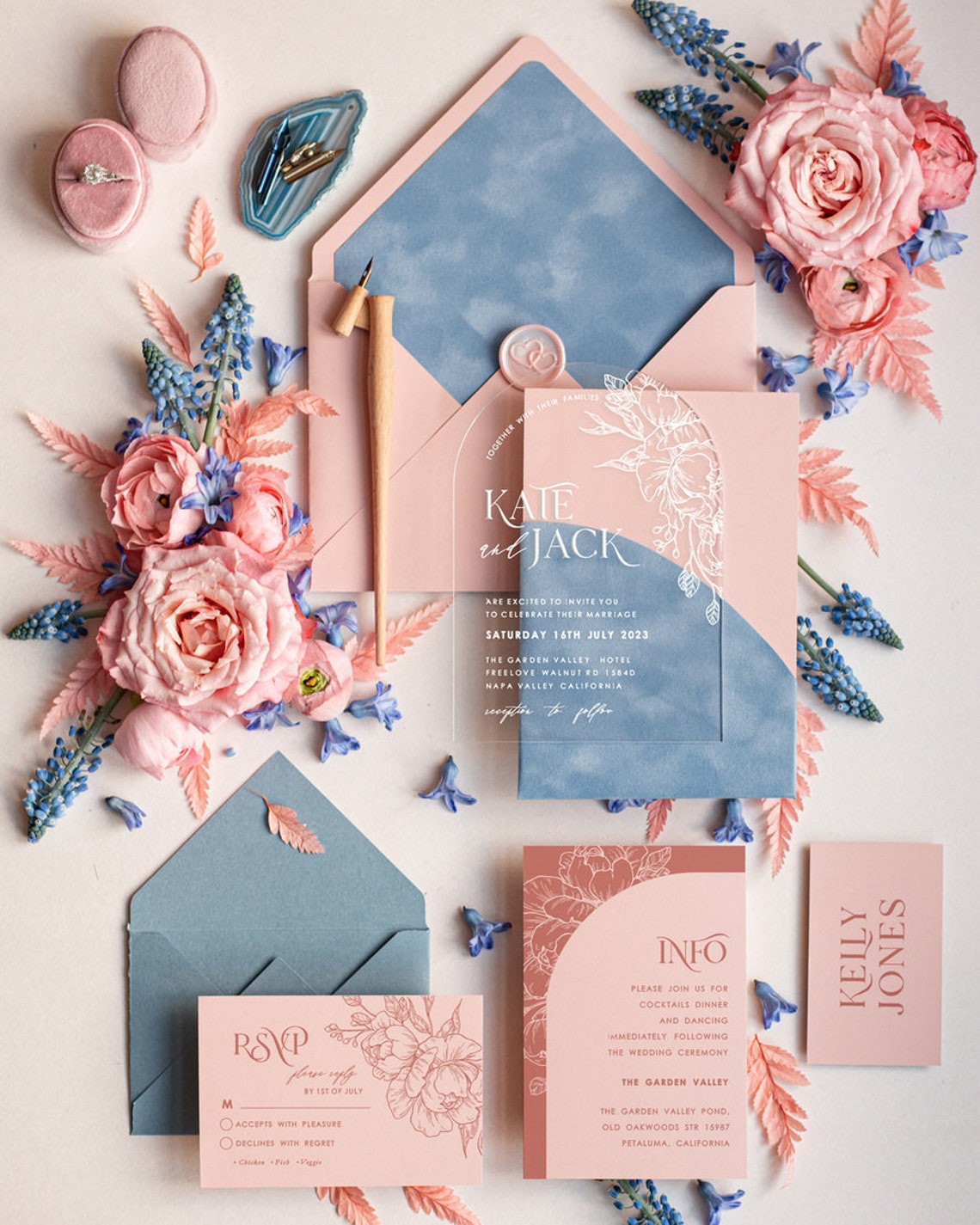 LIA Dusty Pink & Dusty Blue Invitation Template Download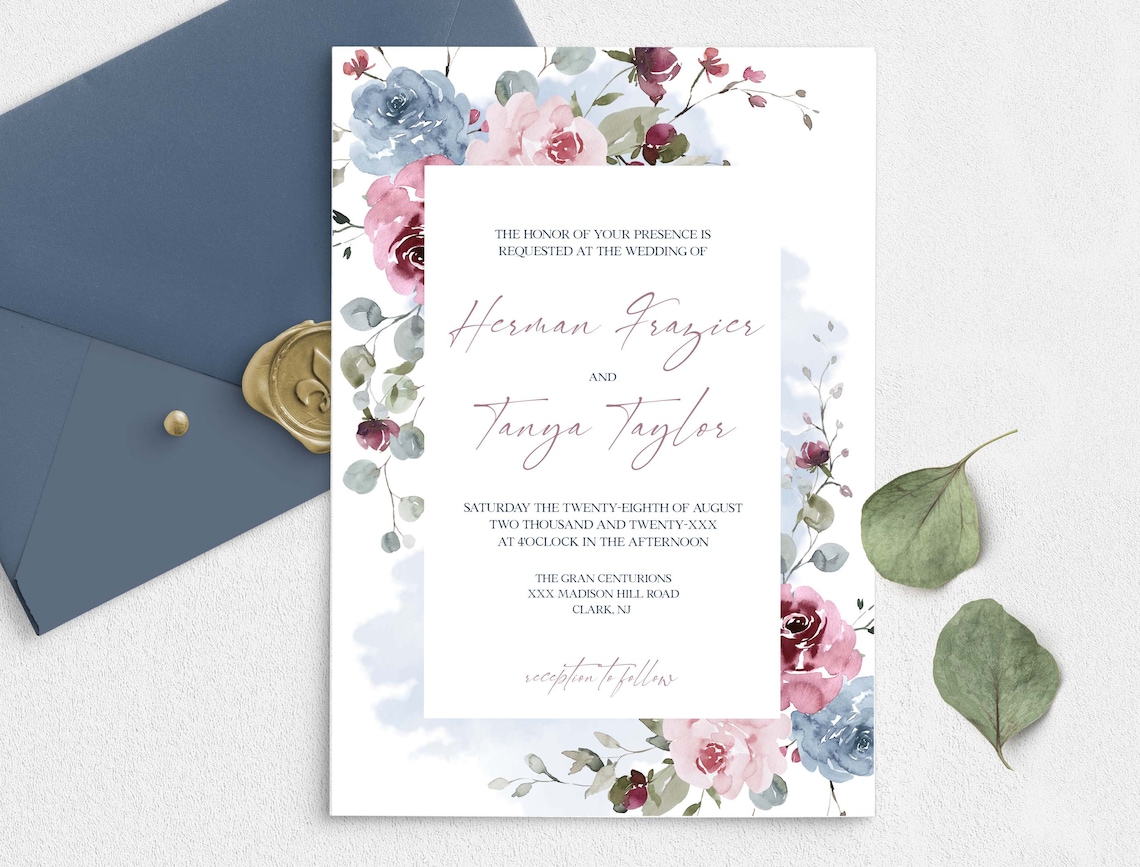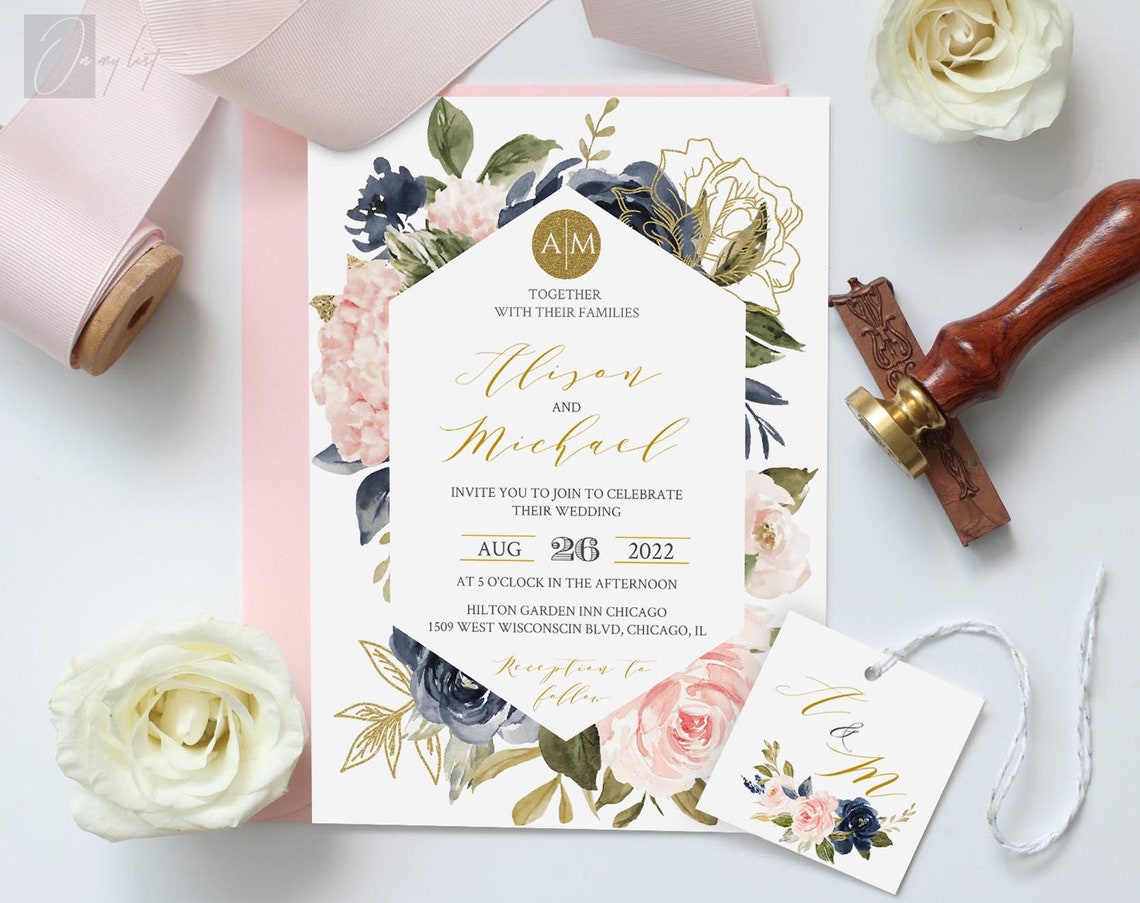 Pink Bridesmaid Dresses
Pink is a great color to choose for your bridesmaids' dresses. It's can range from soft and romantic to bold and modern, so you'll be able to find a style that complements your wedding colors.
Consider different shades of pink that complement your overall color scheme. For example, if you're using red as one of your main colors at the wedding reception (and/or in the bridesmaids' bouquets), then consider choosing a darker shade like fuchsia or magenta. If gold tones are popular in other aspects of your big day (such as centerpieces or table linens), then opt for lighter pinks like cotton candy or raspberry sherbet instead.* Pair these with neutral or metallic accessories such as shoes and jewelry so everything matches perfectly!

Blue Bridesmaid Dresses
Blue bridesmaid dresses can range from light and airy to deep and rich. Consider different shades of blue to complement your wedding color scheme. Pair blue bridesmaid dresses with neutral or metallic accessories for a cohesive look that's sure to please your guests!

How good do you think this post was? Click on a star to rate it!