Emerald green, the color of spring, is a popular choice for weddings. It's the perfect choice if you want a sophisticated look that still feels fresh and modern. Emerald green complements gold very well, so if you're planning a wedding with both colors, you'll want to consider them together as part of your color scheme. Here are some ideas for incorporating emerald green and gold into your big day:
Emerald Green + Gold Wedding Color
Emerald green and gold are a great color combination for weddings. The combination of emerald green, gold and silver is also very popular among brides-to-be who want to get married in 2023 and beyond.
In addition to being trendy, this combination has been around forever! It's been used at royal weddings since medieval times, so you know it can't be bad!
Emerald  + Gold Wedding Bouquet
When you're choosing a bouquet for your wedding, the first thing to consider is what colors will be most prominent in your wedding day look. Emerald green and gold go well together because they're both bright and eye-catching colors that won't clash with the rest of your outfit or decor.
If you want something more subtle, try pairing these two shades with other tones that complement their vibrancy: green or ivory would work wonderfully!
Emerald green and gold wedding bouquet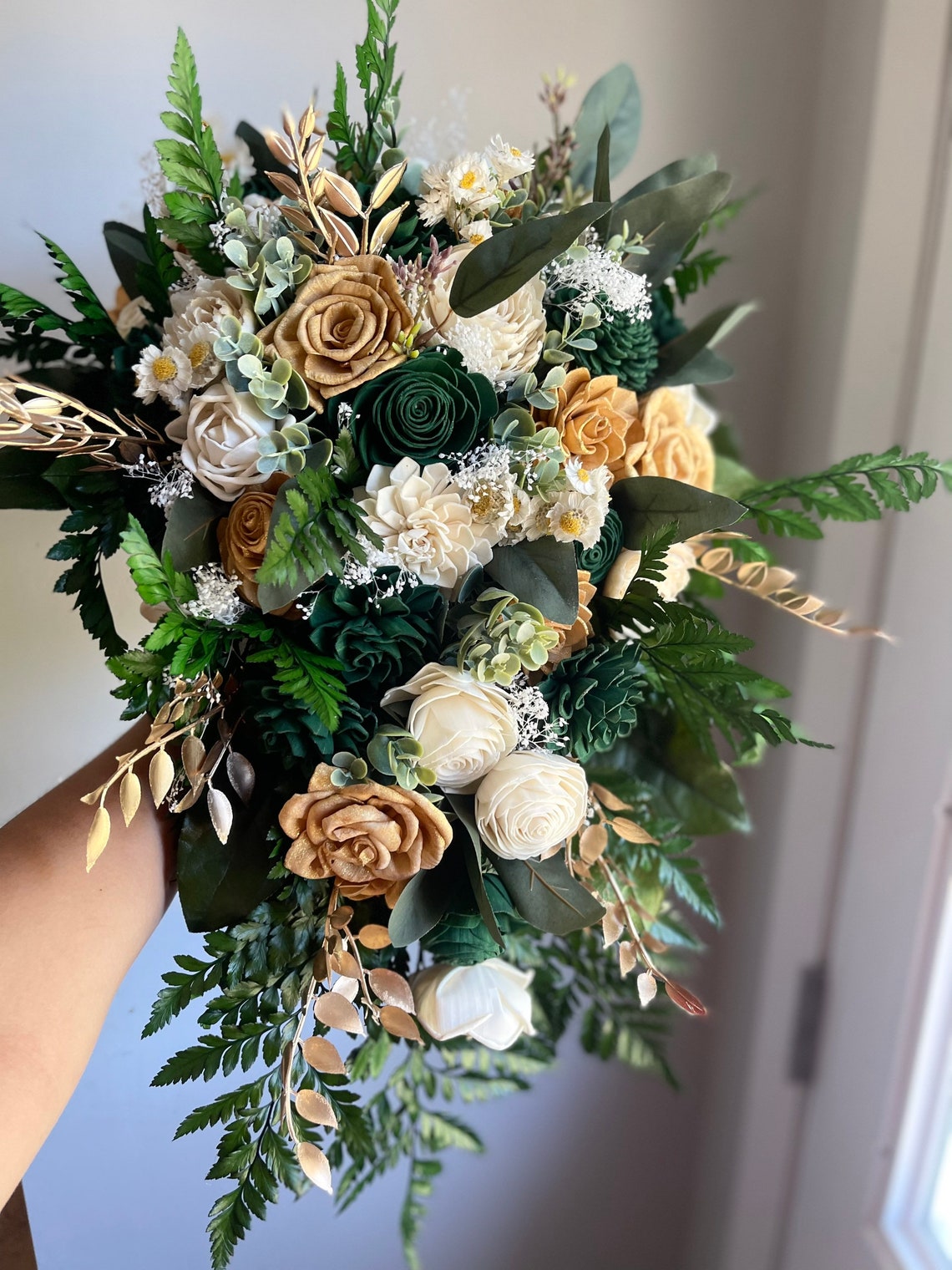 Cascading Ivory Emerald Green Gold Bridal Bouquet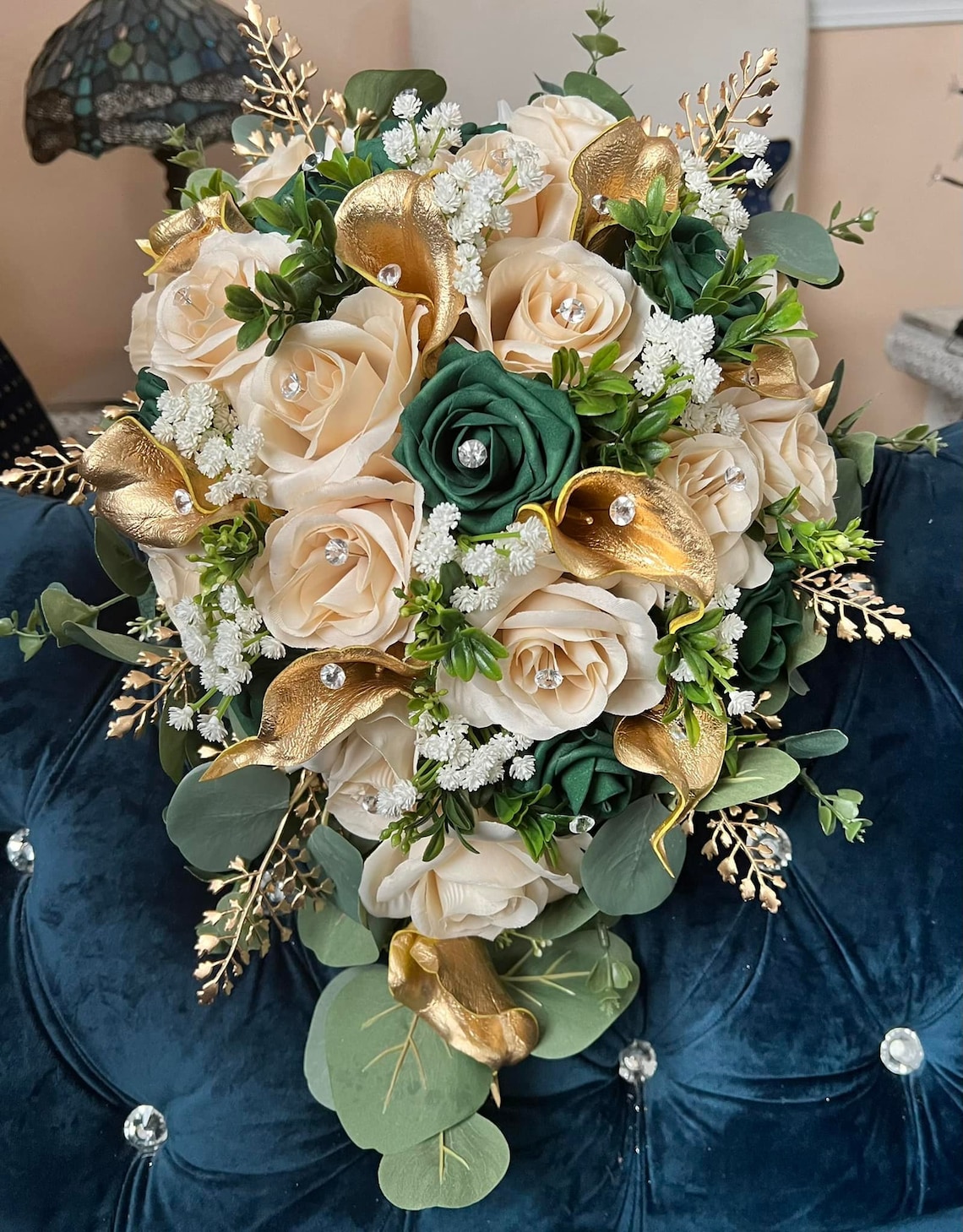 Emerald green and gold brooch bridal bouquet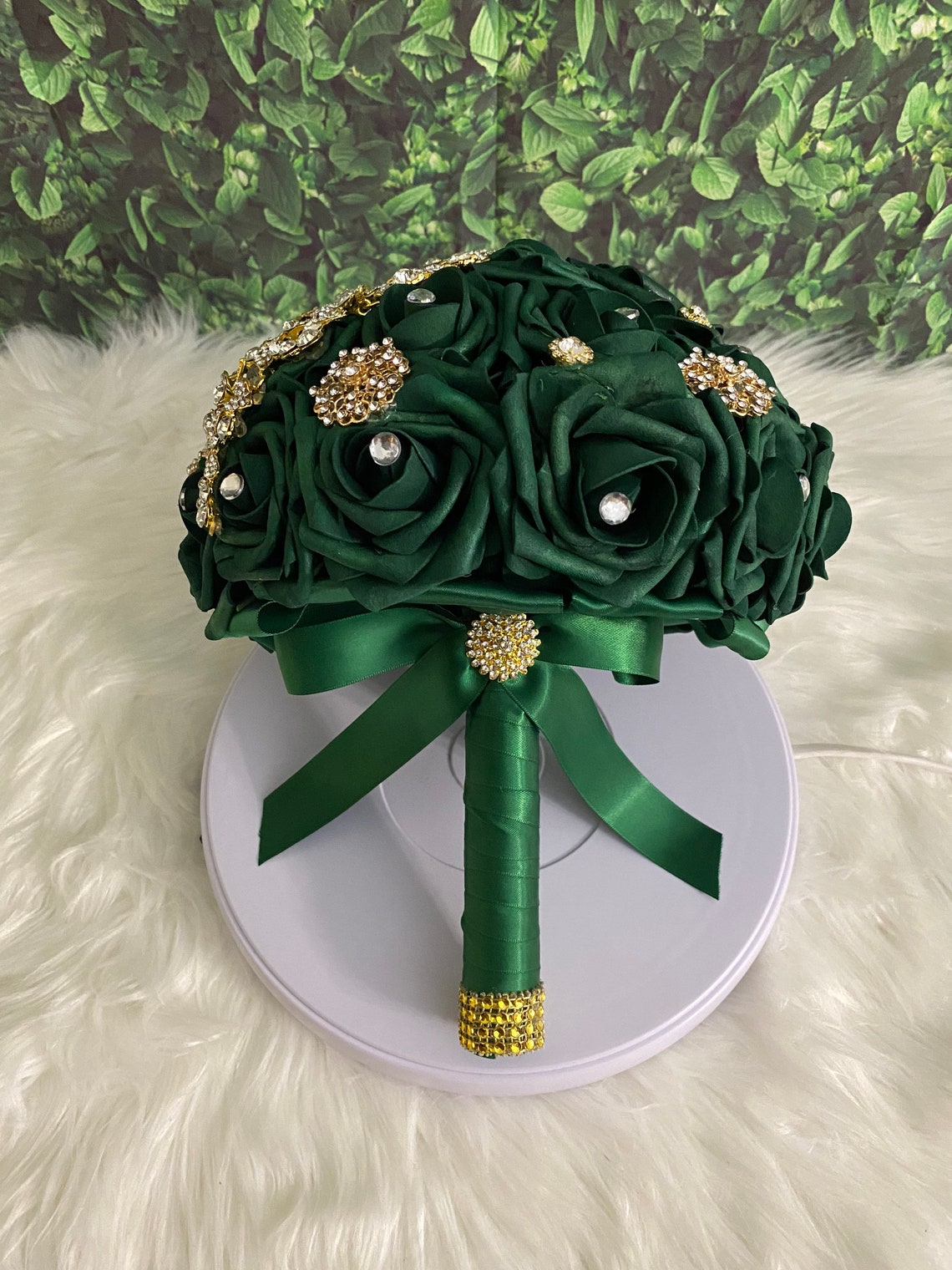 Emerald + Gold Wedding Centerpieces
When planning your wedding centerpieces, you want to make sure that you use a variety of flowers in your arrangements. This will ensure that each centerpiece has its own unique look and feel. You can also use gold accents to tie the look together. For example, if you're using white roses as one of your main flower types, consider adding some gold candlesticks or vases with them so they stand out even more against the green backdrop of their leaves and stems!
To create an even more cohesive look throughout all of your arrangements (and especially if they are going to be placed on tables), consider using ribbon around each vase as well as a tablecloth made from materials like satin or silk fabric with metallic threading woven through it–these materials will help tie everything together while still allowing each piece its own personality within the overall scheme!
Emerald + Gold Wedding Cakes
Emerald green and gold wedding cakes are a stunning choice for couples who want to incorporate the color green into their big day. Emerald green is a beautiful shade that evokes feelings of luxury and elegance, while also providing a pop of color to an otherwise monochromatic scheme. The luster of these cakes will make them stand out in any setting, and they're sure to be remembered by guests long after the reception has ended!
Emerald  + Gold Wedding Invitations
Emerald and gold are a classic combination that can be used in various ways. The invitation itself can be printed on a metallic gold envelope, or you could use an emerald green ink for the text on your invitations. You could also use both colors in your paper products such as seating cards, menu cards and favors!
Luxury Glitter Laser Cut Acrylic Emerald Green Wedding Invitation Suite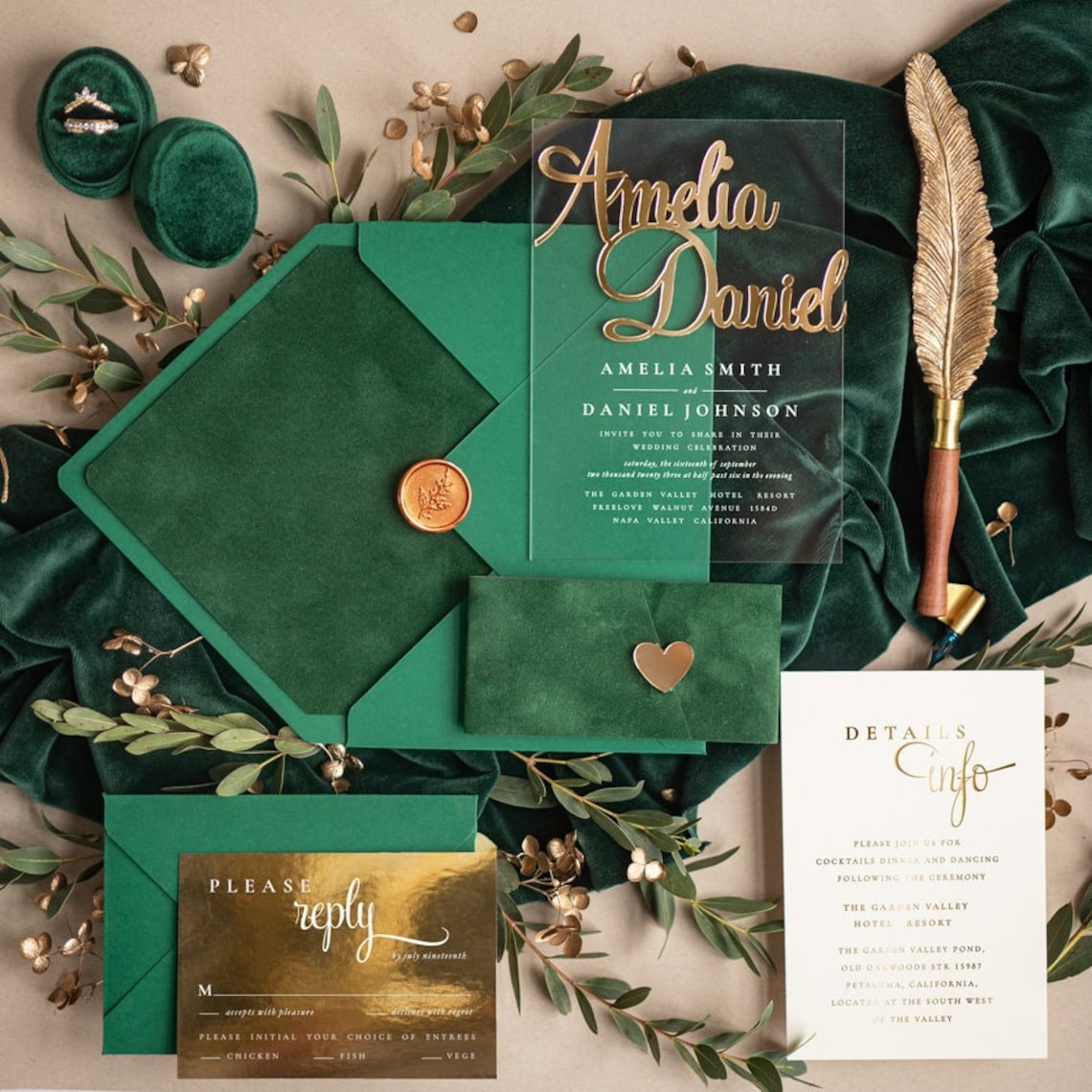 Gold Foil Calligrapy Wedding Invites With Emerald Green Elegant Gold Foil Florals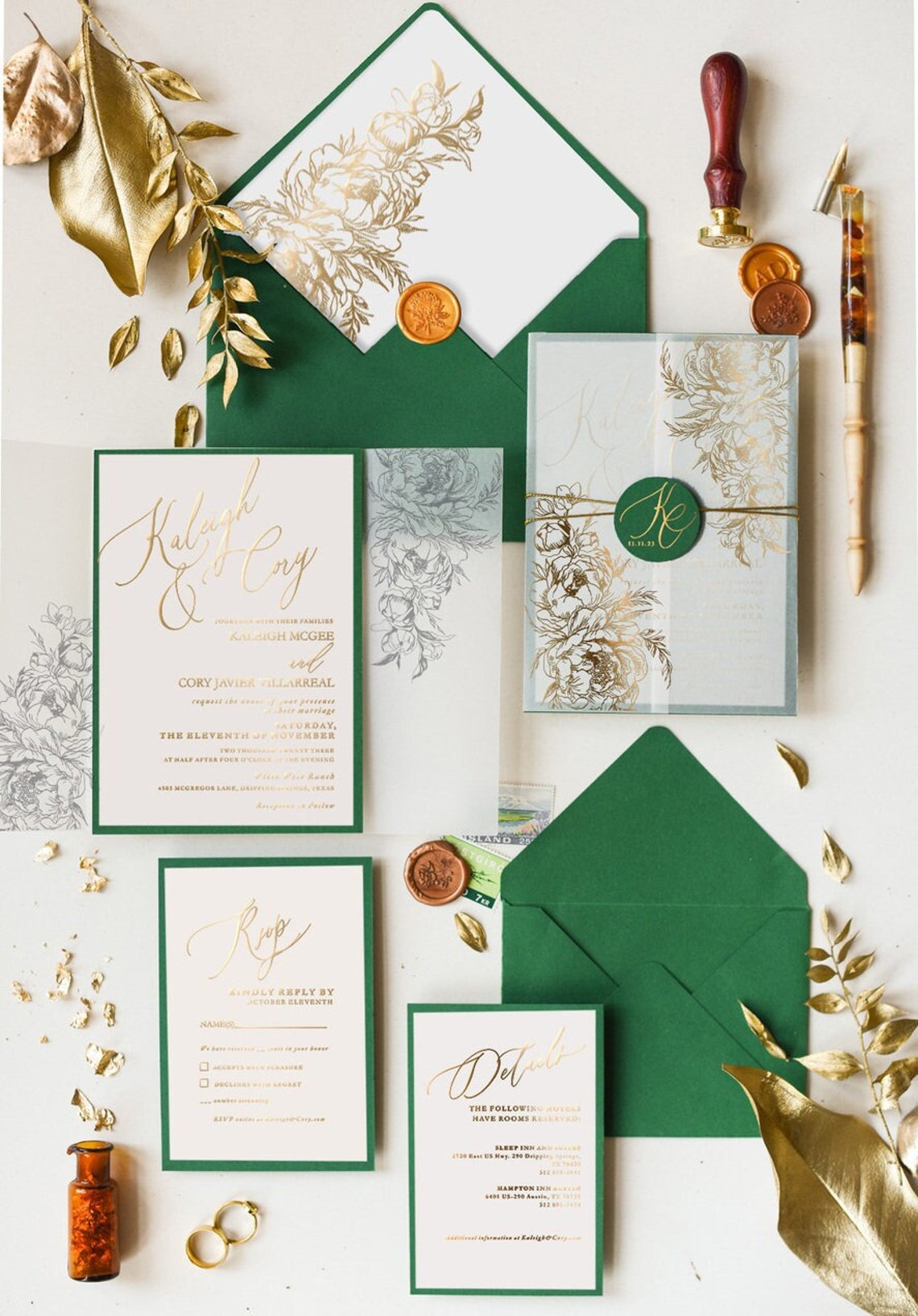 Gold Foil on Acrylic Wedding Invitation Set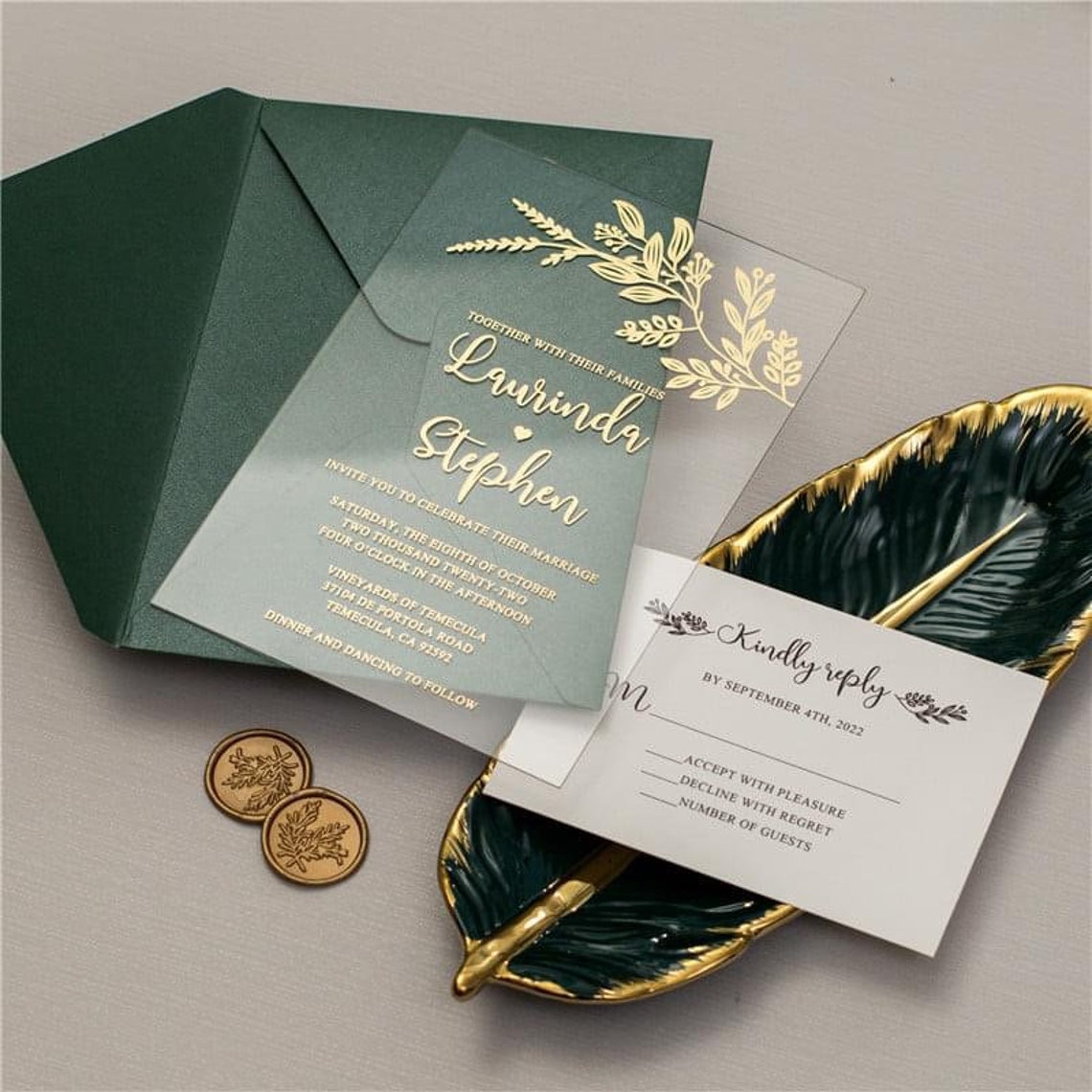 Emerald Green Envelope & Gold Foil Stamping Foil Edging Wedding Invitations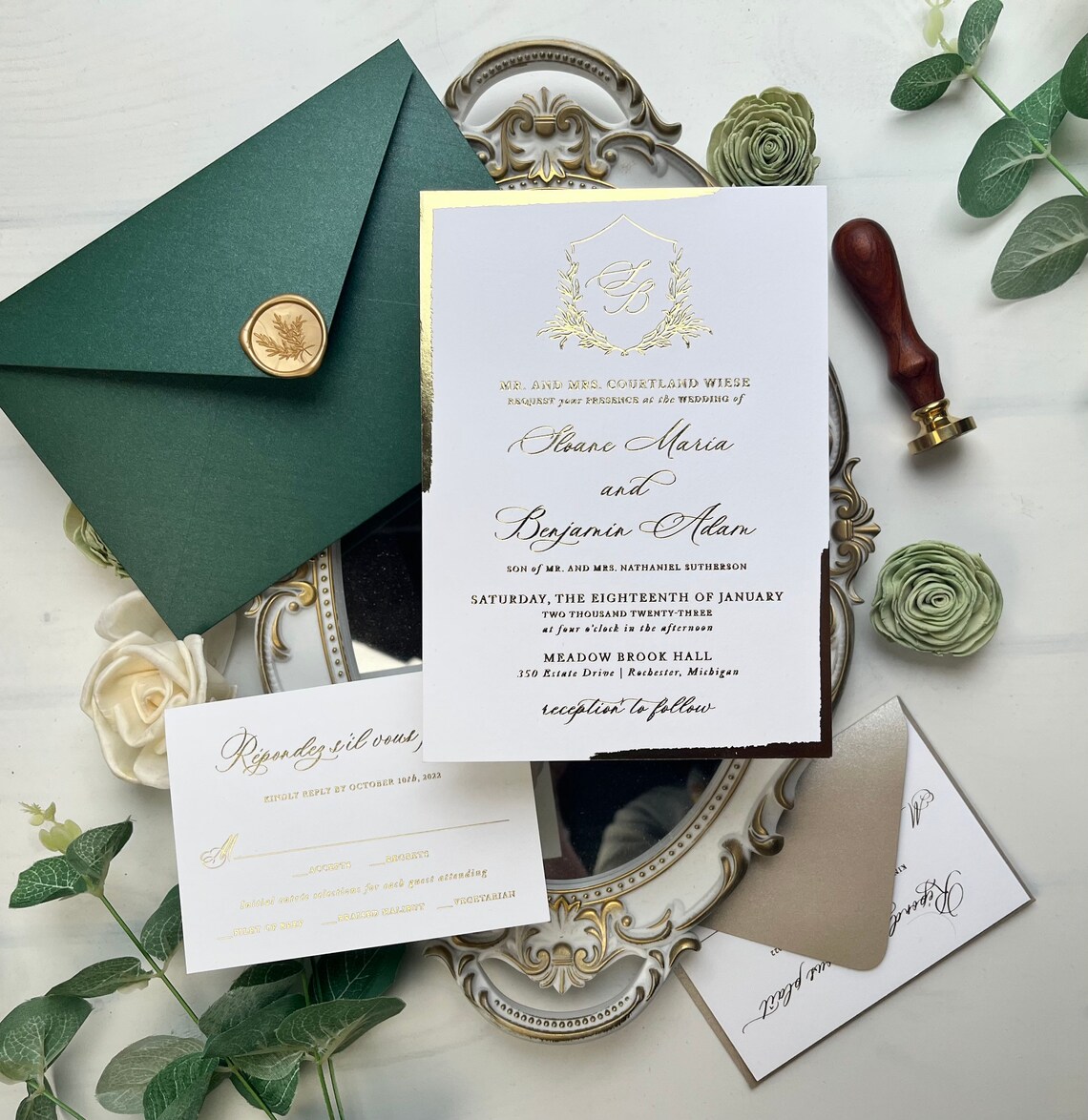 Emerald Green and Gold Wedding Invite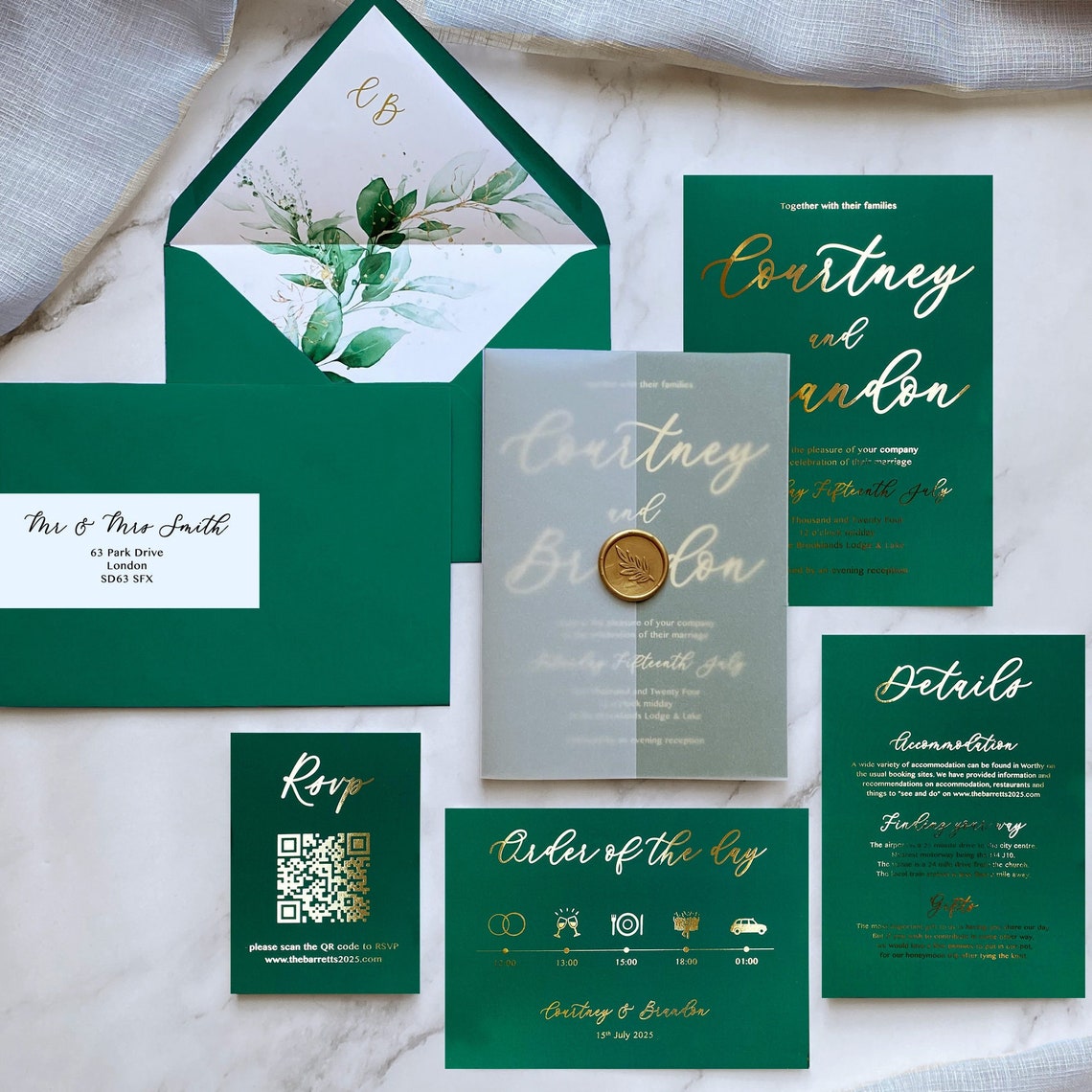 Emerald  + Gold Wedding Signs
Signs are a good way to direct guests. You can use them to create a seating chart and let guests know where they need to go for the ceremony, cocktail hour and reception. They're also great for displaying information about other aspects of your wedding day, like when photos will be taken or what time dinner will be served.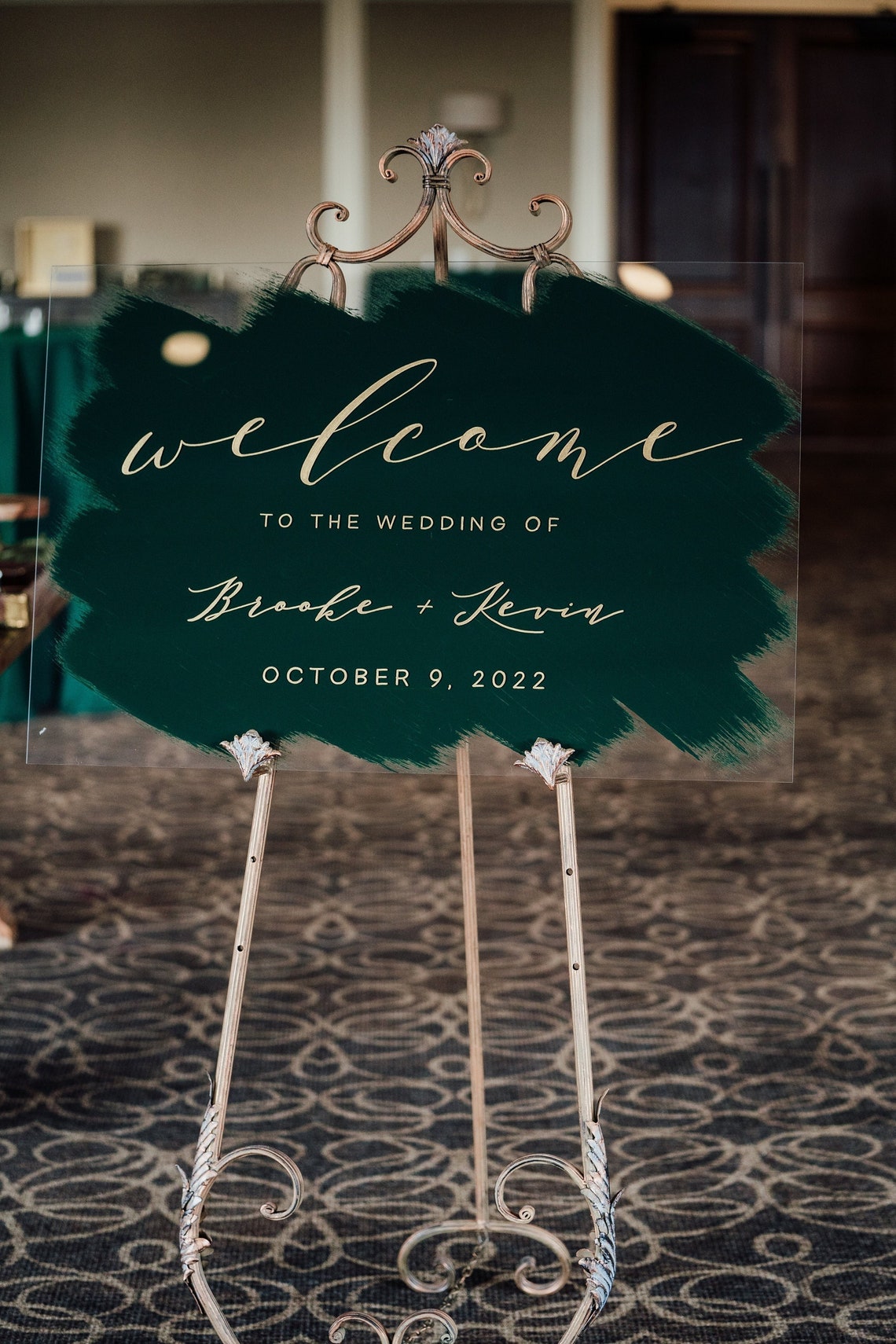 Dark Green Gold Watercolor Trees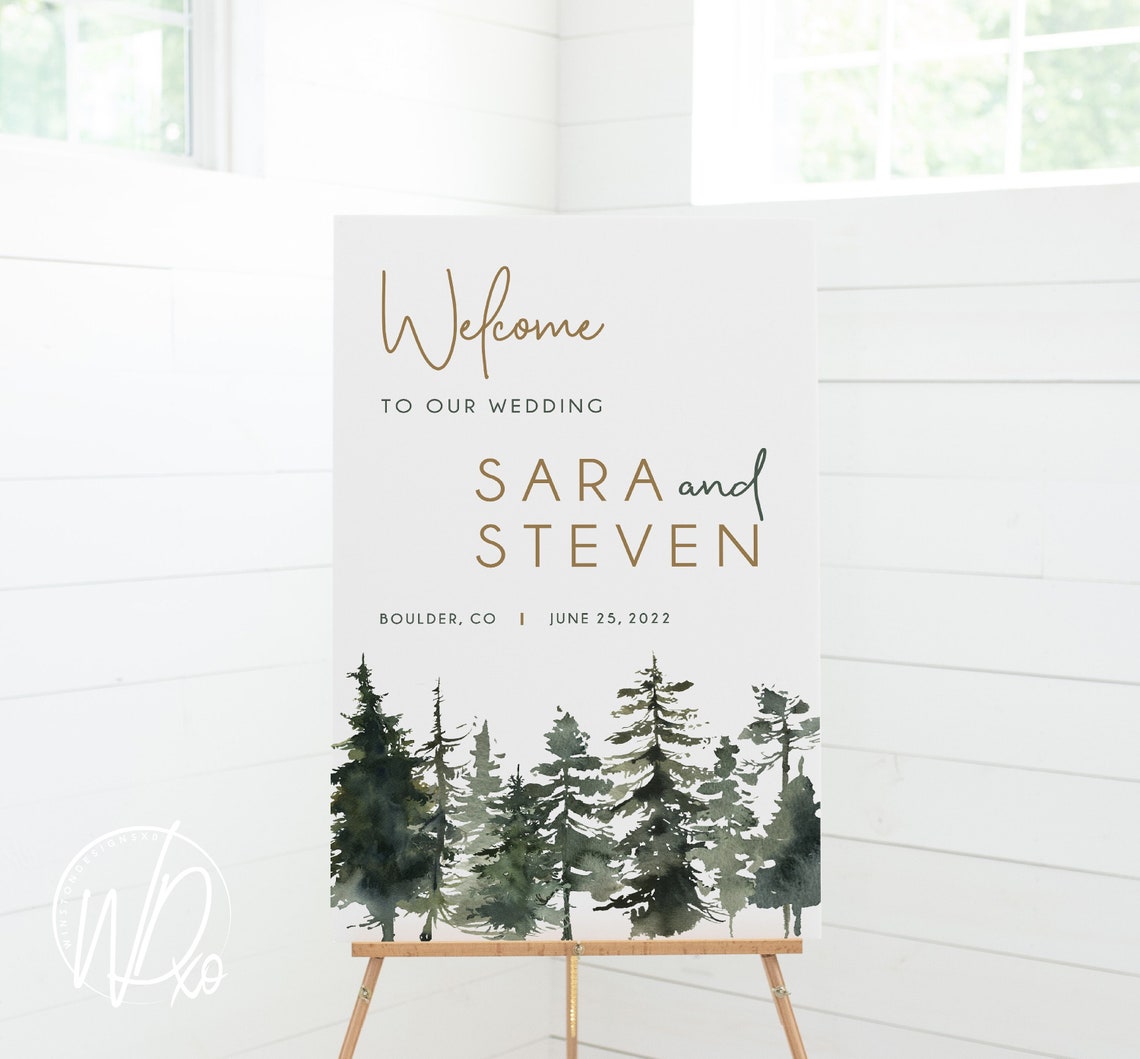 Modern Dark Emerald Green Gold Foil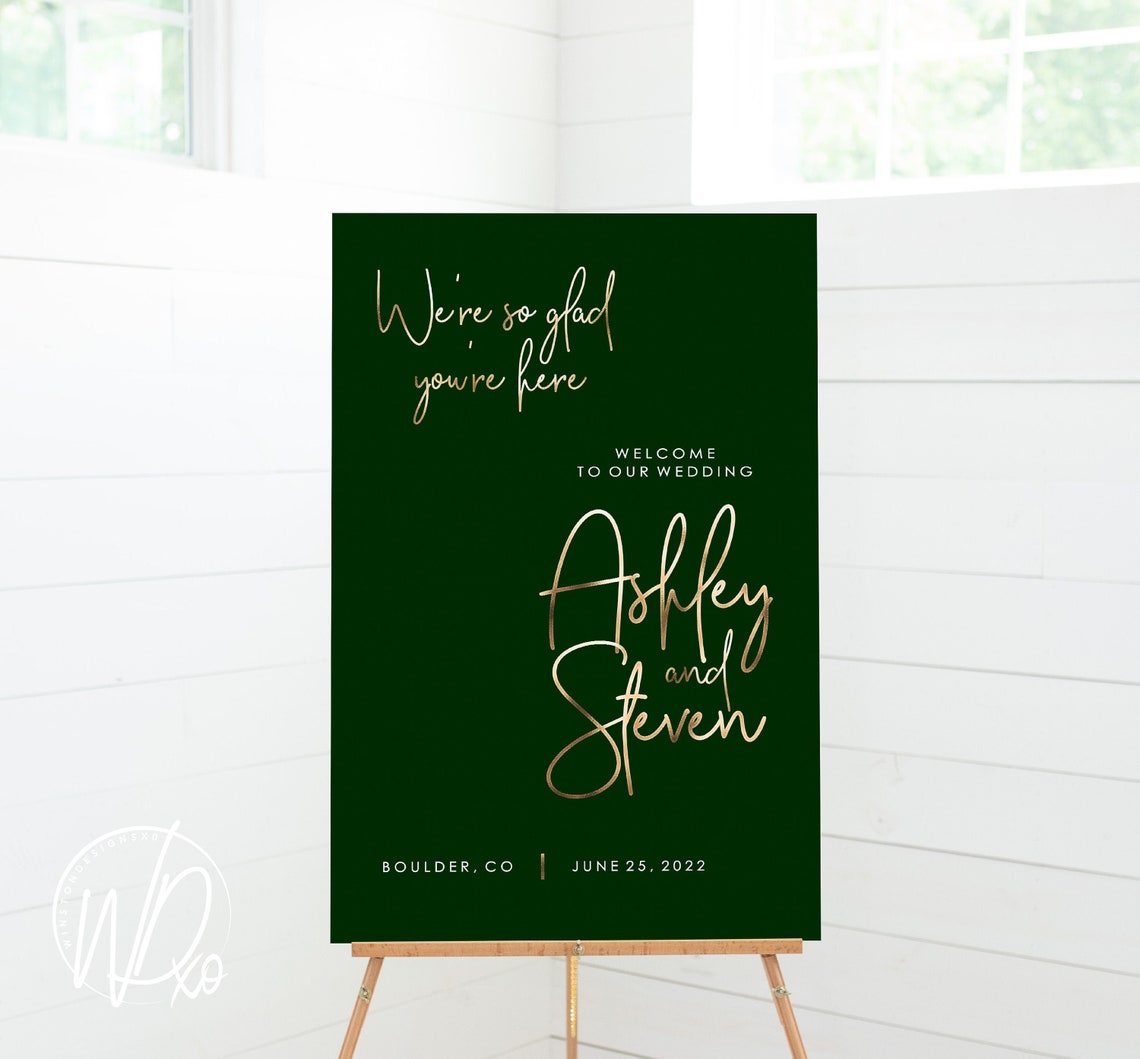 Emerald + Gold Guestbook
The Emerald + Gold Guestbook is a great alternative to traditional guestbooks. The design of this book is inspired by the colors of an emerald and gold ring, which makes it perfect for an engagement party or wedding gift! The inside pages are blank so that you can write down all your friends' names as well as their messages to you and your spouse-to-be. This book also comes with two ribbons for tying around its cover when not being used; one ribbon has "Mr & Mrs" written on it while another says "Thank You For Being Our Guests."
Emerald Green Gold Instax velvet Wedding GuestBook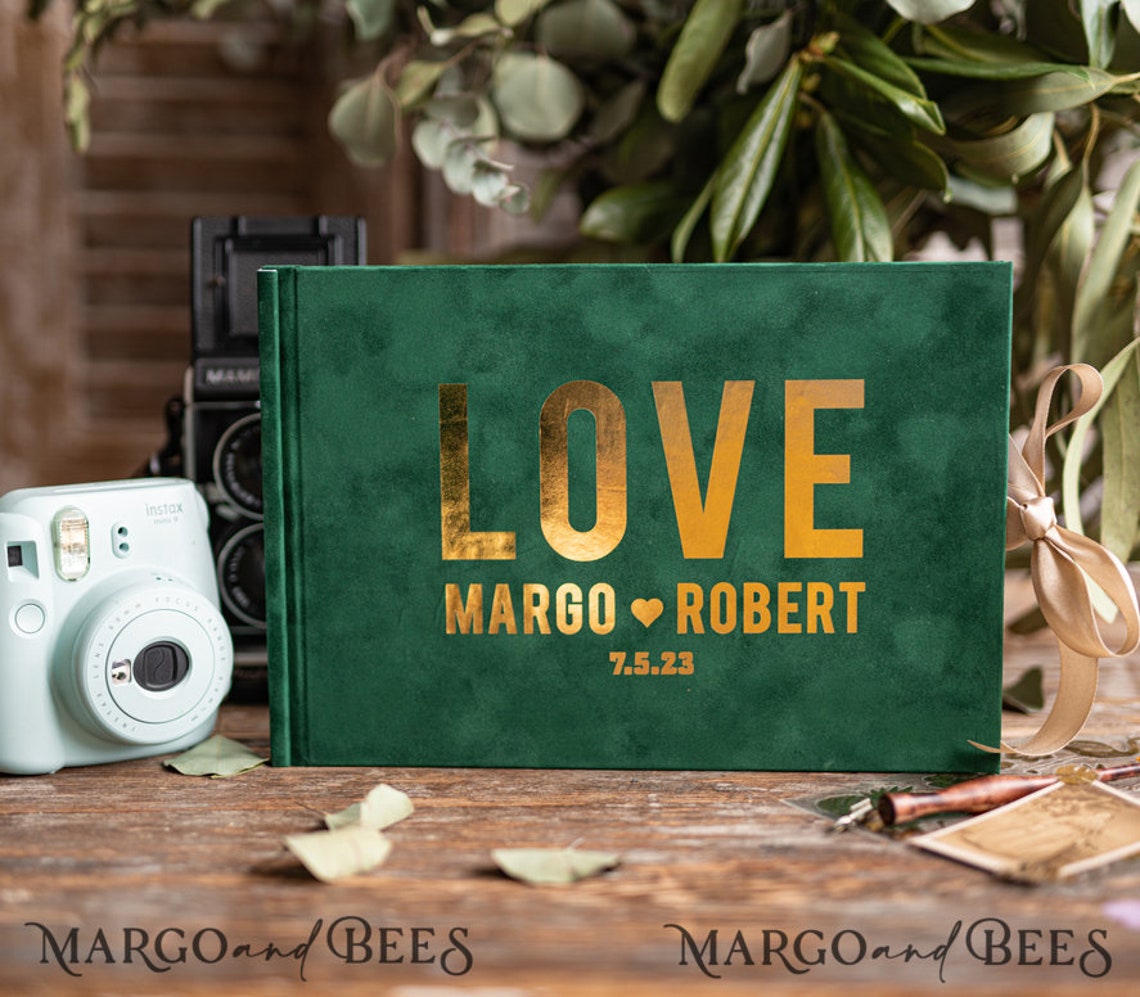 Velvet Photo Box Photographer Wedding Memory Box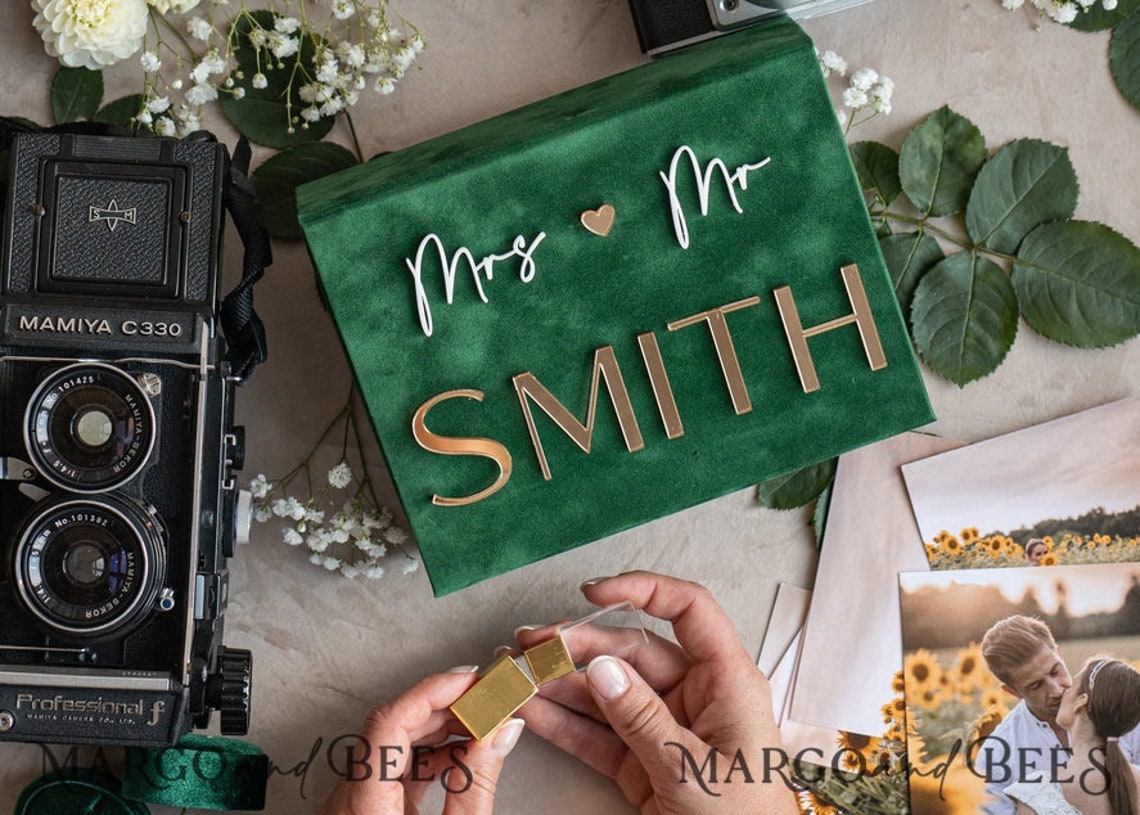 Emerald  + Gold Wedding Rings
Emerald green and gold wedding rings are the perfect pairing for a stunningly unique wedding ring. If you're looking for something different, these emerald-green stones are a great choice.
They come in many different styles: from bands to solitaires and everything in between! Emerald green is a cool color that works well with other earthy tones like brown or beige. It also pairs nicely with bolder colors like red as well as lighter shades like white or silver because it brings out their beauty while still standing out on its own.
If you love this combination of emerald green and gold, check out our selection below!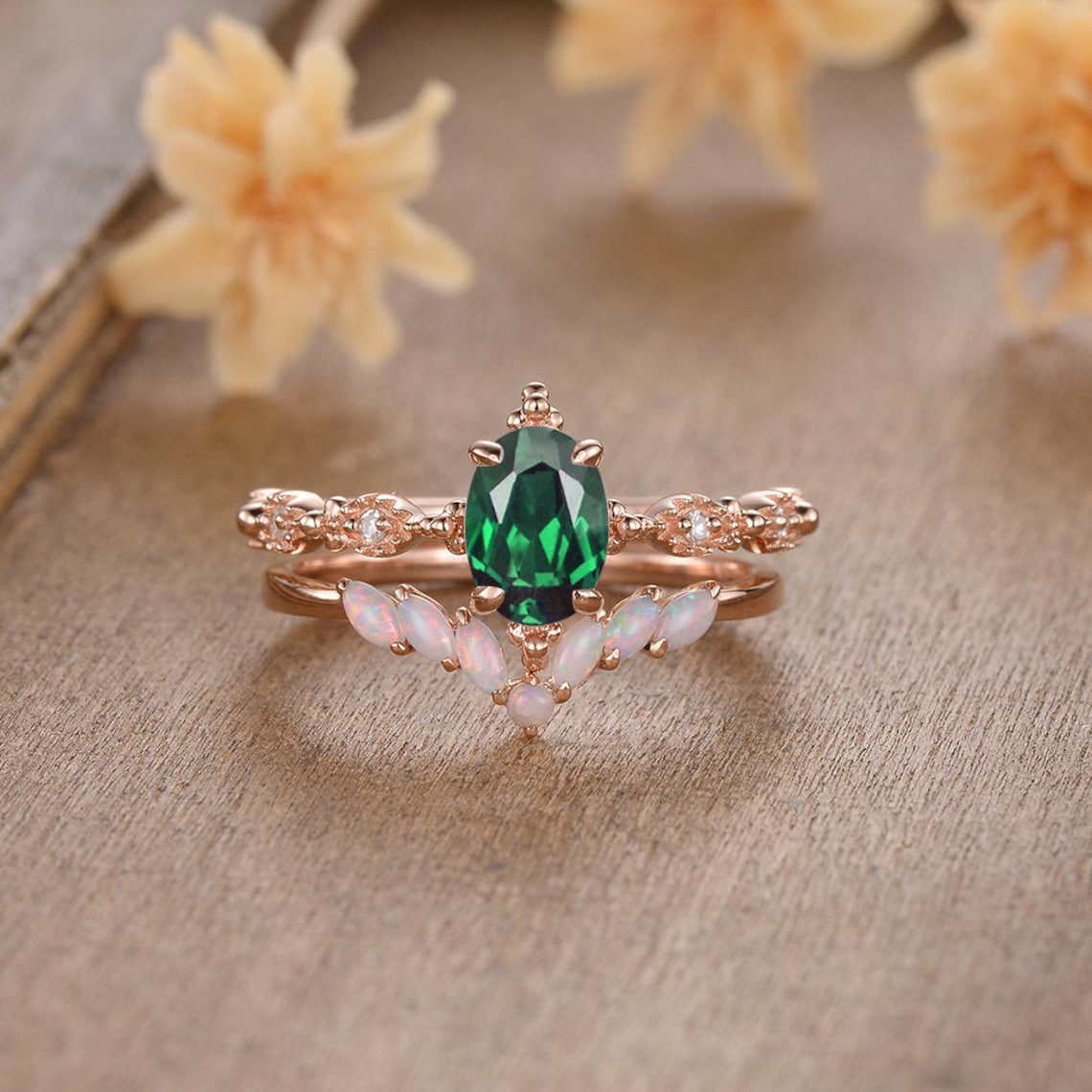 Emerald Cut Solid 14K Gold Engagement Ring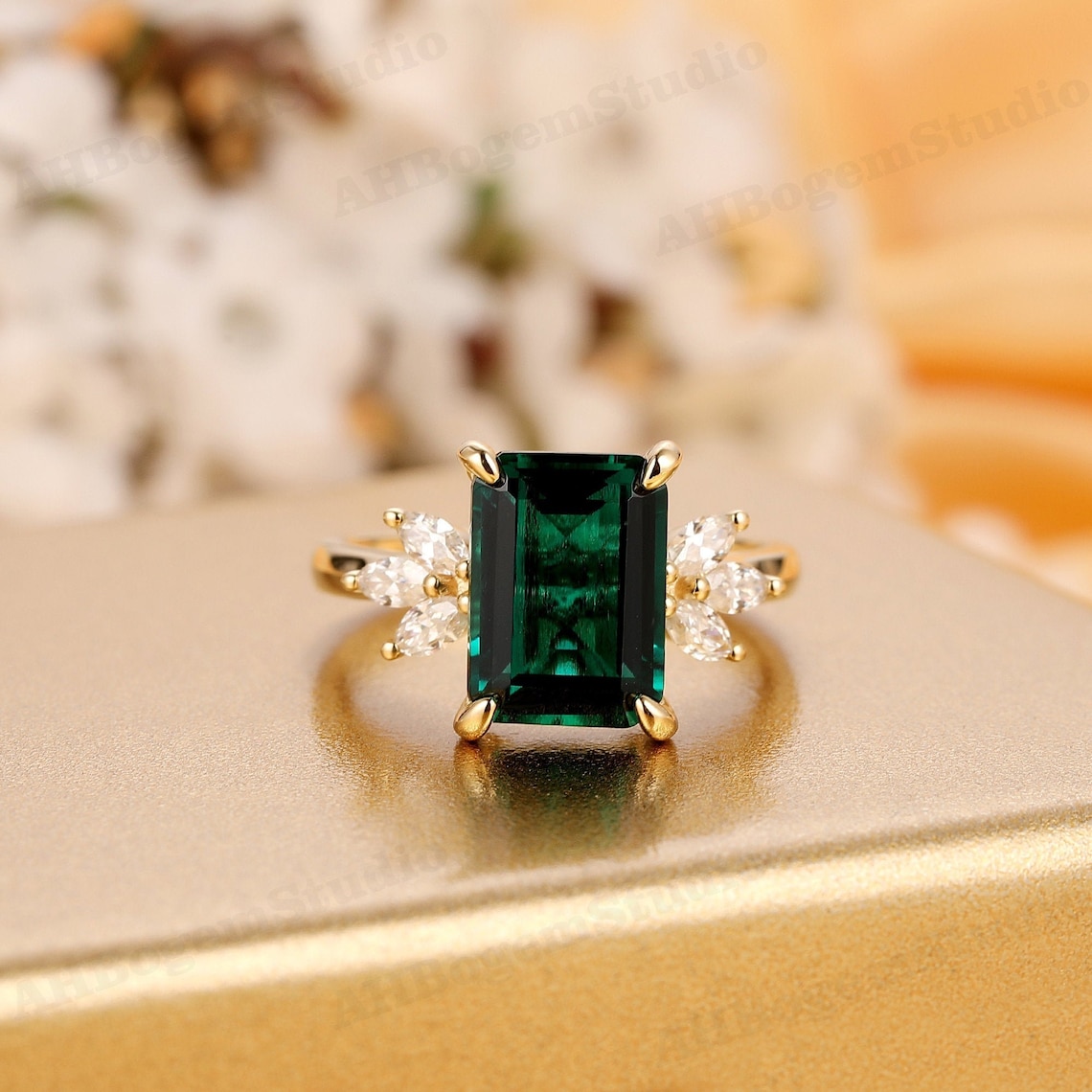 Other Wedding Items
If you're looking for more ways to incorporate emerald green and gold into your wedding, consider these ideas.
Emerald green napkins and table runners: You can use them as an accent on your dinner tables or as a way to dress up the head table. Your guests will love them!
Emerald green and gold decorations: You can hang these around the room or place them on top of some chairs. Either way, they'll make an impact on your guests' eyes when they arrive at their seats (and before!).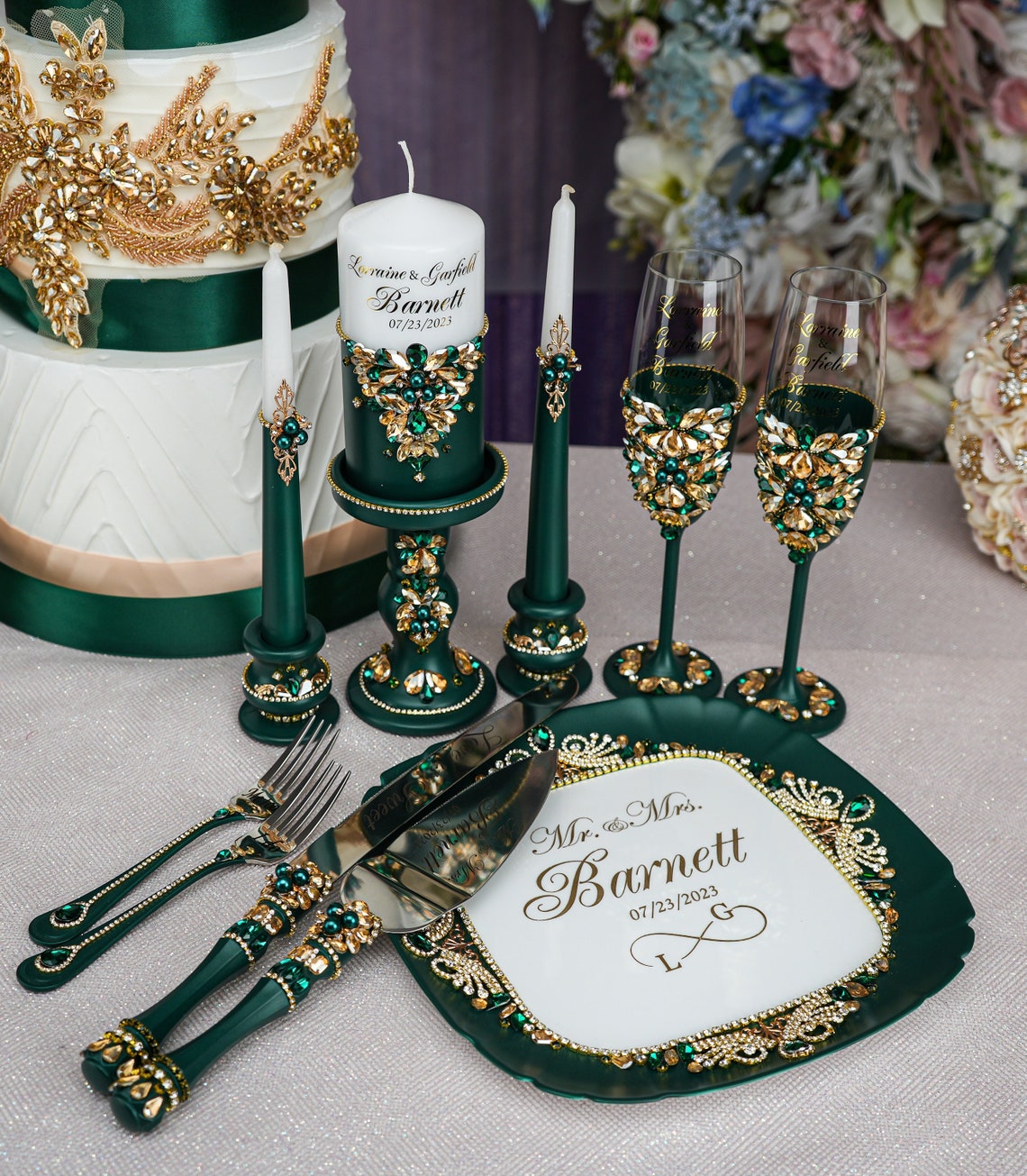 Emerald Green Stone Wedding Magnet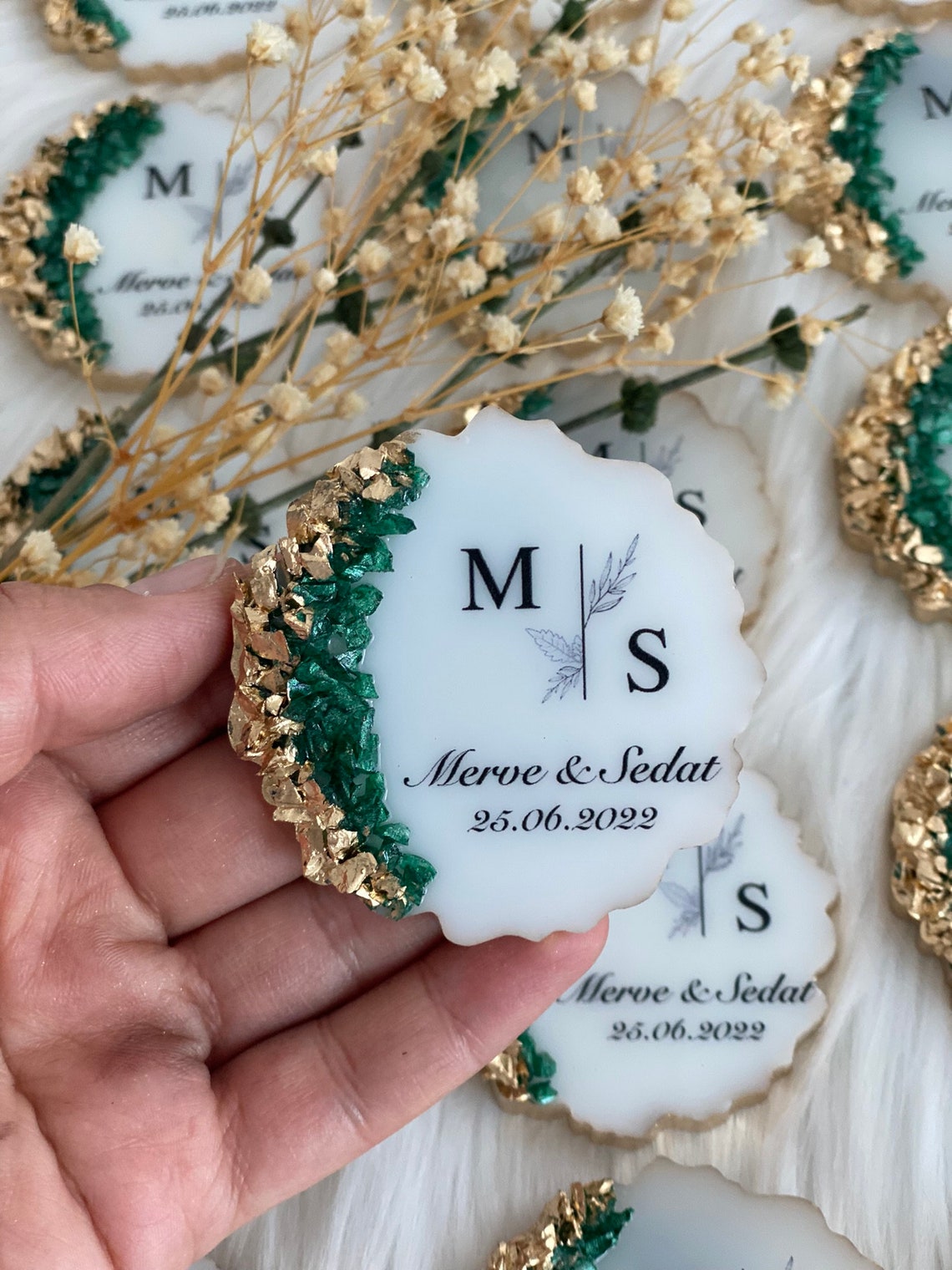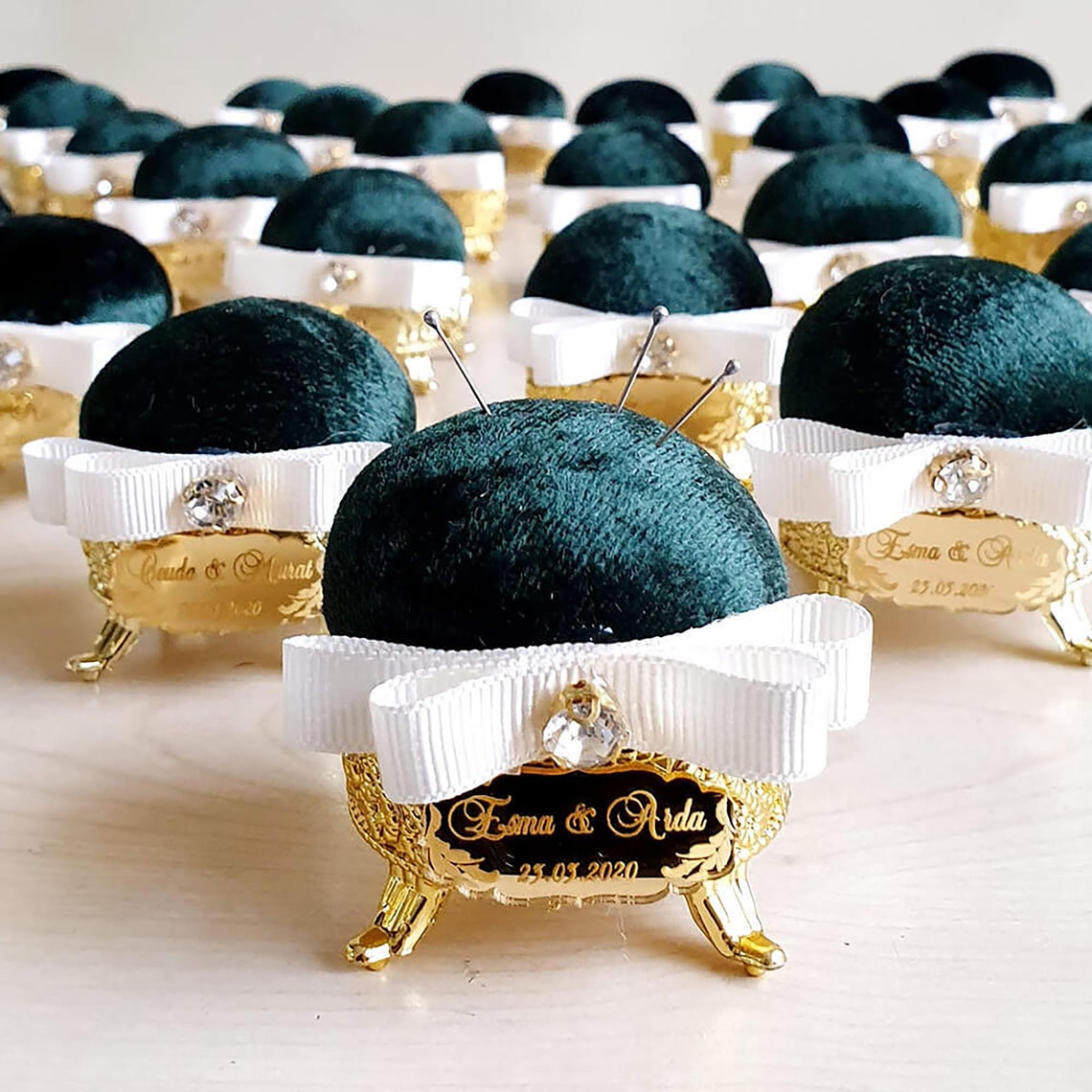 Emerald Green Velvet Pouches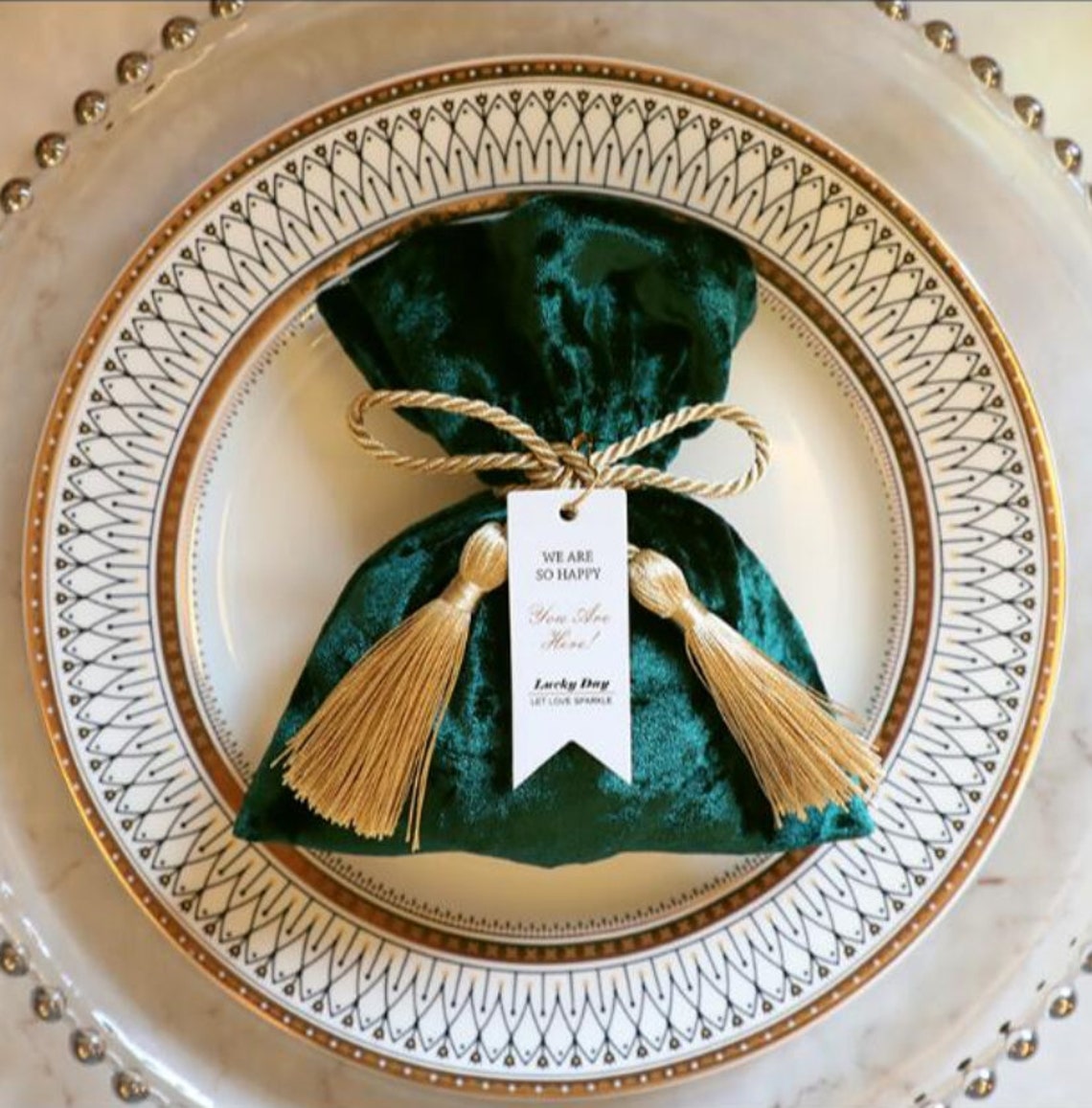 Emerald Green Wedding Candle Favors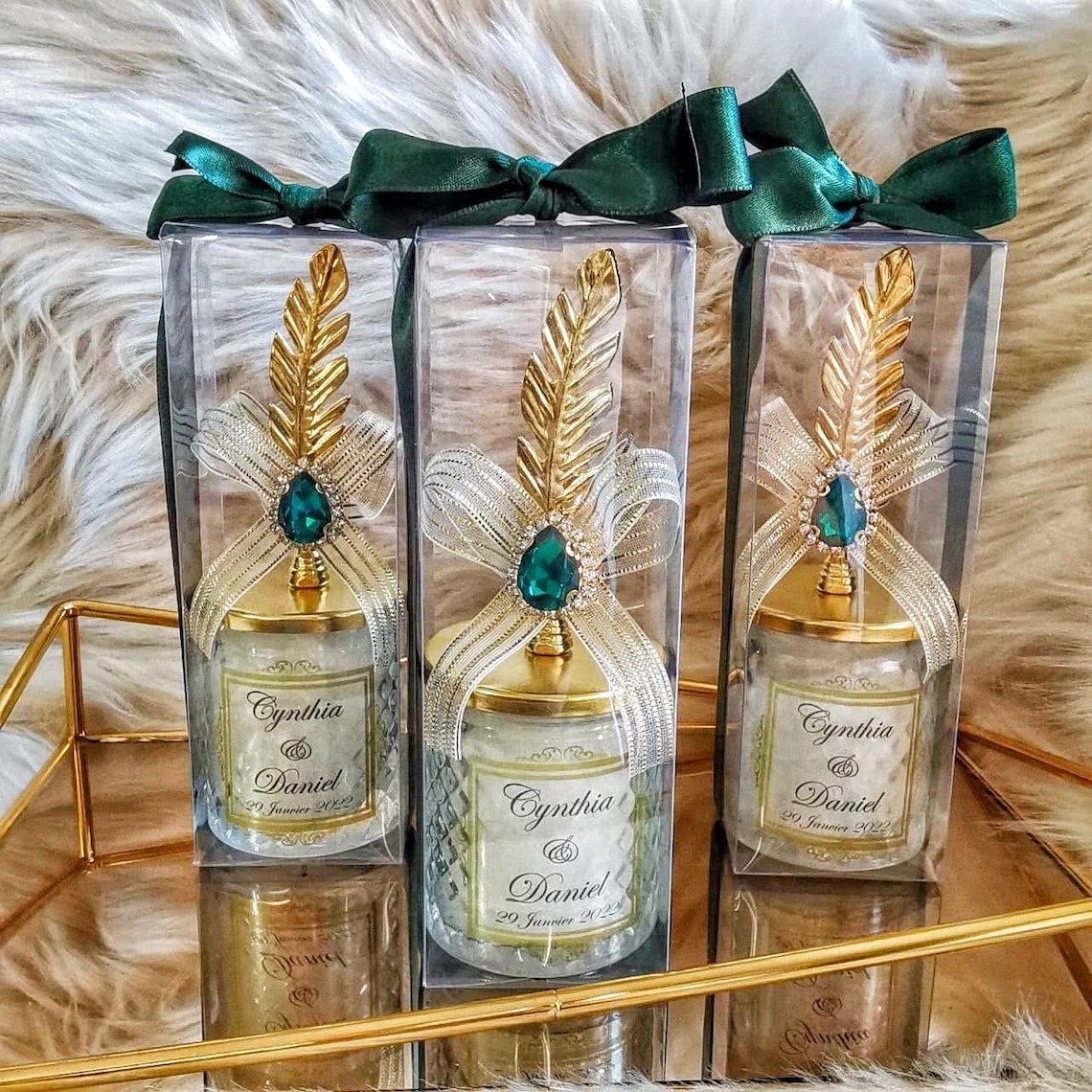 Emerald Green Bridesmaid Dresses
Emerald green is a beautiful spring color, and it's also the color of money. If you want to give your maids an extra incentive to help with your wedding planning, consider buying them emerald green bridesmaid dresses. You can choose from dozens of styles at various price points so that everyone in your party looks great!

Conclusion
I hope you enjoyed this post about emerald green and gold wedding colors! I know that choosing colors for your wedding can be stressful, but remember that it doesn't have to be. If you love the idea of an emerald green or gold wedding but don't want to commit to it completely, there are plenty of ways to incorporate these colors into your big day without making them the only ones used.
How good do you think this post was? Click on a star to rate it!