For a vibrant and striking look, burgundy and blue are a perfect combination. The deep red on the flowers of the bouquet complements the blue perfectly and makes for an unforgettable wedding day.
The color palette can be carried through to all aspects of the wedding, from your dress shoes to your cake and even down to your photo booth props!
Dusty blue and burgundy are a classic combination that can be used in many different ways, whether it's to create a romantic look or something more bold and contemporary. If you're looking for inspiration on how to incorporate these colors into your wedding theme, try the following tips. The color palette is a great way to set the tone for your wedding day.
Burgundy + Blue Wedding Colors
Burgundy + Dusty Blue
Burgundy and dusty blue are a classic combination of winter wedding colors. The deep burgundy hue is warm, while dusty blue has an airy quality that makes it easy to wear in any season (and especially appropriate for fall or winter weddings).
This color combination has been popular for years–it's even been called "the new black" by many brides! The two shades complement each other nicely, creating depth and contrast while still appearing cohesive as a whole.
Burgundy and navy are classic colors that can be used for a formal or traditional wedding. This color combination is suitable for brides looking to create a sophisticated, elegant look.
The burgundy hue works well with navy because it's not too dark or too bright–it's right in between (and equally as beautiful). The two colors complement each other nicely without being too similar to clash.
If you're planning on going with this color palette, make sure you choose accessories that complement but don't compete with either shade!
Teal Blue + Burgundy
Teal blue and burgundy are a bold, vibrant color combination that can create a sense of energy and excitement. This pairing is perfect for weddings with an edgy vibe, or those looking for something more modern or contemporary.
Teal blue is one of the most popular colors in the world today–and it's easy to see why! It's vibrant enough to stand out from other shades yet still looks sophisticated when paired with other colors like burgundy or gold. Teal blue is also very versatile: it pairs well with almost any other hue (from pinks to greens), making this shade ideal for almost any wedding theme imaginable.
Slate Blue + Burgundy
Slate blue and burgundy create a soft and muted wedding color palette. The combination of cool and warm shades can create a sense of balance and harmony, which is ideal for couples who are looking to add some personality to their wedding day but don't want to go overboard with bold colors or patterns. This color combination is suitable for a rustic or vintage wedding, so if you're planning on having lots of wood furniture in your reception venue's decor (or if you just love the look), then this may be just what you need!
Burgundy + Blue Wedding Bouquets
Burgundy and blue can be combined to create a beautiful wedding bouquet. Burgundy flowers like roses or dahlias can be complemented with blue flowers like hydrangeas or delphiniums. Greenery like eucalyptus or ferns can be added to create contrast and enhance the overall look.
Navy and Burgundy wedding bouquet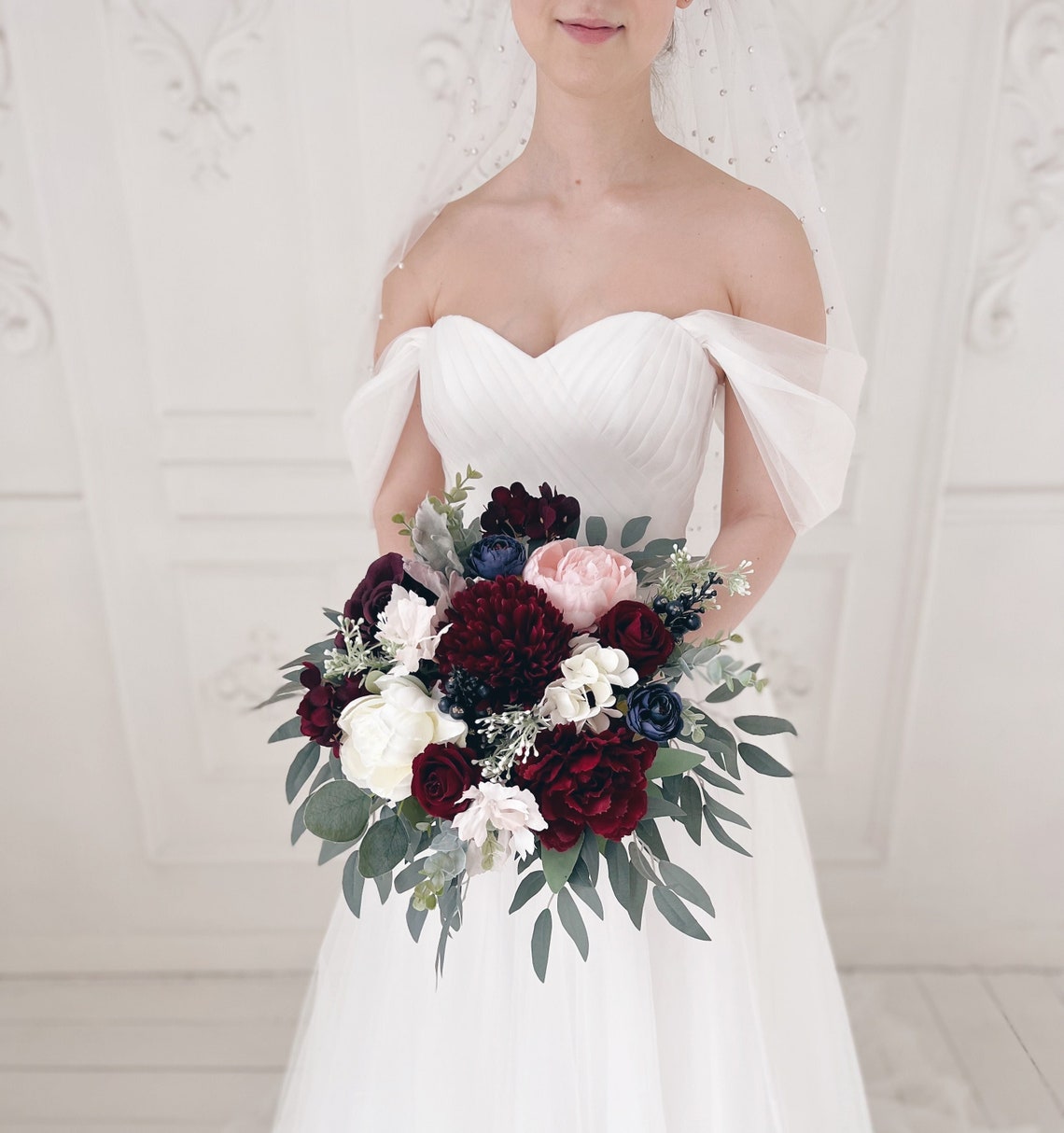 Burgundy navy blue blush pink flowers Bridal bouquet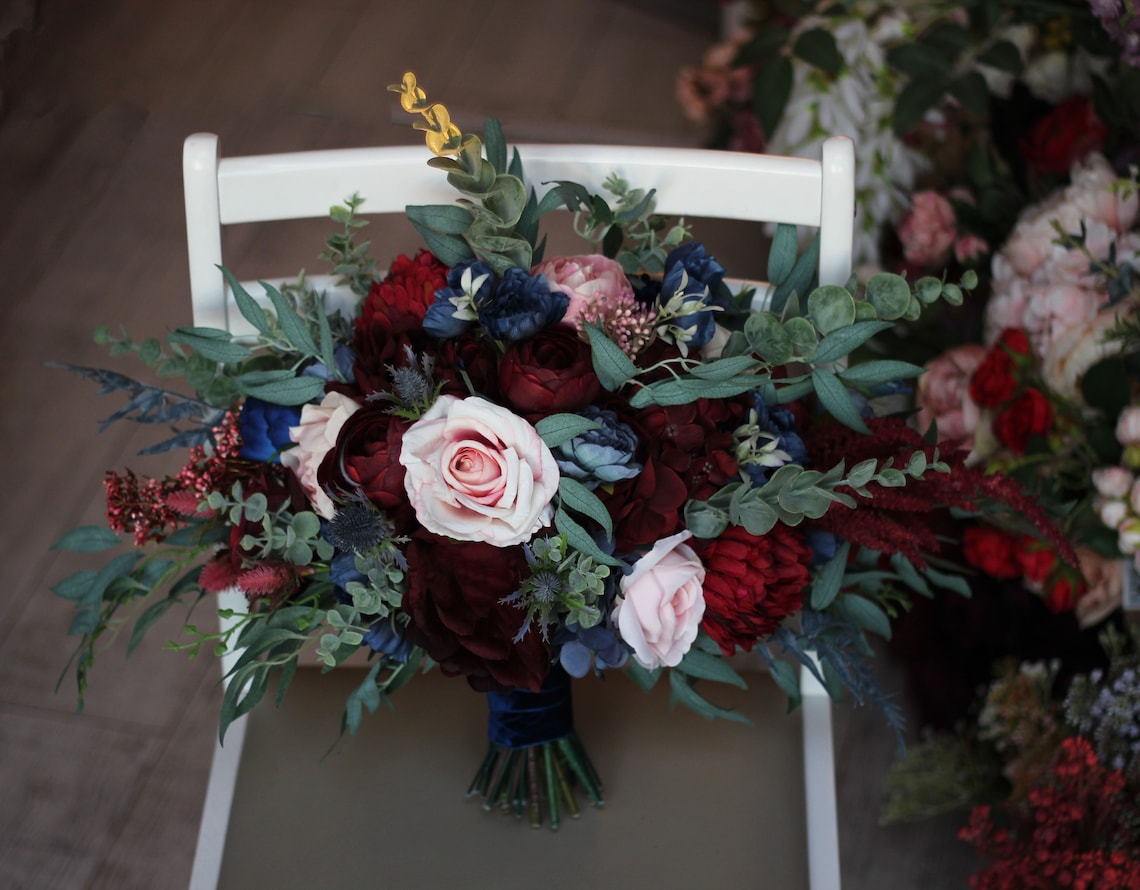 Copper Wine Burgundy Slate Dusty Blue Sola Wood and Dried Flowers Faux Greenery Wedding Bouquet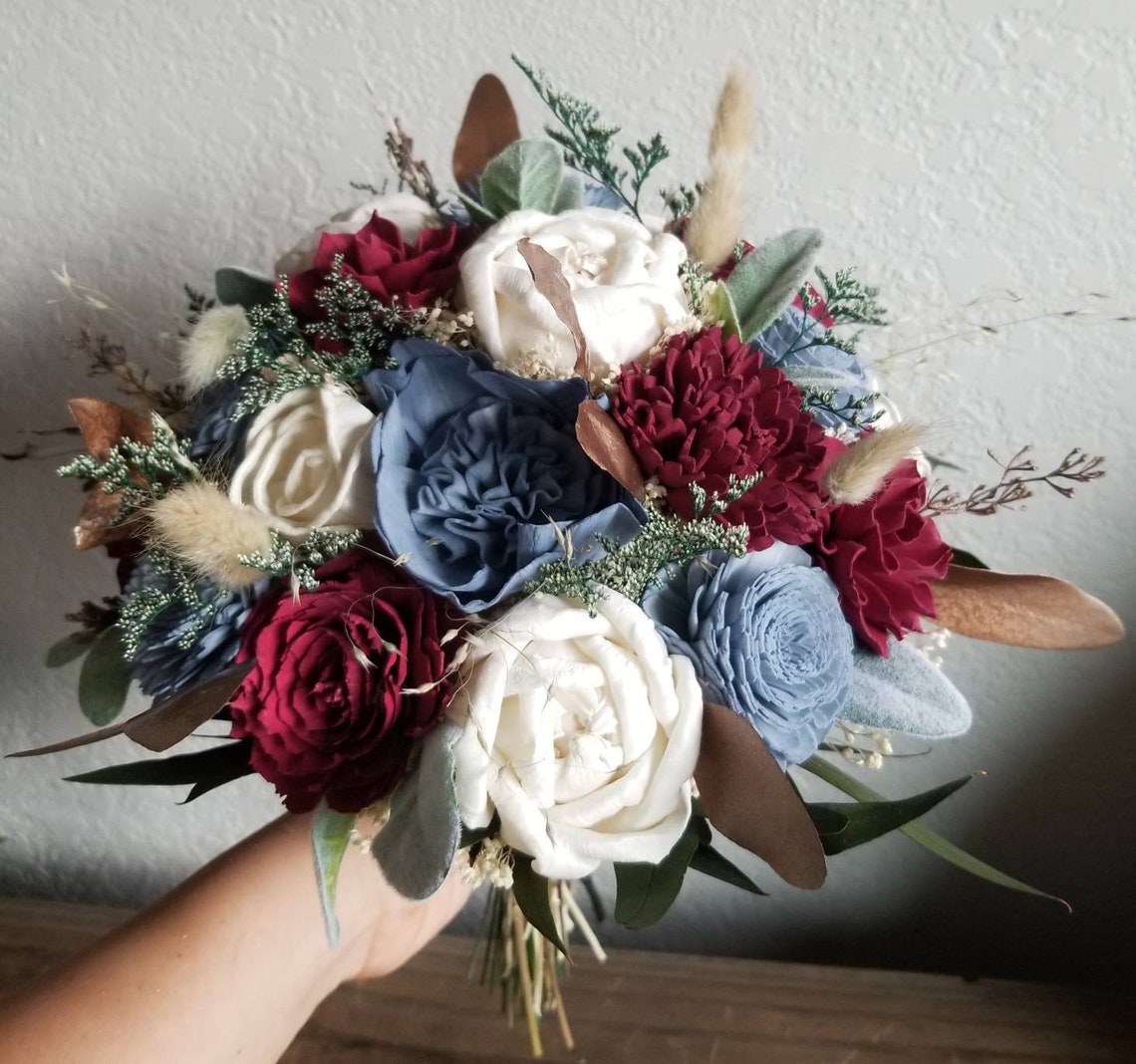 Burgundy + Blue Wedding Invitations
Burgundy and blue make a great color combination for wedding invitations. Adding metallic accents like gold or silver can add a touch of elegance to the invitations, while choosing a font style that complements the color scheme can enhance the overall look.
Burgundy and navy wedding invitation kits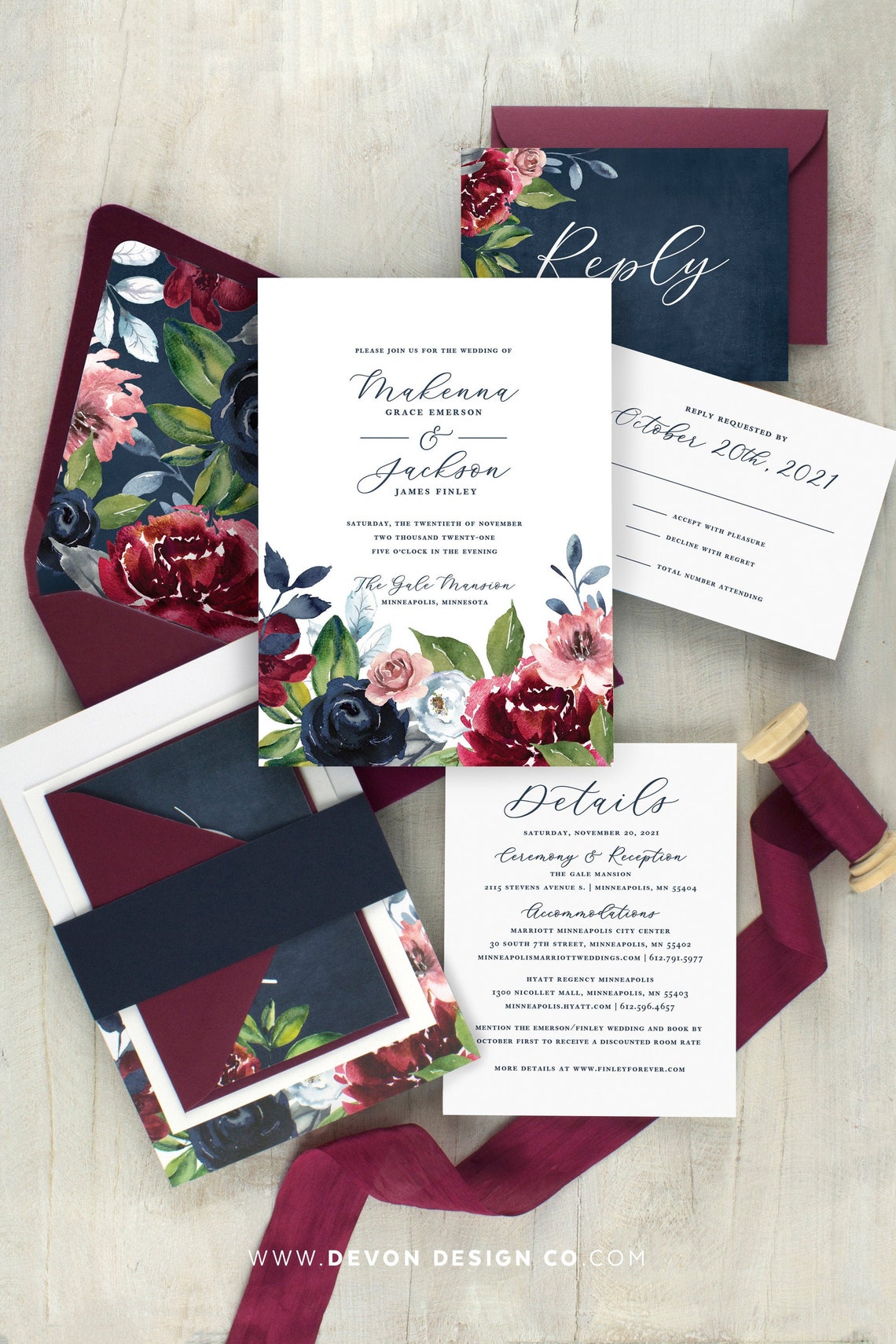 Burgundy navy wedding invitation set template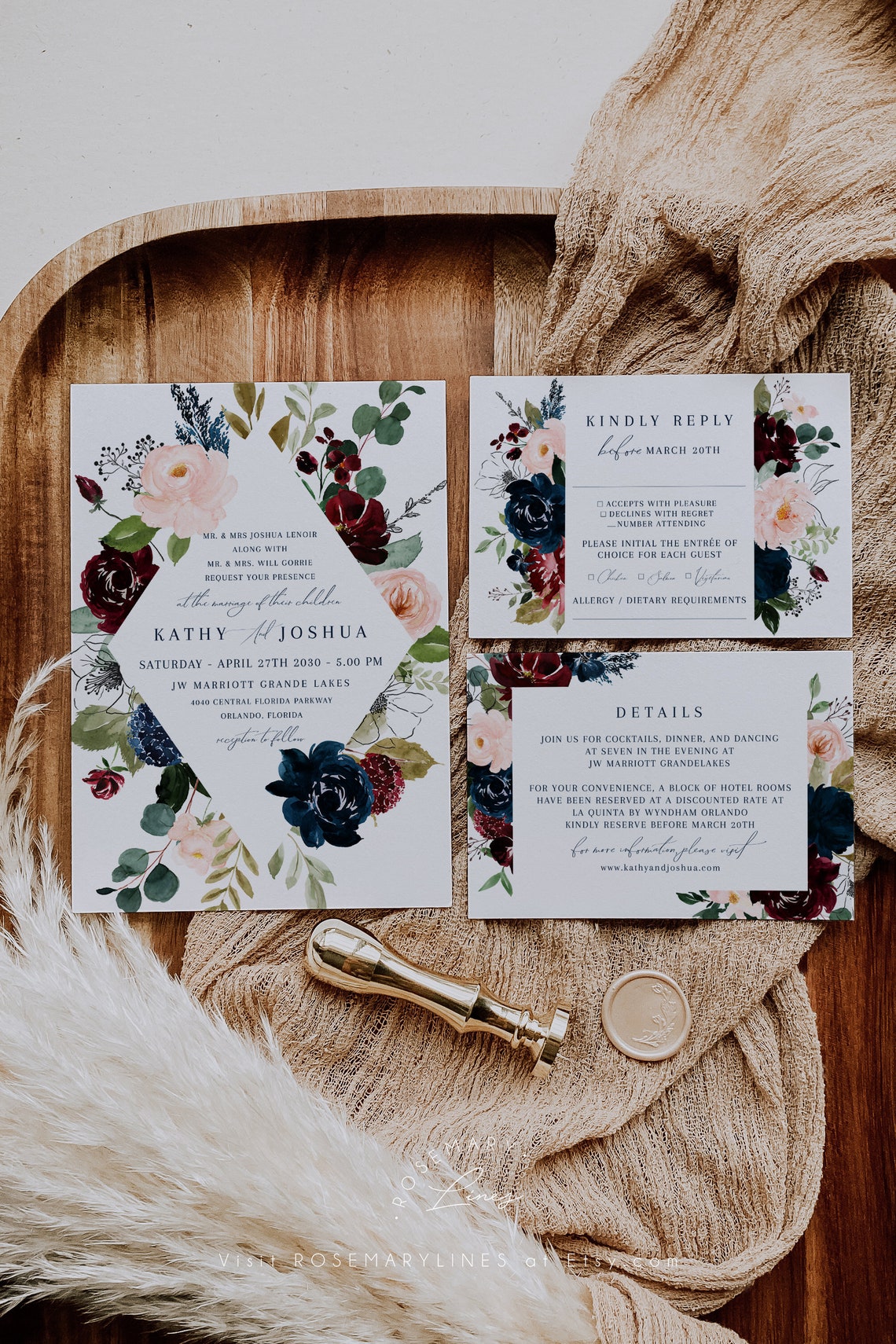 Blue Burgundy Red and Blush Wedding Invitations Suite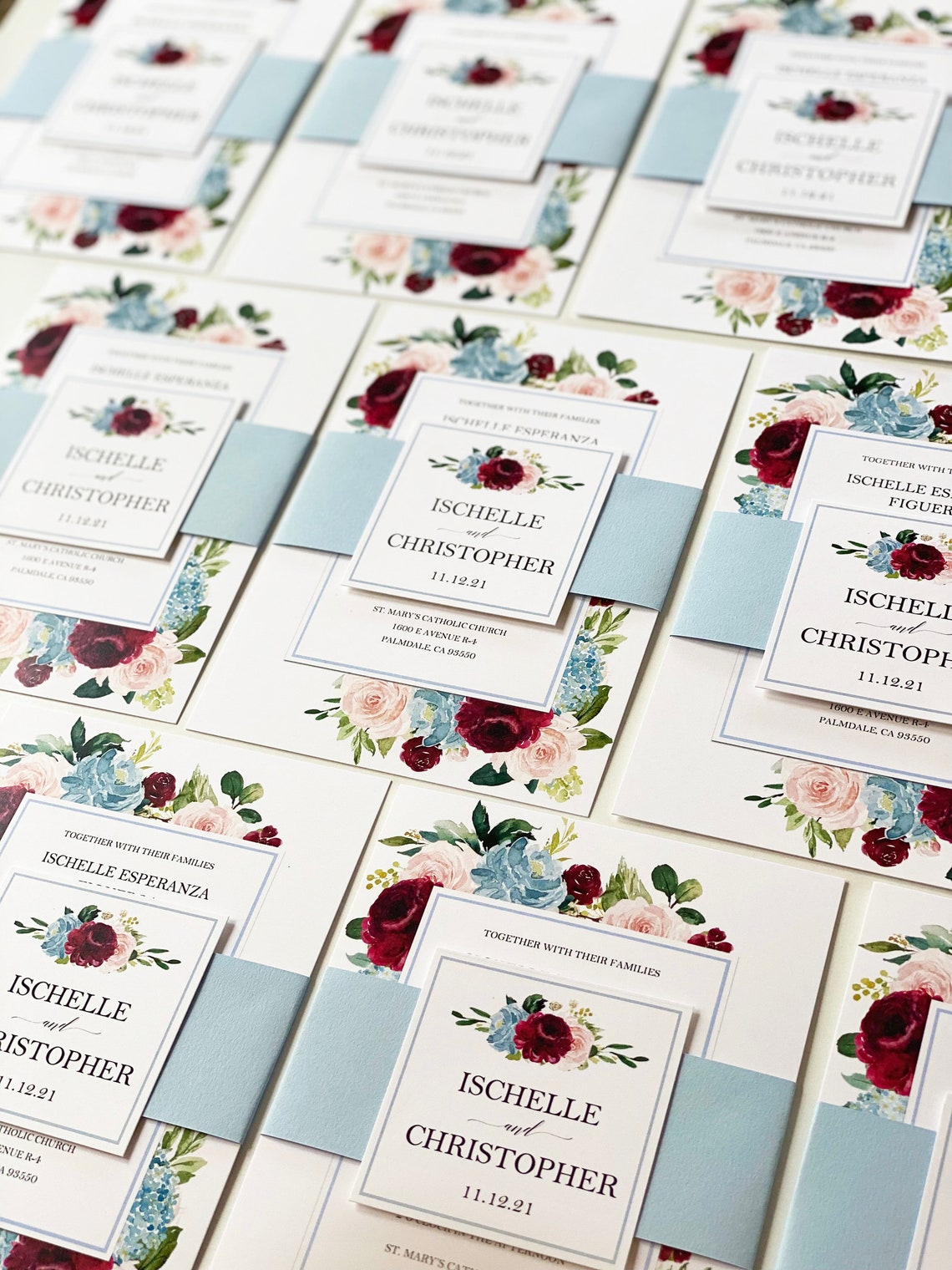 Burgundy Navy Wedding Invitation Template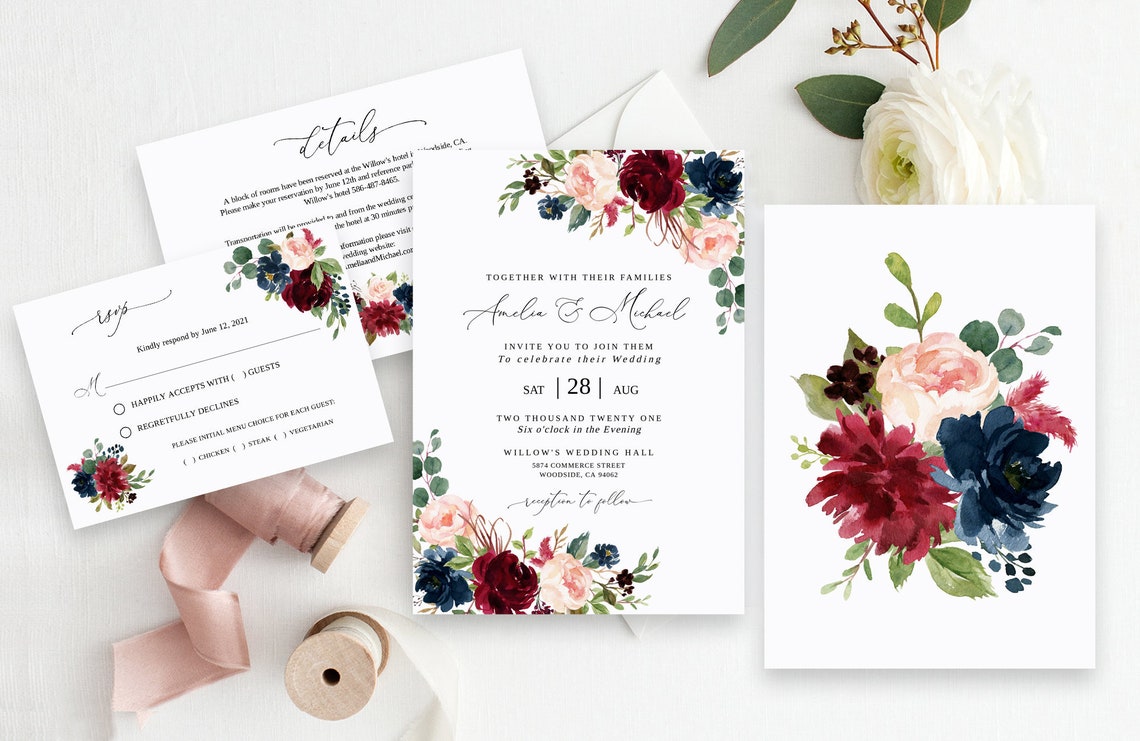 Burgundy + Blue Wedding Signs
Burgundy and blue are two of the most popular wedding colors. If you're in love with this color combination and want to incorporate it into your wedding, there are many ways to do so! You can use burgundy and blue for signs, such as welcome signs or table numbers. The signs can be made from wood, acrylic or chalkboard with burgundy and blue being used as the primary colors. Adding natural elements like greenery or flowers will enhance the overall look of your sign.
Navy Burgundy Wedding Welcome Sign Template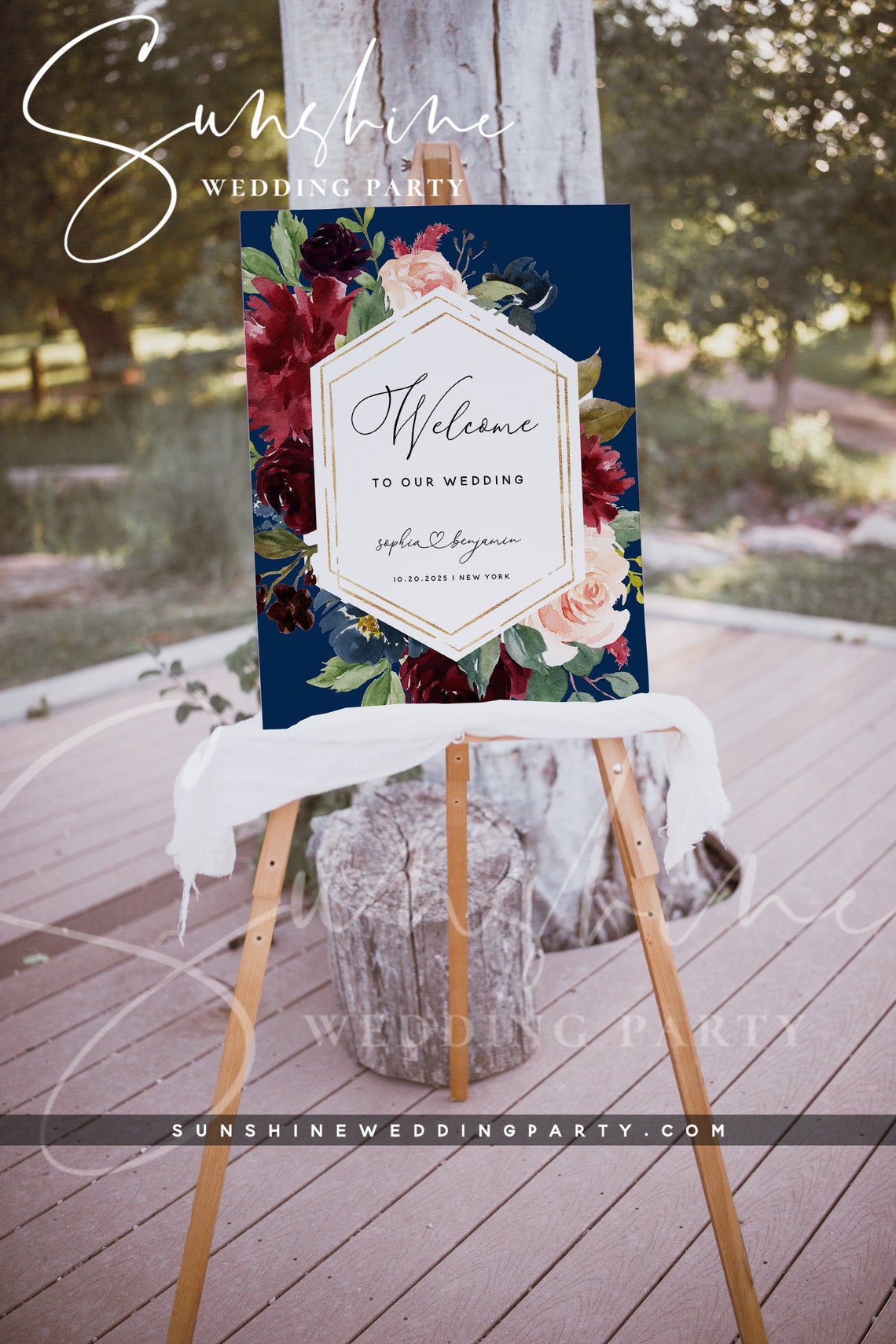 Dusty Blue Burgundy Wedding Welcome Sign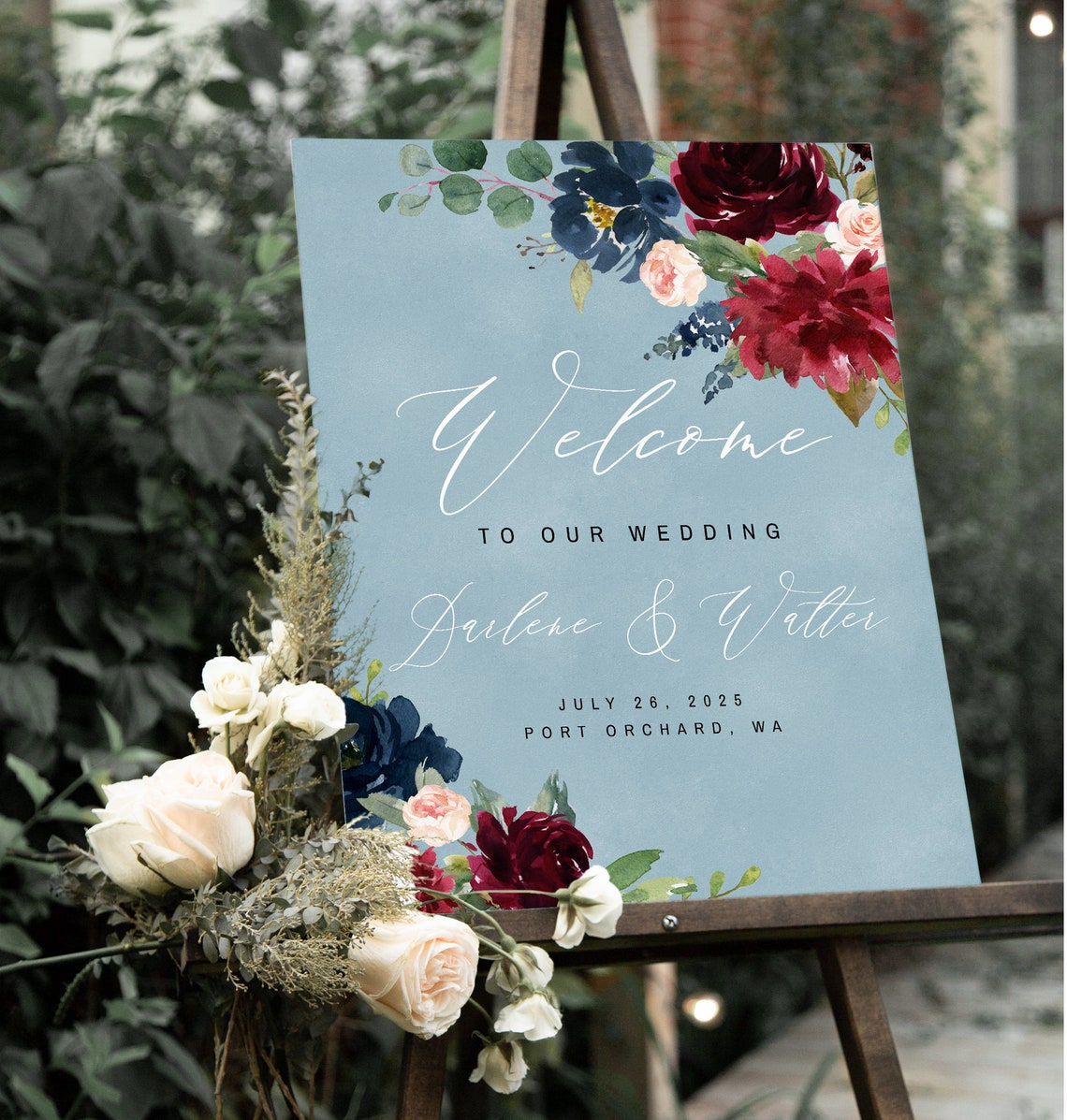 Burgundy and Navy Wedding Welcome To Our Wedding Sign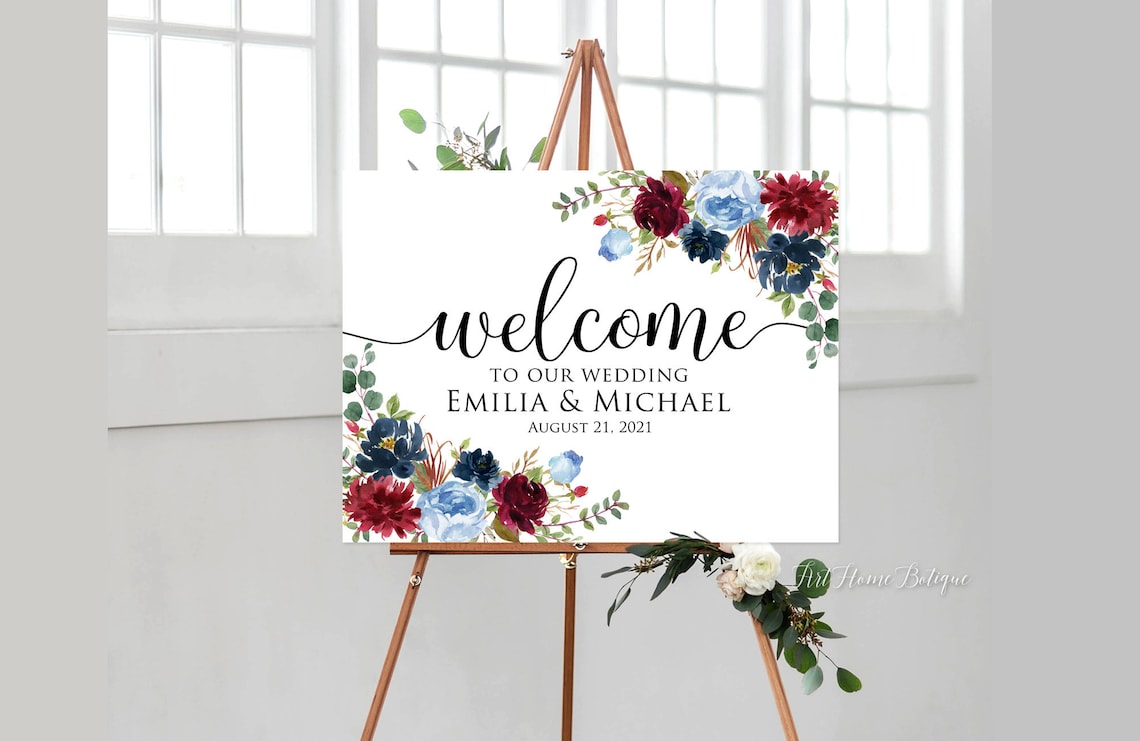 Burgundy + Blue Wedding Items
For tablecloths and napkins, you can use burgundy as the primary color and blue as an accent. This creates a sense of balance and harmony in your wedding decorating scheme.
Adding metallic accents like gold or silver can add a touch of luxury to the color scheme.
Ivory or White Satin Flower Girl Basket with Dusty Blue and Burgundy Faux Flowers
Dusty rose burgundy navy flower crown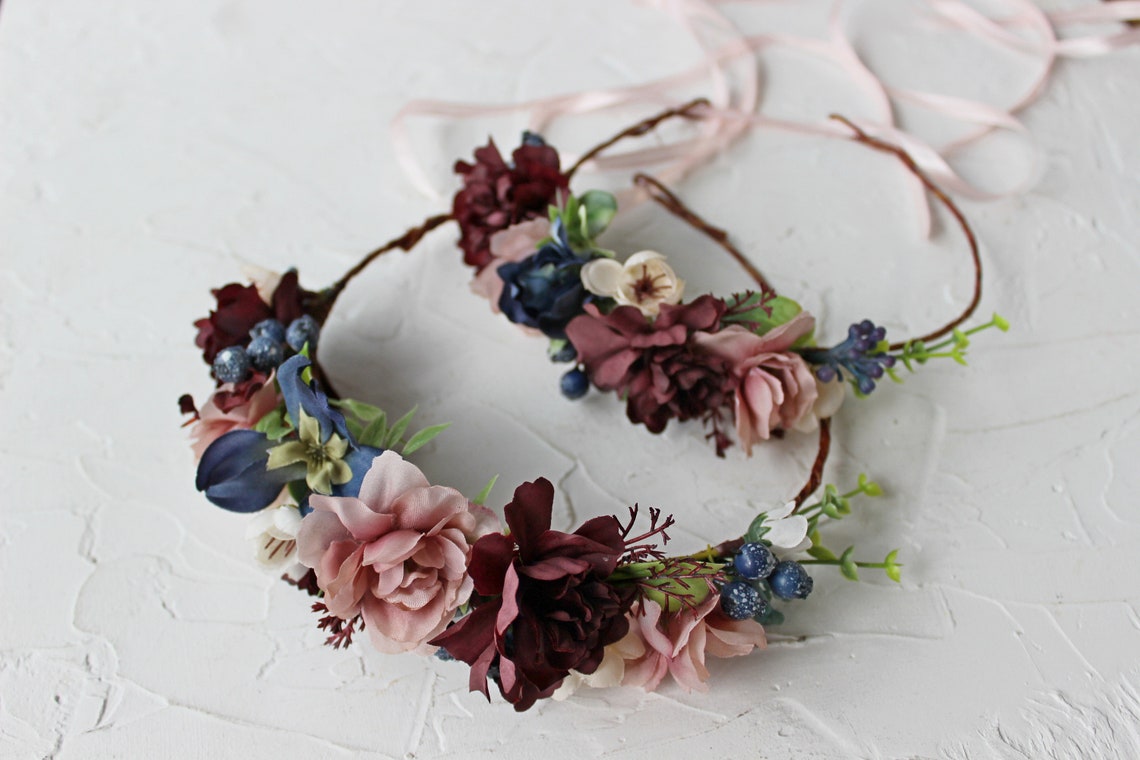 Dusty blue burgundy wedding boutonniere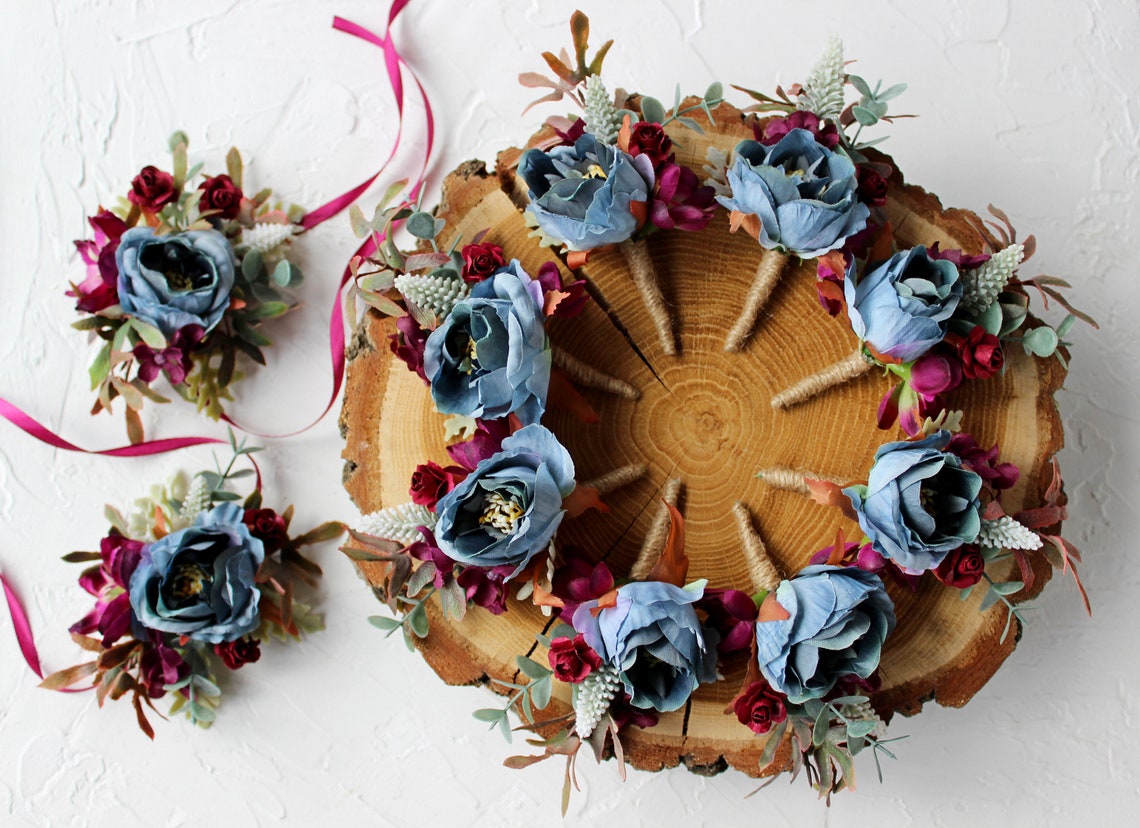 Dusty blue burgundy corsage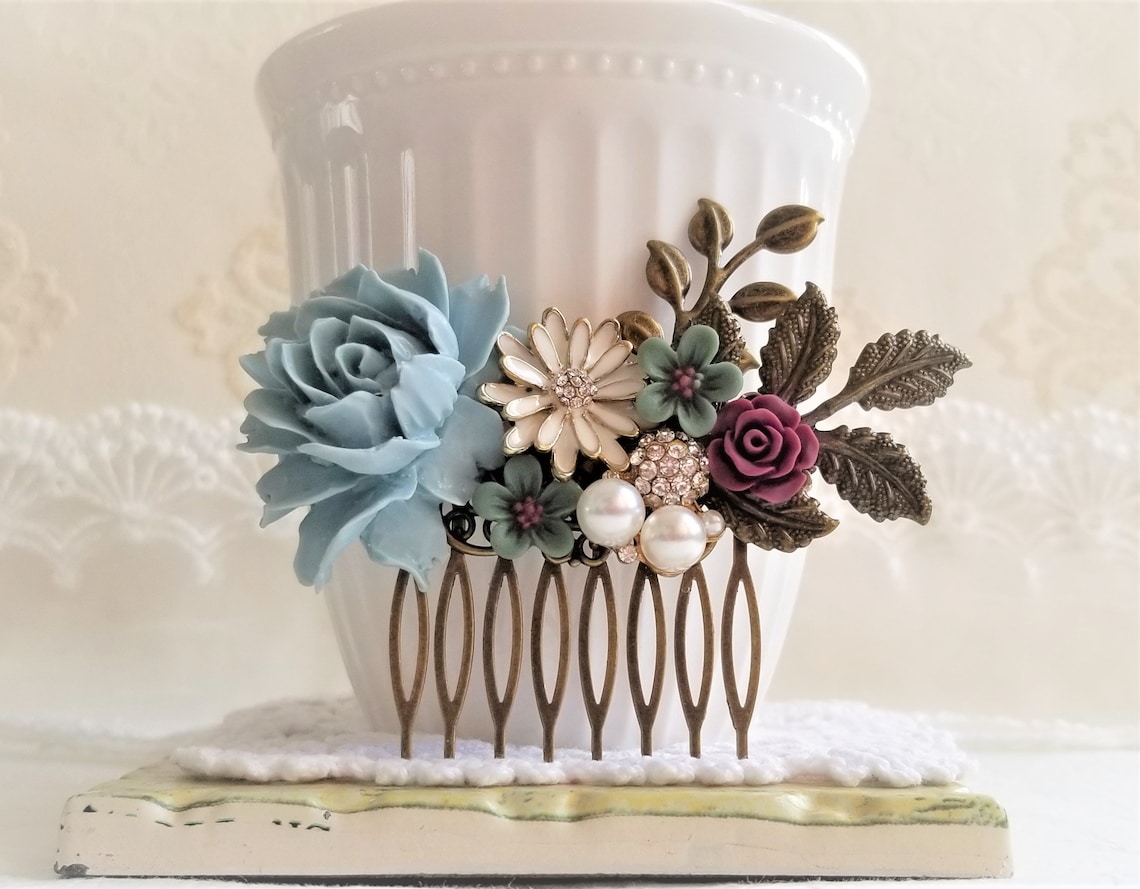 Personalised Claret And Blue Wedding Garter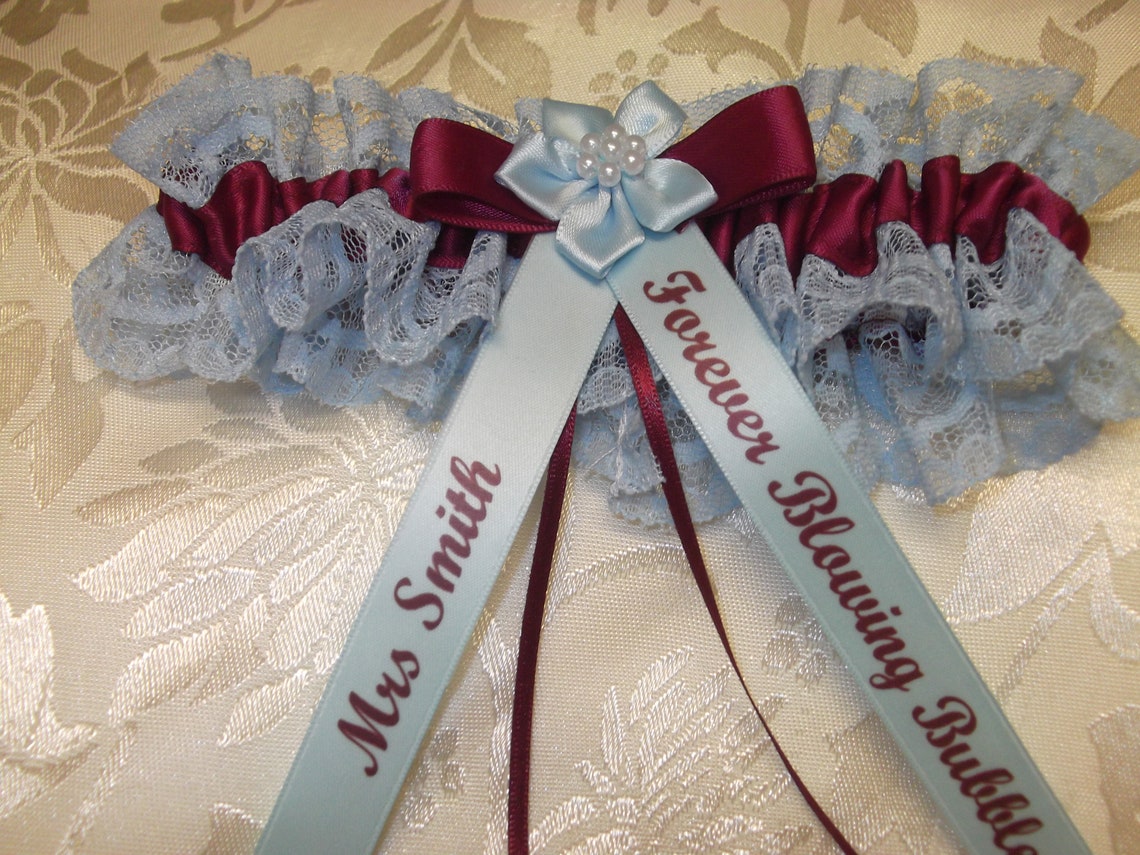 Burgundy Rose gold Garter Set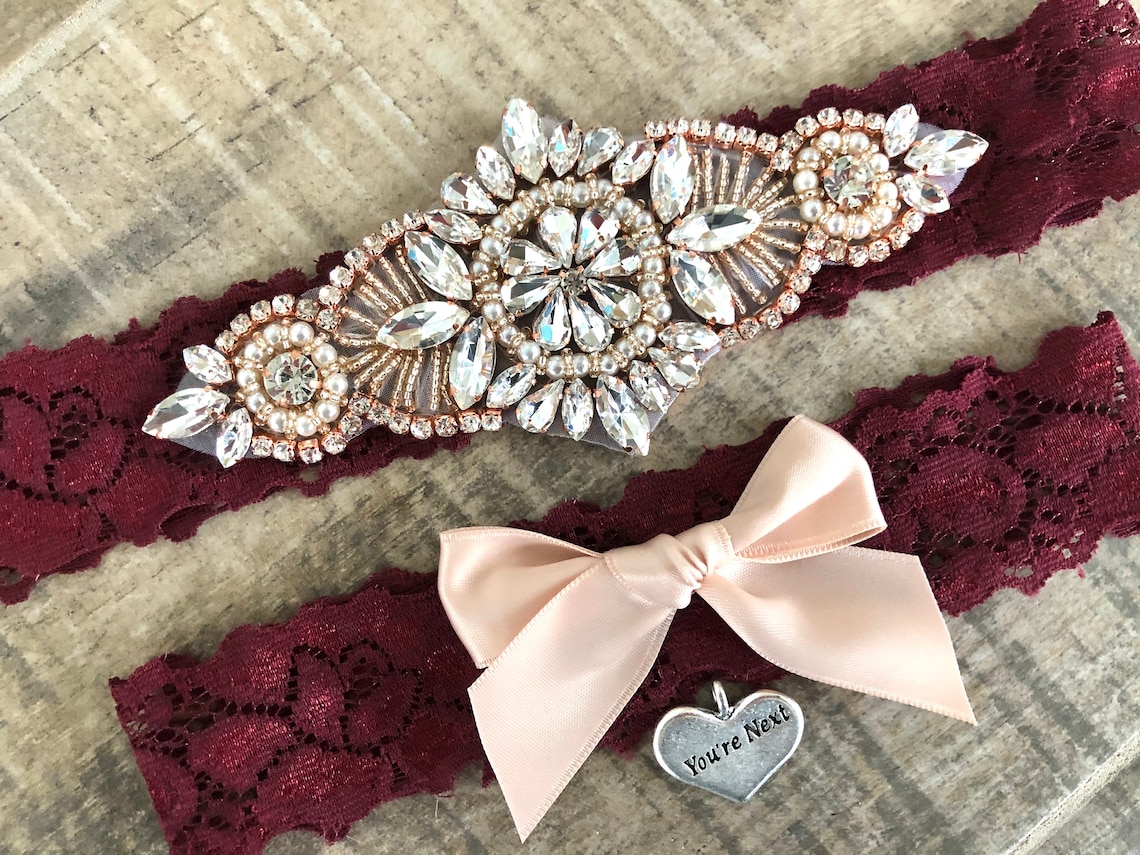 Dusty Blue Burgundy Wedding Garter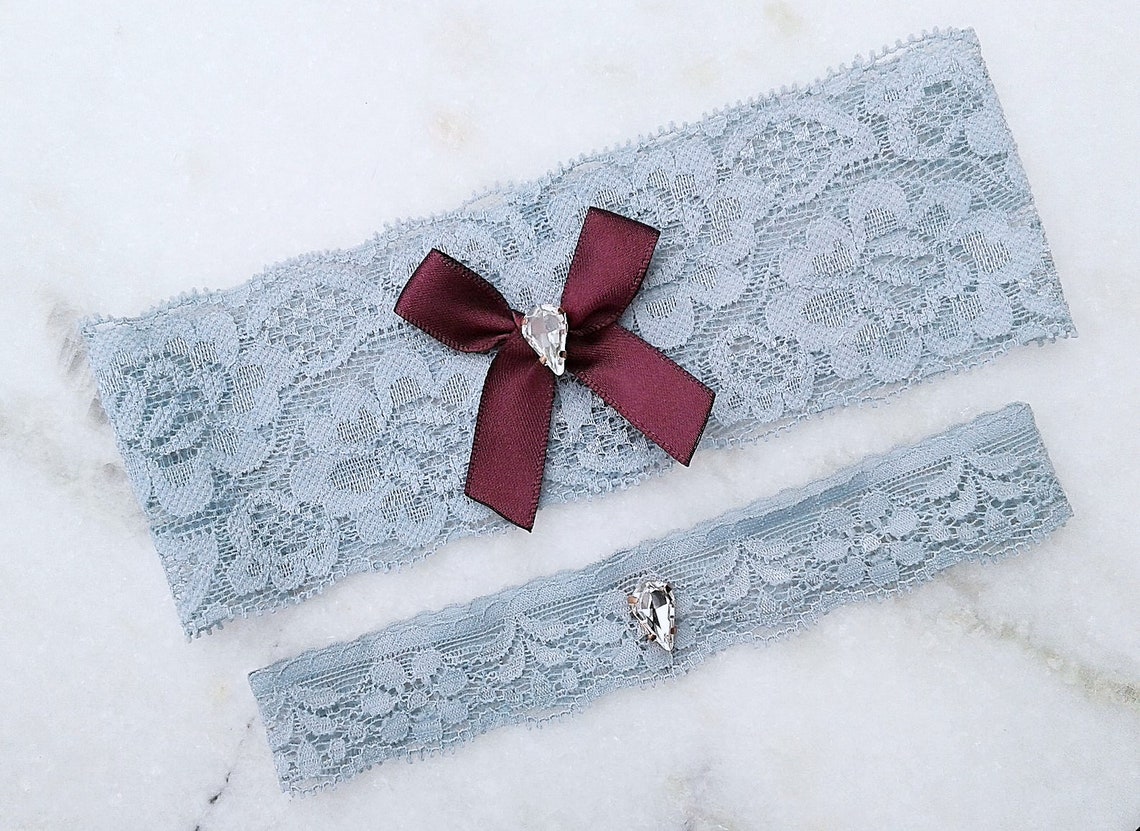 Burgundy Bridesmaid Dresses
Burgundy is a beautiful color that can be combined with many other hues. For example, you could use burgundy bridesmaid dresses with metallic gold or silver accessories such as earrings and shoes.
Burgundy can also be paired with white for a striking contrast in your wedding party's attire. If you choose this option, consider adding pops of color through floral bouquets or centerpieces on tables at your reception venue so guests aren't overwhelmed by all the red!

Blue Bridesmaid Dresses
When you're planning a wedding, one of the most important choices you'll make is picking out your bridesmaids' dresses. Bridesmaids typically wear the same color dress but come in different styles, such as long or short, with varying necklines and sleeves–and when it comes to choosing blue bridesmaids dresses there are plenty of options available!
Blue can come in many shades: dusty, navy and teal are just some examples of popular options for this color palette. It's also possible for blue bridesmaids' dresses to feature patterns on them such as stripes or polka dots which add visual interest while still keeping with your theme of blues and burgundies! You could pair these types of dresses with metallic gold or silver accessories like earrings (or even shoes!) for added flair at your wedding ceremony/reception event.

How good do you think this post was? Click on a star to rate it!