The opportunity to wear blush and burgundy together is one you shouldn't pass up—these two shades are perfect for the bride who has her heart set on a fall wedding.
A burgundy dress will give you the chance to show off some skin with an open back, while a blush-hued top will add even more romance to your look. If your wedding is taking place in September or October, consider adding an overlay of velvet or satin (either in burgundy or another rich color) to complete the look.
If you're planning a winter wedding and want to incorporate both blush and burgundy, consider wearing a velvet gown in either color. A velvet dress can be worn year-round and is always guaranteed to look chic, so it's an excellent option for brides who want to wear something that doesn't scream "fall."
If you're not sure which shade to wear, consider choosing one that's lighter than the other. For example, if you're planning a fall wedding and want to wear burgundy but don't want it to overpower your look, opt for a blush top instead of a dress.
If you're planning a winter wedding and want to wear both colors, consider wearing burgundy pants with a velvet top—the combination will give you plenty of options for accessories.
Blush And Burgundy Wedding Colors
When choosing blush and burgundy wedding colors, it's important to consider how they complement each other. You can use them together in the same room or on different parts of your wedding day.
Here are some ideas:
Blush Pink  + Burgundy
This combination is a classic combo that looks great in any setting. The pink adds warmth while still being soft, so it works well with other shades like peach or winter white as well as burgundy (which can be warm or cool). If you're going for an elegant look, try pairing this color scheme with gold accents throughout your decor!
Rustic Blush + Green + Burgundy
This combination makes for a beautiful woodland theme with its earthy tones and natural elements like pinecones and leaves. It also works well indoors because green tends not to clash with many other colors when used properly–in fact, some people say green makes everything look better! If you're looking for something more modern than rustic but still want lots of greenery at your wedding ceremony/reception location then consider adding some succulents into the mix too!
Blush + Peach + Burgundy
This combination of blush, peach and burgundy creates a soft and feminine color scheme that's perfect for spring or summer weddings. It works well with delicate floral patterns for a romantic look.
Blush is the color of your cheeks when you're blushing! It can be any shade between pink and red, but it always has a warm undertone to it. Peach is usually light yellowish-orange in hue with warm undertones (think peaches). Burgundy is deep red with cool undertones (think wine!).
Winter Blush + Burgundy
Winter blush and burgundy are a match made in heaven. This color combination is perfect for winter weddings, as it creates a cozy and warm vibe that's perfect for the cold months. For your floral arrangements, try pairing burgundy roses with white hydrangeas or silver candles to create an elegant look that'll stand out from the crowd.
Burgundy bridesmaid dresses can be paired with jeweled necklaces or earrings for extra sparkle–and don't forget about your groom! Burgundy ties are an excellent choice if you want him to match his groomsmen without being too matchy-matchy (or if he's not into wearing pink).
Blush And Burgundy Wedding Bouquets
Blush and burgundy wedding bouquets are made with a variety of flowers, like roses, peonies and dahlias. They can also include ranunculus or other small blooms. These bouquets pair well with greenery such as eucalyptus leaves or ivy for an organic look that's perfect for spring weddings.
Bouquets are wrapped in ribbon or lace to add texture and elegance to your look!
Rose Gold Burgundy Blush Wedding Bouquet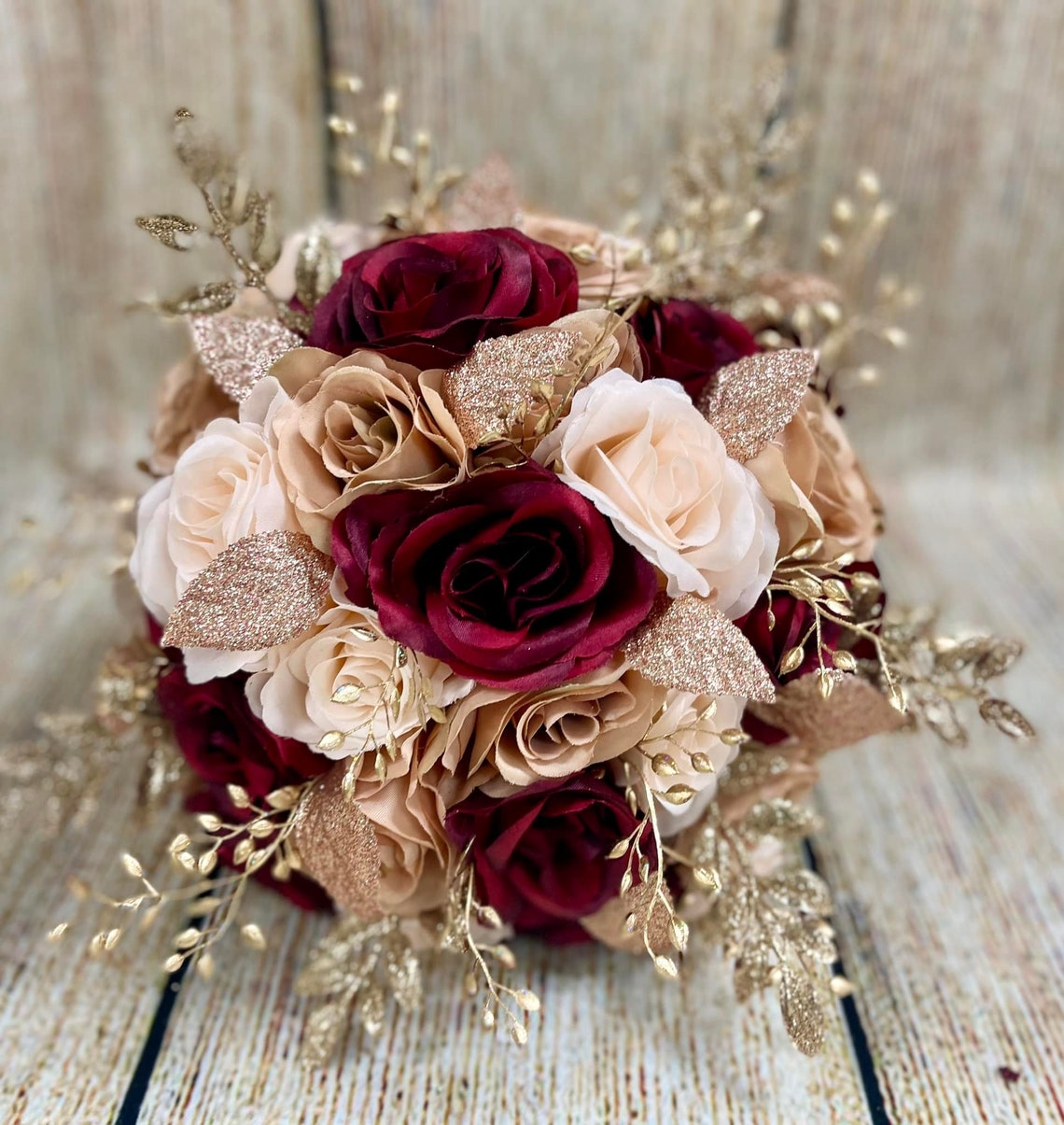 Bohemian Fall Burgundy Wedding Bouquet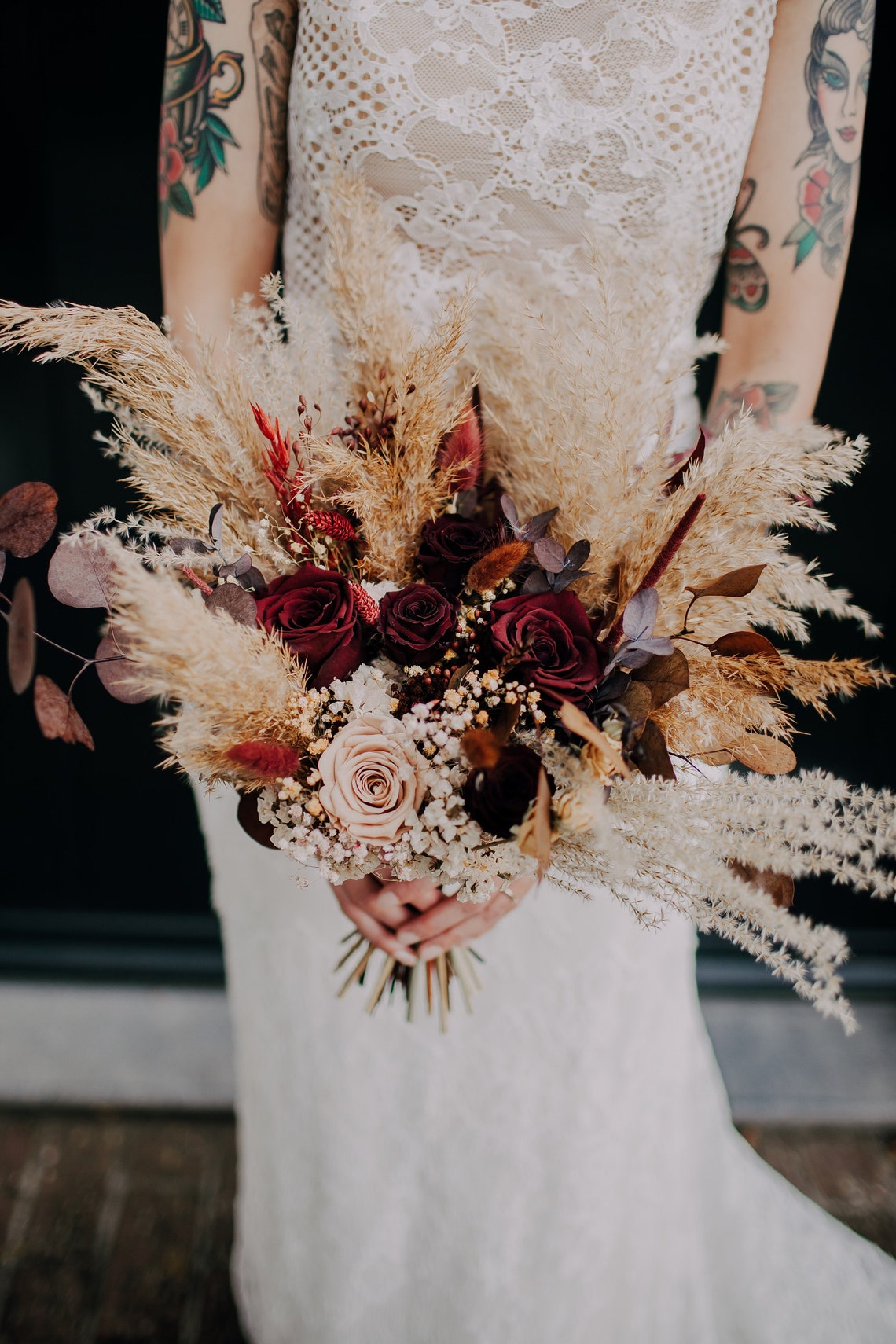 Burgundy and Blush Wedding Bouquet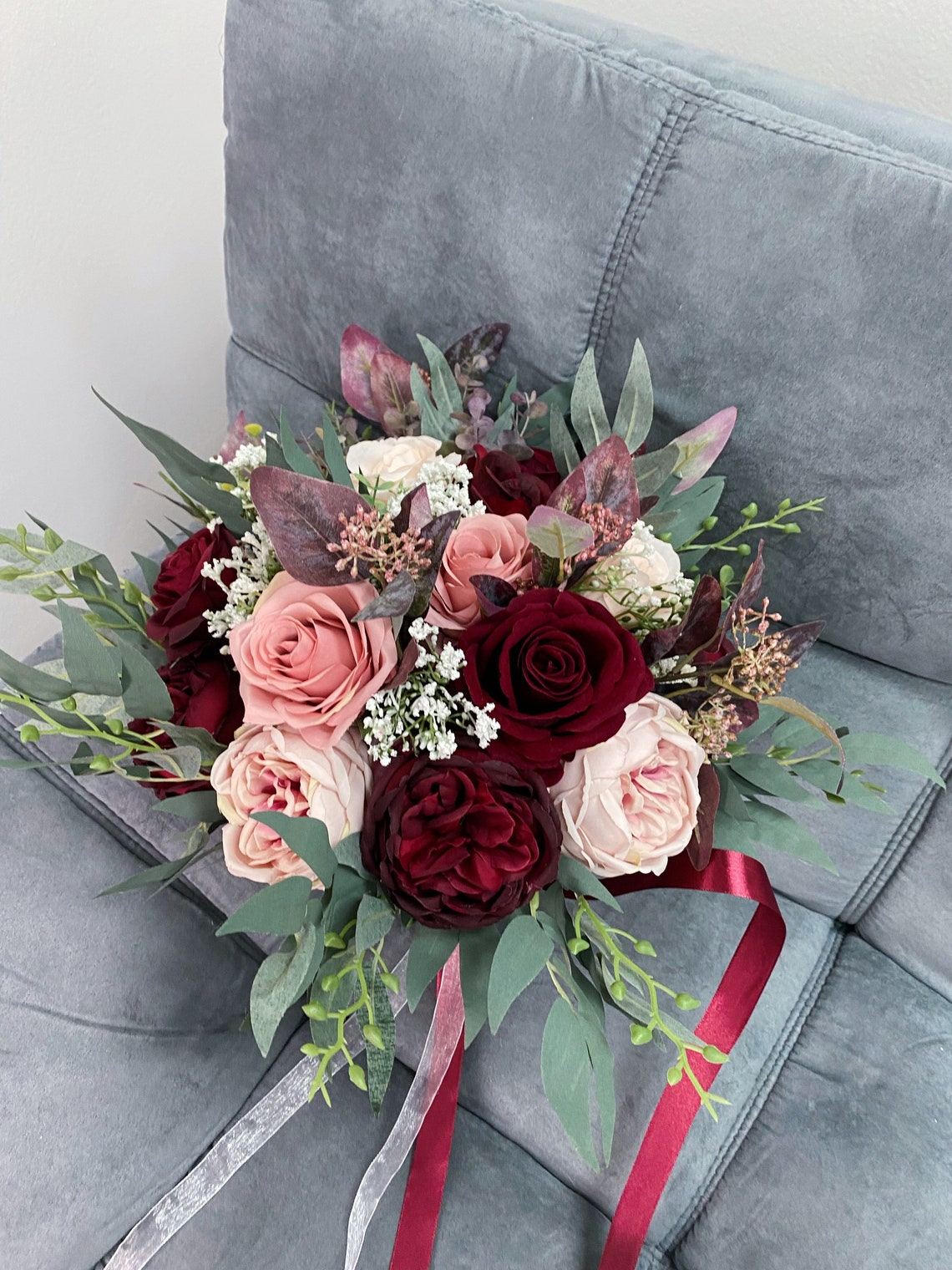 Blush And Burgundy Wedding Invitations
If you're looking for a bold, yet elegant invitation design, blush and burgundy is the perfect choice.
Blush and burgundy wedding invitations can be designed with floral patterns or watercolor elements. They will be printed on high-quality paper or with metallic accents like gold or silver. Pairing your blush and burgundy wedding invitations with matching envelopes is another way to create an eye-catching effect that ties in with your theme and color scheme. Liners are another option for creating a cohesive look for all of your stationary items including save-the-dates, programs and menus at the reception site if applicable! A sticker option may also work well if you want something simple but still want that extra touch of elegance without having to spend too much money on printing costs (which can add up quickly!). This style works well for any style of wedding – from rustic chic through formal elegance!
Maroon Blush Arch Wedding Invite Set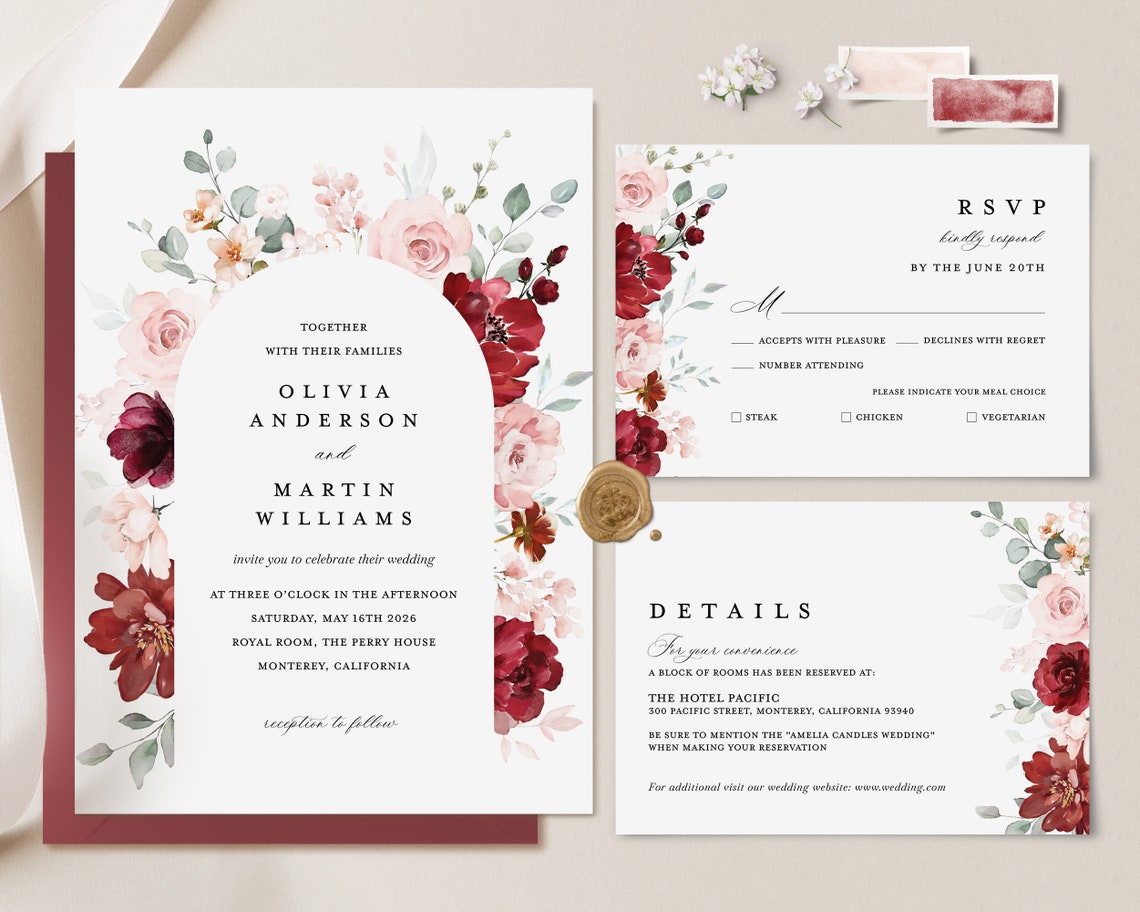 Burgundy and Blush Wedding Invitation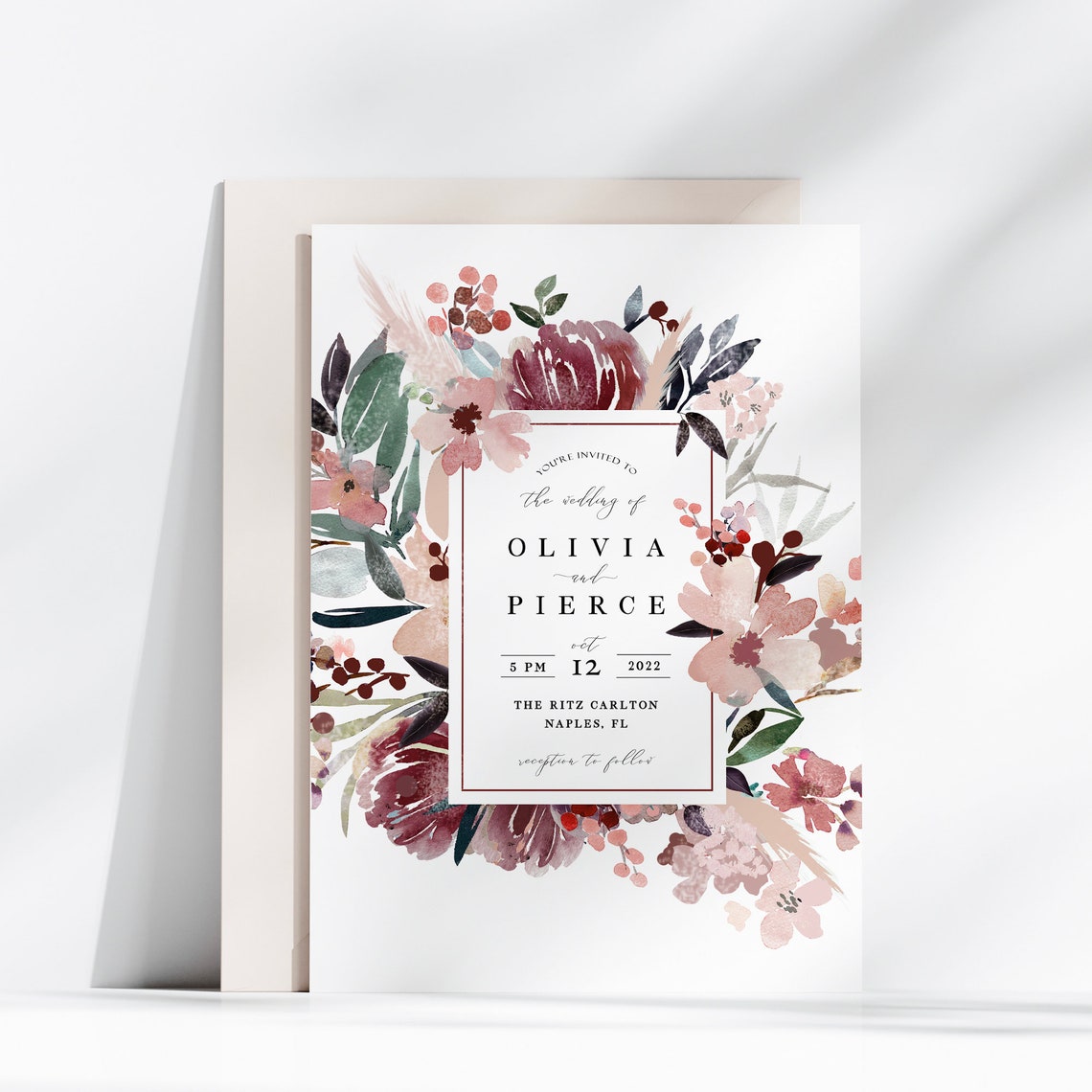 Burgundy and Pink Wedding Invitation Set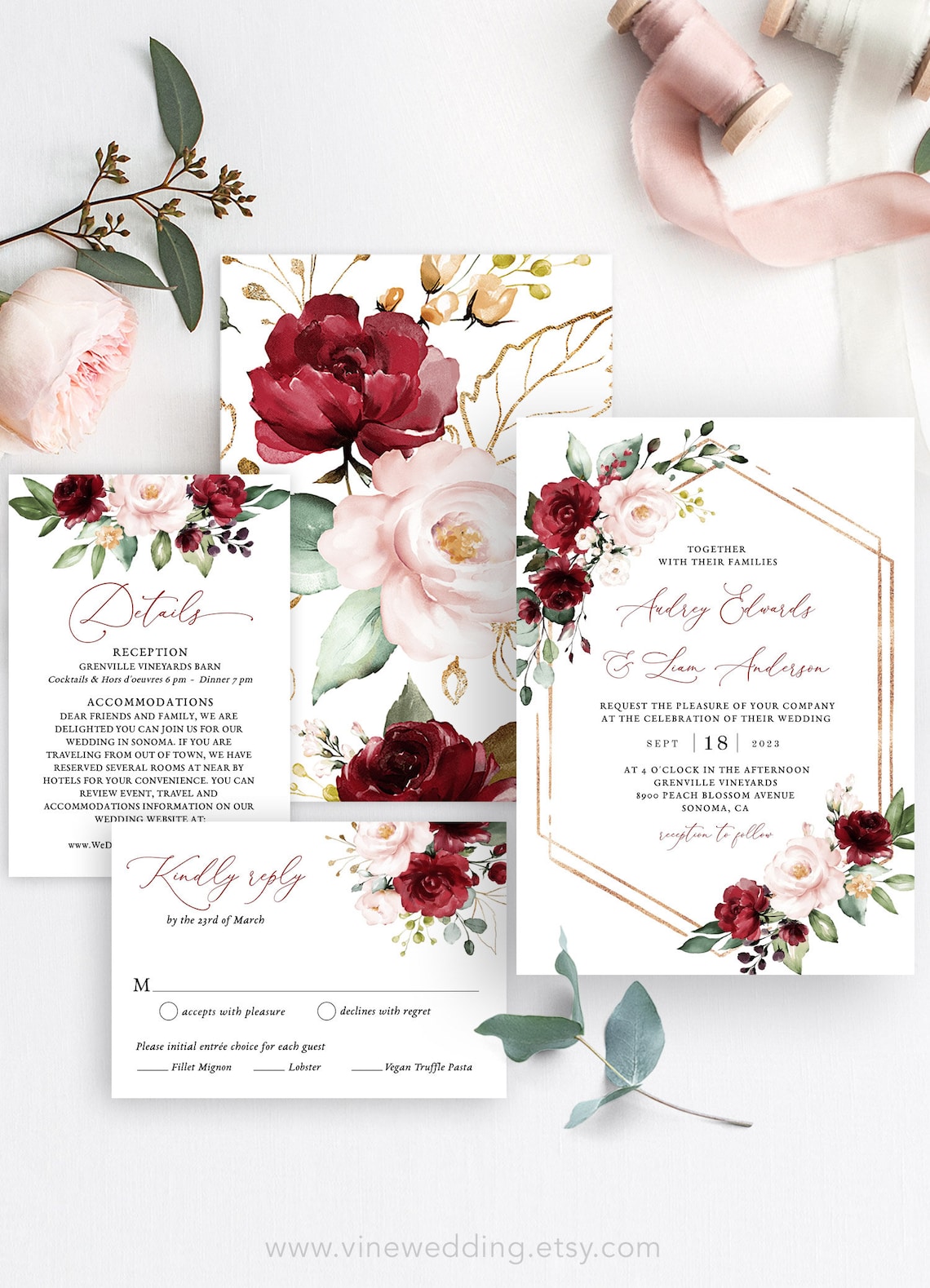 Wedding Program Fans Assembled Burgundy and Blush Olivia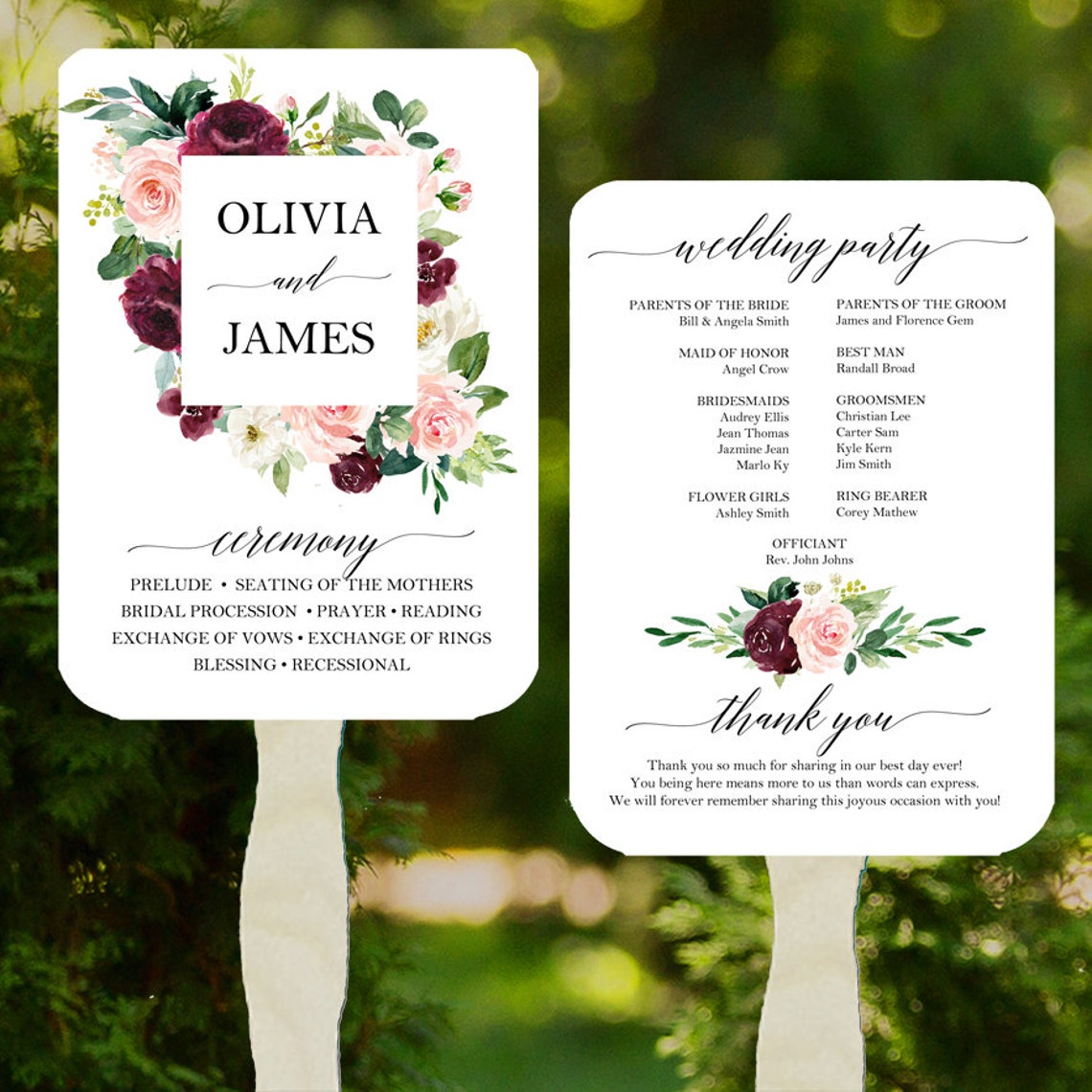 Blush And Burgundy Wedding Signs
Wood signs are a great way to add rustic charm to your wedding decor. They can be made with wood, chalkboard or acrylic and designed with calligraphy or hand-painted lettering. They're ideal for directing guests and highlighting important information like the location of the ceremony or reception, as well as adding a personal touch to the wedding decor by writing something special on them (like "get married here").
Greenery is another way to add color without overwhelming your space with flowers. If you want something more formal than ivy twining around outdoor lights, try hanging garlands from trees or attaching them at intervals along banisters leading up stairs leading into buildings where guests will be gathering before heading inside for cocktail hour or dinner service.
Floral arrangements look great when paired with greenery because they provide contrast between softness and sharp edges; however if you prefer not having any greenery in sight then consider using only flowers instead.
Burgundy and Blush Gold wedding welcome sign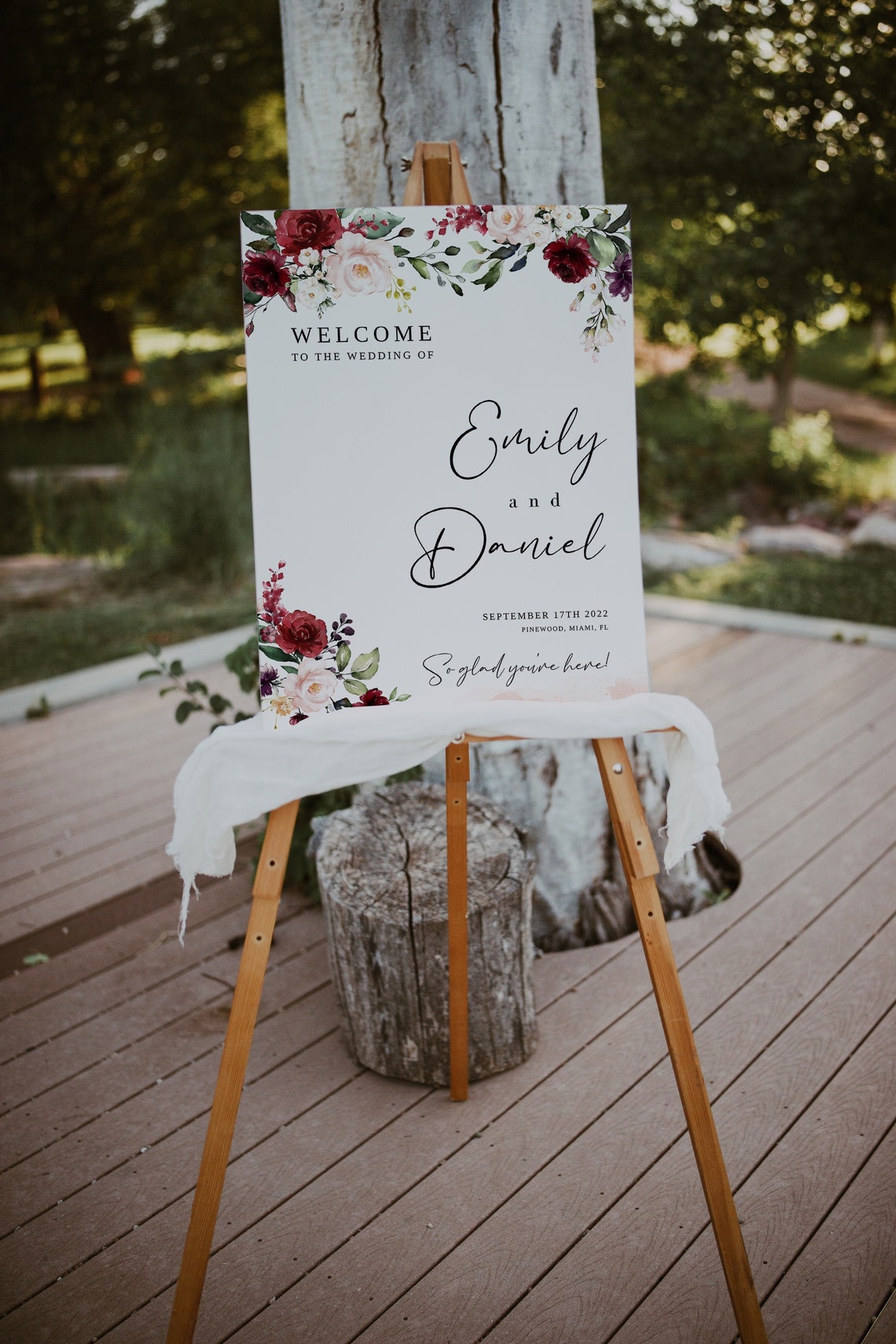 Burgundy Floral Welcome Sign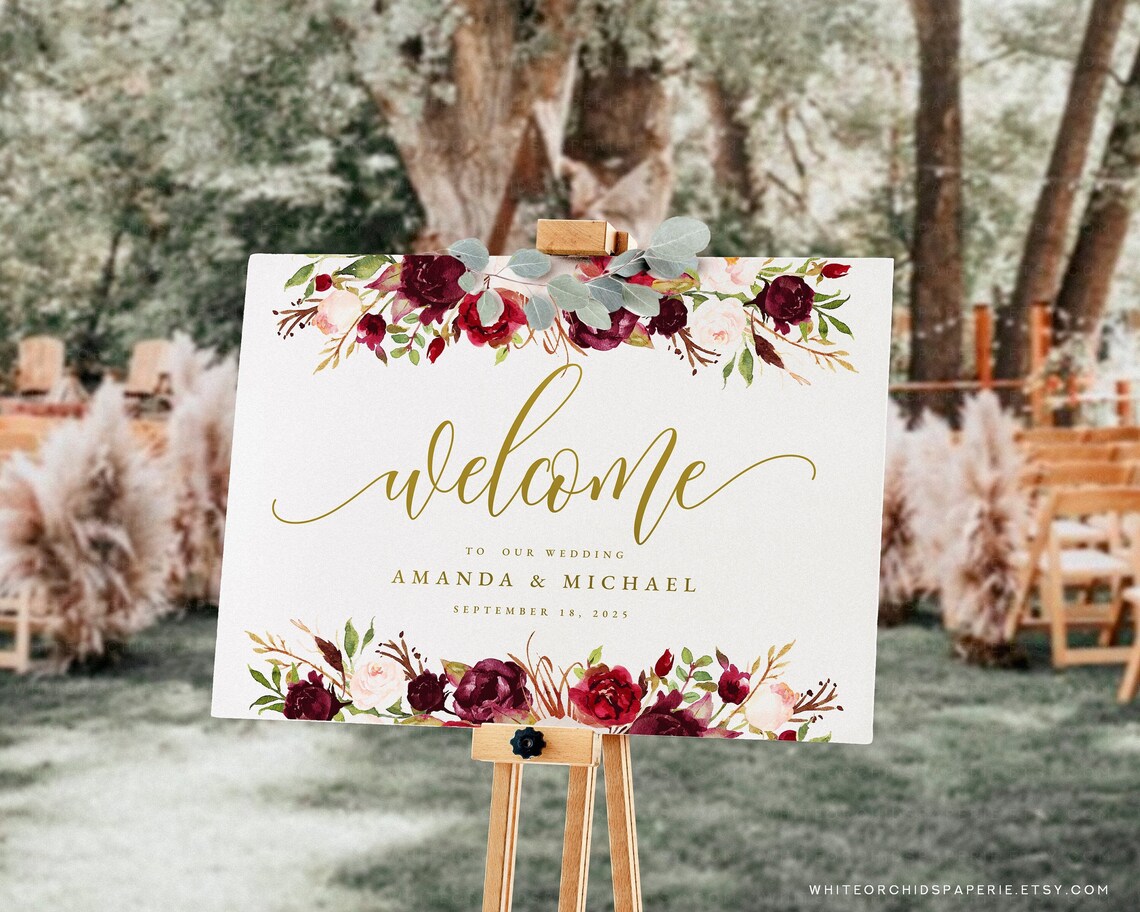 Burgundy Blush Unplugged Wedding Sign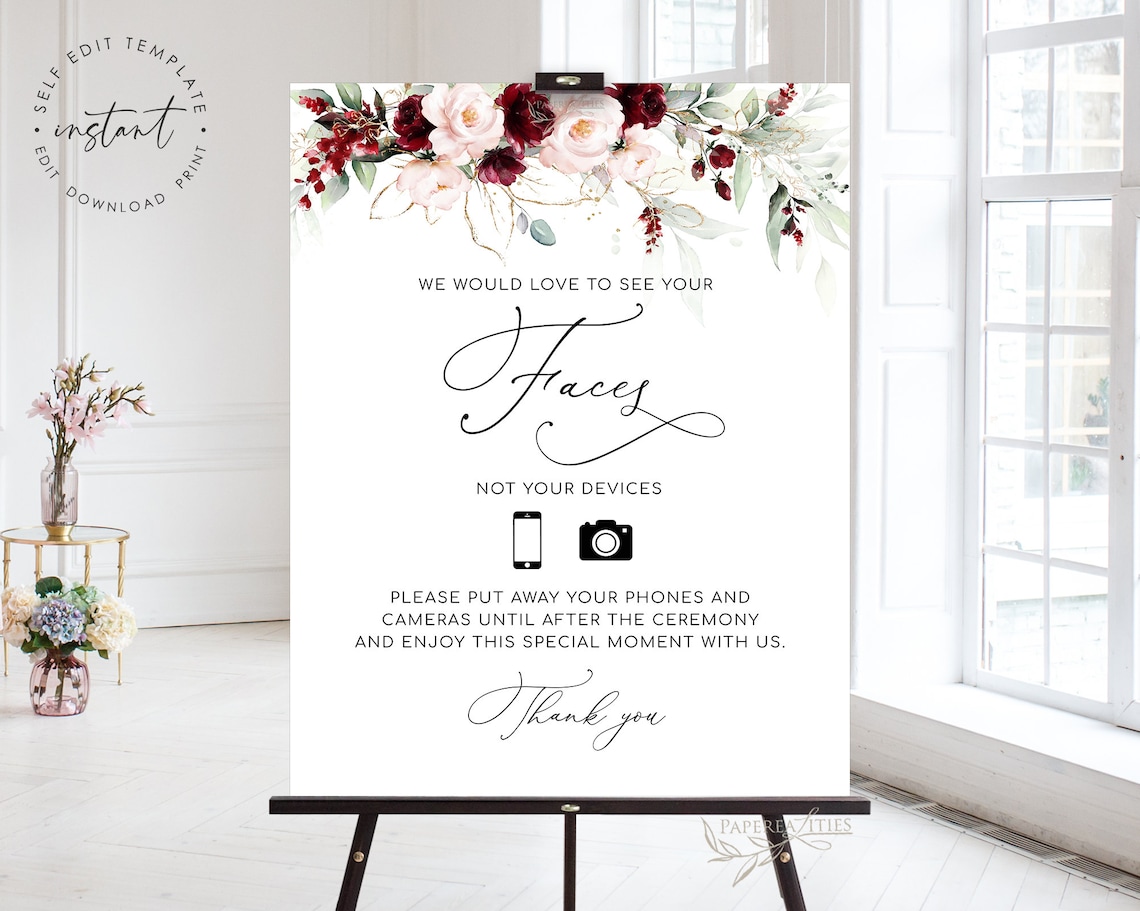 Blush And Burgundy Wedding Garters
Blush and burgundy are a perfect match. This color combination looks great on any skin tone, so you can choose to wear it as an accent or as the main color in your wedding. If you're feeling bold, try wearing blush pink with burgundy accents. It's a pretty way to add some excitement into your day! Blush And Burgundy Wedding Garters:
Made with lace or satin
decorated with pearls, rhinestones or floral elements
paired with matching lingerie or shoes for a complete bridal look
Works well as a bridal accessory or gift for the bride
Garters for Wedding Burgundy, Bridal Garter Set,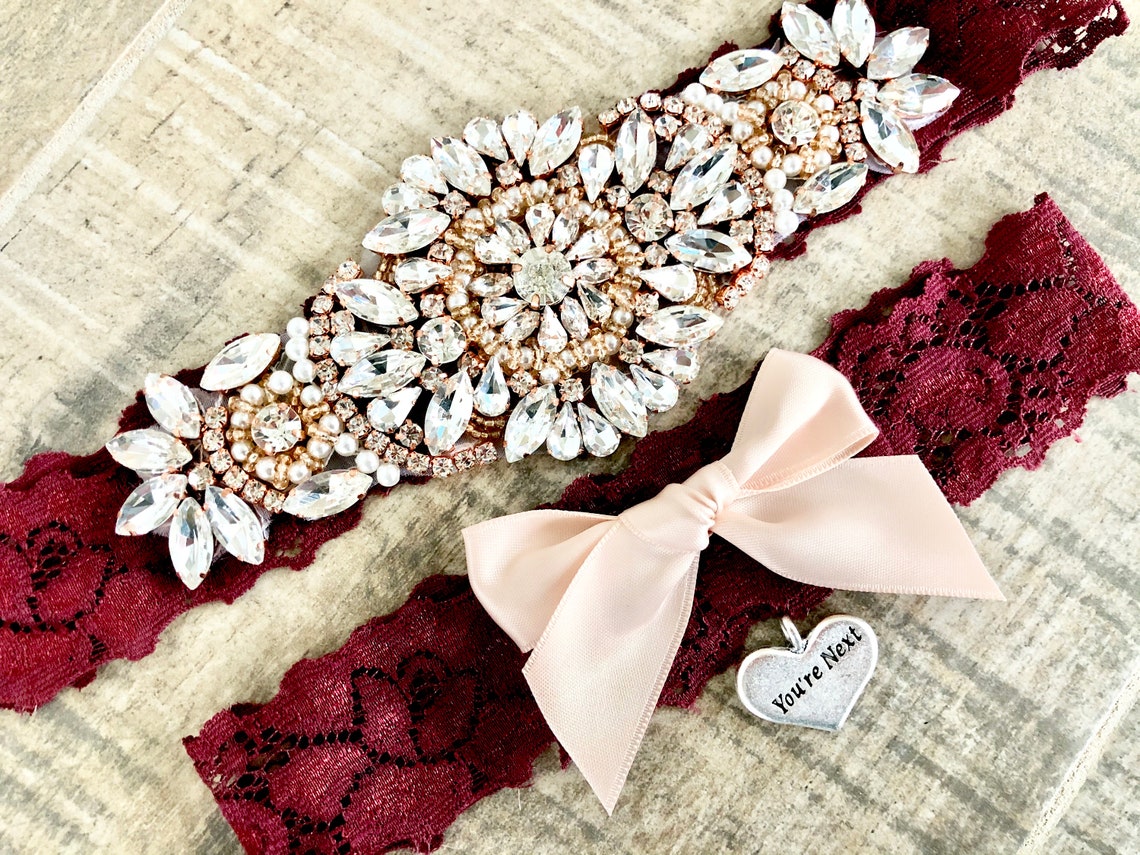 Vintage Rhinestones and Opal Burgundy Blush Bridal Garter Set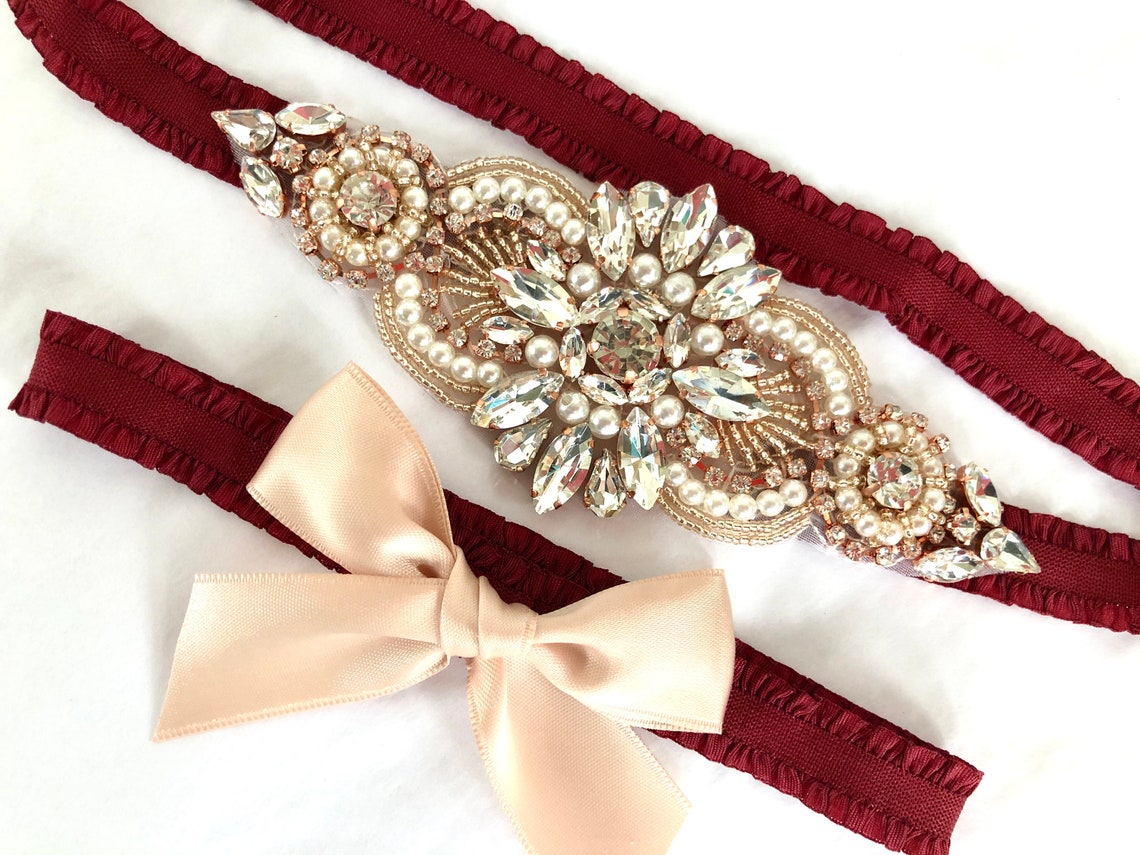 Blush And Burgundy Wedding Items
Table runners, napkins, and chair sashes can all be incorporated into your wedding decor. These items are made with silk or satin and paired with metallic accents or natural elements like wood or greenery. This is a great way to create a cohesive color scheme throughout the wedding decor.
If you're looking for an alternative to flowers, blush and burgundy roses are beautiful options that look great in bouquets or centerpieces!
If you're planning on wearing blush or burgundy lipstick at your wedding ceremony (or even just during cocktail hour), consider having some lip balm available at each guest table so they don't get dry lips while eating their meals!
burgundy bridal party robes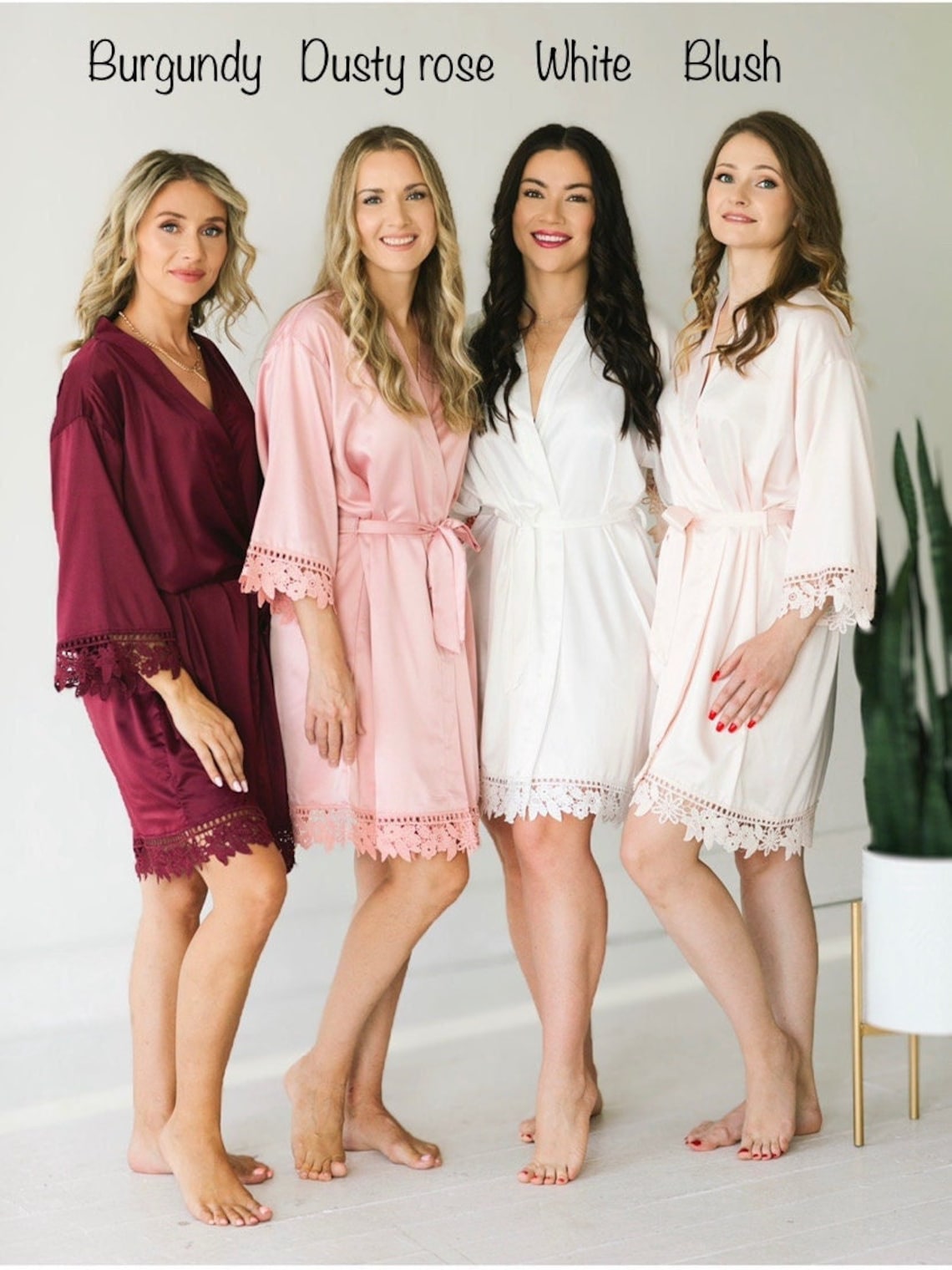 White Bride Robe Burgundy Wreath Bridesmaid Robes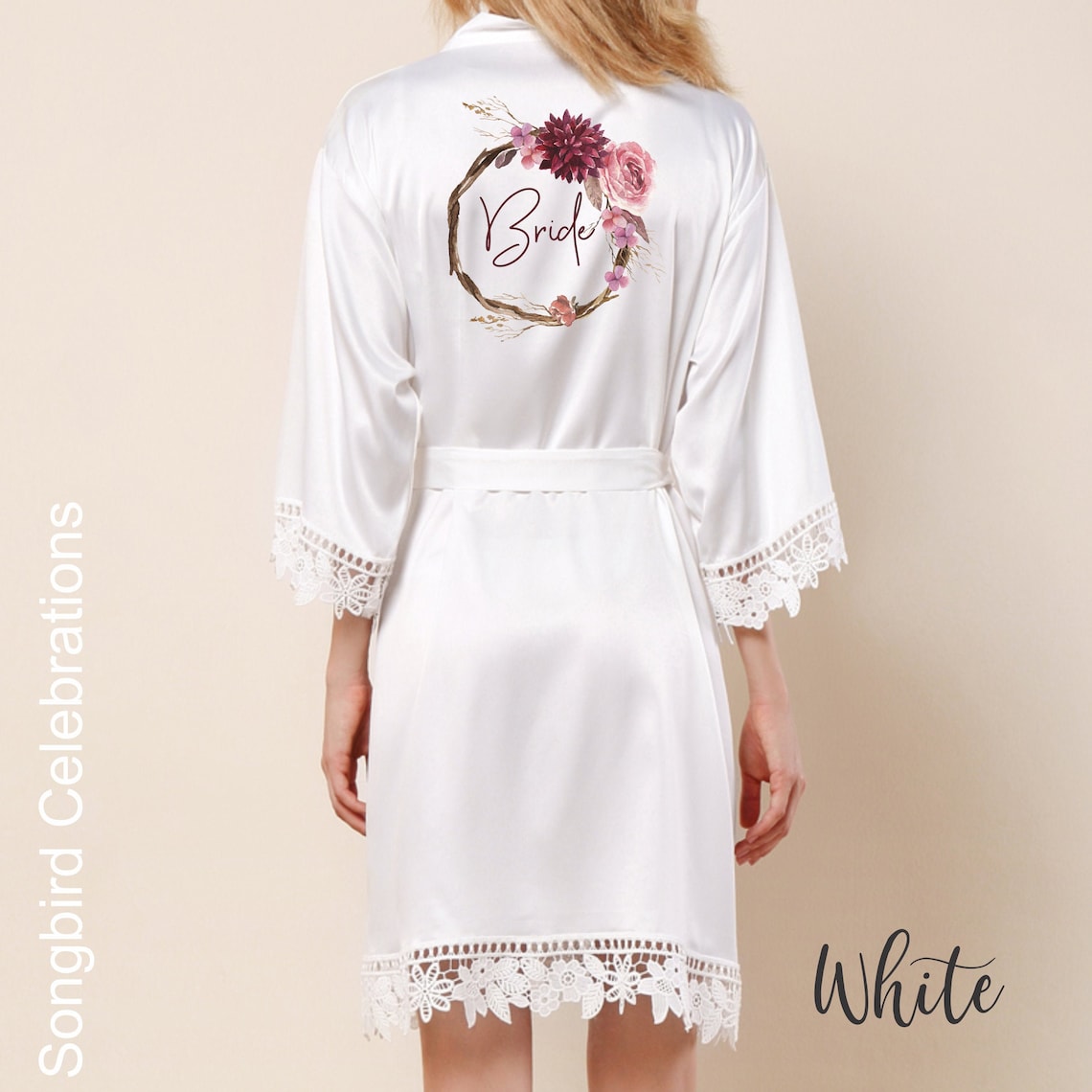 Blush And Burgundy Wedding Decor
You can also add blush and burgundy to your wedding decor by including floral arrangements, candles, table settings, and even lighting. For example:
Use natural elements like wood or greenery for a rustic look. Pair them with metallic accents like gold or silver for a glamorous look.
The color combination works well for any style of wedding from rustic to formal.
Burgundy and blush weddings Set Guest books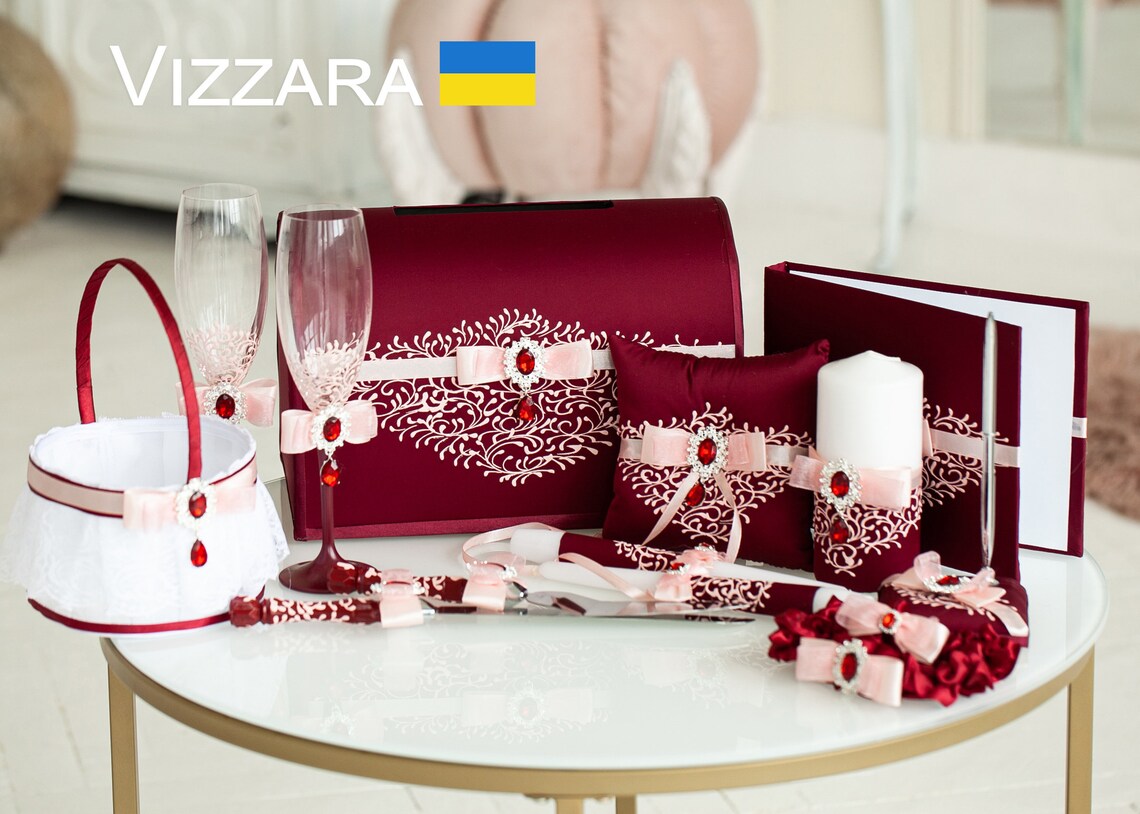 Burgundy and Blush Monogram Wedding Favors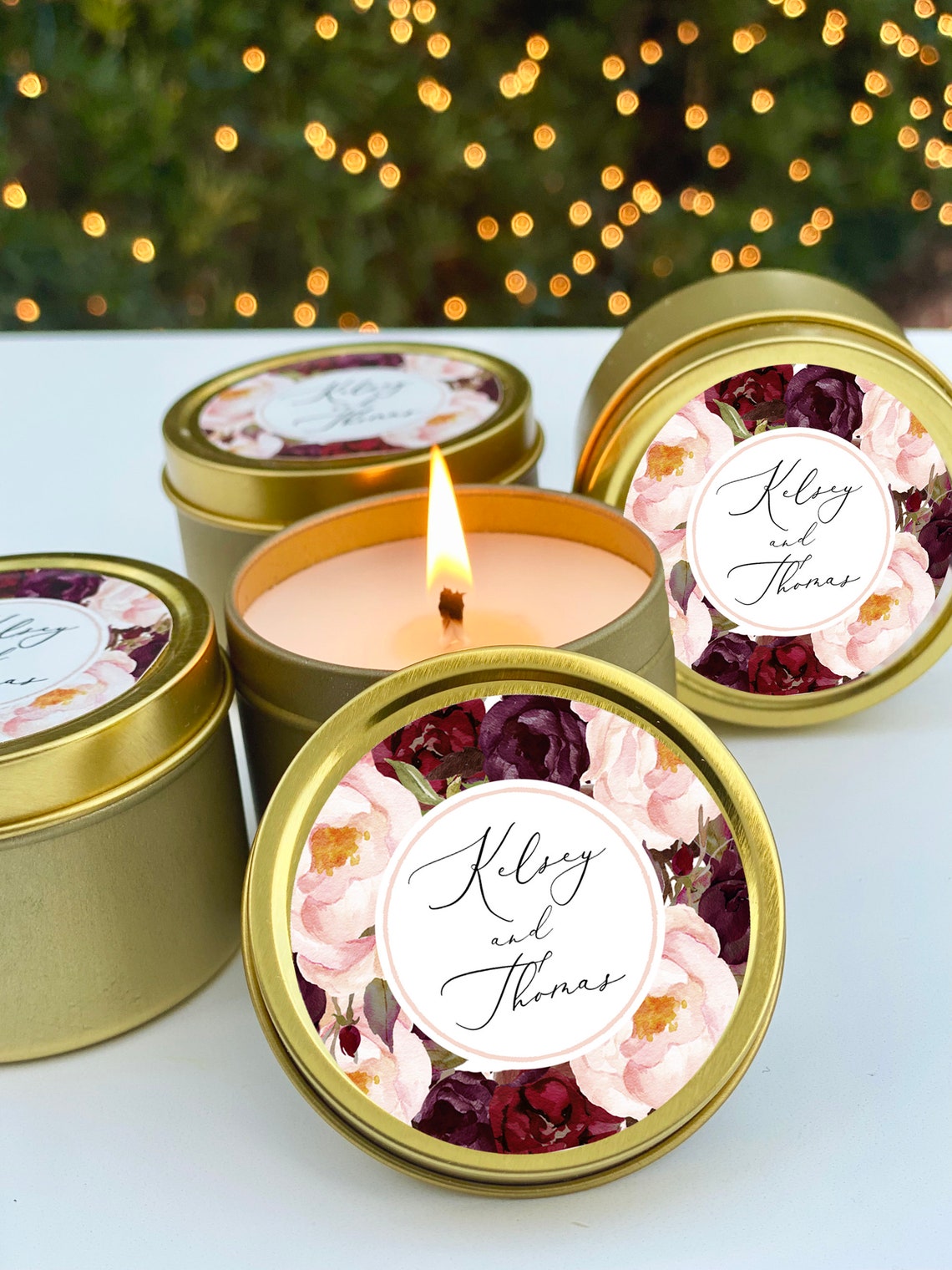 Burgundy and Blush Wedding Photo Guestbook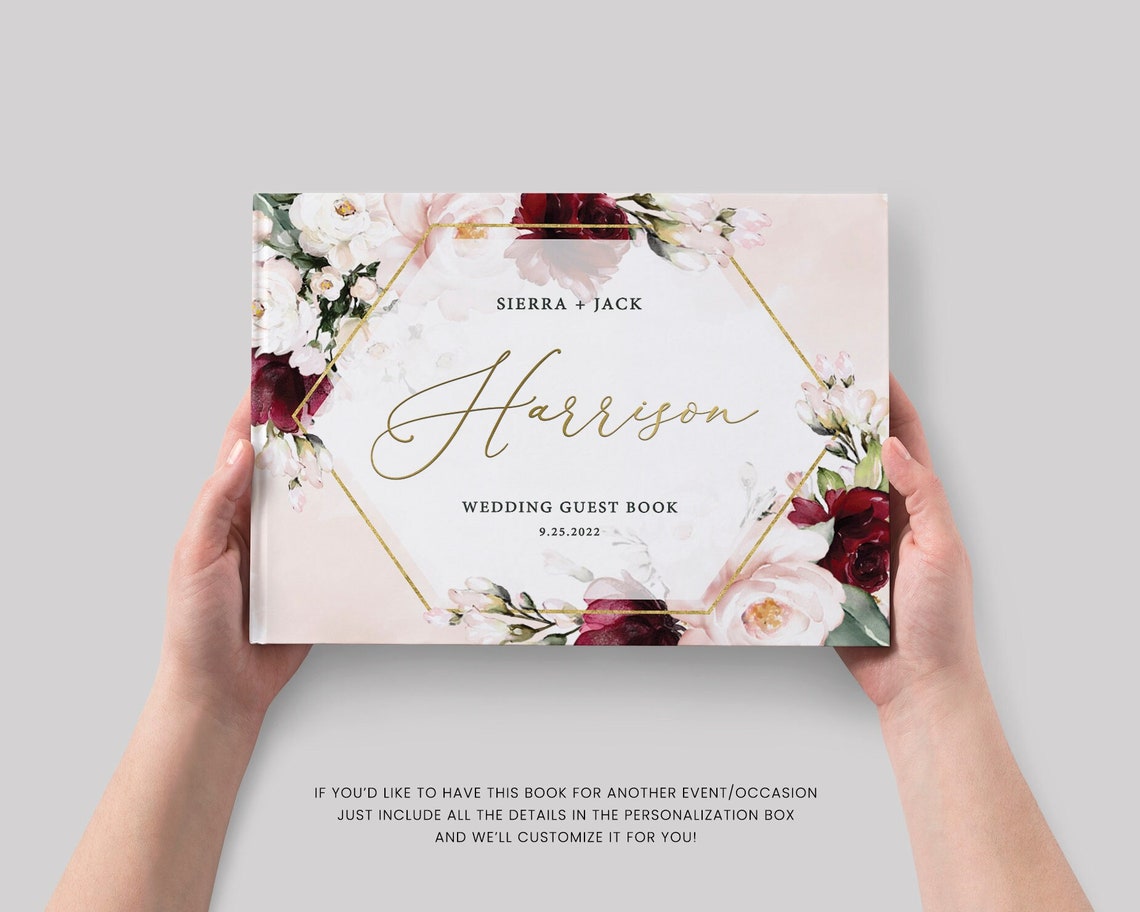 Blush + Burgundy Bridesmaid Dresses

How good do you think this post was? Click on a star to rate it!