When it comes to wedding dresses, traditional white gowns have always been the go-to choice for many brides. However, with the ever-evolving trends in the fashion world, brides are now embracing the idea of incorporating color into their wedding attire. One color combination that has gained popularity in recent years is the stunning combination of blue and white. In this blog post, we will explore the beauty and charm of blue and white wedding dresses.
Why Choose Blue and White?
If you're considering a blue and white wedding dress, the reasons to choose this combination are many. First and foremost, blue symbolizes trust, loyalty, and wisdom, all qualities that are important in a successful marriage. White, of course, is still the ultimate symbol of purity and innocence, making it the perfect base color for any wedding dress.
Another reason to choose a blue and white wedding dress is that it is a unique and unexpected choice. Your guests will be blown away by your creativity and daring style. It's also a great way to incorporate your "something blue" (another popular wedding tradition) into your outfit.
Finally, blue and white wedding dresses are classic and timeless. Unlike certain trends that come and go, this color combination will always look stunning and elegant.
Variations on Blue and White
If you're sold on the blue and white idea, there are plenty of ways to make it your own. You might go for a subtle touch, such as a white dress with a blue sash or bouquet. Alternatively, you could go all out with a full blue and white patterned dress, or a dress that is primarily blue with some white accents.
Another option is to choose a dress with blue and white embroidery or beading, adding a touch of glamour and detail to your outfit.
Versatility in Shades
Another advantage of blue and white wedding dresses is the wide range of shades available. From the lightest baby blue to the deepest navy, there is a shade to suit every bride's taste and skin tone. Brides can opt for a subtle hint of blue in delicate lace overlays or choose a bolder statement with a blue satin sash or embroidery. The possibilities are endless!
Fluffy white and light blue layered tulle wedding dress with crystal beads
Introducing a captivating wedding dress that resembles a heavenly cloud, crafted with exquisite layers of delicate tulle. This ethereal gown showcases a mesmerizing gradient effect, transitioning gracefully from pure white to a serene shade of blue. Adorned with sparkling crystal beads, this dress exudes an enchanting allure. Its voluminous silhouette further enhances its dreamlike charm, creating a fluffy and magical appearance. Embrace the elegance and serenity of this white and blue ombre wedding dress, designed to make you feel like a vision of pure bliss on your special day.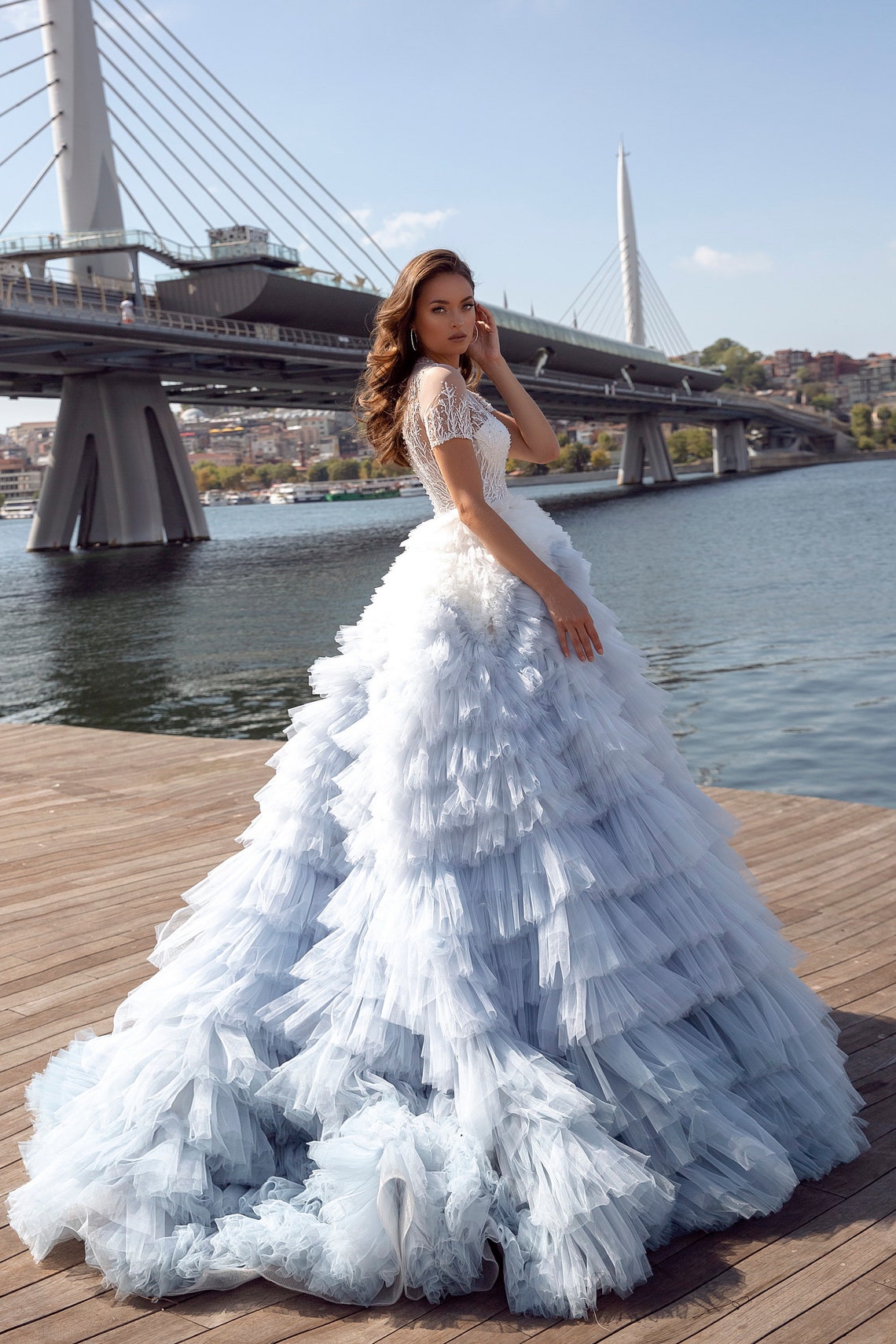 V Neck Floral Print Sleeveless Straps Blue Yellow Organza Wedding Dress
This exquisite A-line gown in organza is adorned with intricate floral prints that impart a refined look. The dress features a pleated sweetheart neckline, a defined waistband, and graceful thin straps that elegantly swirl together with a lace-up adjustable back. With layers of delicate organza, the lush A-line silhouette flows effortlessly. This floor-length dress is perfect for any occasion requiring sophistication and understated extravagance. Whether you're attending a gala or tying the knot on your special day, this beautiful gown will captivate everyone with its divine allure.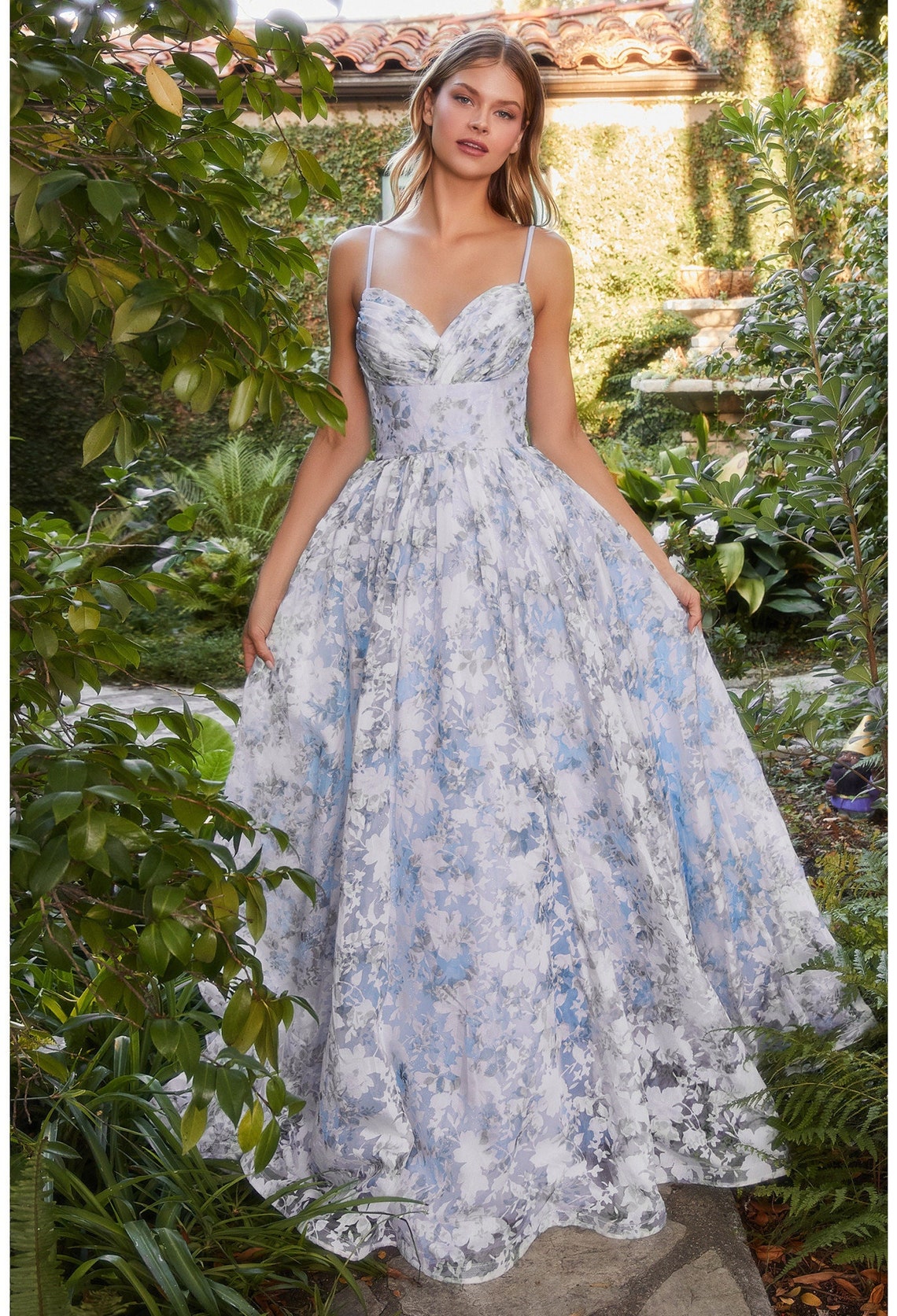 Lace and tulle ombre dyed wedding dress
"Nora" is a 2-piece wedding outfit consisting of a ballerina-inspired bodysuit and a soft, flowing ombre skirt with a train. The bodysuit is made from luxurious matte bridal satin and adorned with point d'esprit lace, providing a delicate and graceful look. The thin straps and open back design convey the elegance of ballerinas and ensure comfort, while the attached soft rayon panties enable free movement and a secure fit. You may opt for a backless strapless push-up bra for enhanced curves, even though the bodysuit doesn't require one. The outfit comes in two default shades: pure white and ivory, and no bra is necessary during the photoshoot.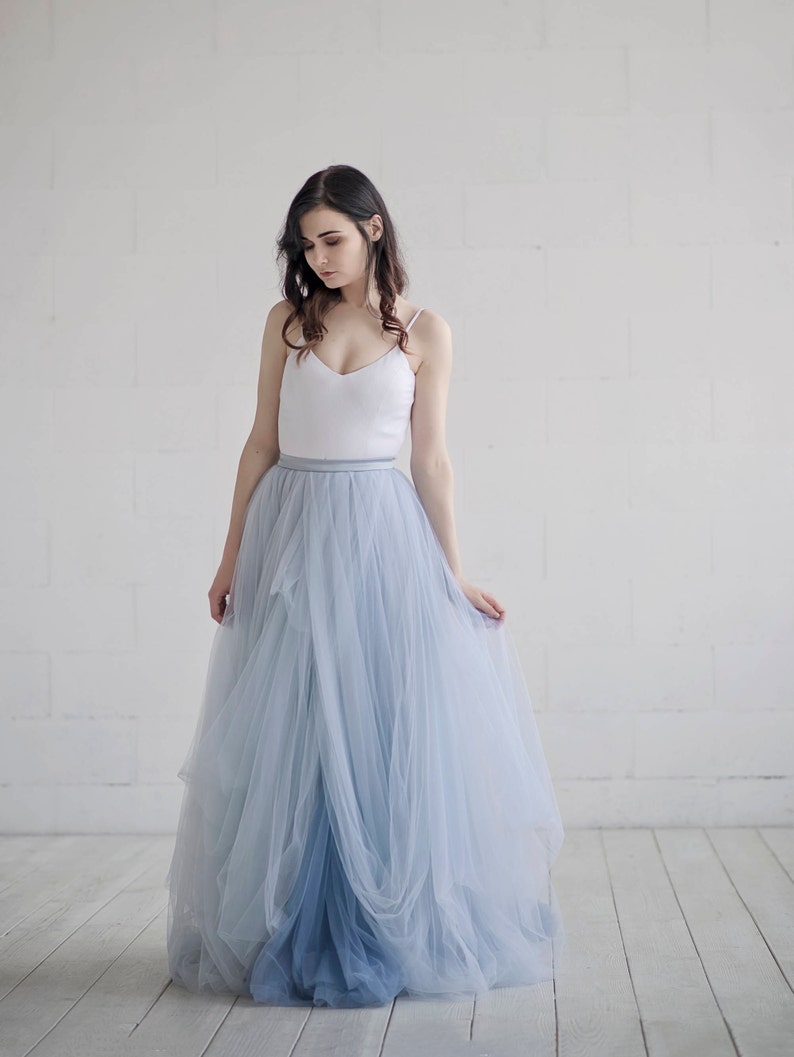 Dusty blue and white lace tulle wedding dress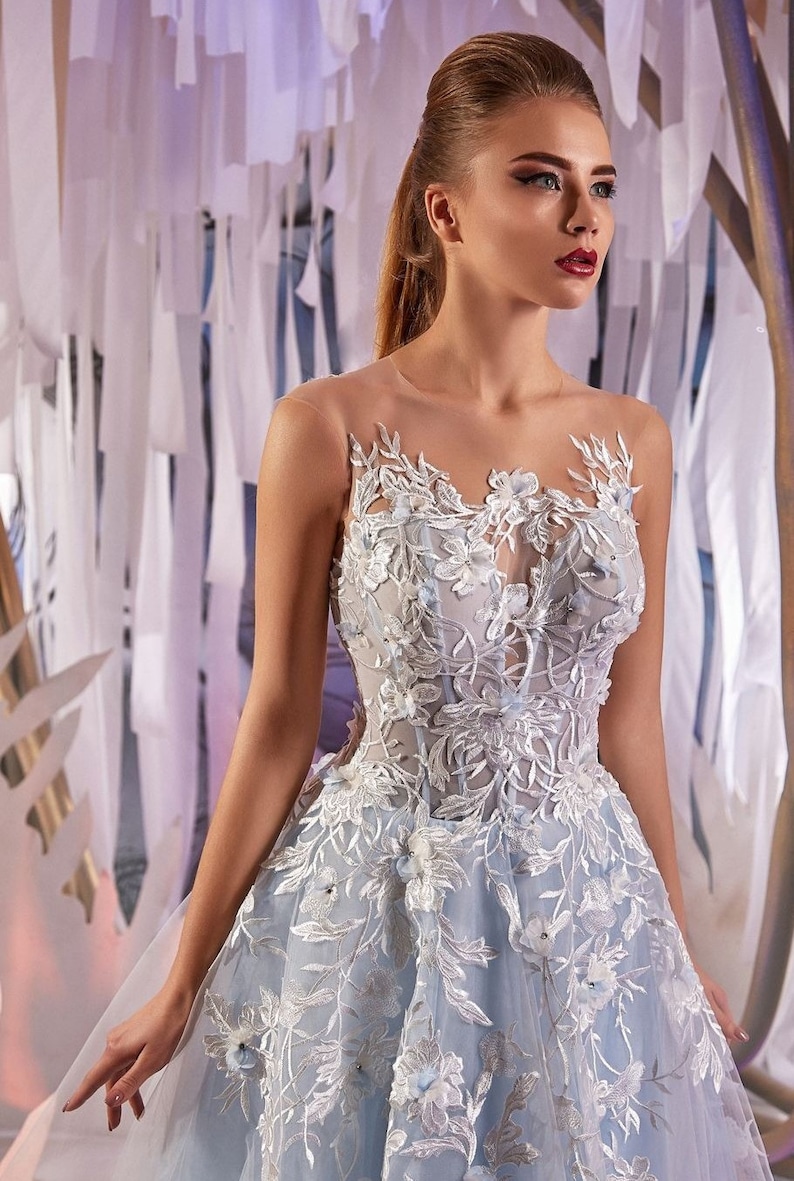 This layered tulle skirt with a train is a stunning blend of modern and elegant styles. The ombre tutu design is full of volume, created from three high-quality tulle fabrics, with outer layers that vary in length to produce an edgy 3D effect. The skirt also boasts a silky satin base layer to offset the tulle, and an additional layer of lining for added comfort. This versatile maxi tulle skirt was initially designed for brides and bridesmaids but can be customized for any occasion, even a grunge style.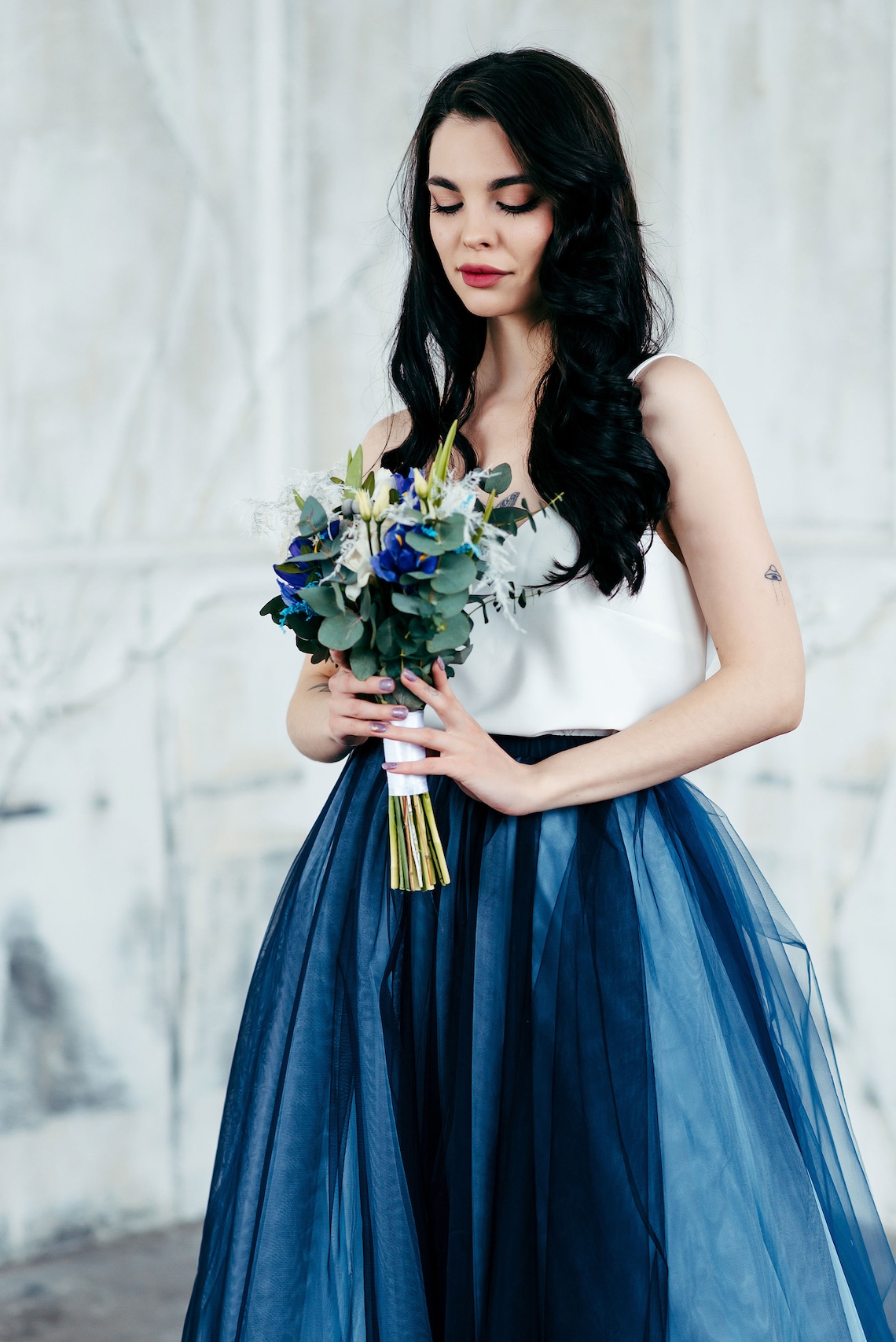 Sweetheart dusty blue bridal dress with white lace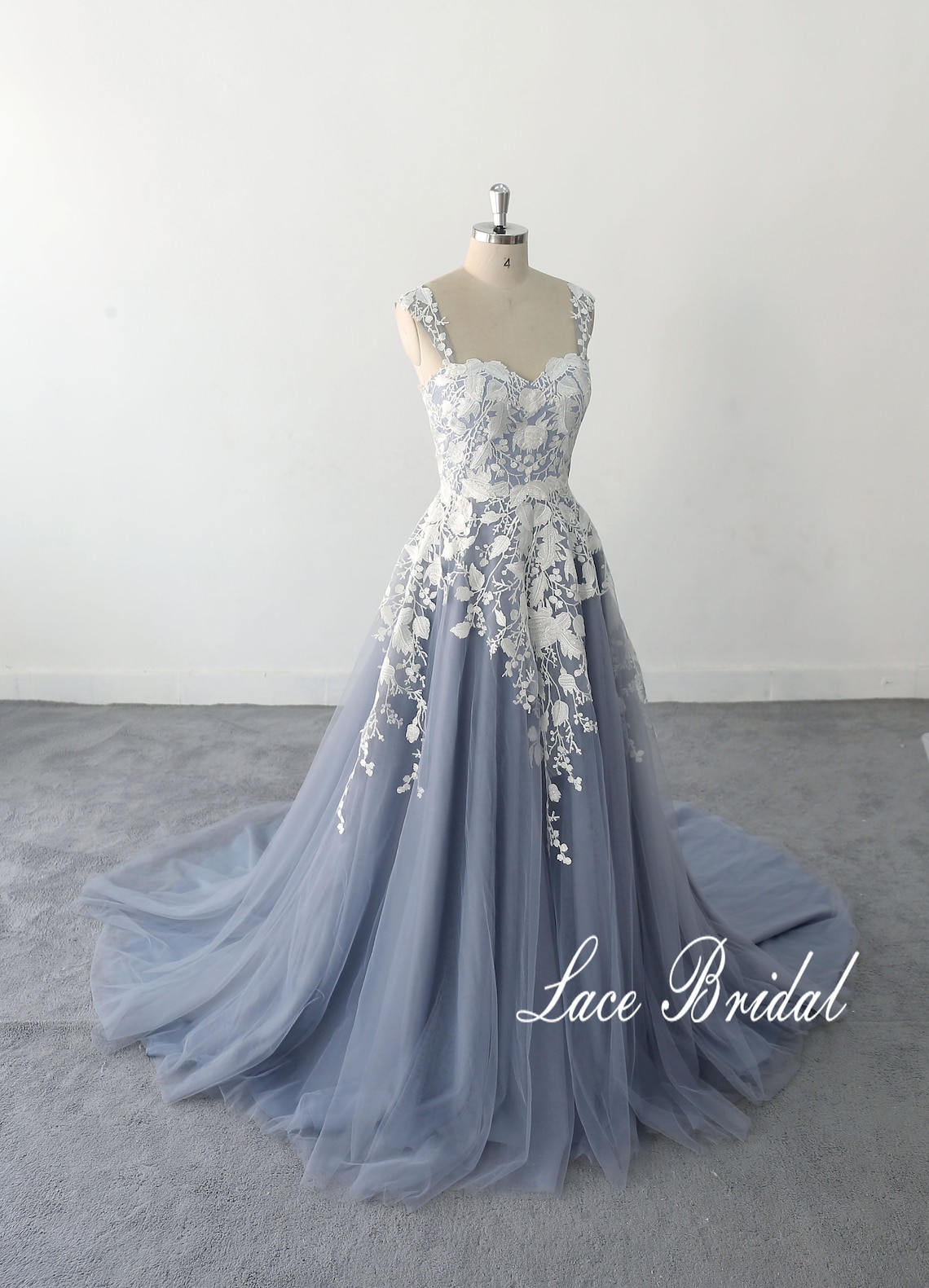 Deep vp-neck dusty blue bridal dress with white lace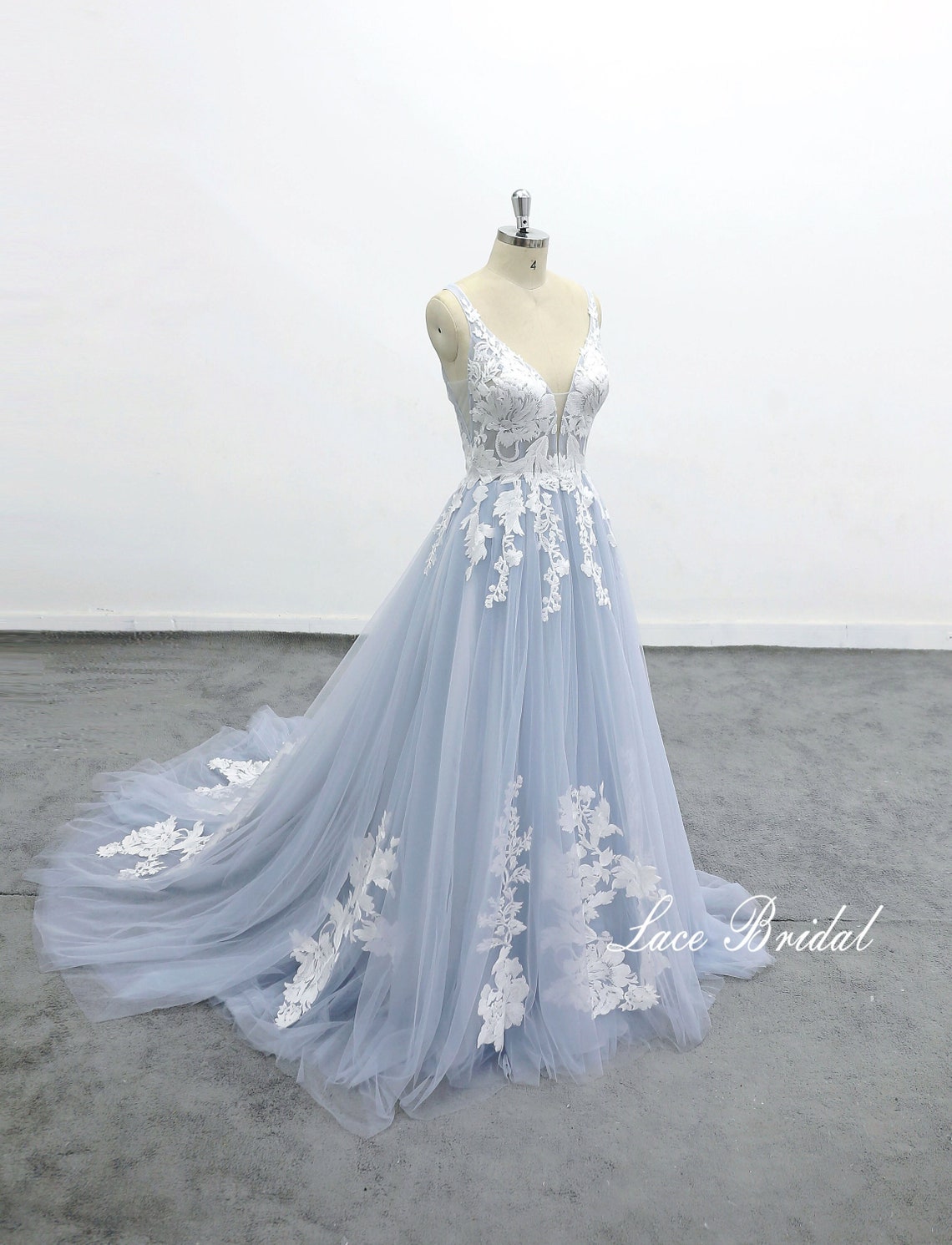 Dusty blue v-neck bridal dress with white lace flower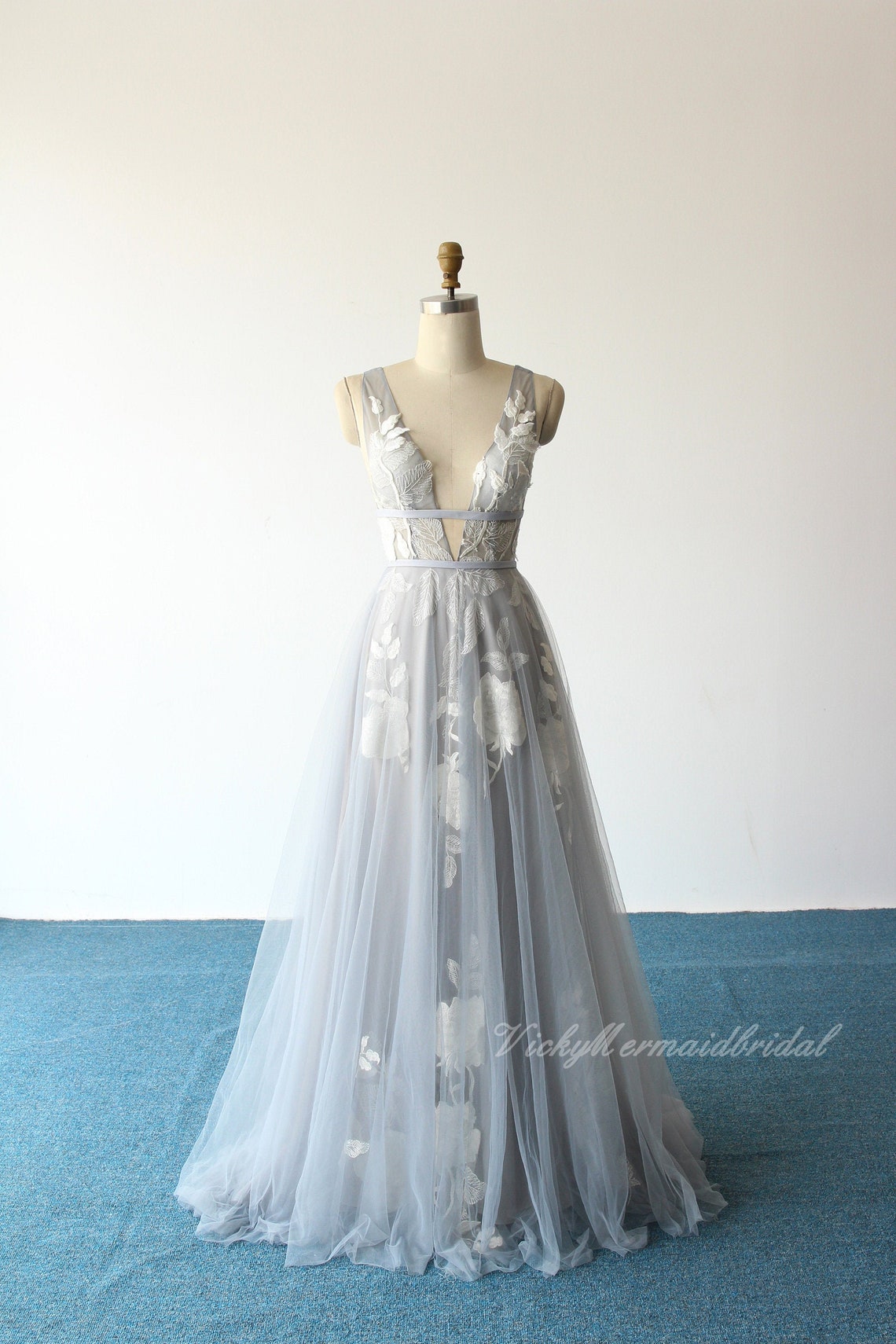 White and royal blue ombre wedding dress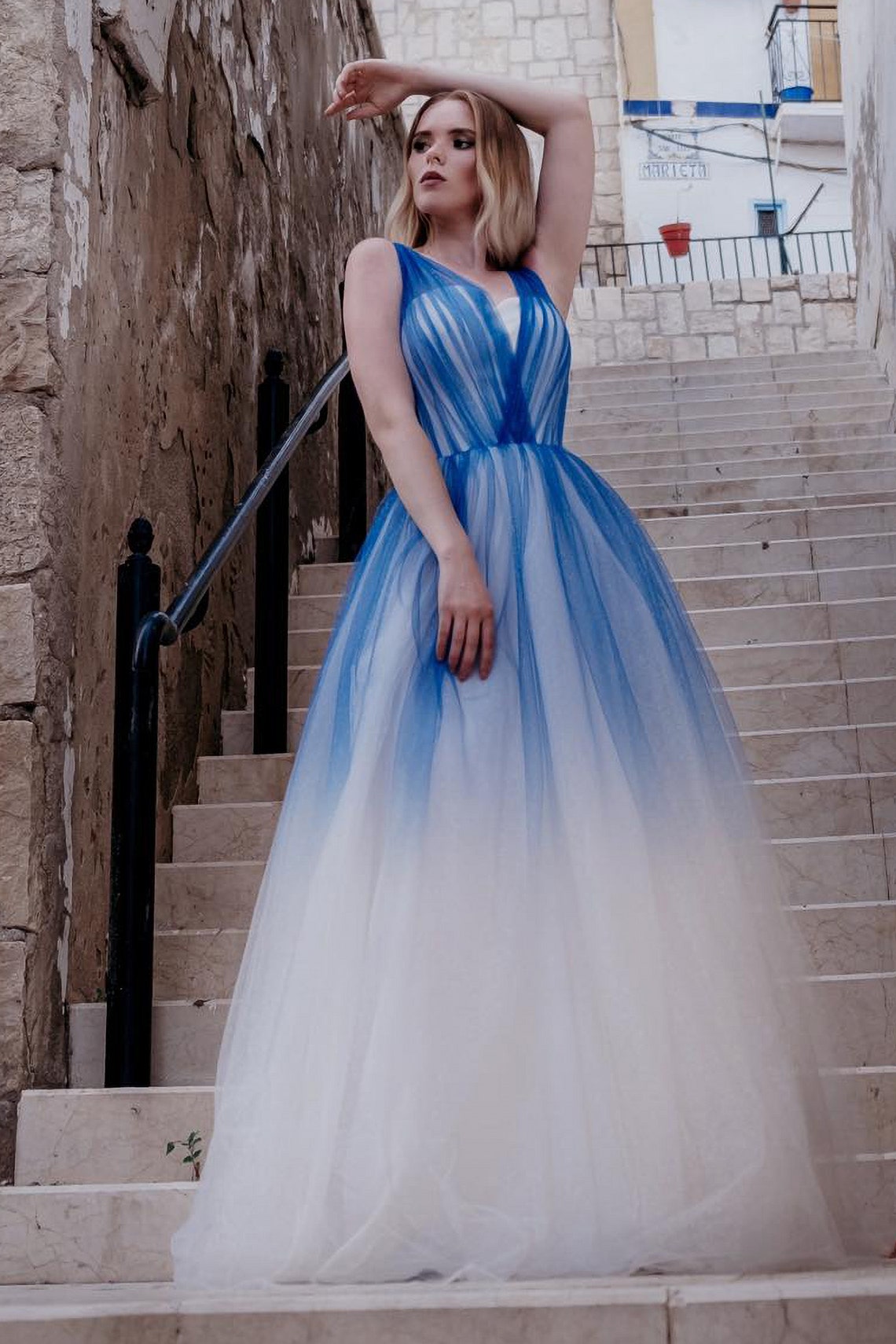 Blue Floral Rustic Wedding Dress
Featuring a combination of blue and white flowers, along with lush green leaf patterns, this dress showcases a unique tapestry of natural beauty. The mesmerizing U-shaped open back is adorned with an alluring criss-cross tie detail, distinguishing it from other dresses. On your special day, you'll be a vision of elegance and individuality, as this dress artfully combines elements of nature and artistic design. The dress is made with an ivory crinkle chiffon base, a plunging neckline with built-in tulle mesh, fit and flare sleeves with floral embroidery, and an A-line skirt embellished with delicate baby blue, white, and greenery flowers. The entire dress is lined with soft chiffon, and it features a 30-inch train length.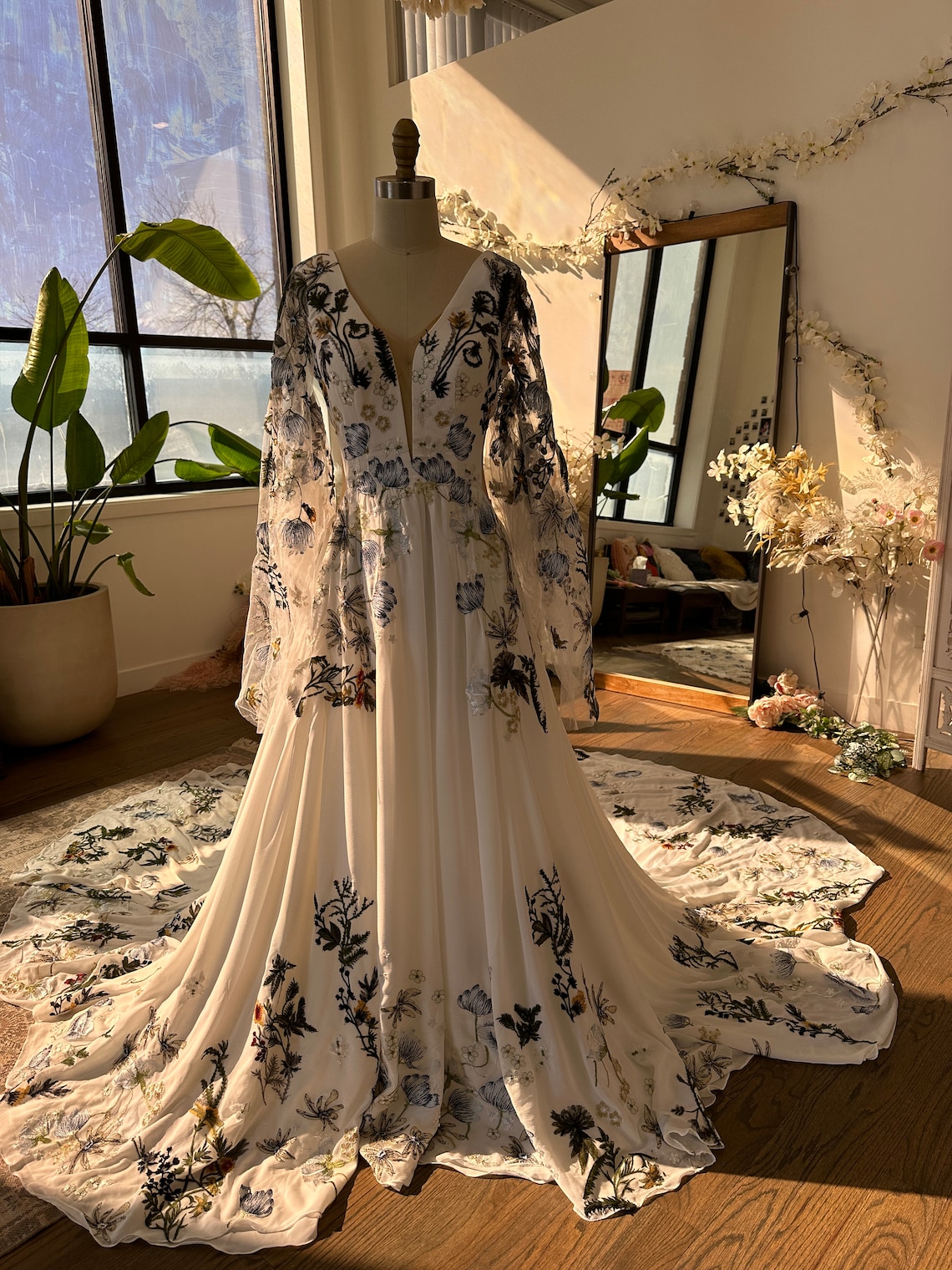 Blue Ball Gown Sequins High Neck Long Sleeve Beading Wedding Dress
Tulle Long Sleeve Blue Appliques Luxury Wedding Dress With Beading
Perfect for Destination Weddings
If you're planning a destination wedding by the beach or in a picturesque garden, blue and white wedding dresses are an excellent choice. The refreshing blue tones complement the natural surroundings, creating a harmonious blend of colors. Whether you choose a flowing mermaid-style gown or a bohemian-inspired maxi dress, blue and white will effortlessly capture the essence of your dream location.
Breaking the Rules
Choosing a blue and white wedding dress is also an opportunity to break free from traditional norms and create a look that is entirely your own. It allows you to express your personality and style in a way that stands out from the crowd. So, if you're a bride who loves to make a statement, embracing a blue and white wedding dress might just be the right choice for you.
In conclusion, blue and white wedding dresses offer a breath of fresh air in the world of bridal fashion. They combine tradition with modernity, symbolism with style, and individuality with elegance. So, if you're a bride seeking to step away from the conventional and embrace a bold and unique look, consider the beauty and charm of a blue and white wedding dress. Your special day will be nothing short of unforgettable.
How good do you think this post was? Click on a star to rate it!