When it comes to attending a wedding, choosing the right dress can be an intimidating task. With so many options available in the market, it can be overwhelming to find the perfect outfit. Among a sea of colors, black, the classic and timeless shade, has become an increasingly popular choice for wedding guests. In this article, we will explore different aspects of choosing the best black wedding guest dress to make sure that you shine at the event.
Can You Wear Black to a Wedding?
The first thing to discuss is whether or not it's appropriate to wear black to a wedding. While black is a classic and versatile color, it has long been associated with mourning or somber occasions. However, with the changing times, black has become an acceptable and even fashionable choice for modern weddings. It's important to note that some religions and cultures have restrictions on wearing black to weddings, so make sure to check with the couple or ceremony guidelines before making a decision.
Consider the Dress Code
Before you start shopping for a dress, be sure to find out the dress code for the wedding you're attending. Some weddings may require formal attire, while others may be more casual. Make sure you choose a dress that's appropriate for the occasion.
Black Wedding Guest Dress Ideas
Now that we've established that black is a suitable option for a wedding, let's explore some dress ideas. Black wedding guest dresses come in a variety of styles, lengths, and designs, making it easy to find one that suits your taste and body shape. A classic midi dress, a chic jumpsuit, a flowing maxi dress, or a sleek slip dress are all great options for any type of wedding, whether it's in the morning, afternoon, or evening. Consider the theme and location of the wedding when selecting the style of your dress.
Black Floral Print High-Low Maxi Dress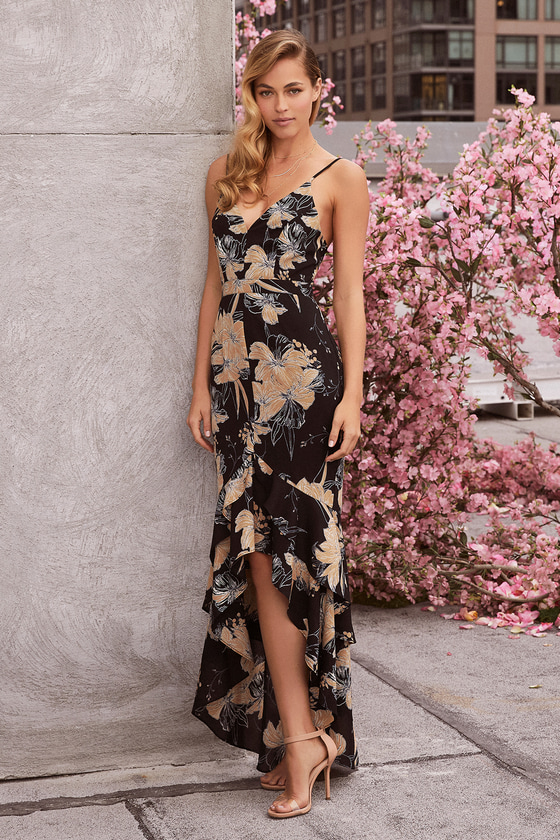 Black and White Floral Print High-Low Maxi Dress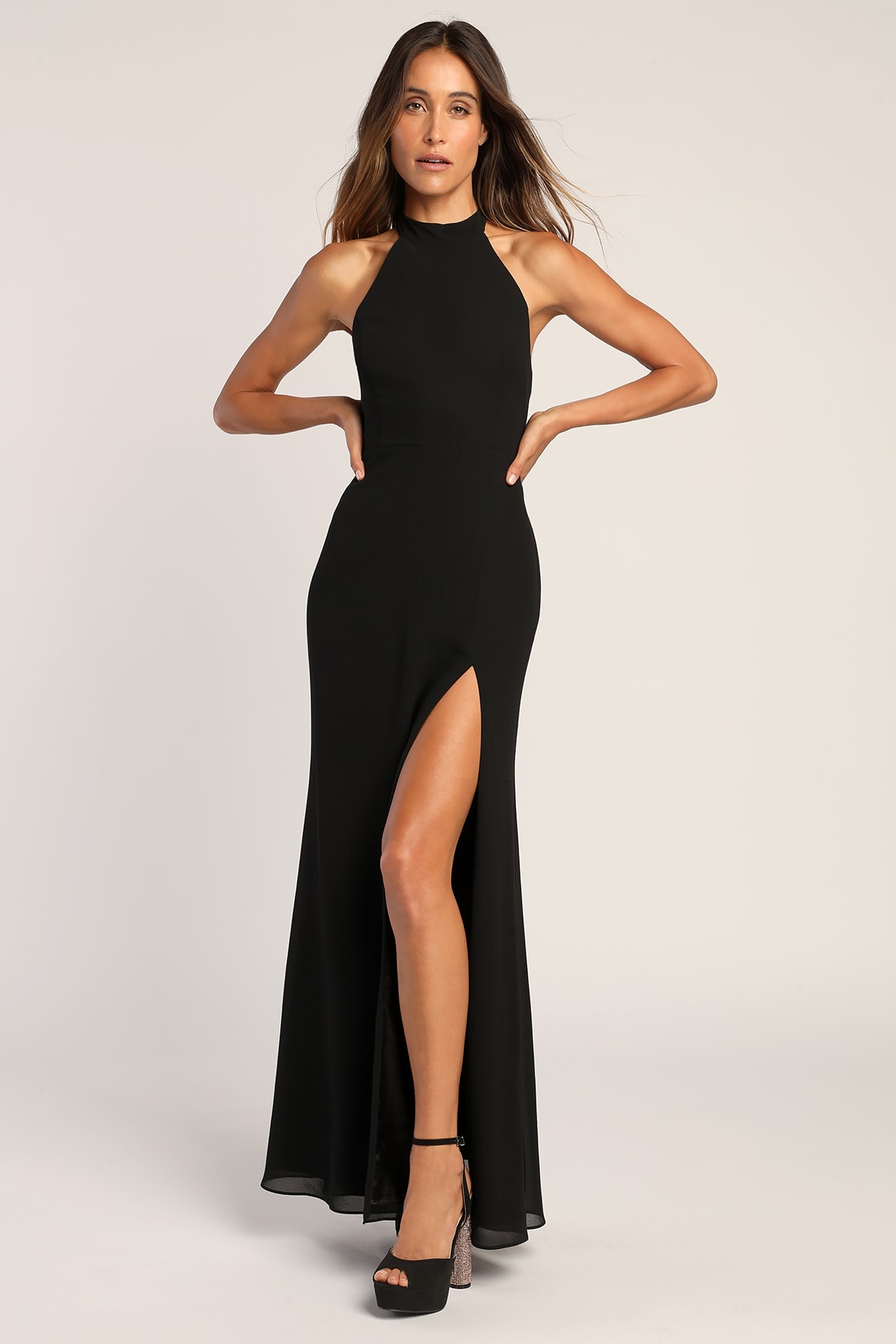 Black Floral Print Satin Maxi Dress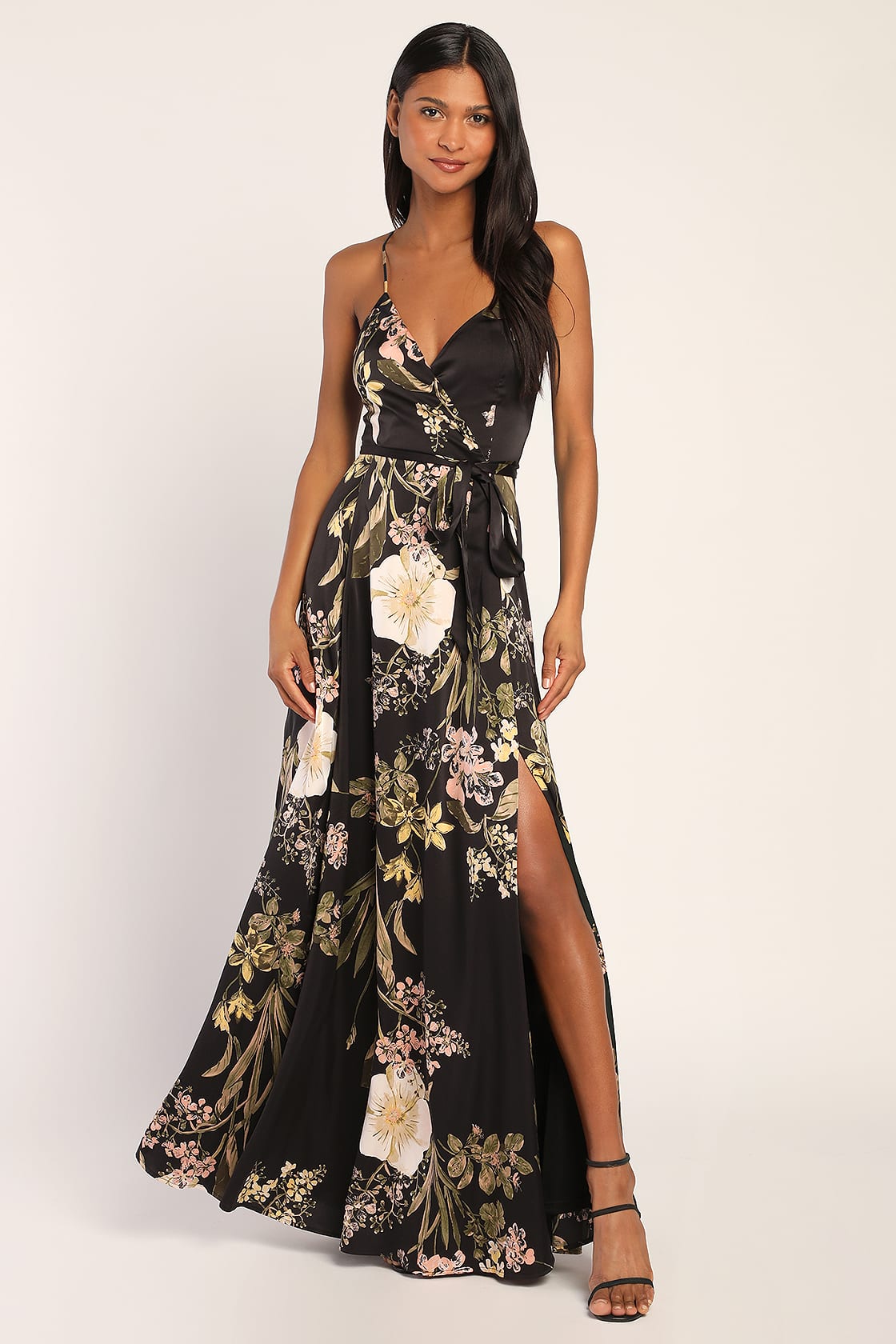 Cutout and About Black Skater Dress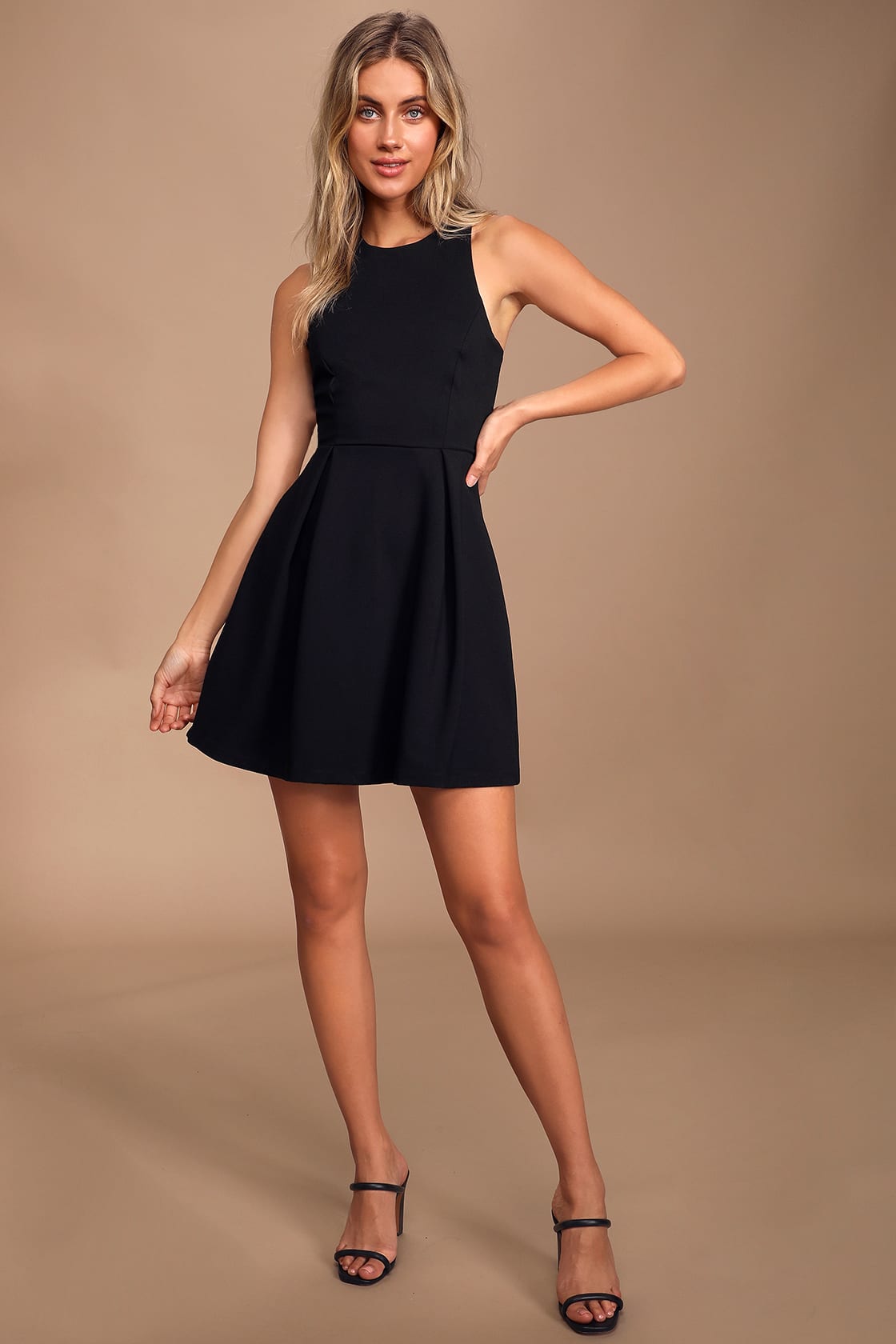 Black Swiss Dot Tie-Strap Midi Dress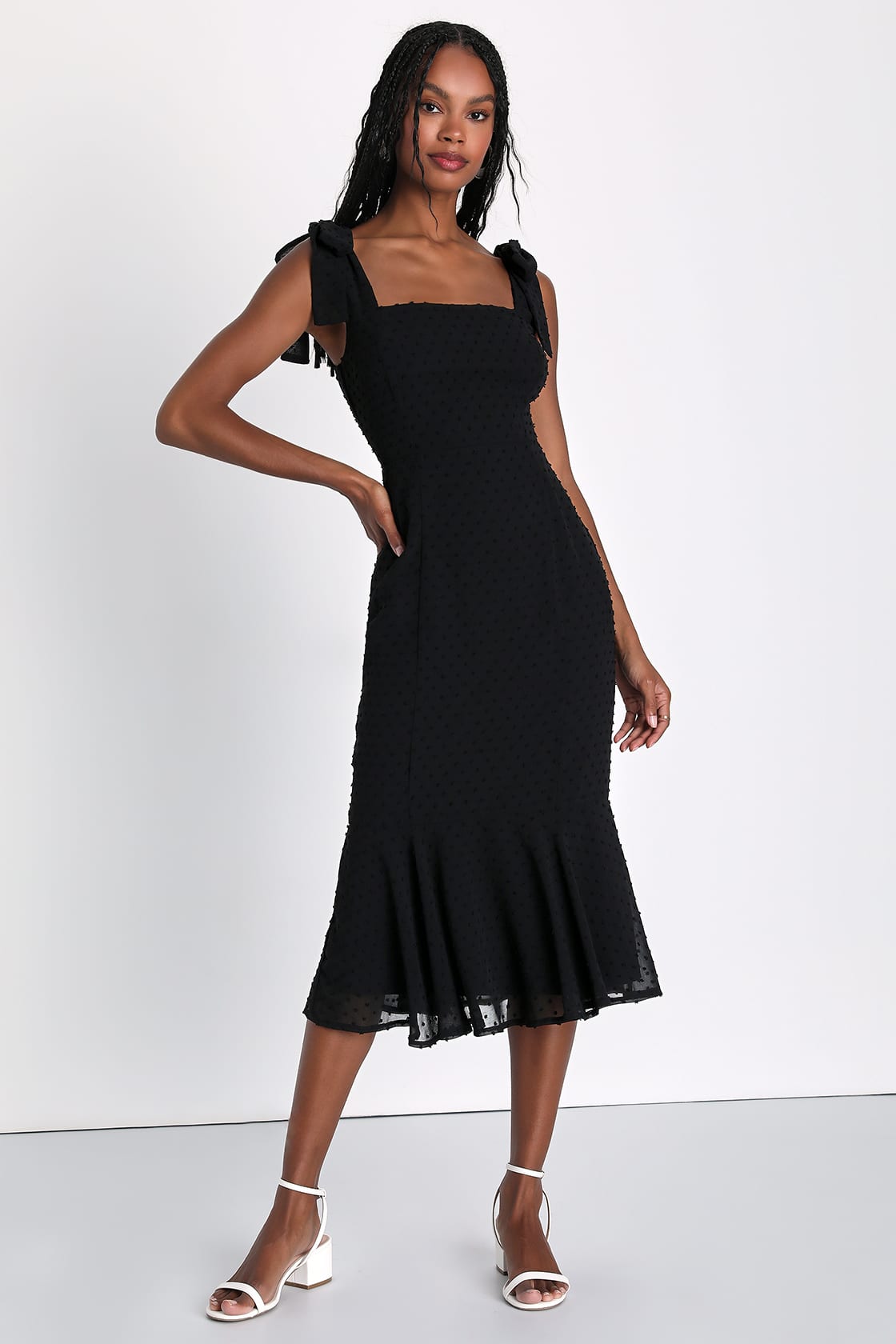 Black Floral Embroidered Short Sleeve Skater Dress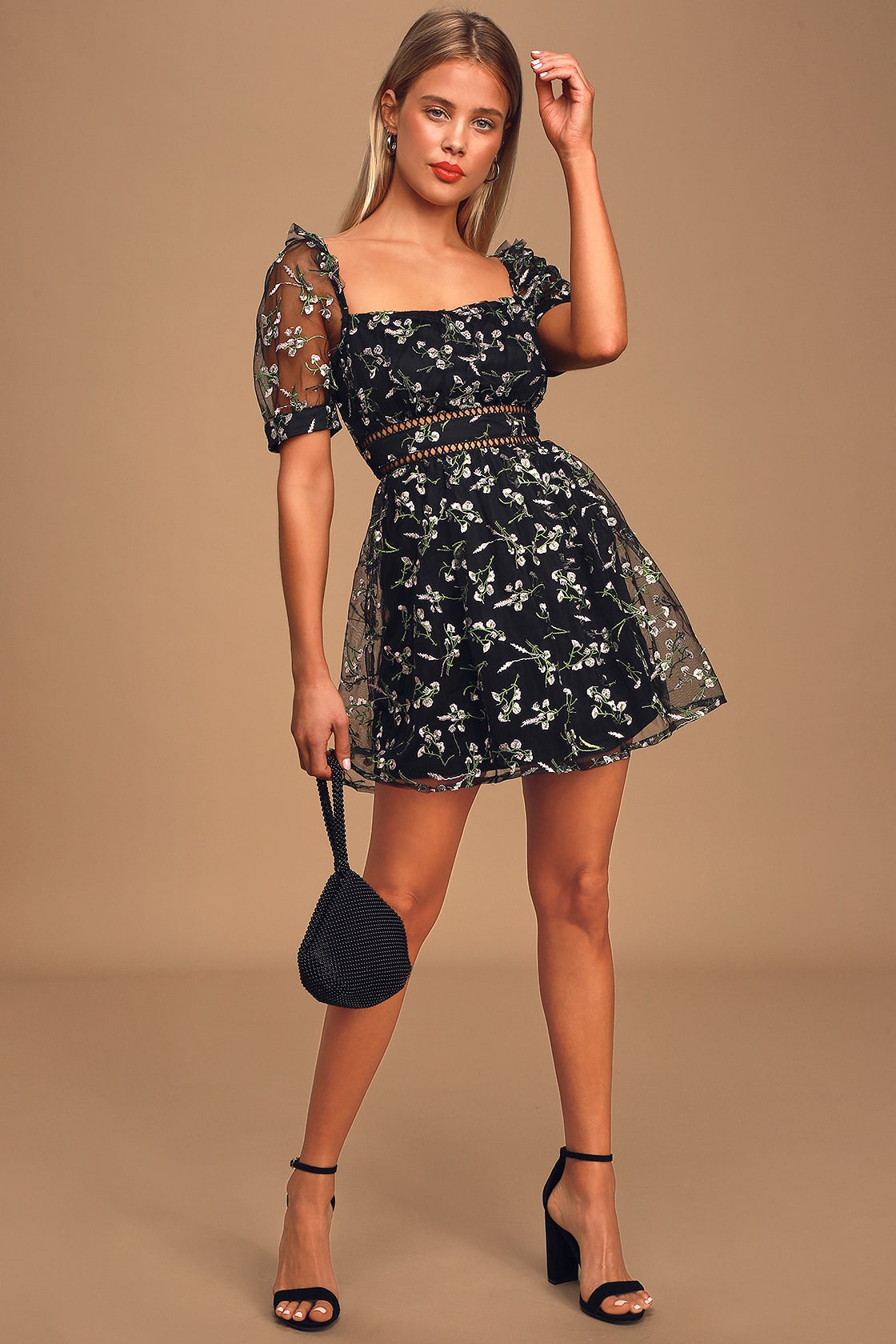 Black Tie-Strap Pleated Midi Dress
Black Floral Jacquard Sleeveless Midi Dress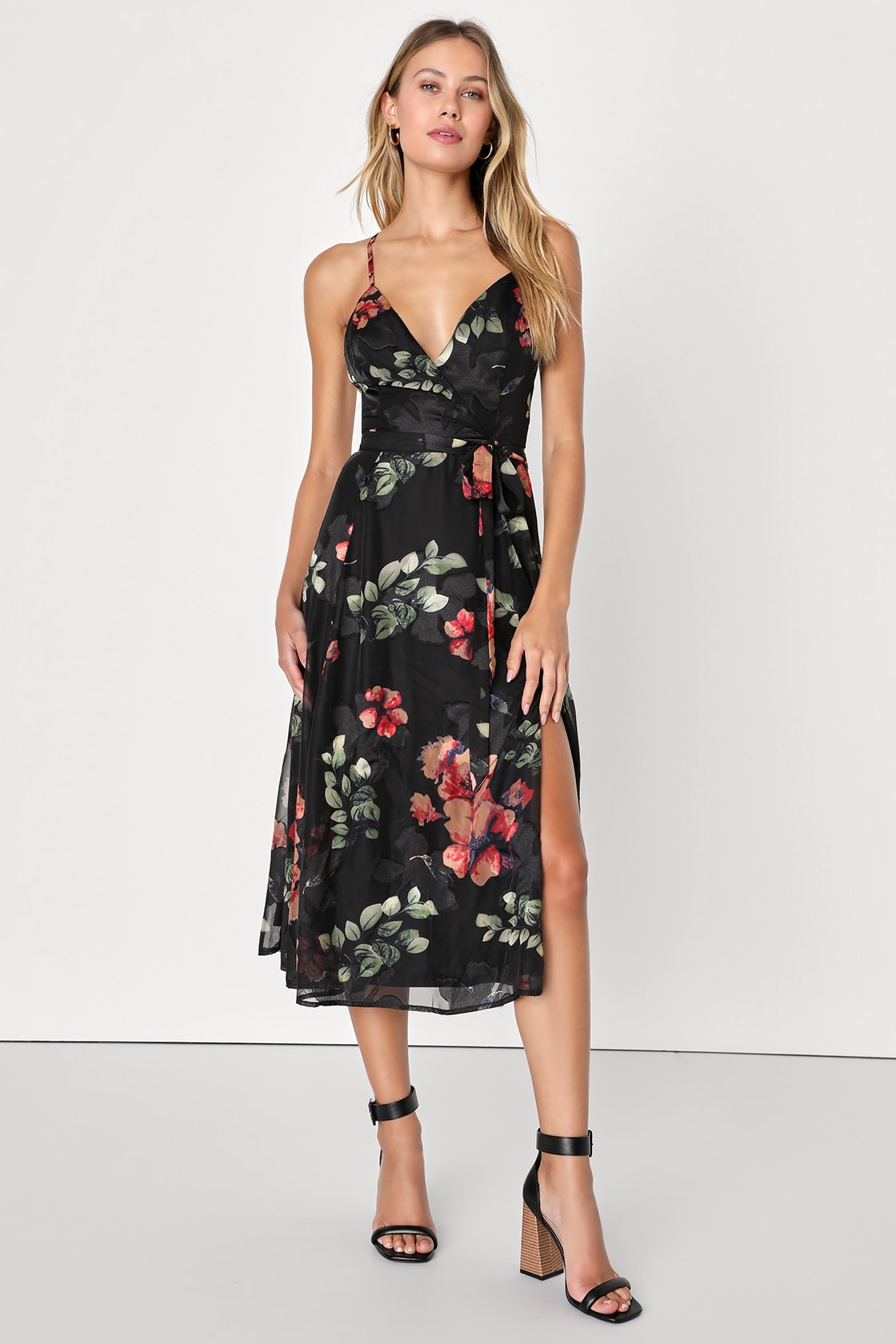 Black Mesh Swiss Dot Tie-Strap Midi Dress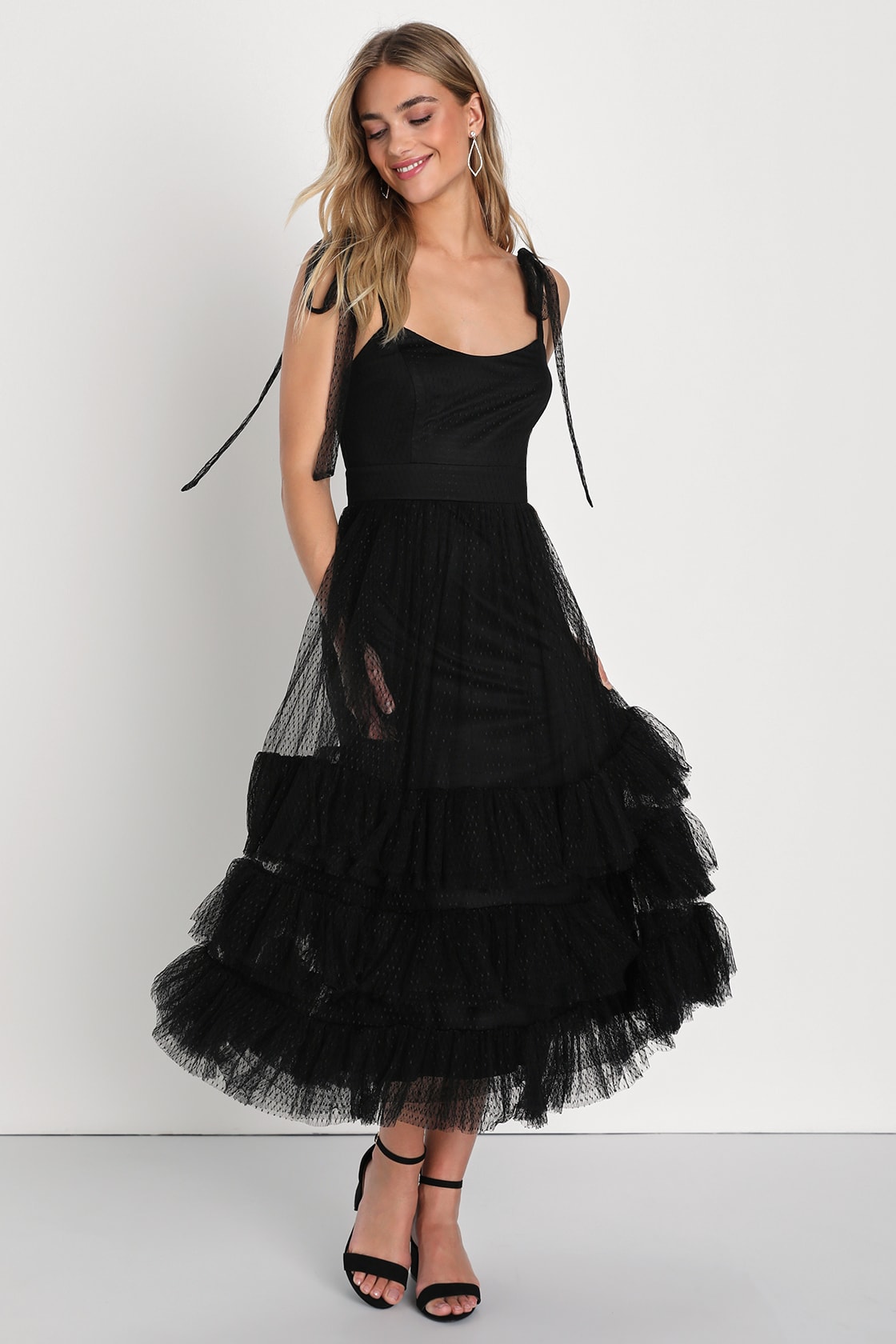 Aura Black Swiss Dot Tiered Bustier Midi Dress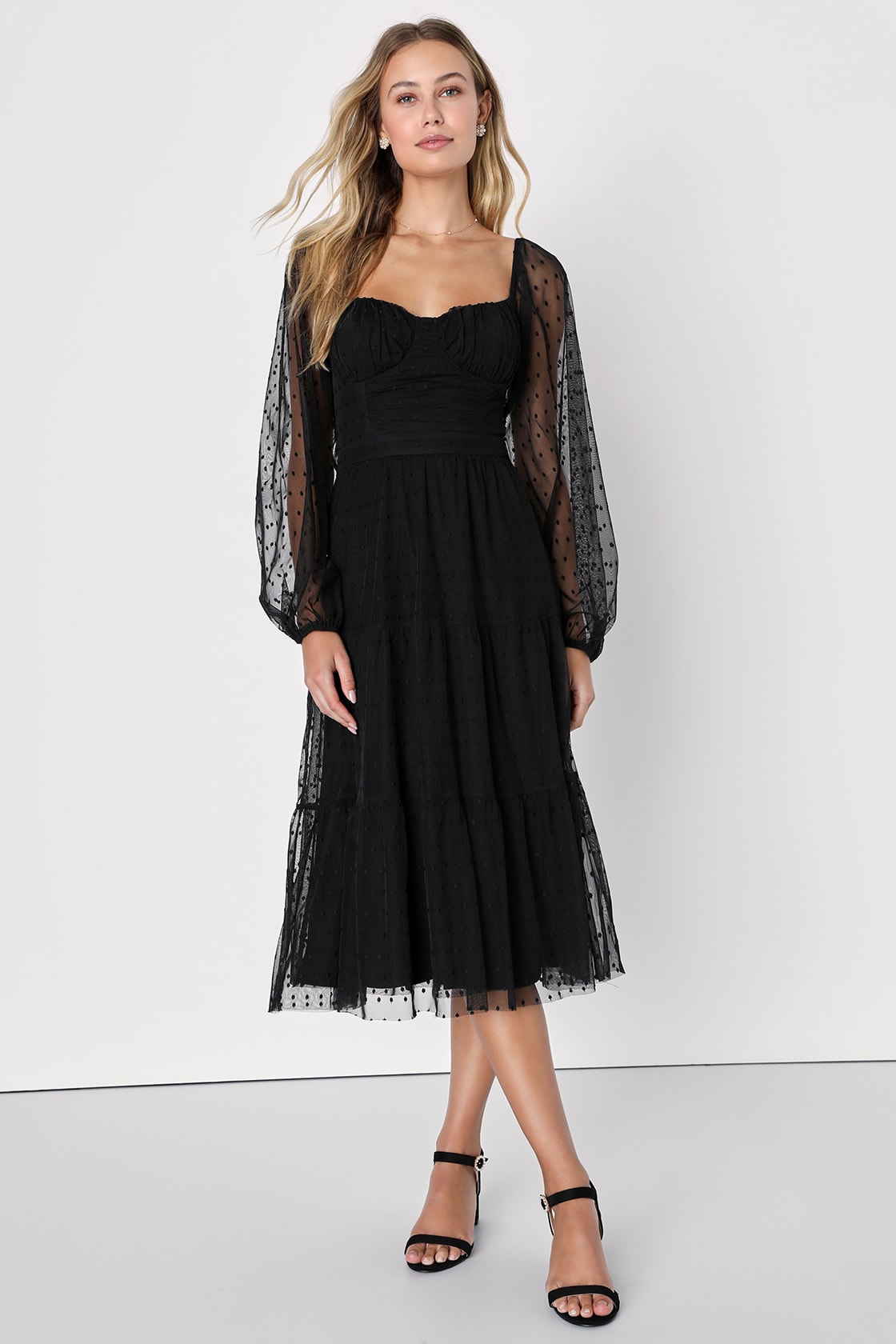 Black Flutter Sleeve Cutout Mermaid Maxi Dress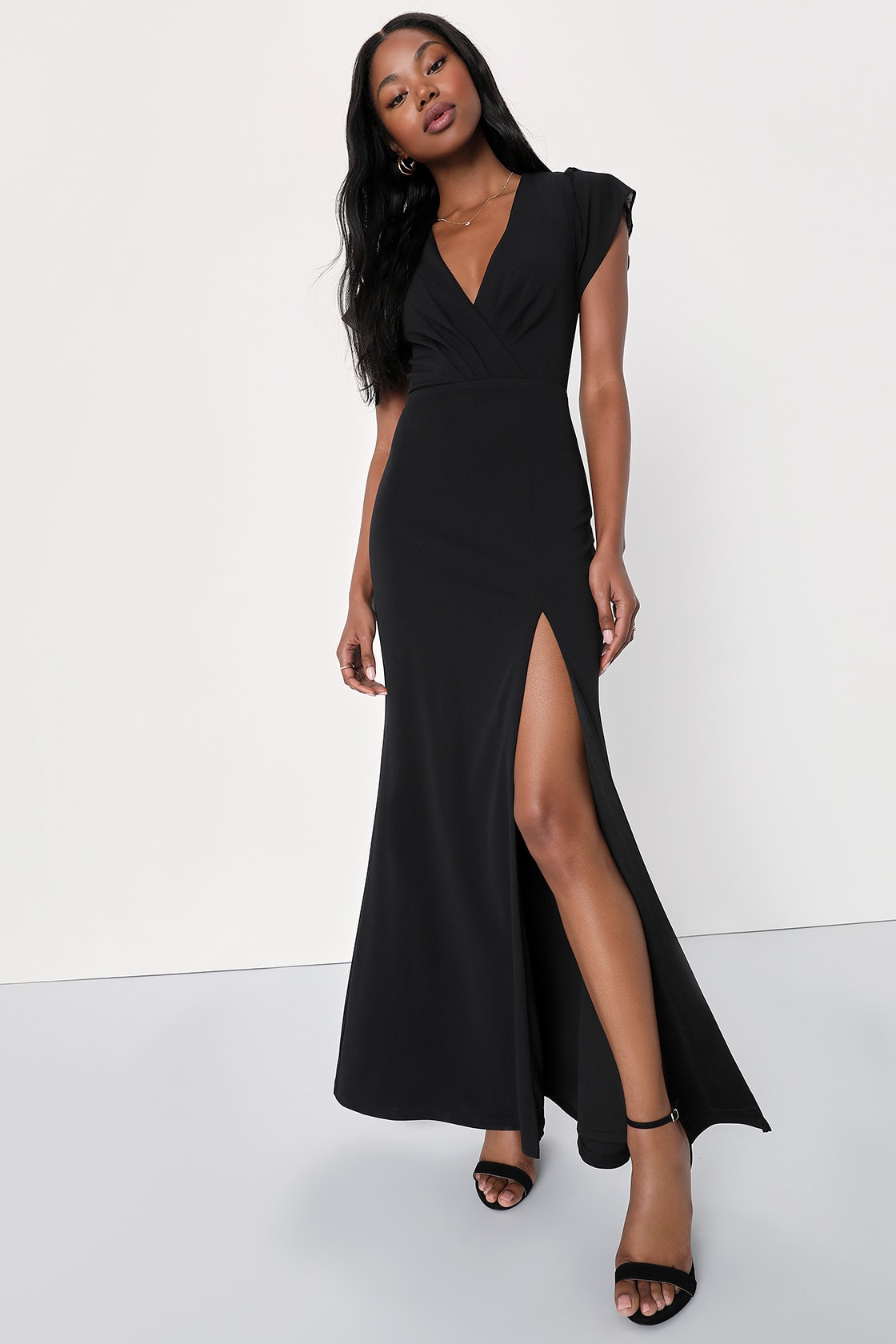 Choosing the Right Fit and Style
Once you have identified the style of dress you want, it's essential to choose the right fit. Finding the right fit for your body shape is crucial as it can greatly enhance your appearance. Different dress styles complement various body shapes, and some flattering styles for most body shapes are A-line and fit-and-flare dresses with a cinched waist. Necklines also play a vital role in adding more detail and structure to the dress. Consider trying out different materials such as silk or chiffon instead of cotton or cotton blends to make the dress more formal.
Where to Buy Black Wedding Guest Dresses
Now that we know the style and fit to look for, where can we buy the perfect black wedding guest dress? Many popular retailers offer black wedding guest dresses that cater to women of all shapes and sizes. Take advantage of online stores, as they usually offer a more extensive range of dresses and user-friendly shopping experiences. A small tip to avoid awkward fashion mishaps, ensure to check the shipping and return policies of the online store before purchasing the dress.

Styling Tips and Accessories
When it comes to styling black wedding guest dresses, accessories are a must-have. Accessories can make or break the outfit, so choose them thoughtfully. Shoes are an essential part of the dress-up, and it's important to find a pair of shoes that complements the dress and is comfortable to walk in. Jewelry and handbags also add a little spark to your overall get-up. If it's an outdoor wedding, carry a light shawl or jacket to keep you cozy during the chilly evenings.
Black Tie Wedding Guest Dresses
Black tie or formal events require an even more elegant and sophisticated black dress. You can try something with more structure and texture, such as a mermaid gown or a column dress with a train. Go for intricate necklines and elegant fabrics like lace or velvet. Also, remember to consider your height, as taller women may benefit from long gowns, while shorter women may benefit from a shorter, more structured dress.
Black Tie-Strap Square Neck Maxi Dress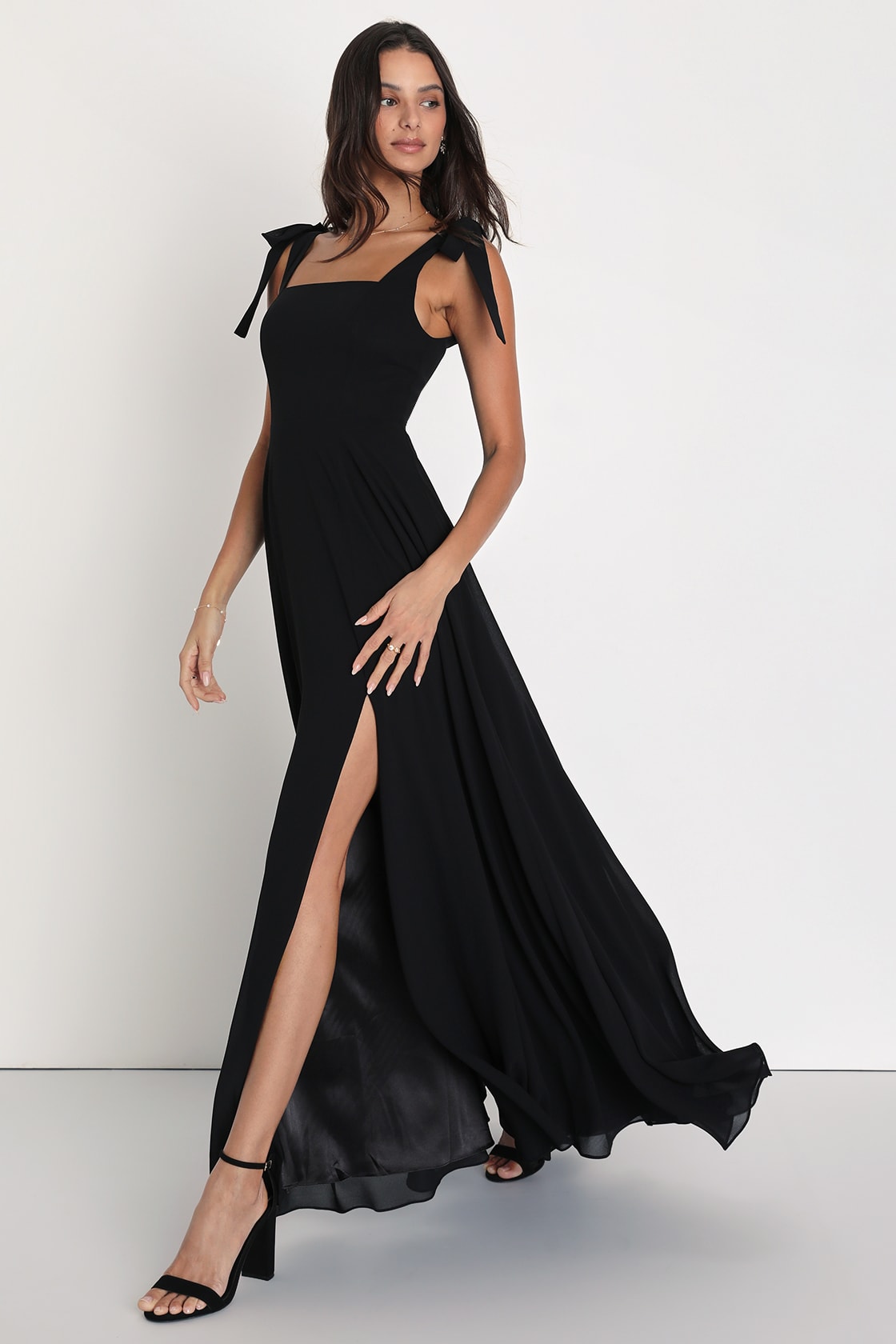 Black Sleeveless Tiered Maxi Dress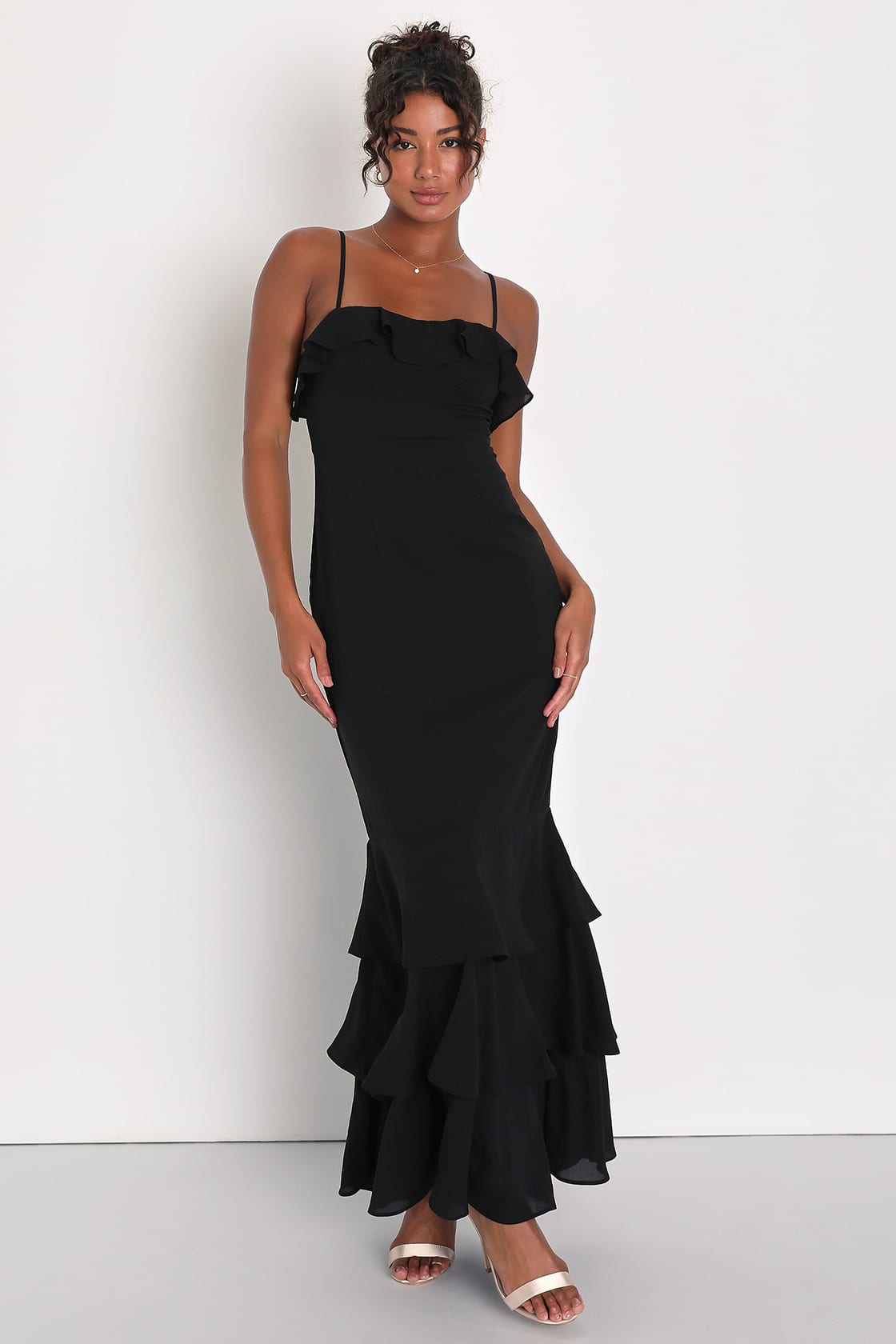 Black Backless Mermaid Maxi Dress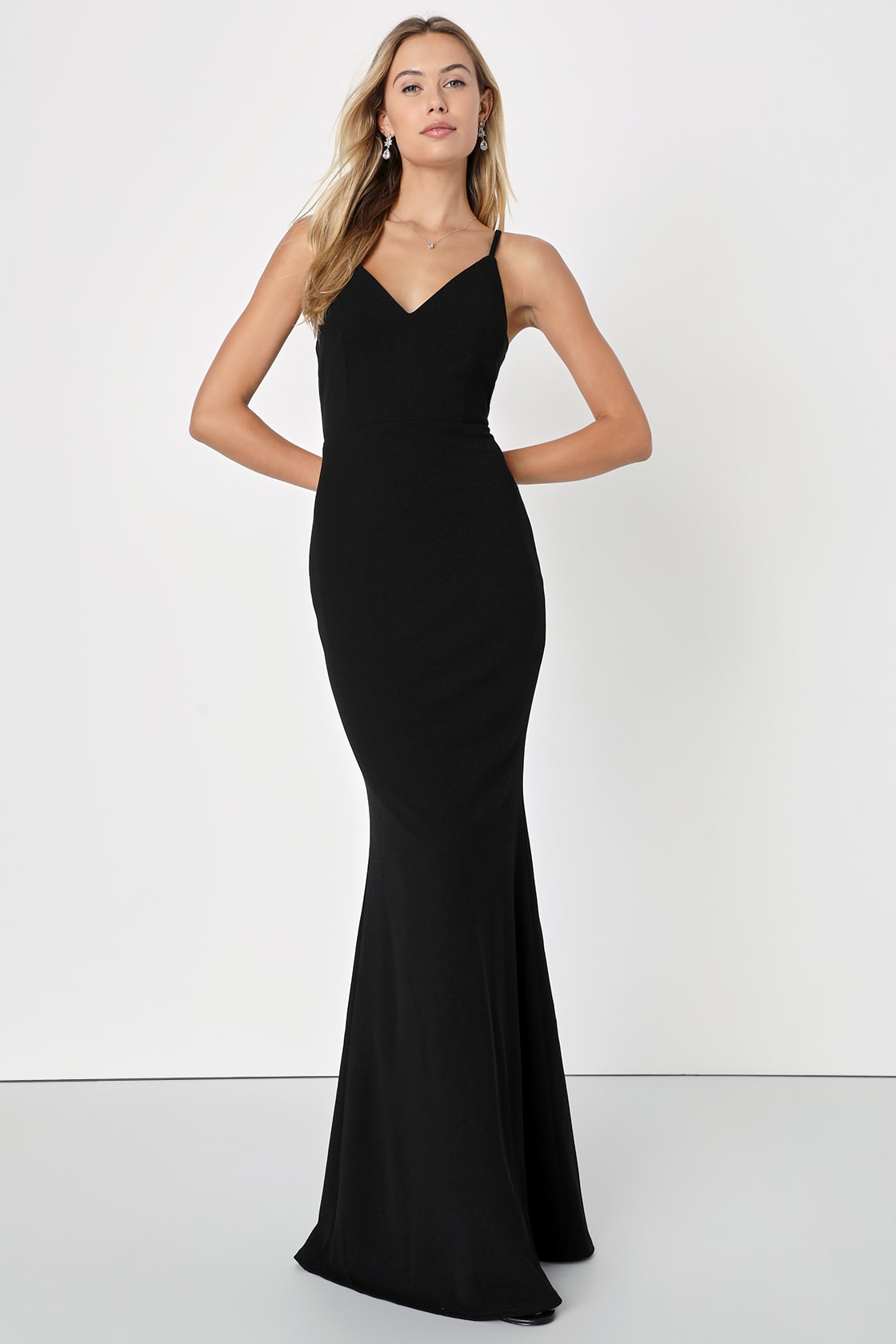 Conclusion
A black dress is a timeless and versatile choice for a wedding guest. With the right accessories and shoes, you can create a look that's sophisticated and chic. Just make sure to choose a dress that's appropriate for the occasion and you'll be ready to celebrate in style.
F.A.Q
Can I wear a black dress to a daytime wedding?
Yes, you can wear a black dress to a daytime wedding, provided it suits the theme and location of the wedding.
What type of shoes should I pair with a black wedding guest dress?
It depends on your personal style and the type of dress you're wearing. Heels are always a classic option, but you can also go for elegant flats or strappy sandals.
Can I add color to my black wedding guest dress?
Yes, you can add color by accessorizing with colorful shoes, jewelry, and bags. You may also consider wearing a colorful shawl or jacket.
F.A.Q
Is it okay to wear a pink dress as a wedding guest?
es, it is definitely okay to wear a pink dress to a wedding. Pink can be a lovely and appropriate color for a wedding guest. However, it is essential to consider the specific dress code and style of the wedding when selecting your dress. For example, if the dress code is black-tie, consider a full-length pink gown, whereas a summer daytime wedding might be suitable for a shorter, lighter pink dress.
Can I wear a patterned pink dress to a wedding?
Yes, you can wear a patterned pink dress to a wedding. However, it is important to ensure that the pattern is not too bold or overpowering. Consider pairing a patterned pink dress with neutral accessories such as nude heels and simple jewelry.
What accessories should I wear with a pink wedding guest dress?
The accessories you wear with your pink wedding guest dress will depend on the specific dress and occasion. Generally, neutral-colored accessories are the best choice, such as nude or metallic heels, simple jewelry, and a small clutch or handbag. Avoid accessories with too much embellishment that could detract from the overall elegance of the dress. Additionally, be sure to consider the style of the wedding, as more formal occasions may require more elaborate accessories than a casual beach wedding.
Can I wear pink shoes with a pink wedding guest dress?
It is not recommended to wear pink shoes with a pink wedding guest dress. Too much pink can be overwhelming, and it's important to break up the color with neutral accessories. Consider pairing your pink dress with nude heels or metallic shoes instead. Alternatively, you can wear pink jewelry or a pink handbag to complement your dress without overdoing the pink color scheme.
How good do you think this post was? Click on a star to rate it!