A black and emerald green wedding is a stunning and sophisticated theme that is sure to make an impact on your special day. By combining the elegance of black with the vibrant and lively hue of emerald green, you can create a unique and unforgettable atmosphere that will be remembered for years to come.
Black + Emerald Green Wedding Color
Black and emerald green is a dramatic, elegant combination. The black adds sophistication and formality to the color scheme, while emerald green brings vibrancy and life. This color scheme can be incorporated into various aspects of your wedding day–from your bridesmaids' dresses to table settings.
Wedding Invitations
To begin with, the invitation and stationery sets the tone for the wedding theme. Invitations and save the dates can be designed with the black and emerald green color scheme, using calligraphy and custom designs to enhance the theme. This will give guests a glimpse of what to expect on your big day.
Velvet Pocketfold Dark Green Acrylic Wedding Invitations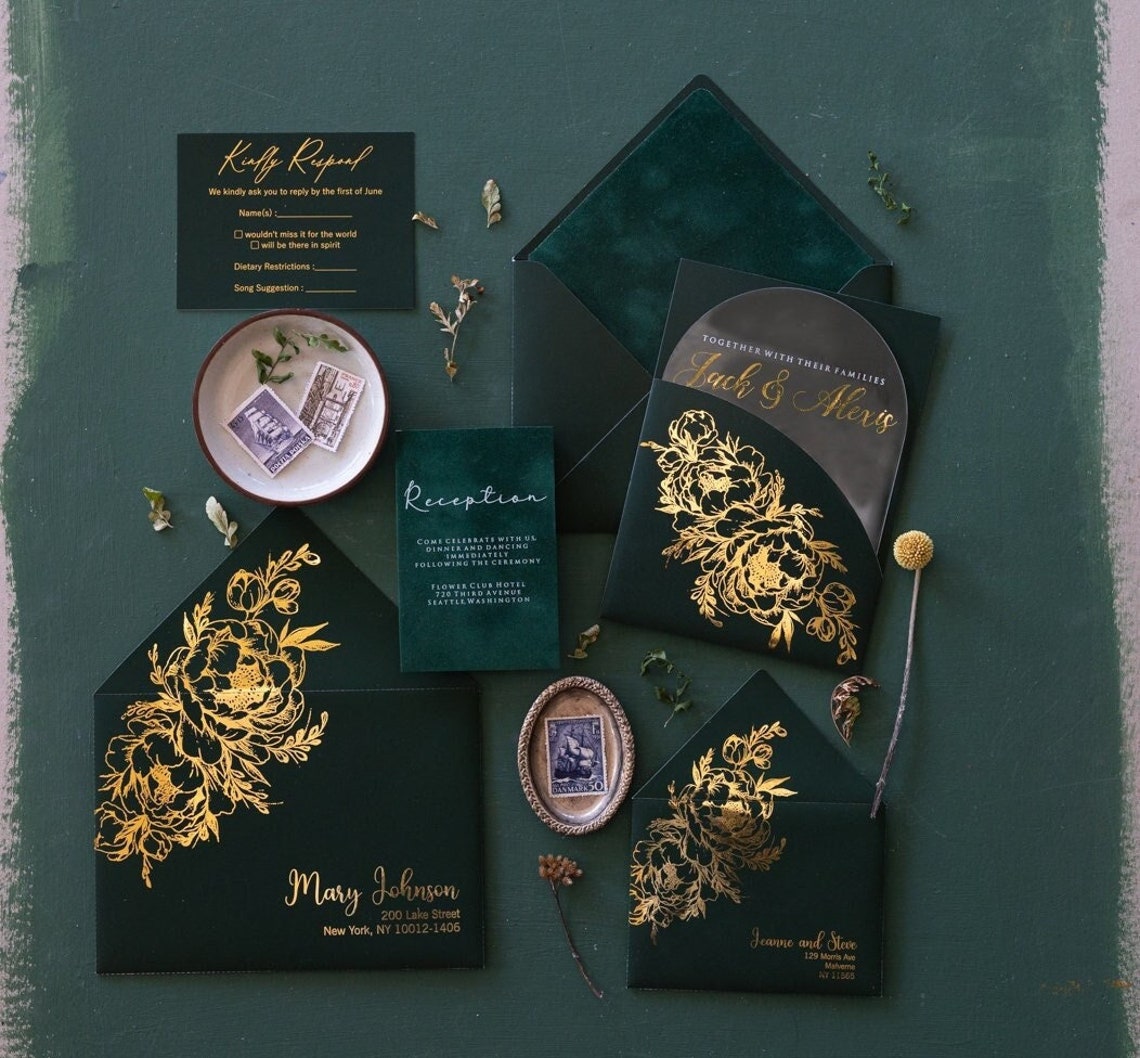 Black and Emerald Green Botanical Wedding Invitation Template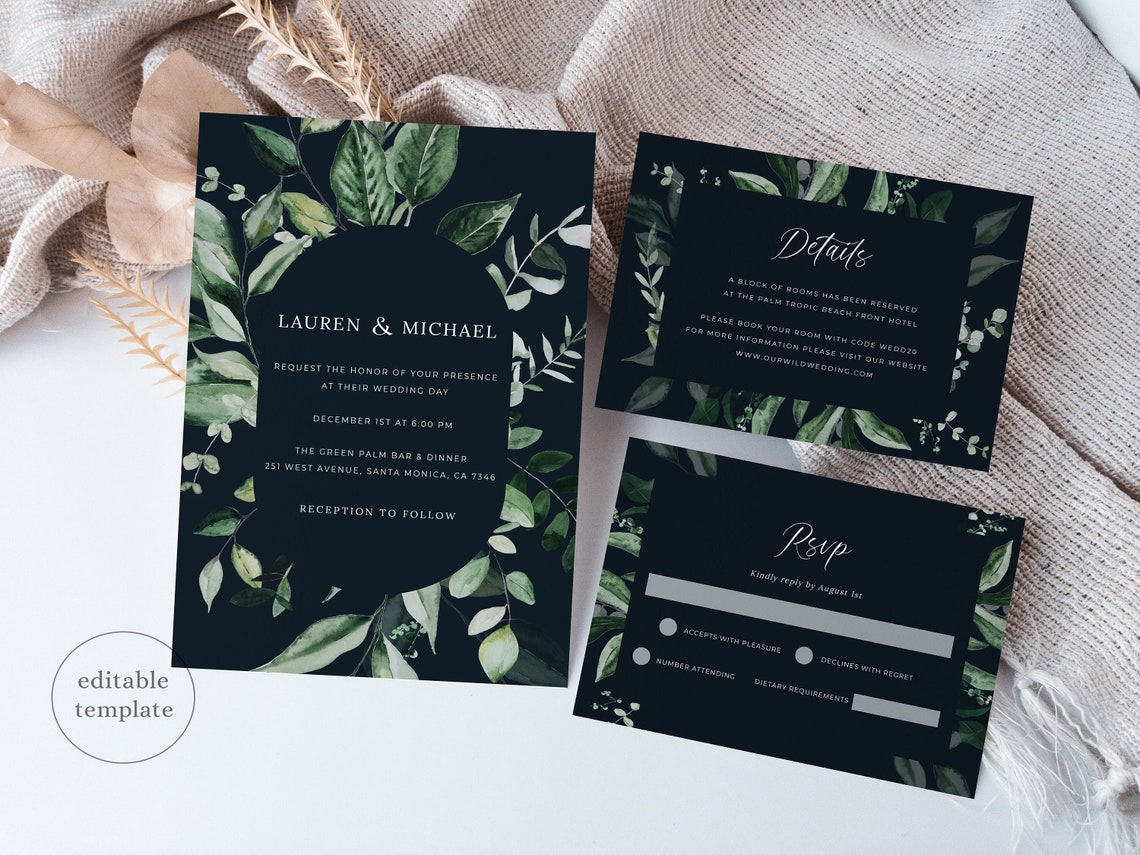 Ceremony
Moving onto the ceremony, black and emerald green floral arrangements can be used to decorate the altar. The chairs and aisle markers can be adorned with black and green velvet ribbons, and the bridesmaids can wear stunning emerald green dresses while the groomsmen wear sleek black tuxedos. The use of black and green candles can also help enhance the ambiance.
Reception
For the reception, black and green table runners and linens can be used, along with centerpieces featuring black and emerald green flowers and foliage. Custom black and green menus and place cards can be designed, along with emerald green glassware and black tableware to tie in the color scheme. The lighting can also be adjusted to create a warm and inviting atmosphere.
Halloween Glasses Emerald Black Wedding Glasses Server Knife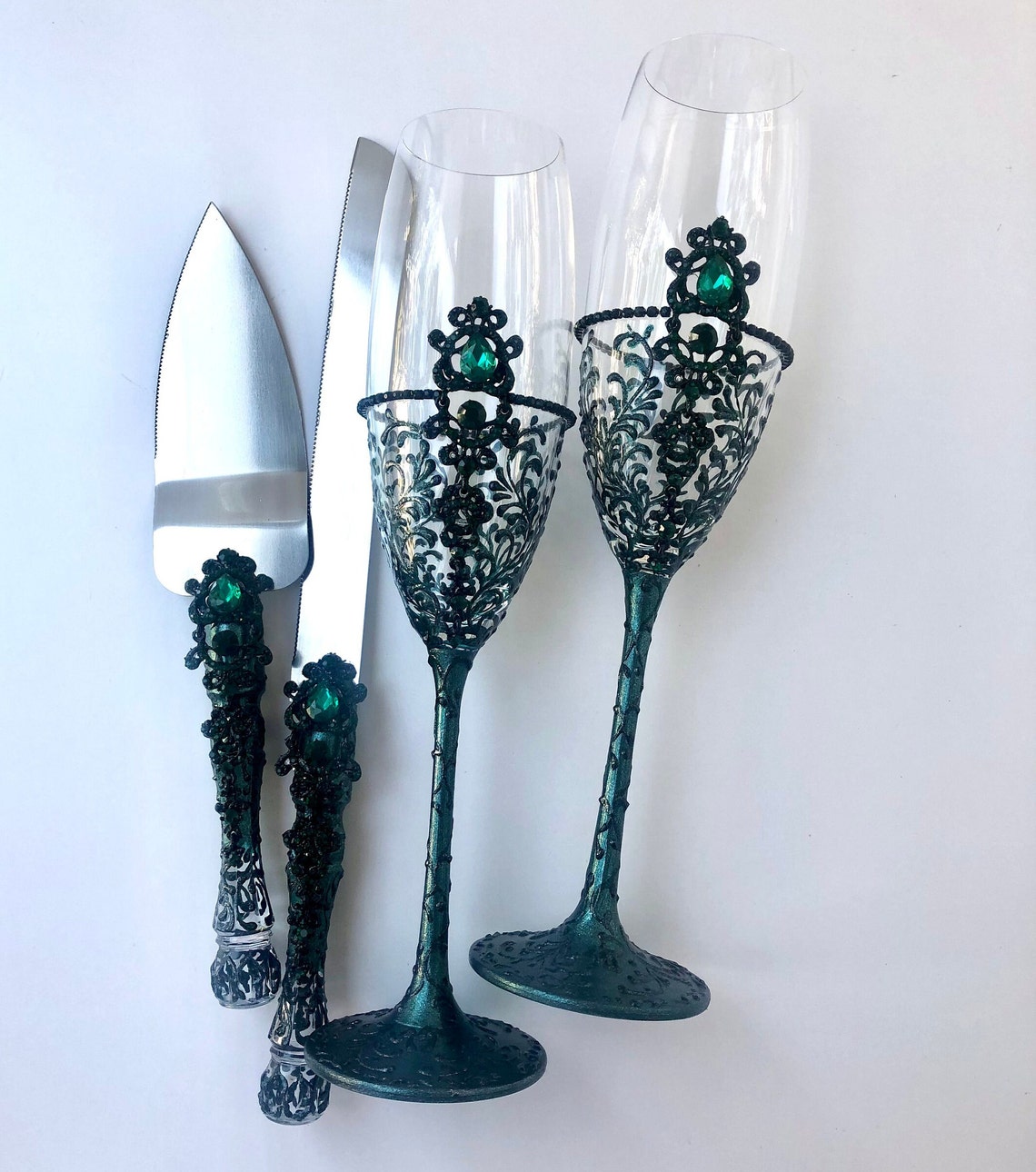 emerald green wedding cake server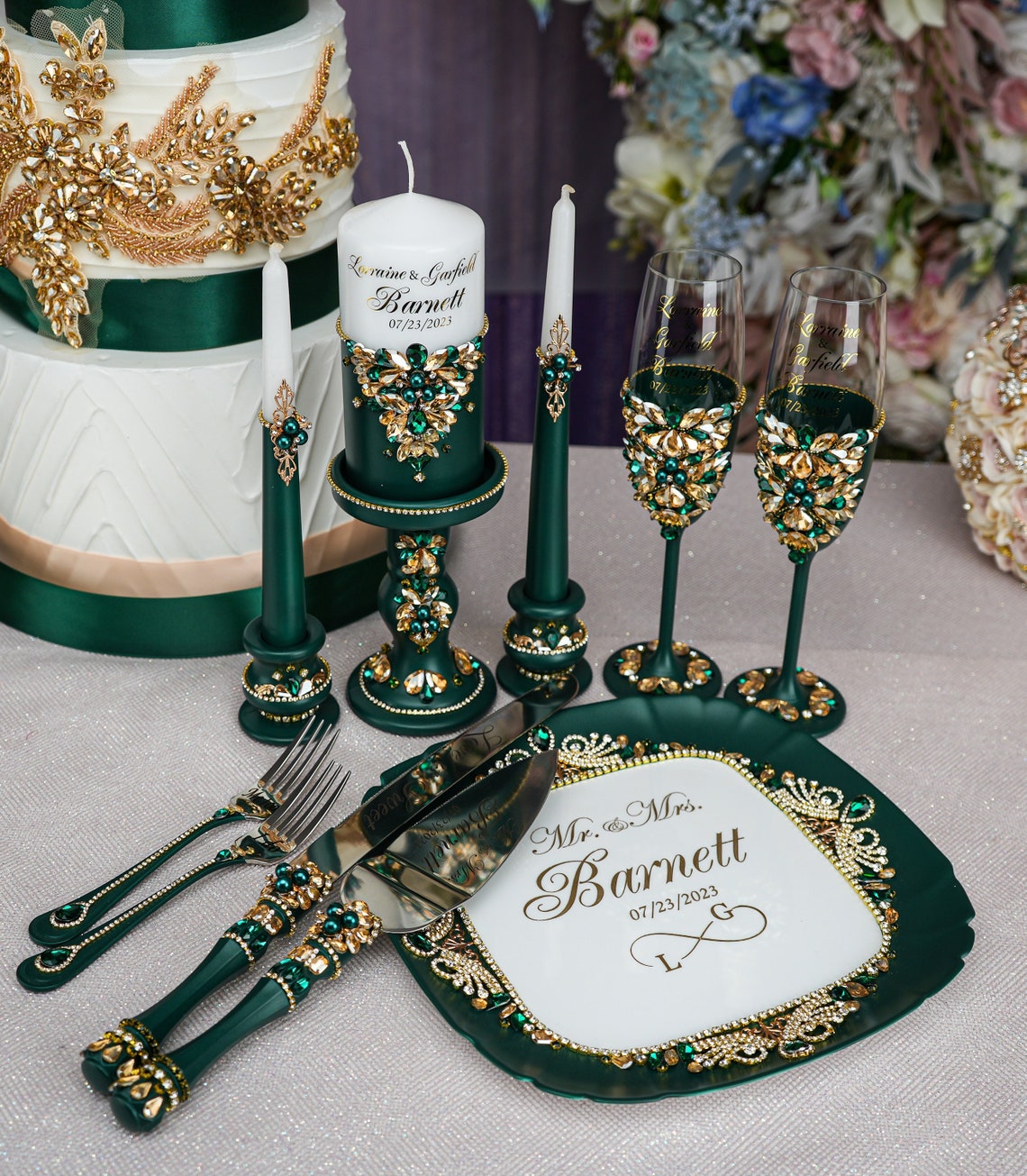 Wedding Favors and Gifts
Wedding favors and gifts can also be customized to fit the theme. Black and green wedding favors for guests, along with black and green gift boxes for the wedding party, can be created. Black and green wrapping paper and ribbon can be used to tie everything together.
Emerald green Beauty and the Beast favor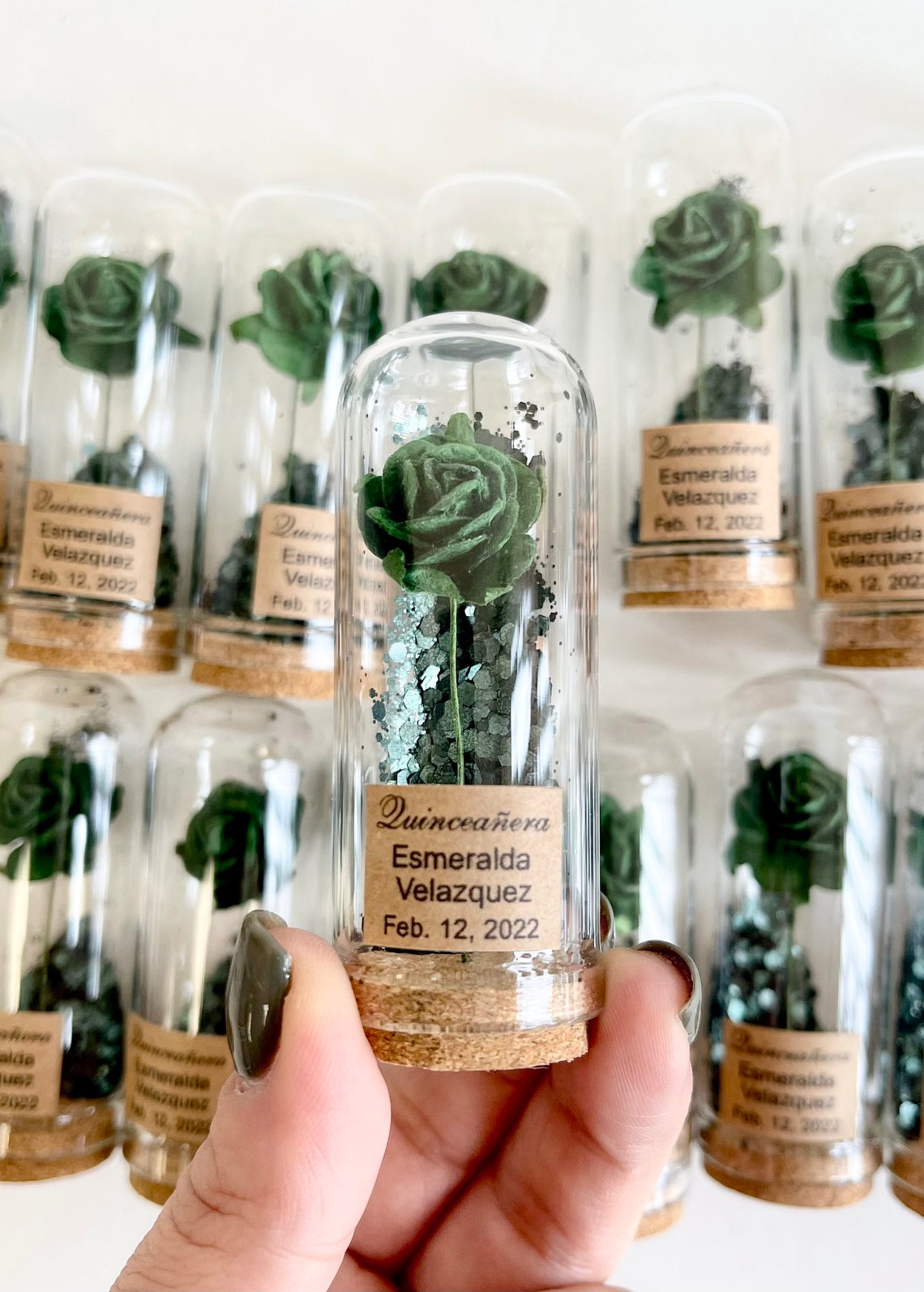 Personalized Black/Green Matt Flask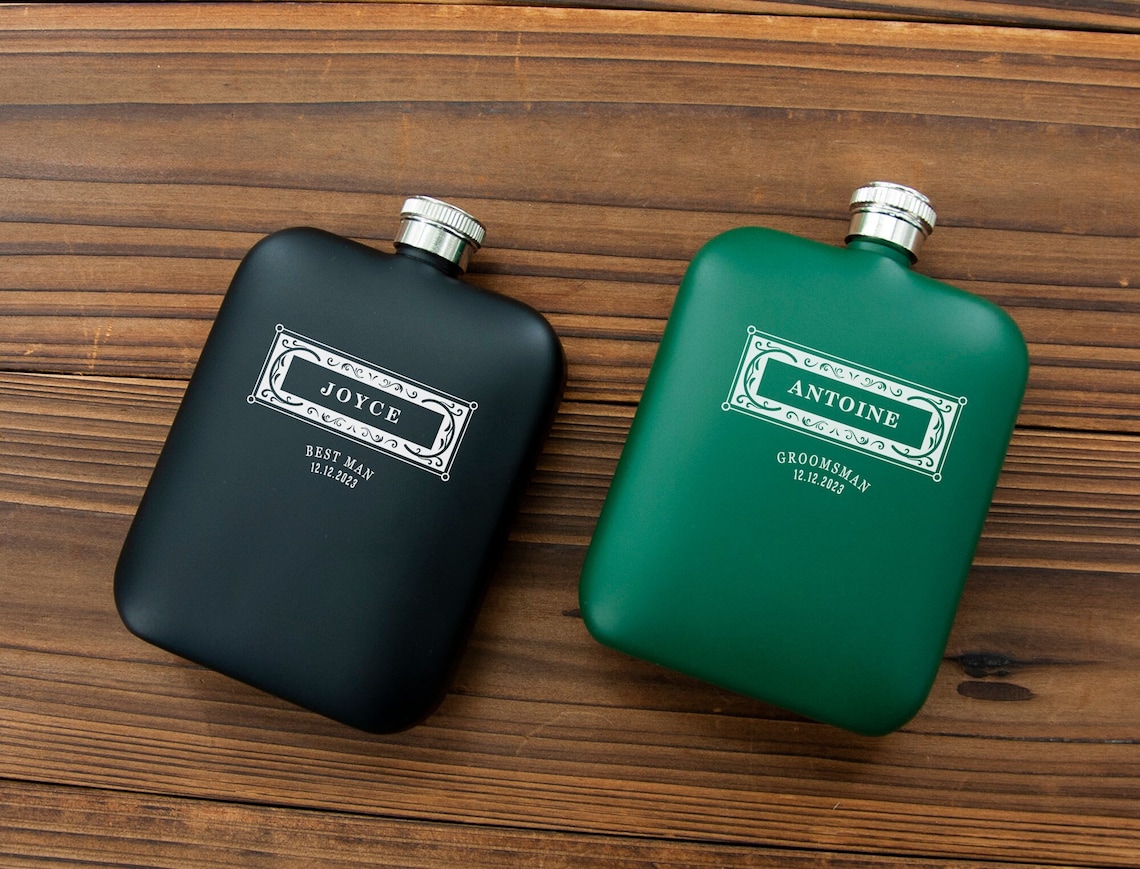 Wedding Bouquets
For the bouquet, you can incorporate black and emerald green florals into your bridal bouquet. Black calla lilies, anemones, and roses are dramatic and sophisticated additions to any wedding ensemble. Greenery such as eucalyptus or ferns will add texture or volume to your floral arrangements if you don't want something too large.
Glam Wood Emerald Bridal Cascading Bouquet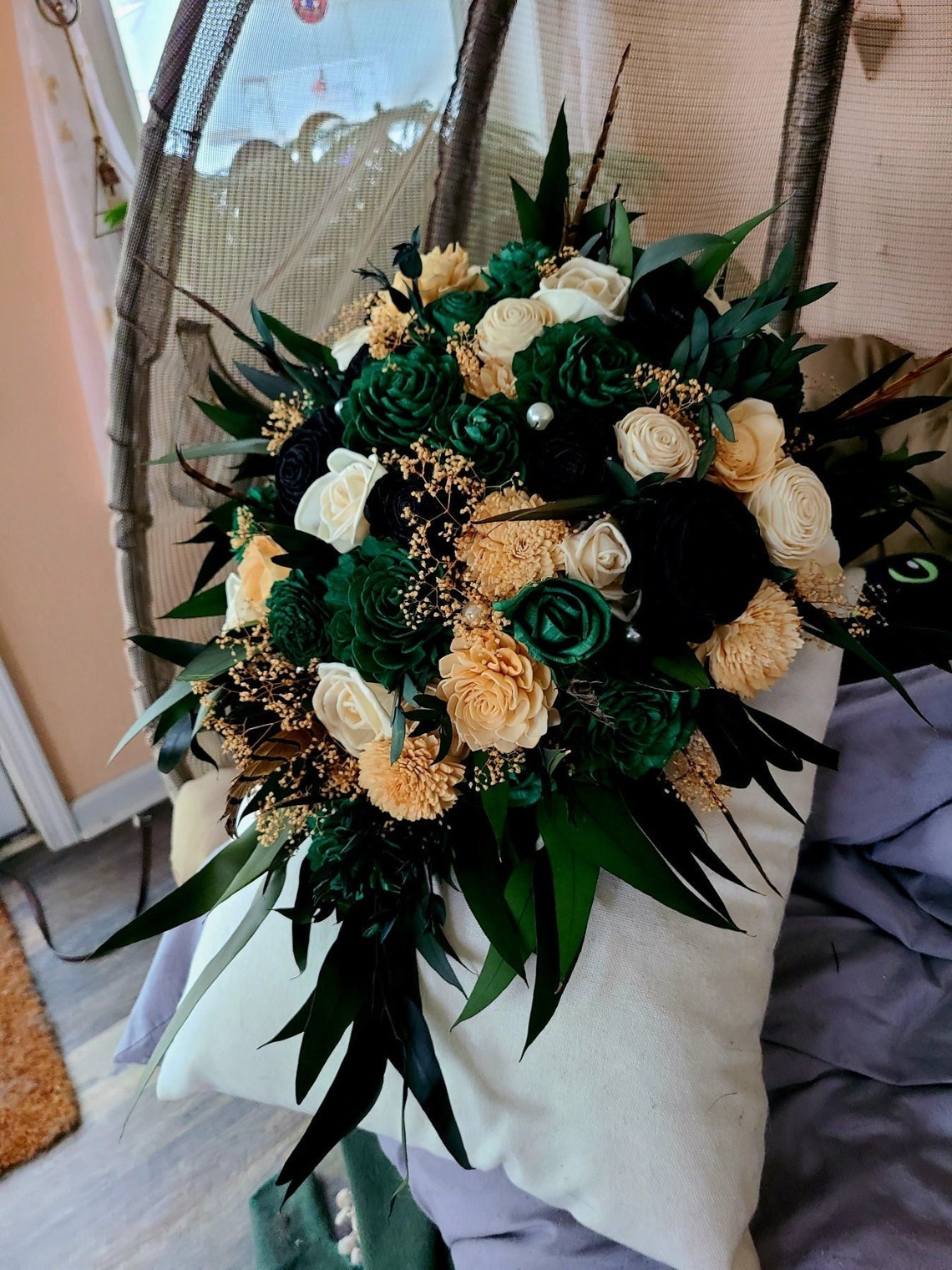 Emerald and Gold Wood Bouquet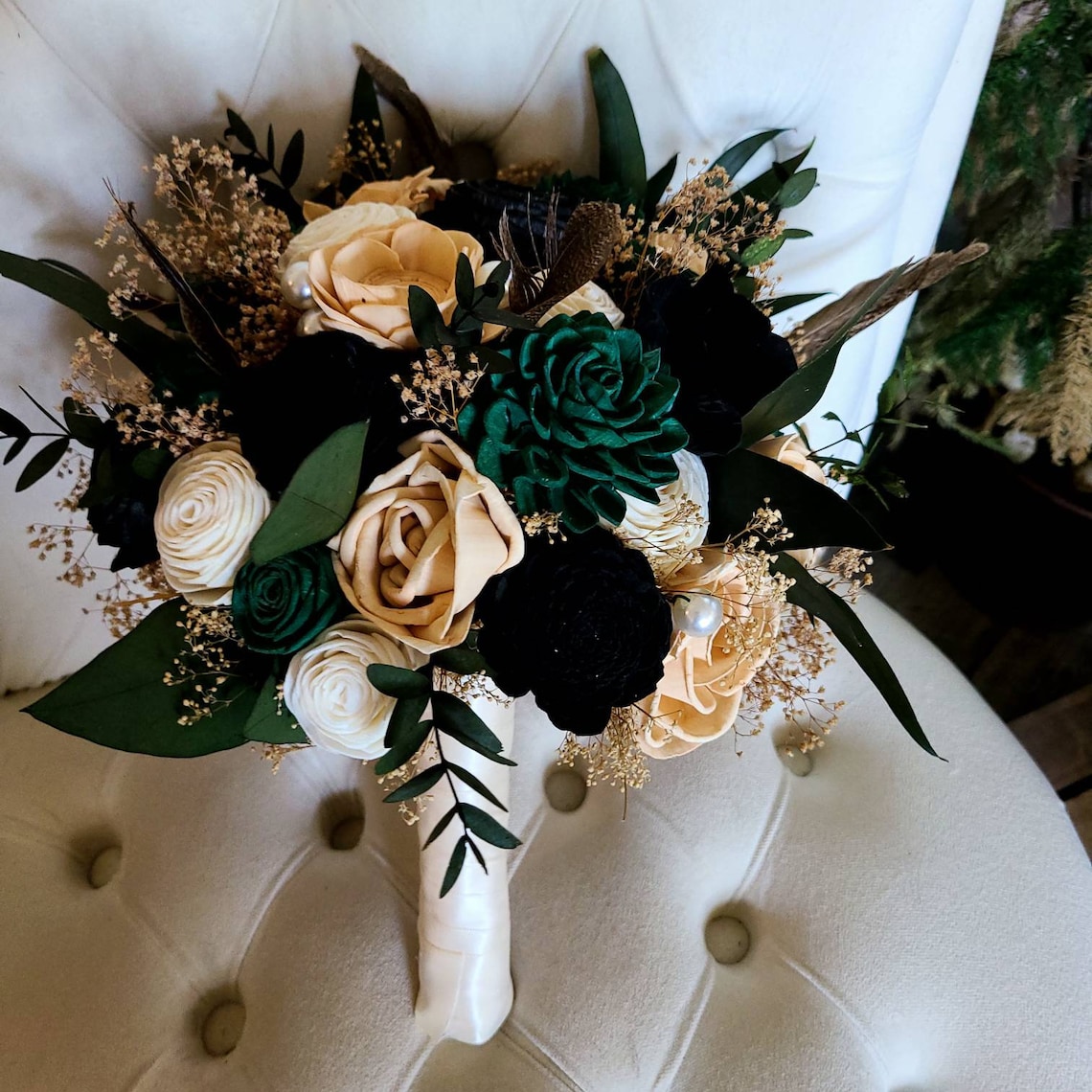 Wedding Signs
Custom wedding signs can be designed to fit the black and emerald green theme. Black and green calligraphy can be used to create a cohesive look, while signs include directions, menus and seating charts.
Wedding Guest Books
If you're looking to create a black and emerald green wedding guest book, there are many ways you can do so. You can use the same style of guest book that has been used for years, or you could try something new. If you want to keep things simple but still incorporate the color scheme into your book, consider using ribbons or other accents in black and emerald green as well as encouraging guests who sign your book to write messages with either black or green ink. This will not only tie in all of your planning efforts together but also give guests something extra special when they take home their copy!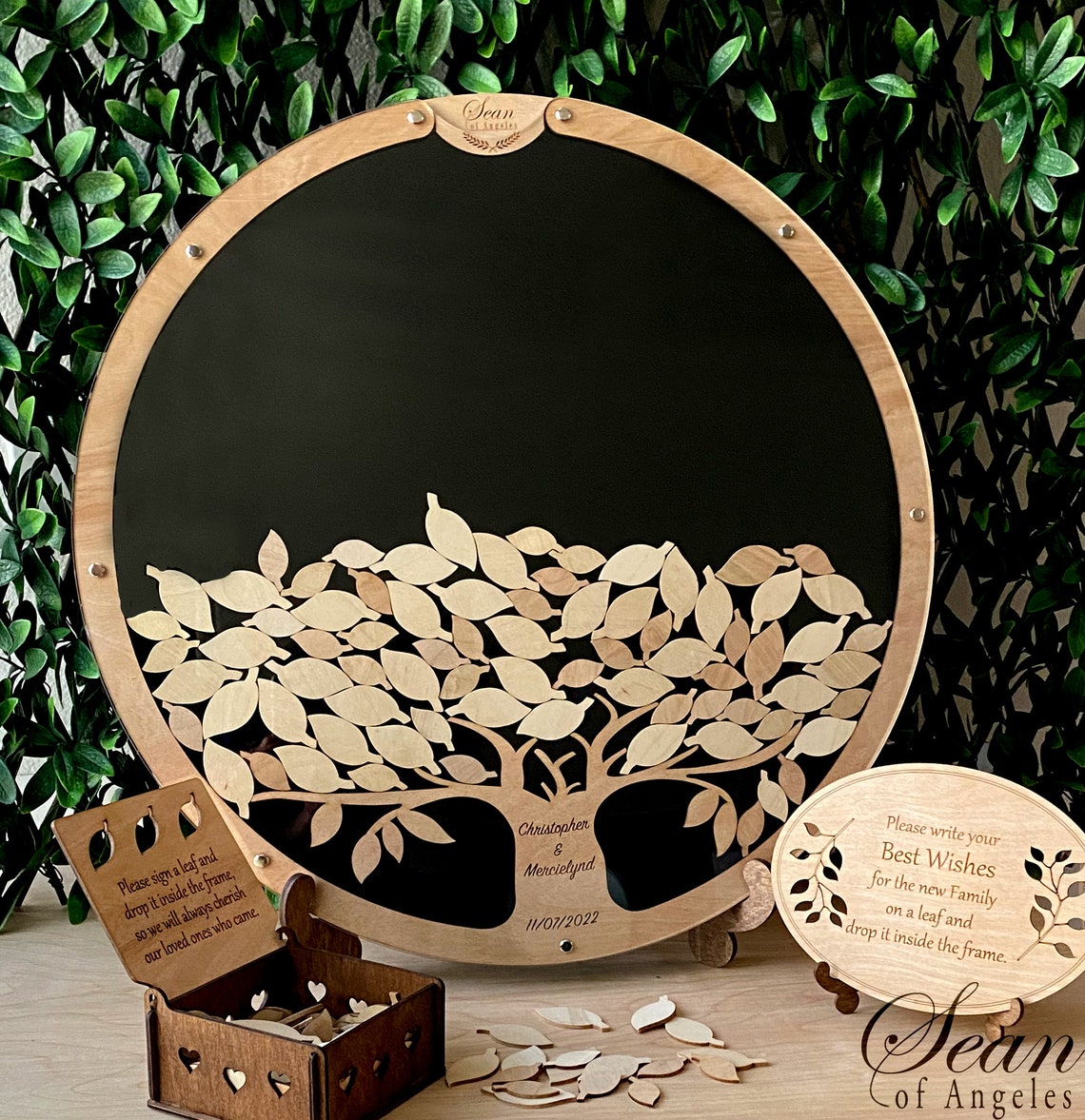 Wedding Decor Ideas
Black and emerald green table runners can be used to create a cohesive look for the reception. Lanterns with black or green candles can add ambiance and warmth to the decor. Accents such as black and green napkins, chargers, and place settings can tie in the color scheme.
Emerald Green Bridesmaid Dresses
Emerald green bridesmaid dresses are a great choice for any wedding. The color can add some pop to your wedding party, and it looks great on a variety of skin tones. Emerald green is also versatile: you can dress up or down this vibrant hue.

Black Bridesmaid Dresses
Black bridesmaid dresses are a great way to add elegance and sophistication to your wedding party. Black is a versatile color that can be paired with any hue, from reds to pinks and purples. It's also easy to mix different shades of black together for an interesting effect. If you want your bridesmaids' dresses to coordinate but still look unique, try having them wear different types of fabric (such as satin).
If you're having trouble deciding which style of dress would work best for each member of your bridal party, take some time before making any decisions so that everyone feels comfortable in their outfit on the big day!

How good do you think this post was? Click on a star to rate it!